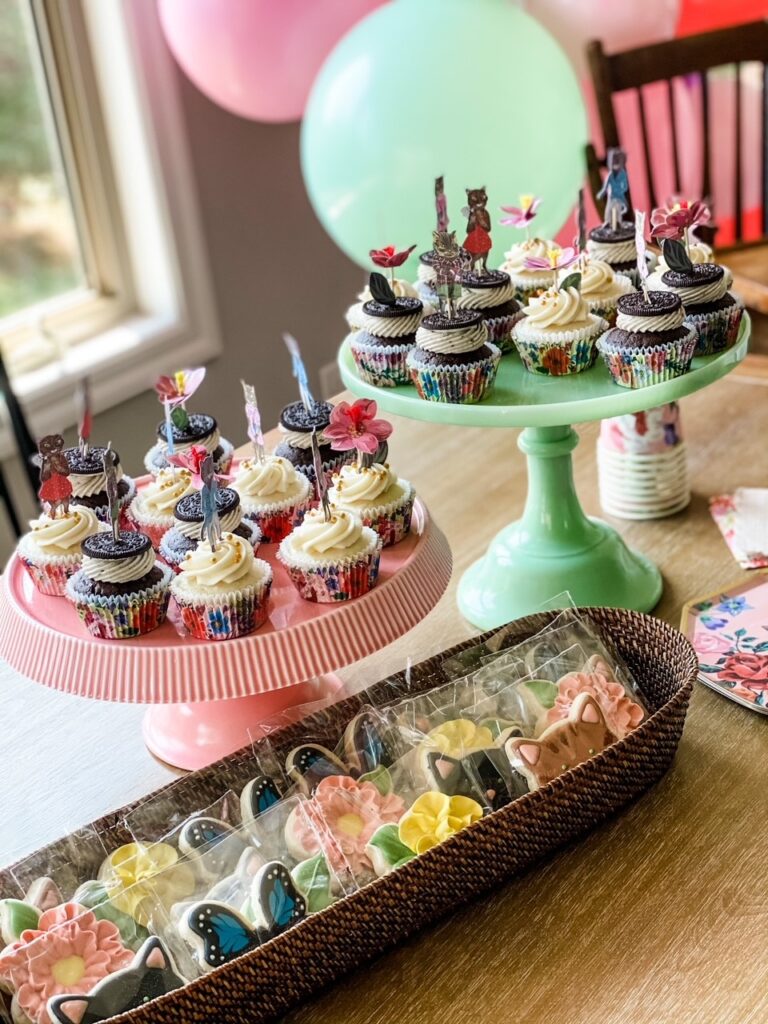 Hi readers of LA LOVES IT! Laura's sister Sarah here. She invited me to write a guest blog post to tell you all about my daughter Perry's second birthday party. Let me just start by saying that I absolutely love planning and a throwing a toddler birthday party, especially for my daughters! It's so much fun to incorporate their own personalities into the theme and really see them light up when the day finally arrives.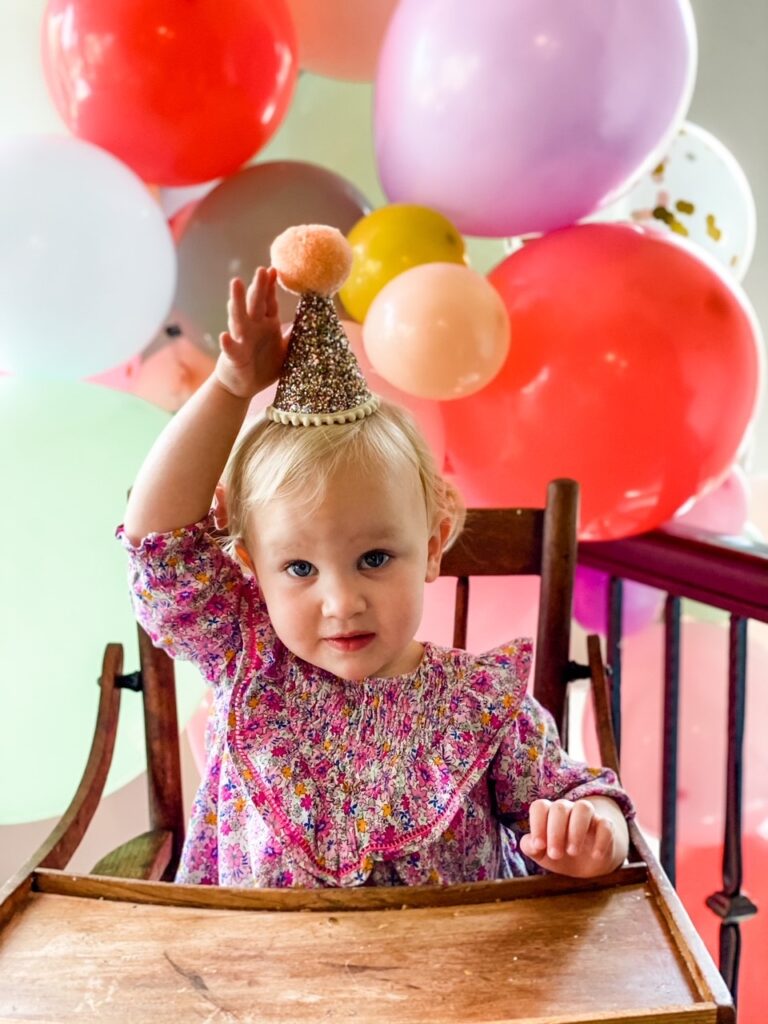 My youngest daughter Perry turned two in September, and I knew for months that her birthday party was going to have to involve kitties (or as Perry calls them: KID-DEES) in some way, shape, or form. She is OBSESSED with cats, so it was a no brainer that a pet adoption party was where we were headed. Since COVID-19 put a damper on having normal gatherings, it was evident that we would be hosting a very small, family-only party at our home.
THE DECORATIONS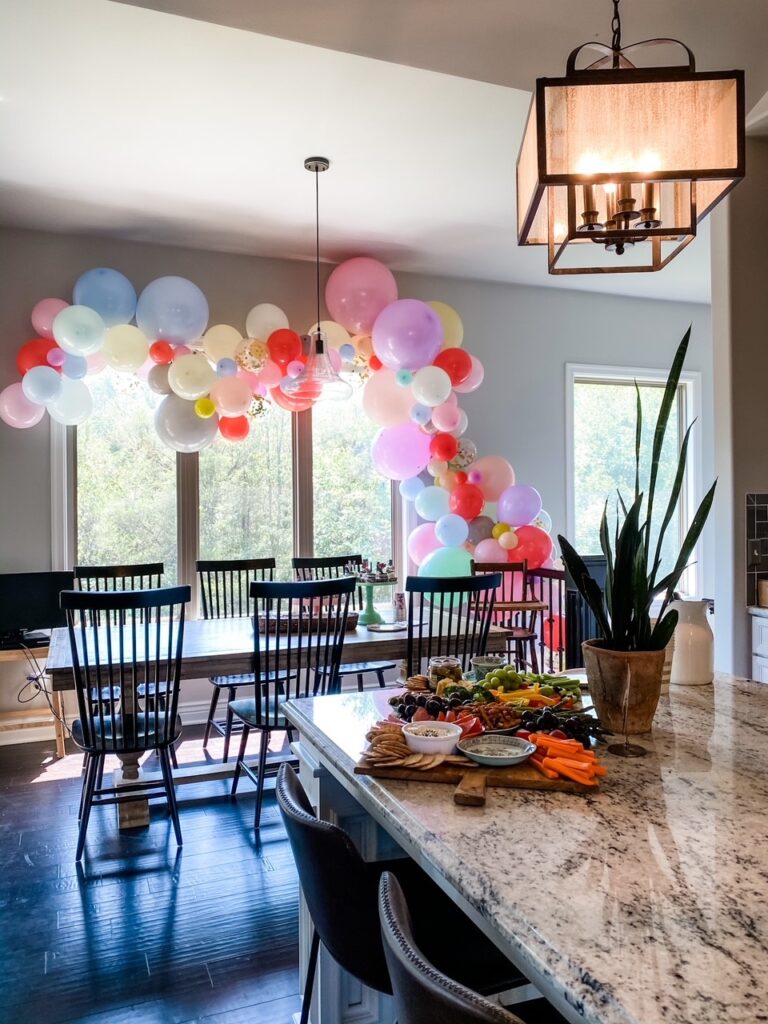 I knew I wanted a giant balloon garland, and being the DIY enthusiast that I am, I set out to make it myself. I ordered these balloons and used the instructions on the package to make the balloon garland. While the instructions were very easy to follow, it was a lot of work to put it together from start to finish. I used this contraption to blow the balloons up. Without the blower, I would have stopped after two or three balloons. If you're going to embark on a DIY balloon garland adventure, it's an absolutely must have item in my opinion.
Nathalie Lété is an amazing artist that I've followed for as long as I can remember, and knew that I would be using some of her party décor items. I got these napkins and this cupcake set from a local boutique, but you can also find them on Amazon.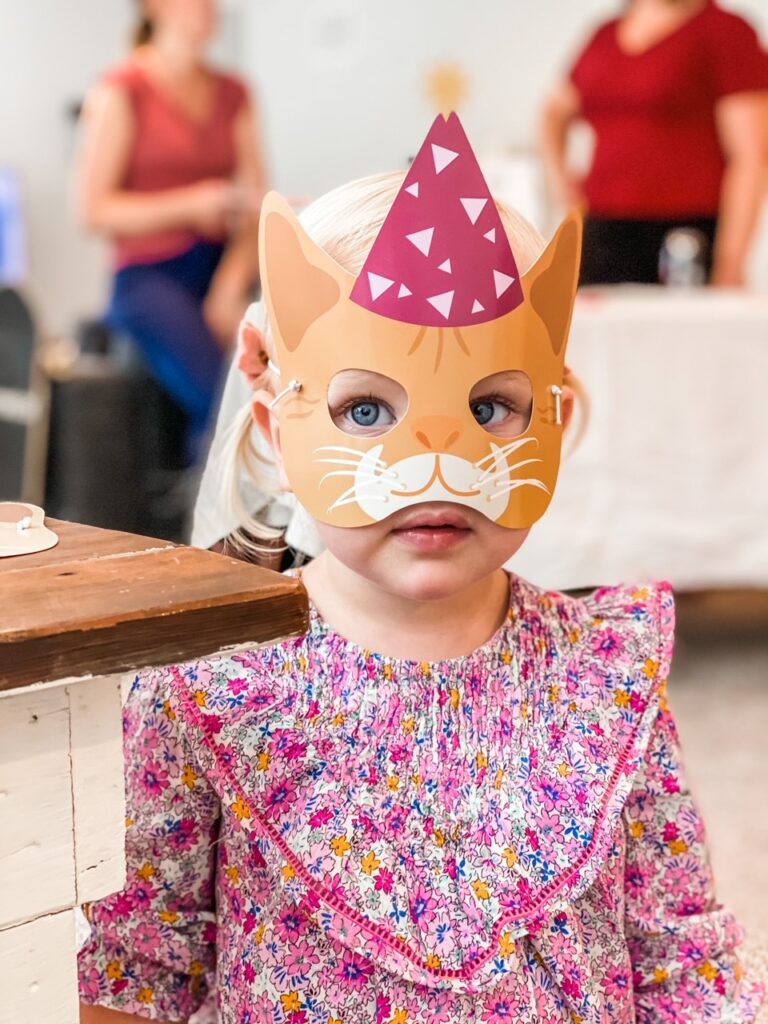 All the kids wore kitty masks that I found on Amazon. They were so cute and were very easy to assemble. They must have been comfortable too, because most of the kids kept them on for a while. I also got this cat banner to hang in the kitchen, and used a HAPPY BIRTHDAY banner that I made for a previous birthday party to hang over the fireplace.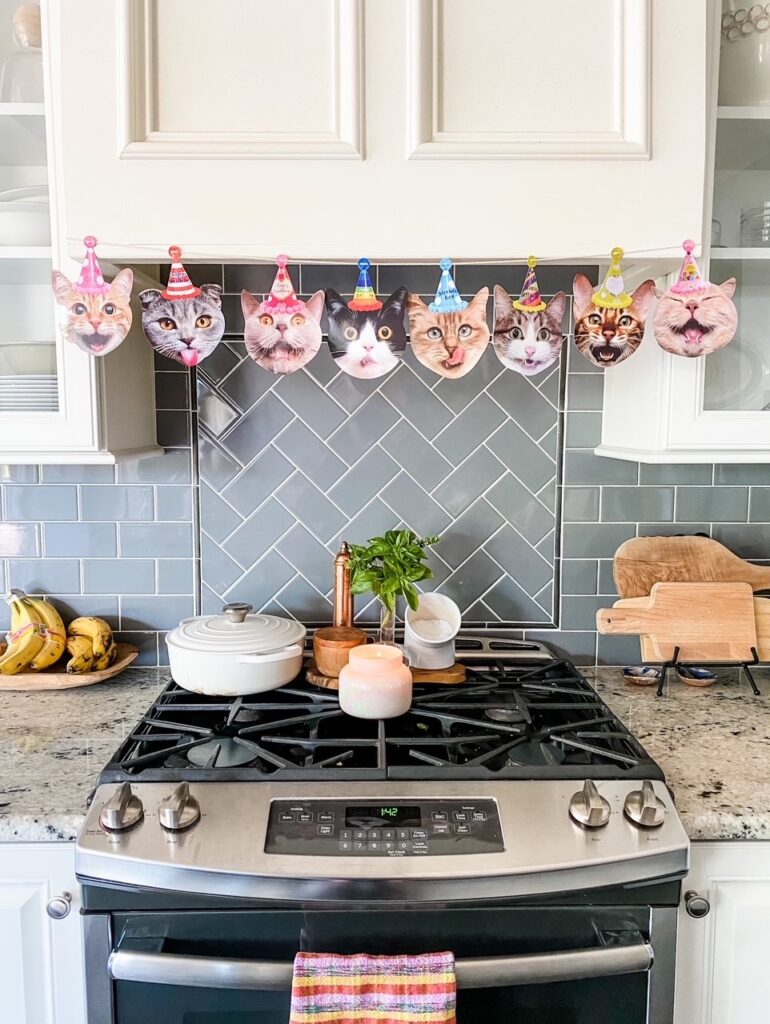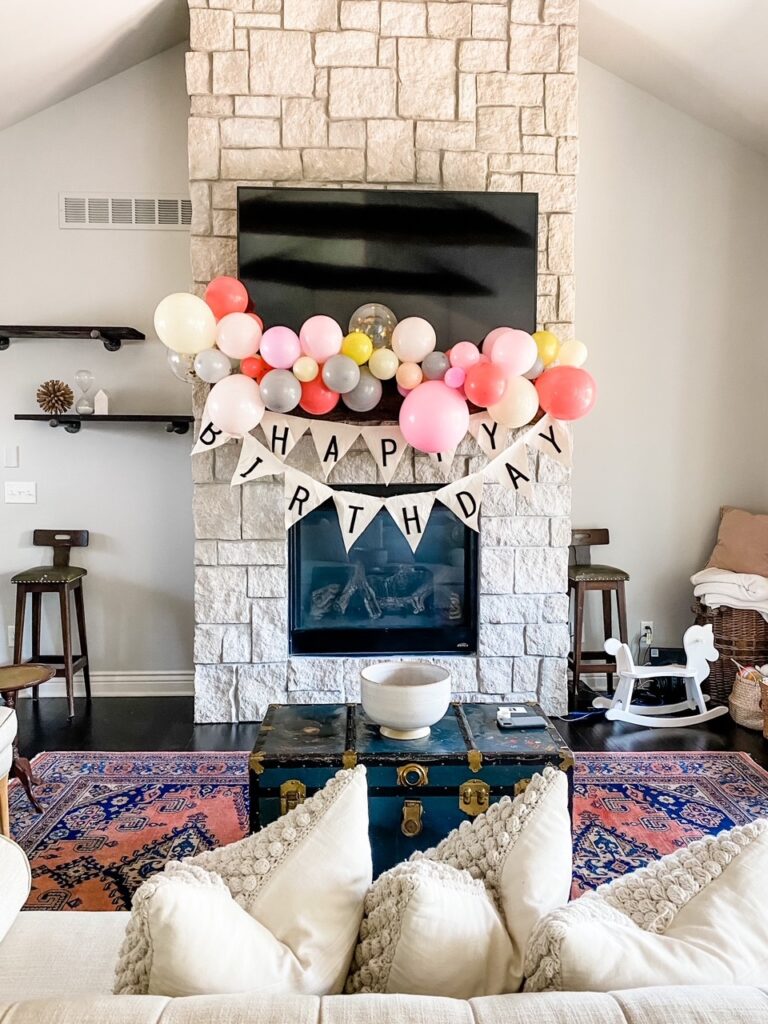 THE PARTY STATIONS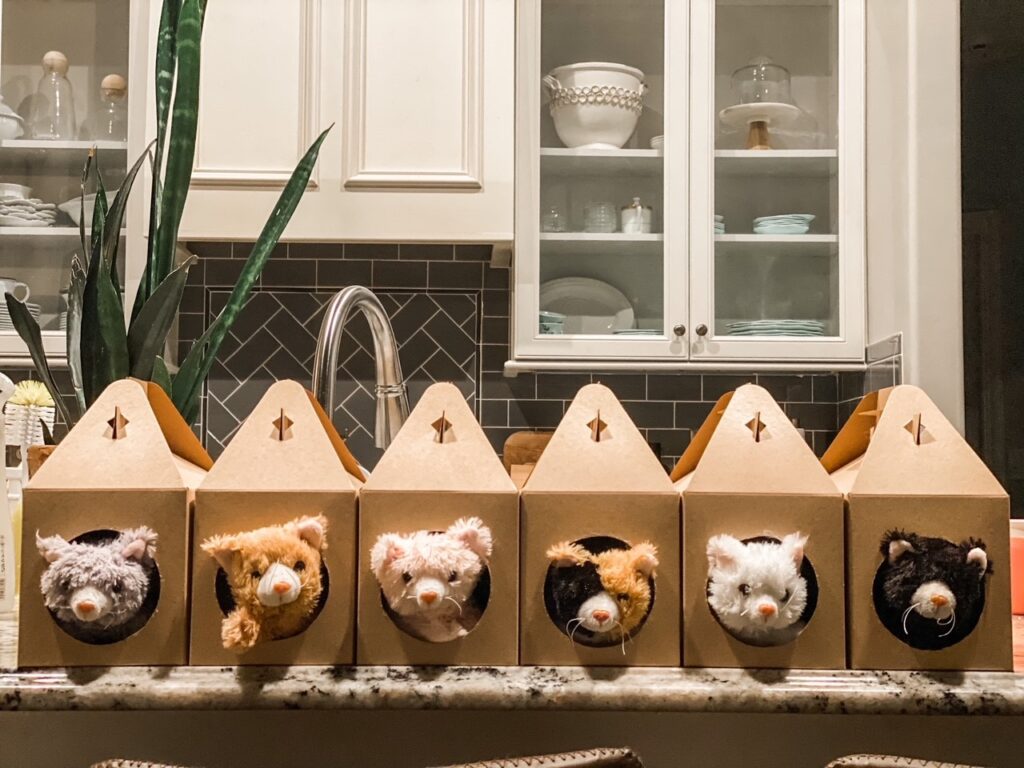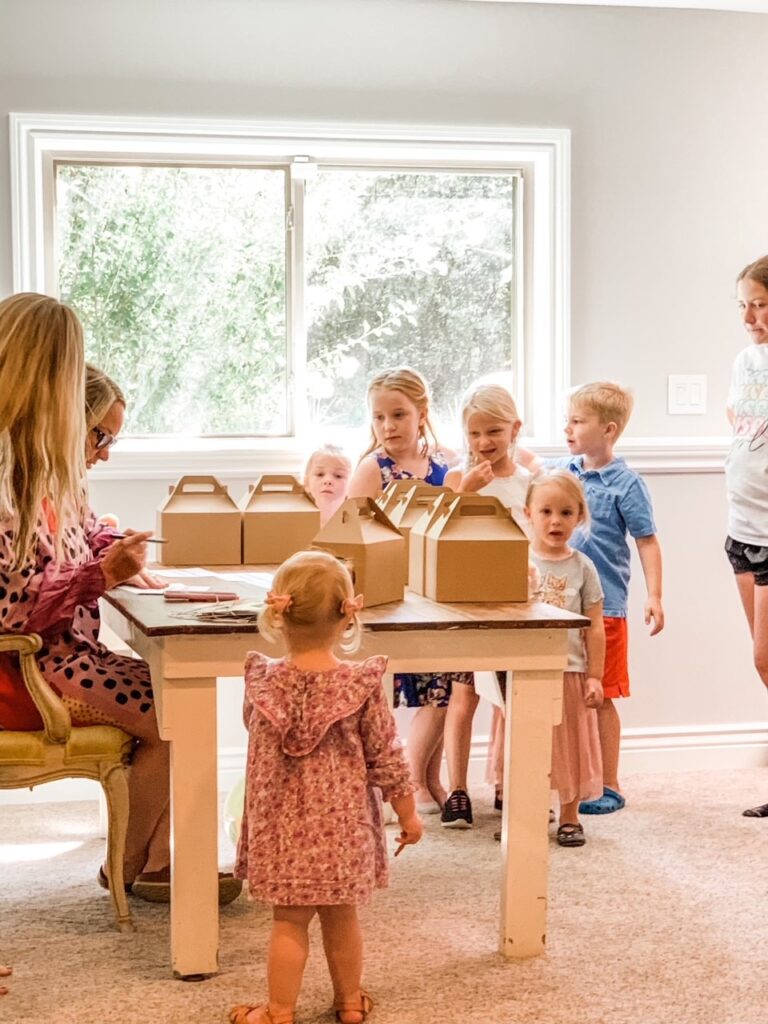 I wanted to have different stations set up around our basement to mimic the actual experience of adopting a pet. Each station was clearly marked with signs I made using Microsoft Word (see downloads at the end of this post!) The first station was where the kids could "adopt" their kitty. I got a these stuffed animals that were the perfect size and so soft. For the kitty crates, I used gable boxes and cut a round hole on one side to resemble a little house for the cats. Each kid got a certificate of adoption before moving on to the next station.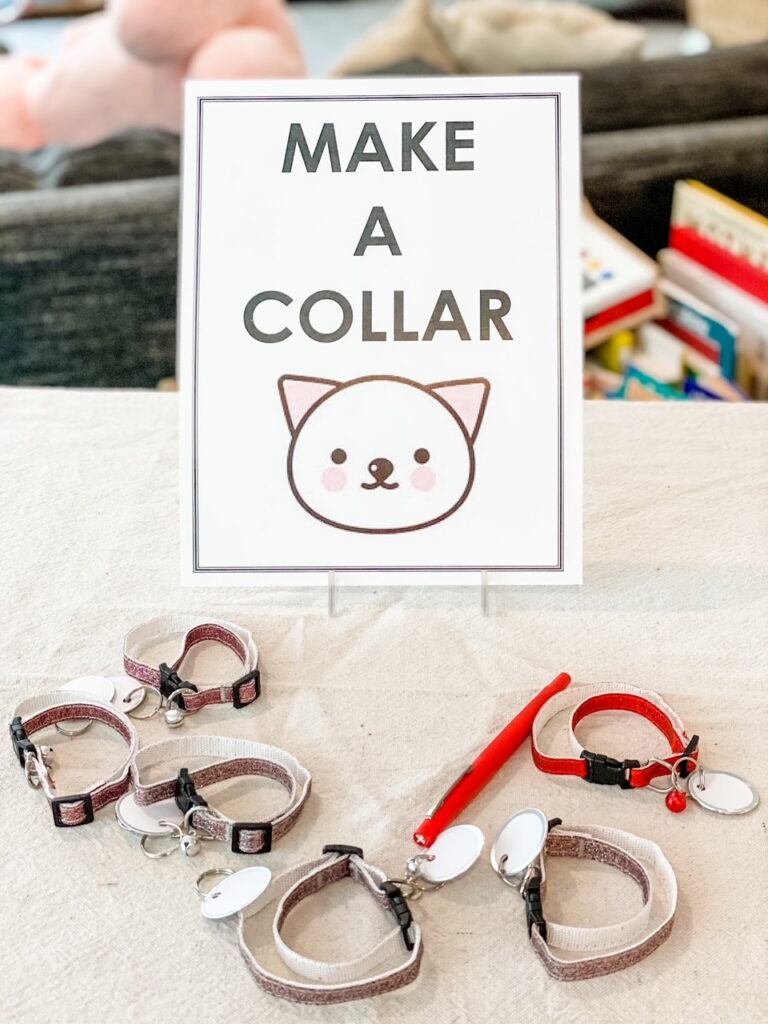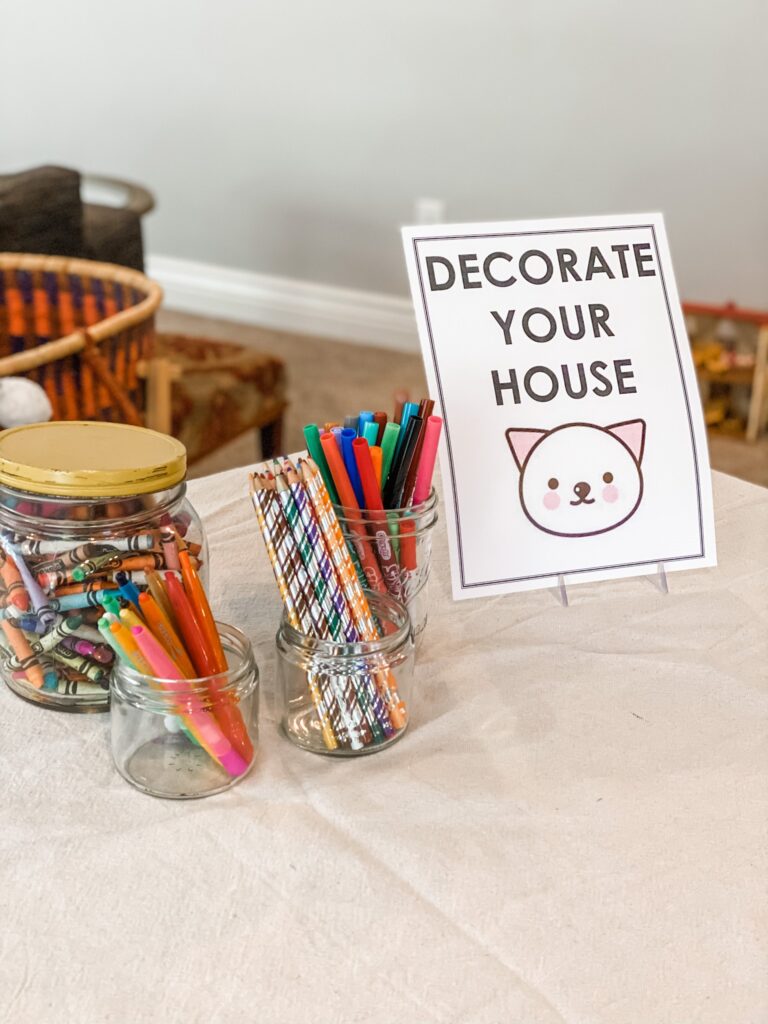 Next came the decoration station. The kids could choose a collar for their kitty, then decorate the kitty house using crayons and markers. I found really cheap collars at Dollar Tree, but Amazon has lots of options too.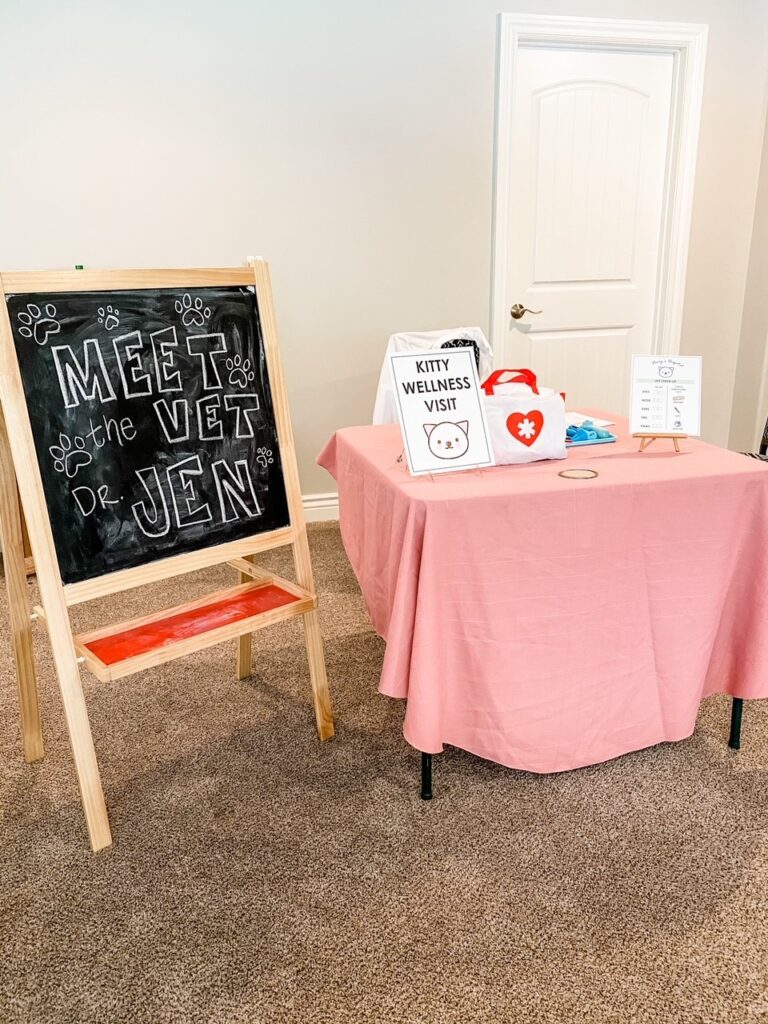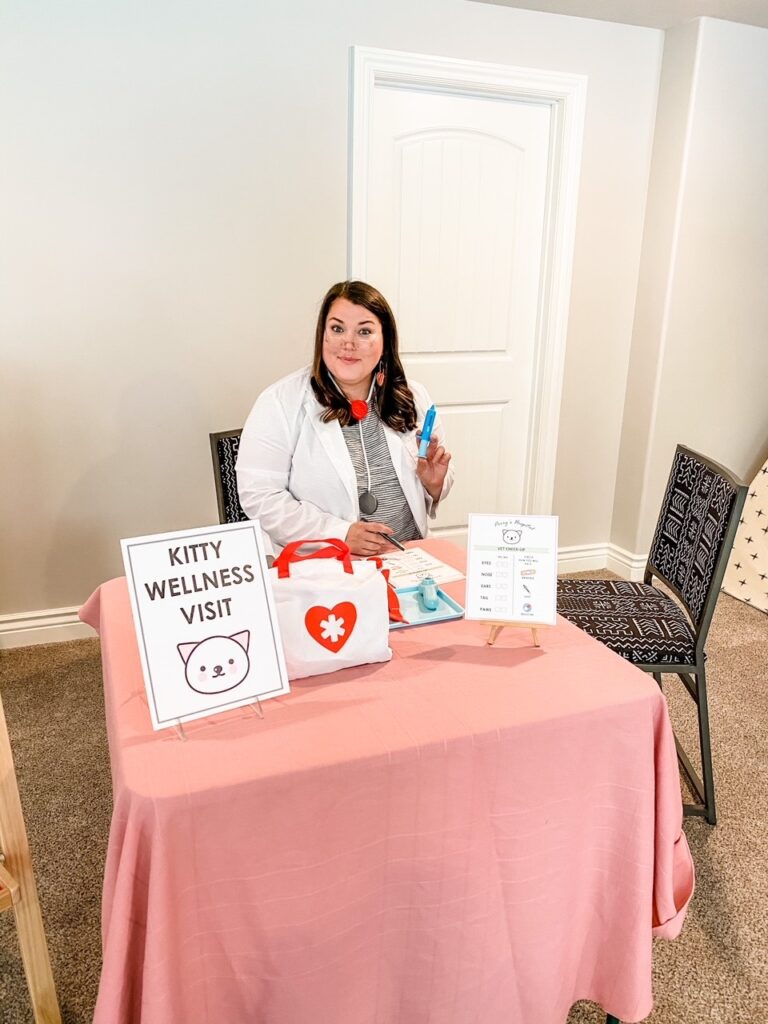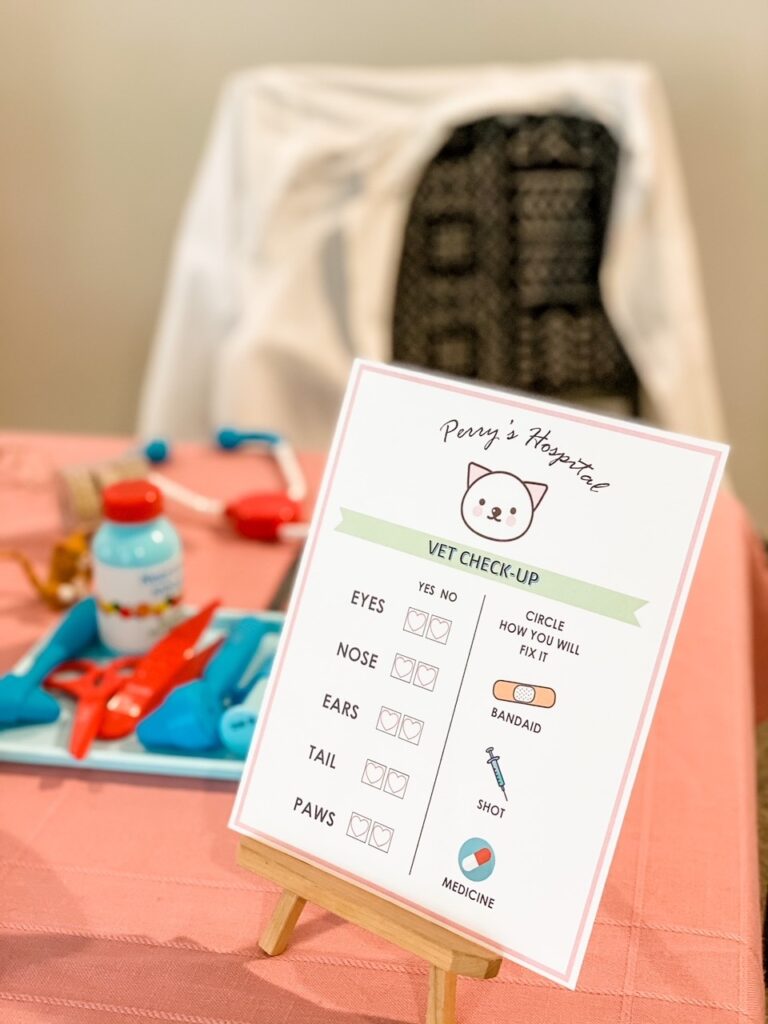 After the kids decorated their kitty houses, they moved on to the veterinarian station. This one was my favorite because my very dear friend Jen graciously volunteered to be the vet. She wore a white doctor coat and a stethoscope, and each kid had their own personal visit with her to check the health of their newly adopted kitty. She used a toy doctor kit that we already had to make it feel more realistic. I made "Check Up" sheets so that each cat could be well cared for after their visit. Some kitties were perfectly healthy, and some had some minor injuries that needed tending to. Jen was such a good sport and made the kids imaginations come to life!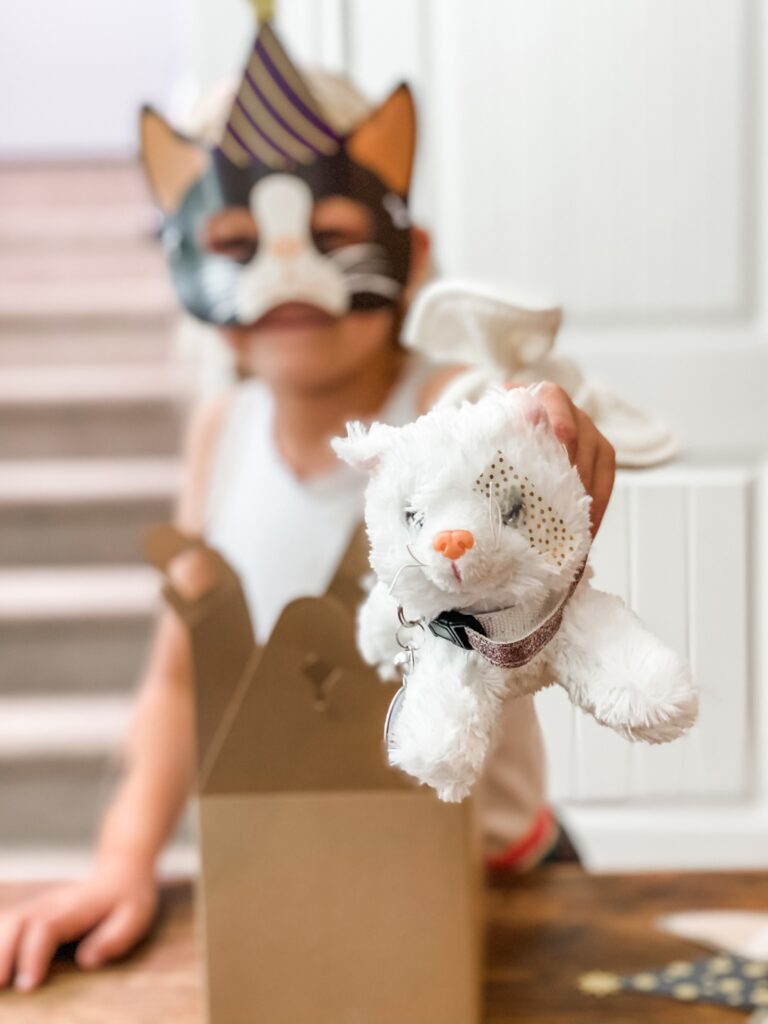 FOOD & DRINK
After each kitty was adopted, we went upstairs for snacks and cupcakes. I had September Moon Cupcakery make chocolate and vanilla cupcakes. I used the Nathalie Lété cupcake kit to jazz them up a bit. Kitty cookies were also on the menu, made by the very talented Sweet Sugarlicious. To cut through all the sugar, I made a great big charcuterie board with veggies, fruit, and dips. For drinks, we kept it very simple. Small bottles of water for the kids, and soda & beer for the adults.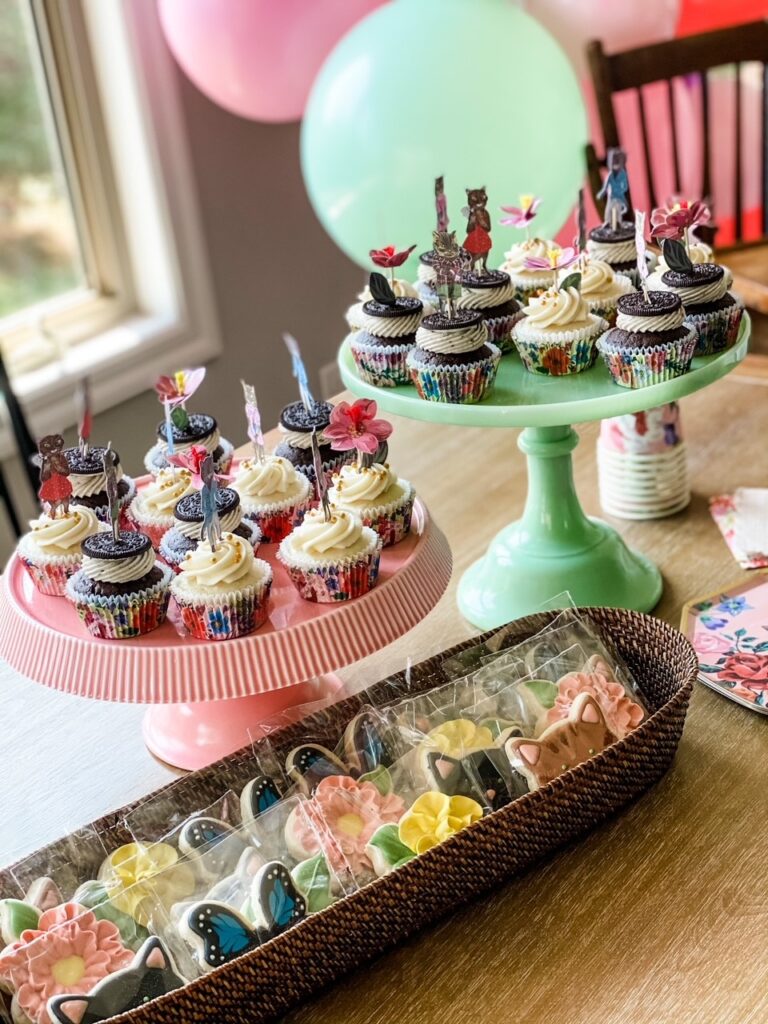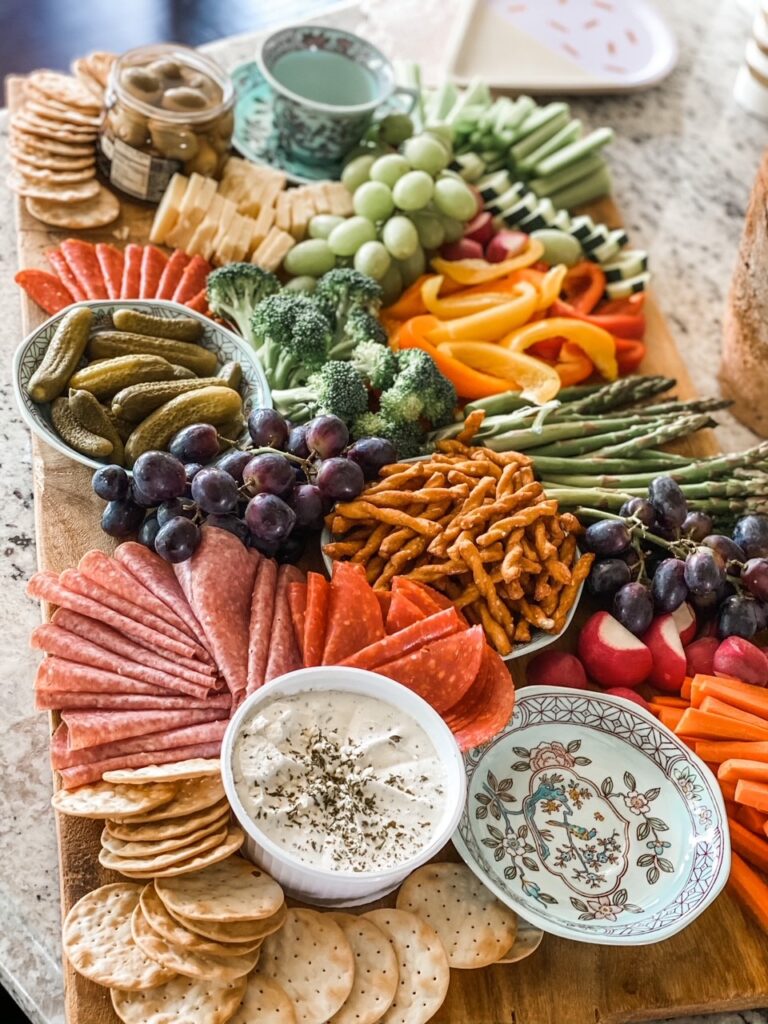 Throwing a themed birthday party doesn't have to be a ton of work, although I do tend to go overboard sometimes. I really relied on blog posts like this one for inspiration and ideas, so I'm hoping this one will serve the same purpose for you!
DOWNLOADS
Adopt a Kitty Sign
Adoption Certificate
Make a Collar Sign
Kitty Wellness Visit Sign
Decorate Your Kitty's House Sign
Vet Checklist
SHOP THIS POST