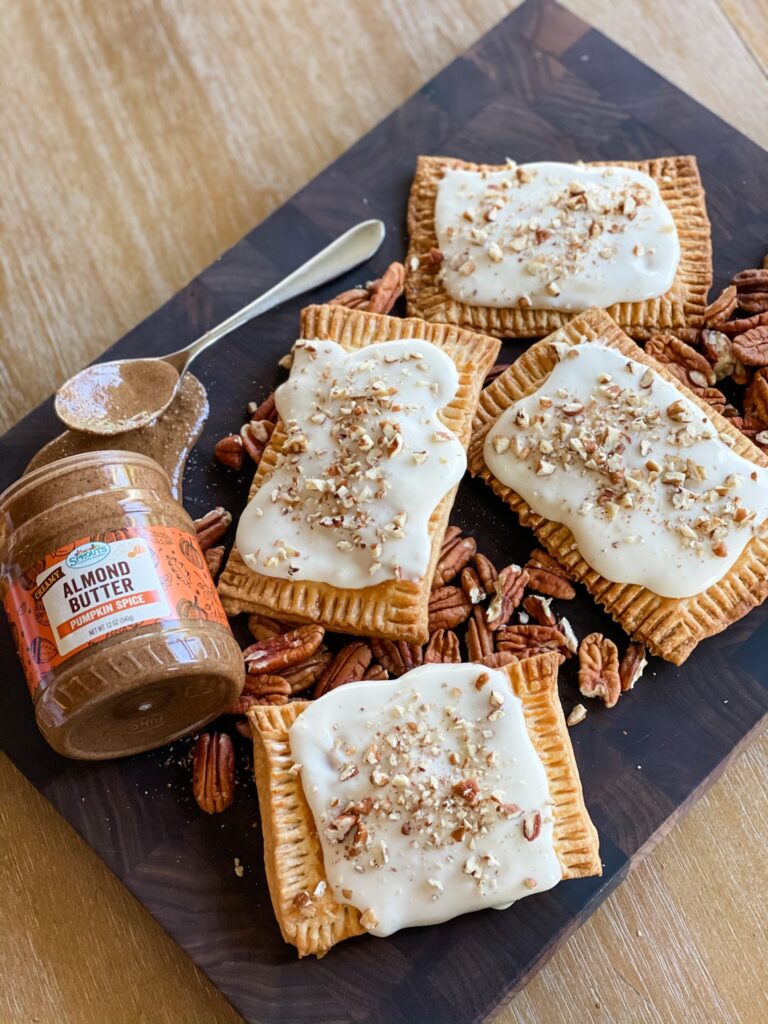 You had me at homemade pop tarts. Growing up, I had friends that were never allowed to eat junk food. My childhood however, was not like that. I lived on a really unbalanced diet of Doritos, Rice Krispy treats, & my personal favorite: Pop Tarts. My go-to flavor was strawberry, but I'd eat whatever kind we had in the pantry. Fast forward to my adult life, and I'm still a fan, but my taste buds have evolved. I'm not as in to store bought Pop Tarts, but what I do really love to indulge in is the homemade version. This variation is fall inspired, so the filling is made up of pumpkin spice almond butter (among other things), and topped with maple cream cheese frosting & chopped pecans. They are so simple to make, that you could probably whip 'em up faster than you could drive to the store to buy the boxed kind.
INGREDIENTS
1 package Pillsbury refrigerated pie crust
1 cup Sprouts Pumpkin Spiced Almond Butter (or any other almond butter)
1/4 + 3tbs cup pecans, finely chopped
1/4 cup brown sugar, packed
1 egg, beaten
4oz cream cheese, softened
2tbs butter, softened
2 cups powdered sugar
2tsp vanilla
1tbs maple syrup
1/4 cup heavy cream (more or less depending on desired consistency)
INSTRUCTIONS
Preheat oven to 400 degrees and line a baking sheet with parchment paper. Roll out both pie crust as thin as you can without tearing. Cut the whole piece of crust so it resembles a square, then cut each sheet into six equal rectangles.
To make the filling, combine almond butter, chopped pecans, & brown sugar in a bowl. Spoon one tablespoon of the mixture onto three of the pie crust squares. Top each with the remaining three squares, using a fork to seal around the entire rectangle. Brush each pop tart with egg wash. Bake for 15 minutes. Once completely cooled, frost each pop tart and top with reserved 3 tablespoons of pecans.
Best enjoyed warm, but you can store the homemade pop tarts in an air tight container for 2-3 days.