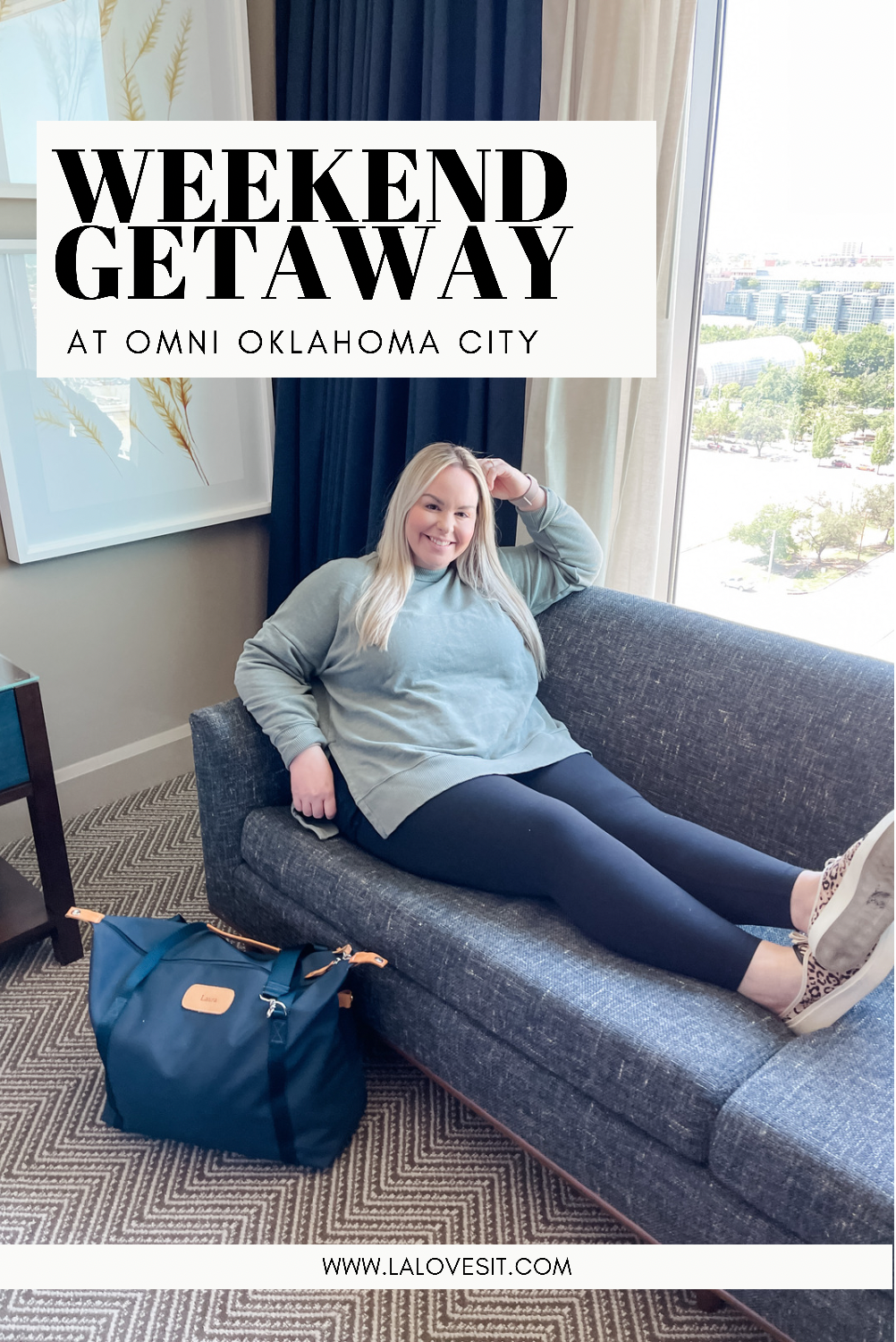 What's better than a weekend getaway? A weekend getaway at Omni Oklahoma City! I had the chance to stay in one of their king rooms on the 14th floor this past weekend, and I'm still dreaming of how much fun it was. From the spa, to the pool, to the amazing dining options, you could stay all weekend and not have a reason to leave the hotel property.
DINING AT OMNI OKC
Let's just start with my part of the whole weekend, the food! Omni OKC offers several dining options, with more coming this summer.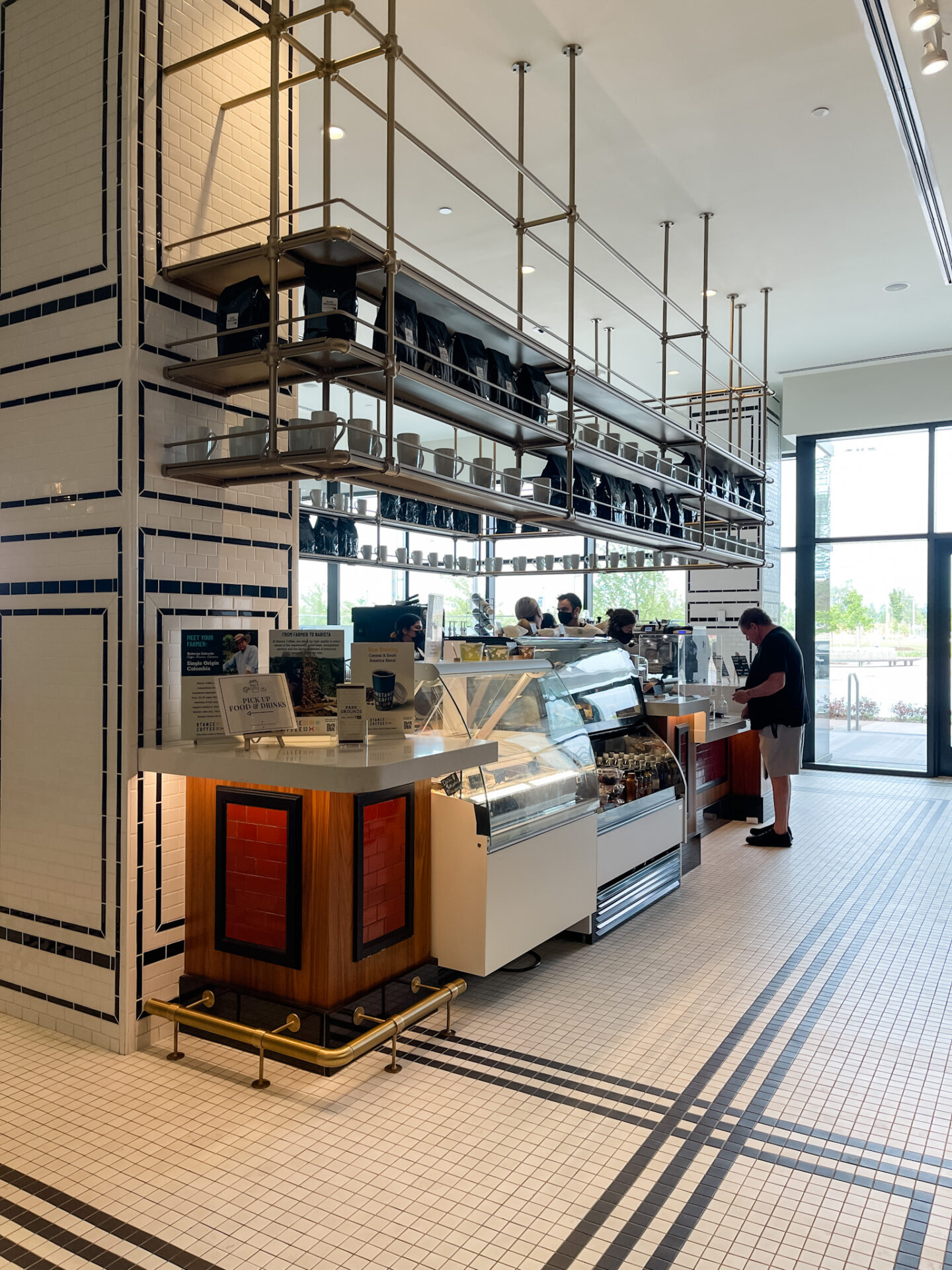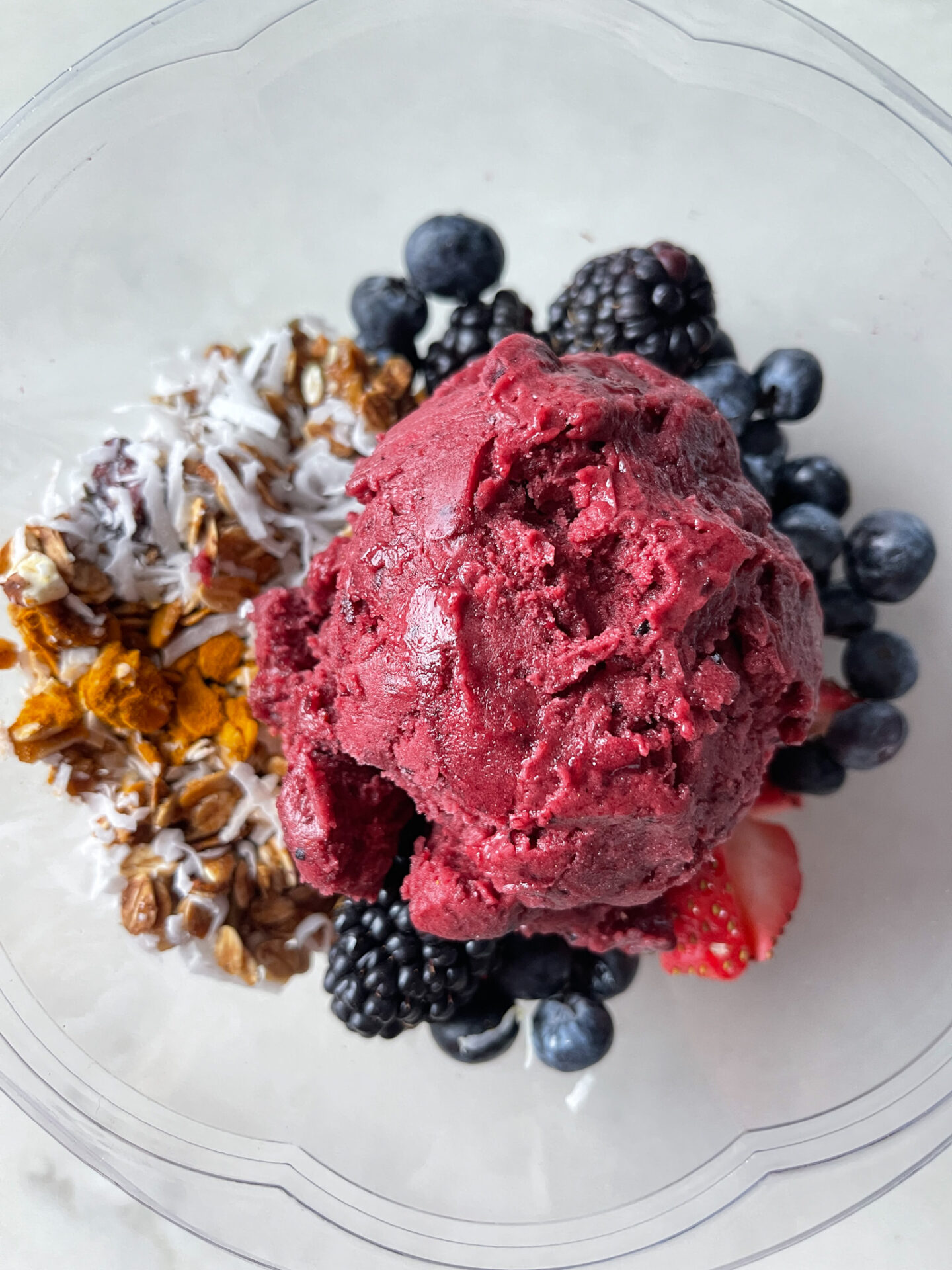 Each morning we were at the Omni OKC, our day started at Park Grounds. It's a coffee shop on the first floor that has tons of ready made fresh salads, sandwiches, pastries & of course: coffee. I'm a drip coffee kind of girl, so that's what I ordered each time. On our last day there, I sprung for an acai bowl and it did not disappoint. Everything was so fresh and vibrant.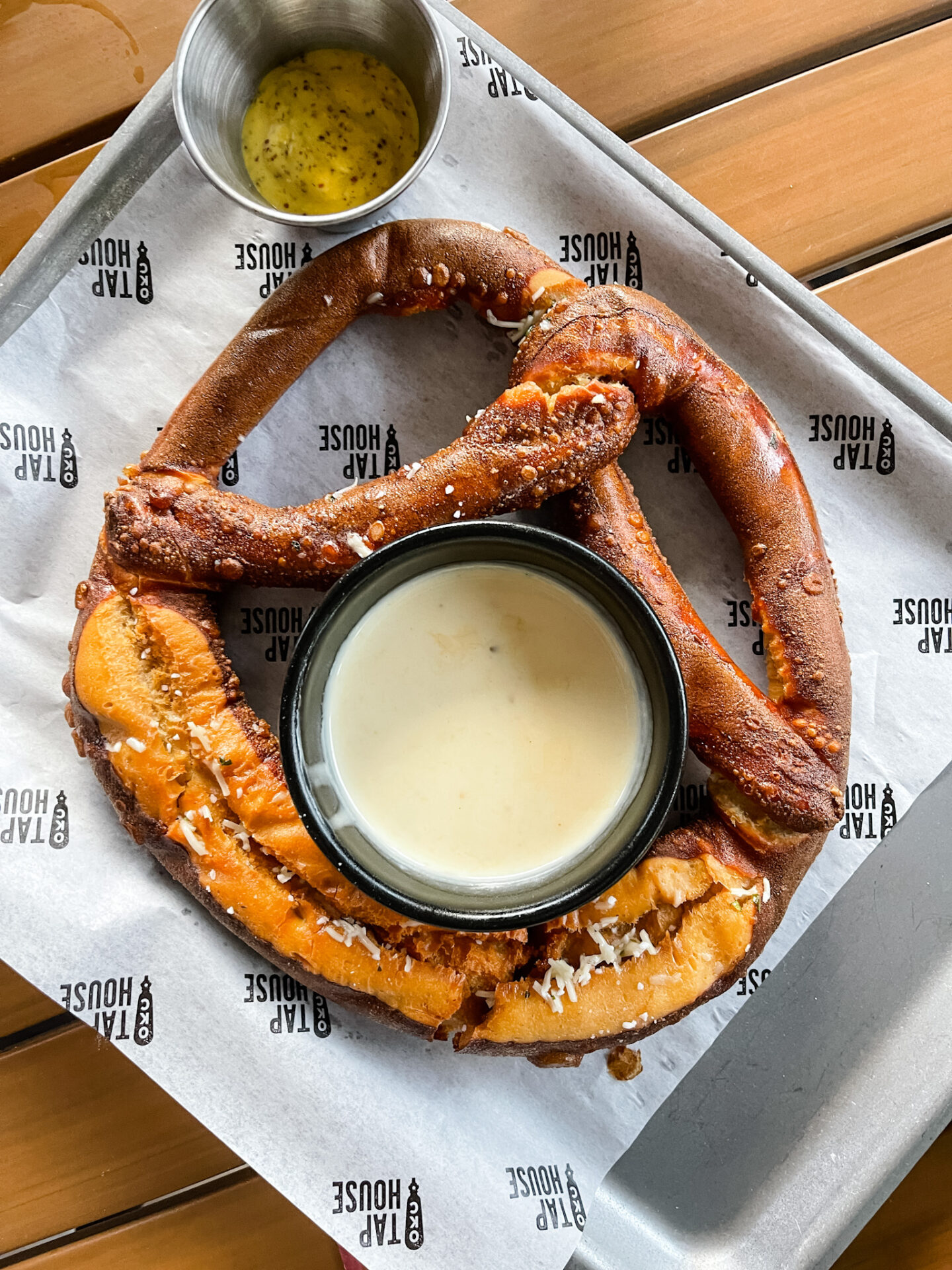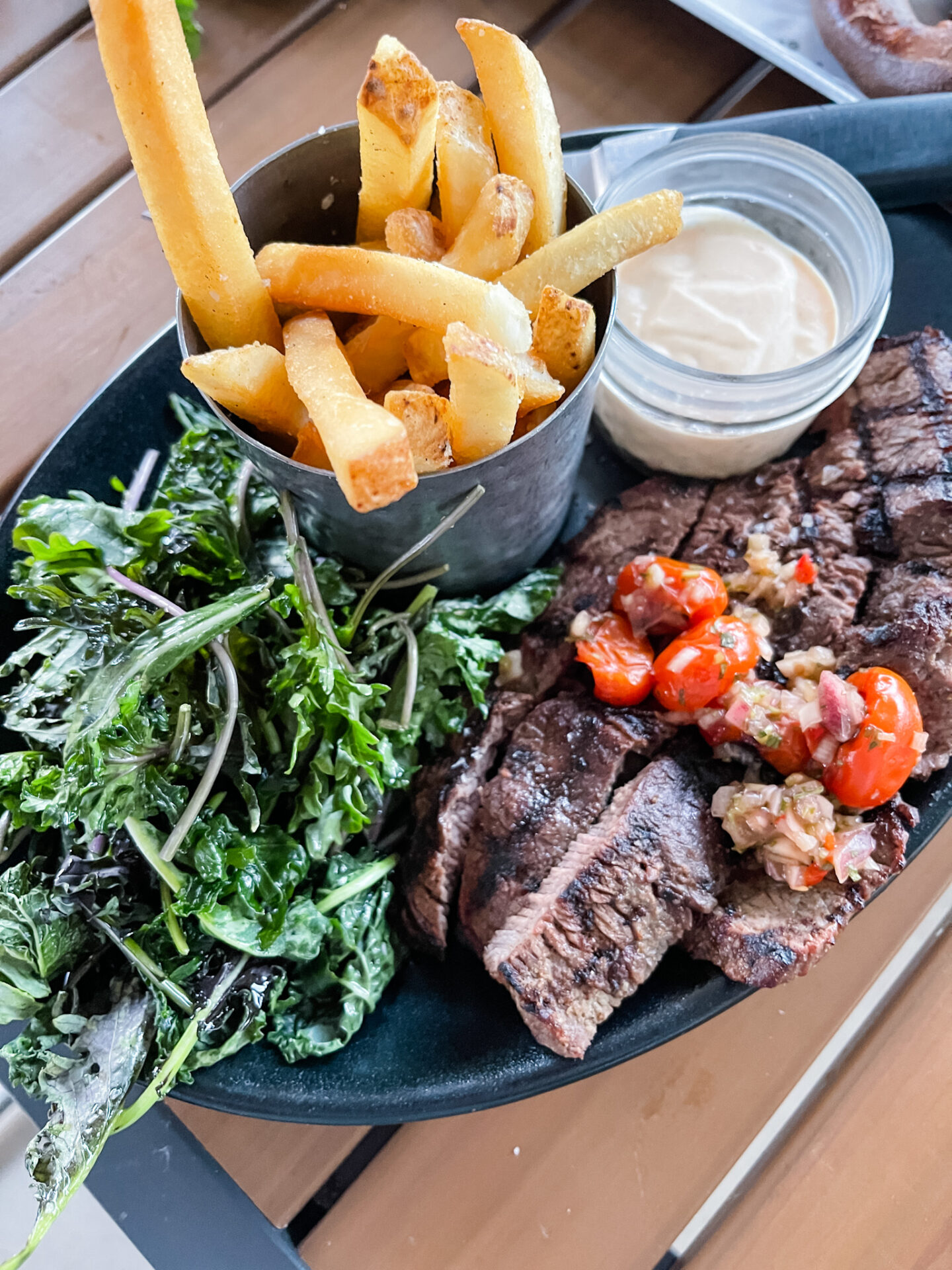 The first night, we had dinner at OKC Tap House, a pub feel kind of place with live music and upscale bar food. On order was the Thunder Pretzel, Nachos, Roasted Cauliflower, Caesar Salad, & Steak Frites. Our eyes may have been bigger than our stomachs, but it was so fun trying everything! My favorite by far was the pretzel. It was served with stone ground mustard and a beer cheese sauce, YUM!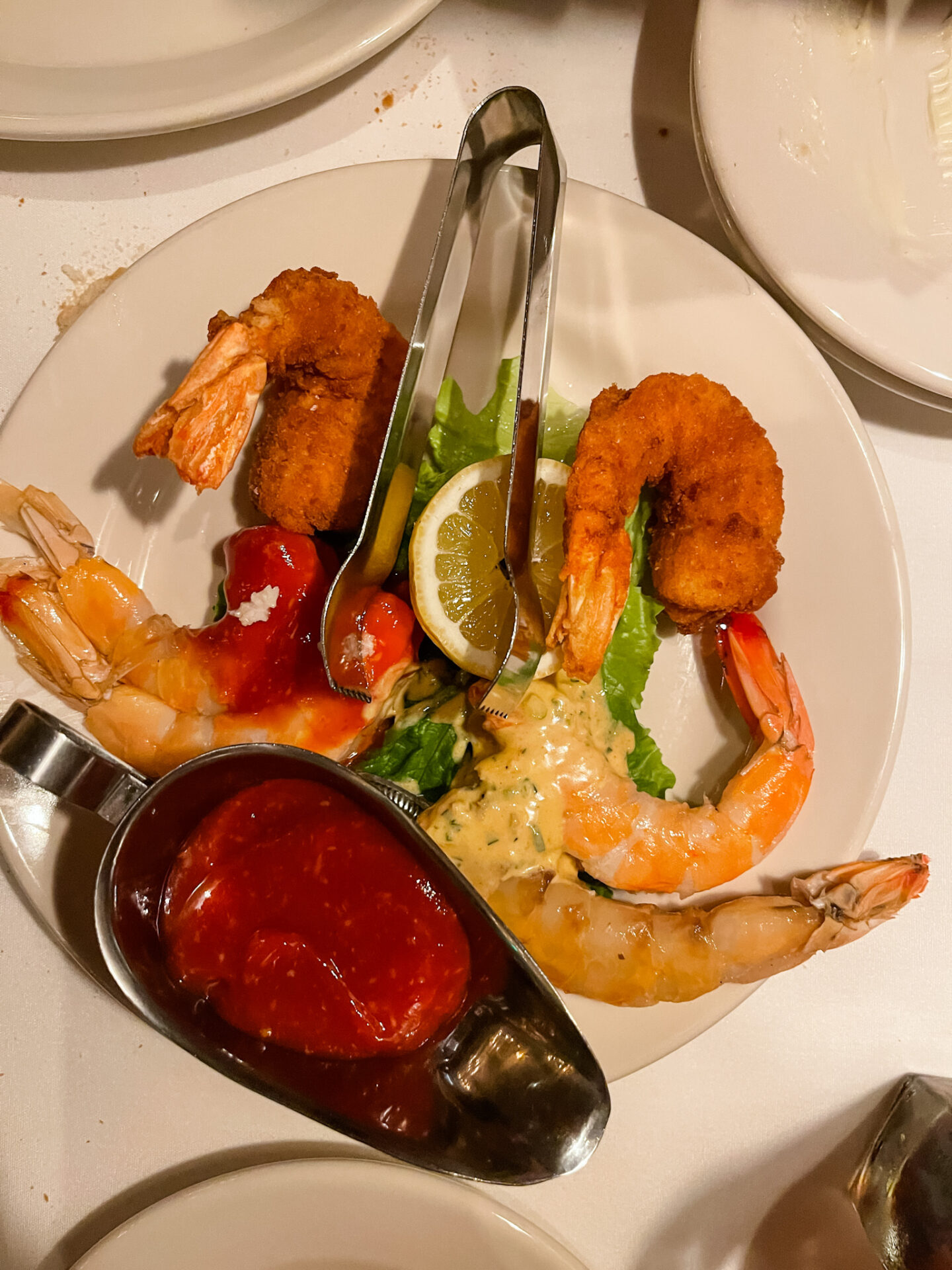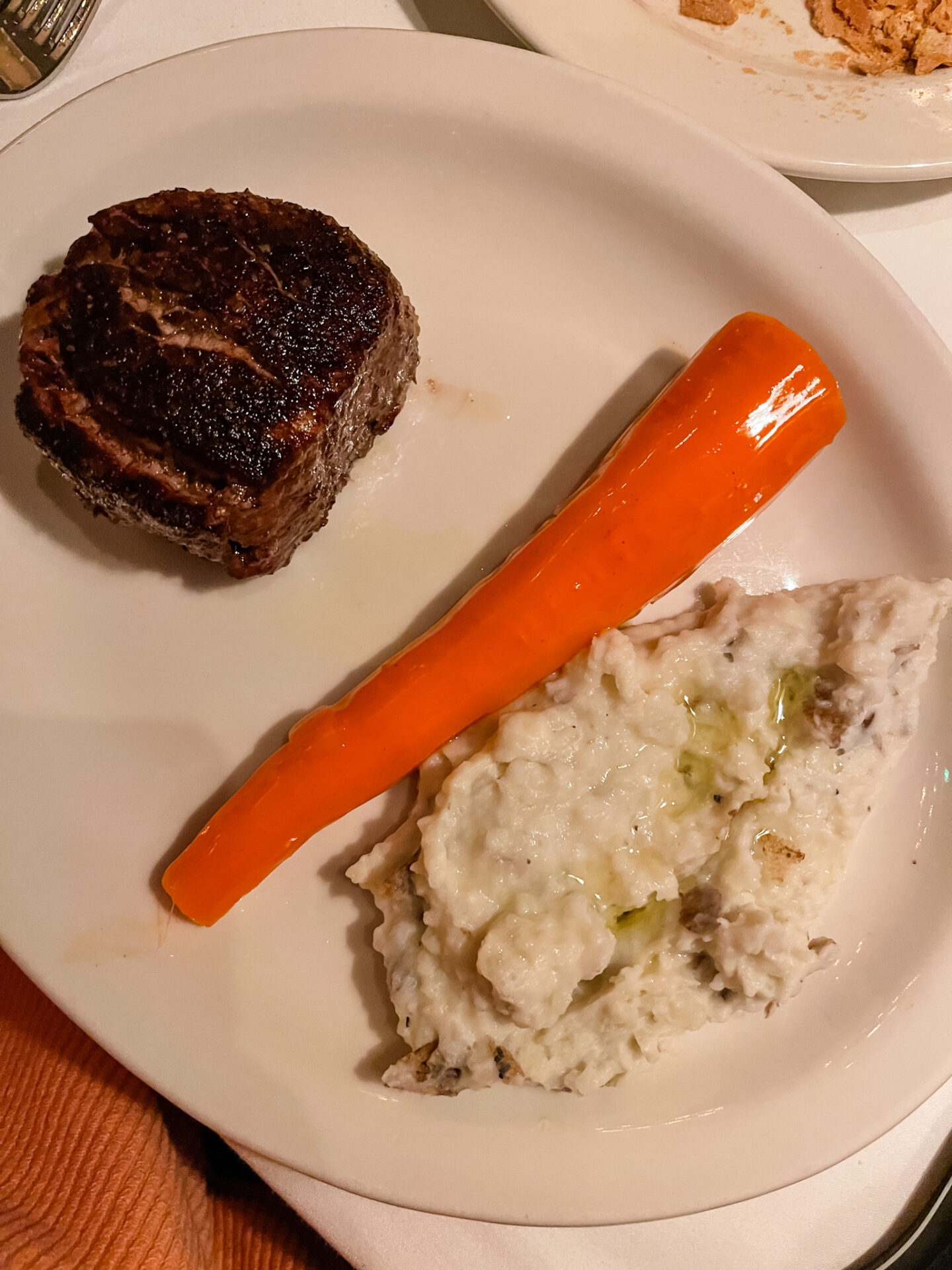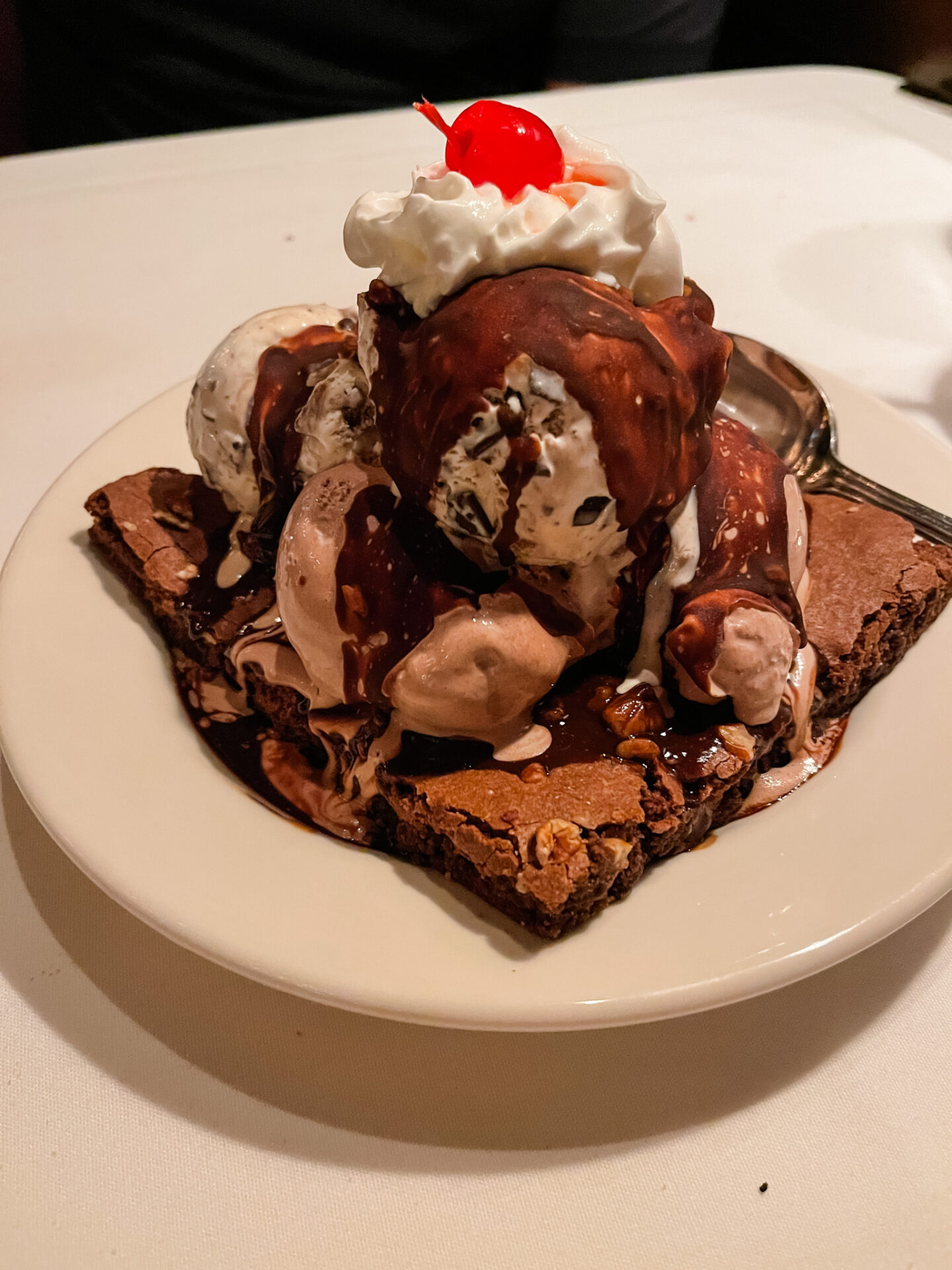 Bob's Steak & Chop House was probably the highlight of the entire weekend. It's a little tough to get a table right now, but we got lucky with an 8:45pm reservation on Saturday night. It's moody and dark inside and is everything you'd want for a special night out. We started with the shrimp platter which came with shrimp cooked three ways and it was absolutely divine. Of course, our main was a steak with mashed potatoes because what else would you get at Bob's? It was truly one of the best steaks I've ever had. As if that wasn't enough, we finished the meal off with a huge brownie topped with six scoops of ice cream.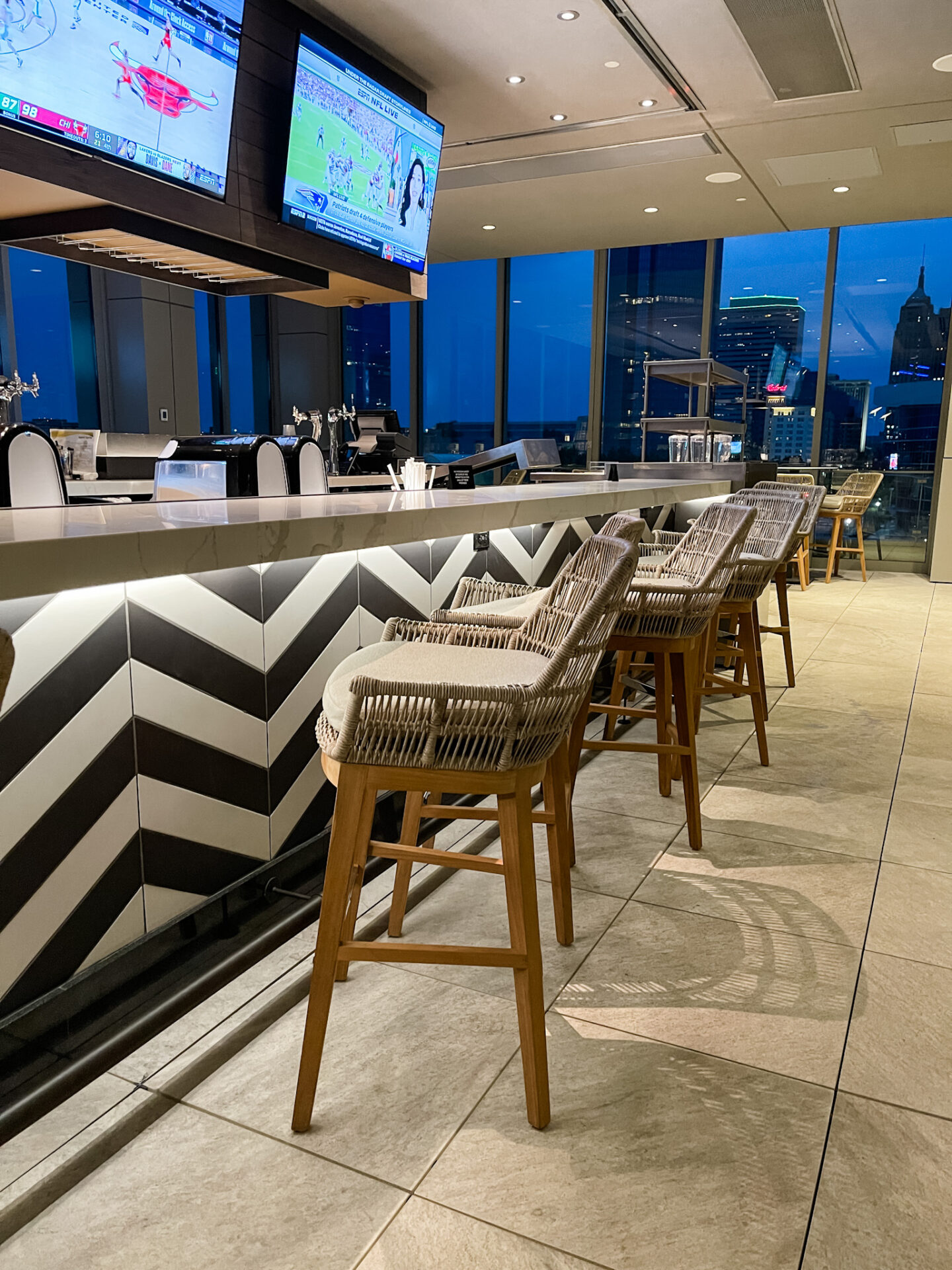 Catbird Seat is the third floor bar that sits right next to the pool & hot tub. They have a wide selection of draft beers & craft cocktails. It's perfectly situated so you can grab a drink or a snack while you relax outside. The bar is surrounded by floor to ceiling windows so you never miss any action at the pool.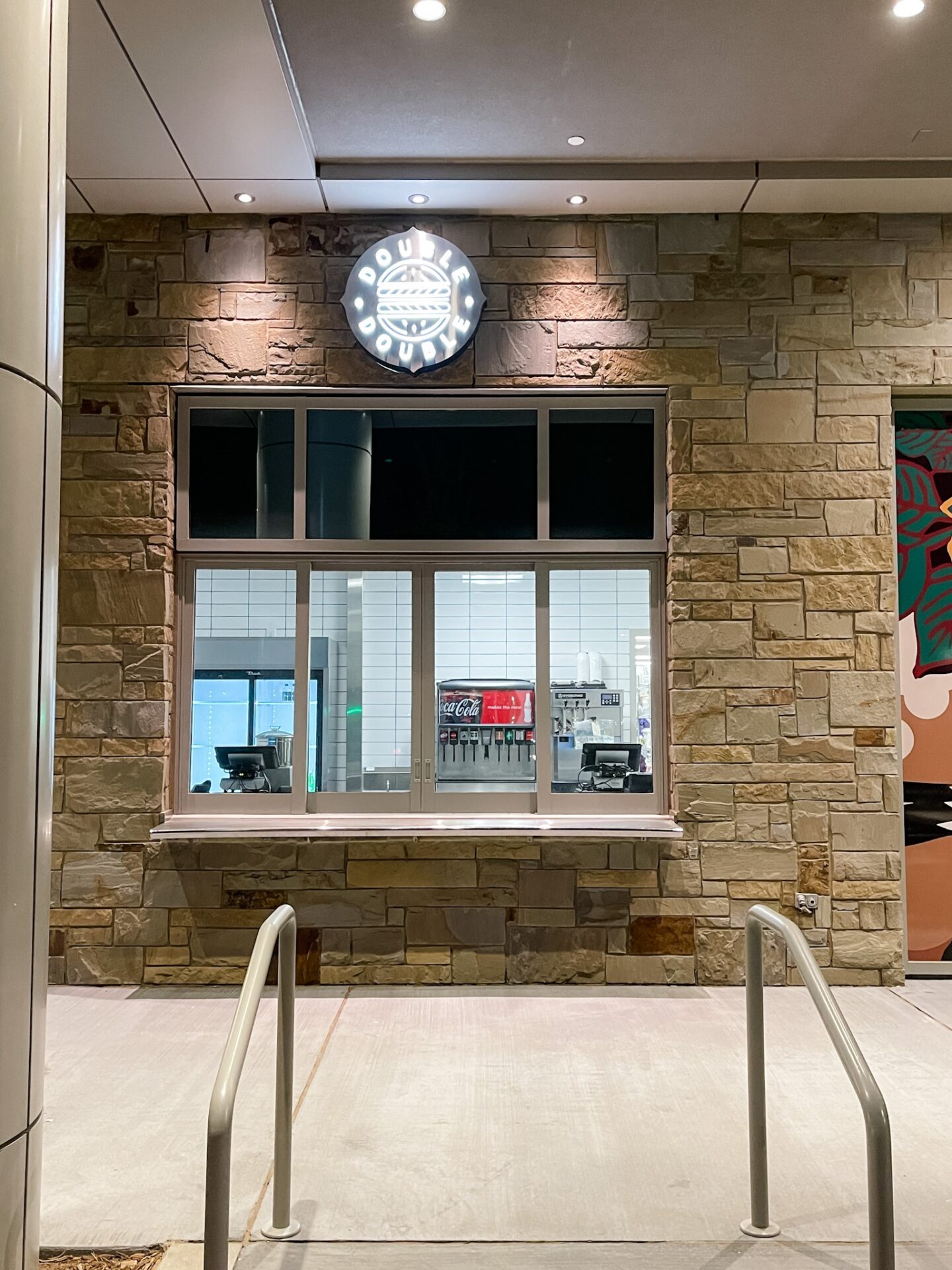 There are a couple of other dining options coming soon to Omni OKC. One is a walk up burger stand that is accessible from Scissortail Park, which is right across the street from the hotel. It's called Double Double, and I'm really excited to go back and try it.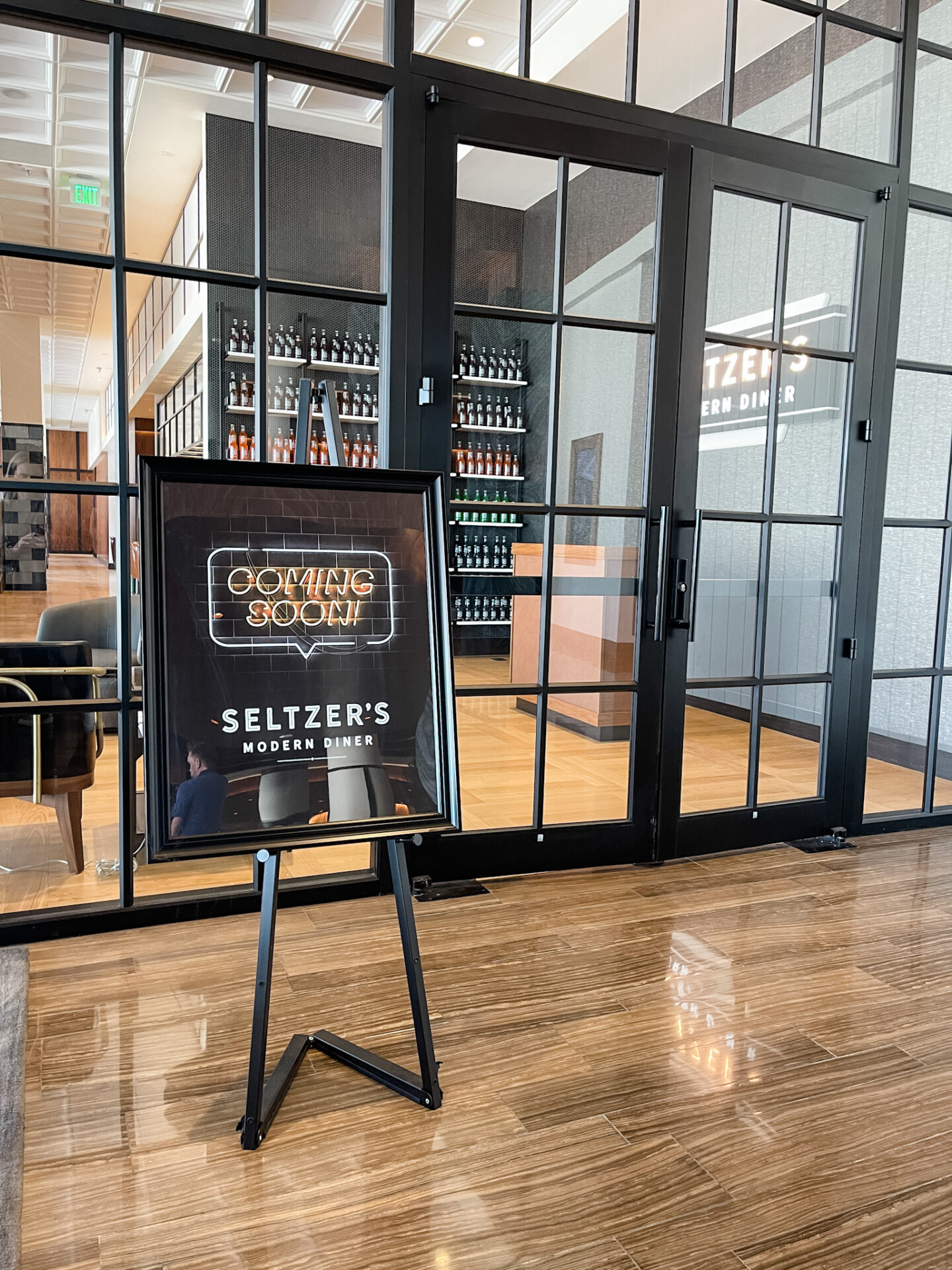 Another coming soon option is Seltzers, a modern diner concept that was just about finished when we were there. The furnishings are so beautiful, and I'm sure the food will be amazing!
OUR ROOM AT OMNI OKC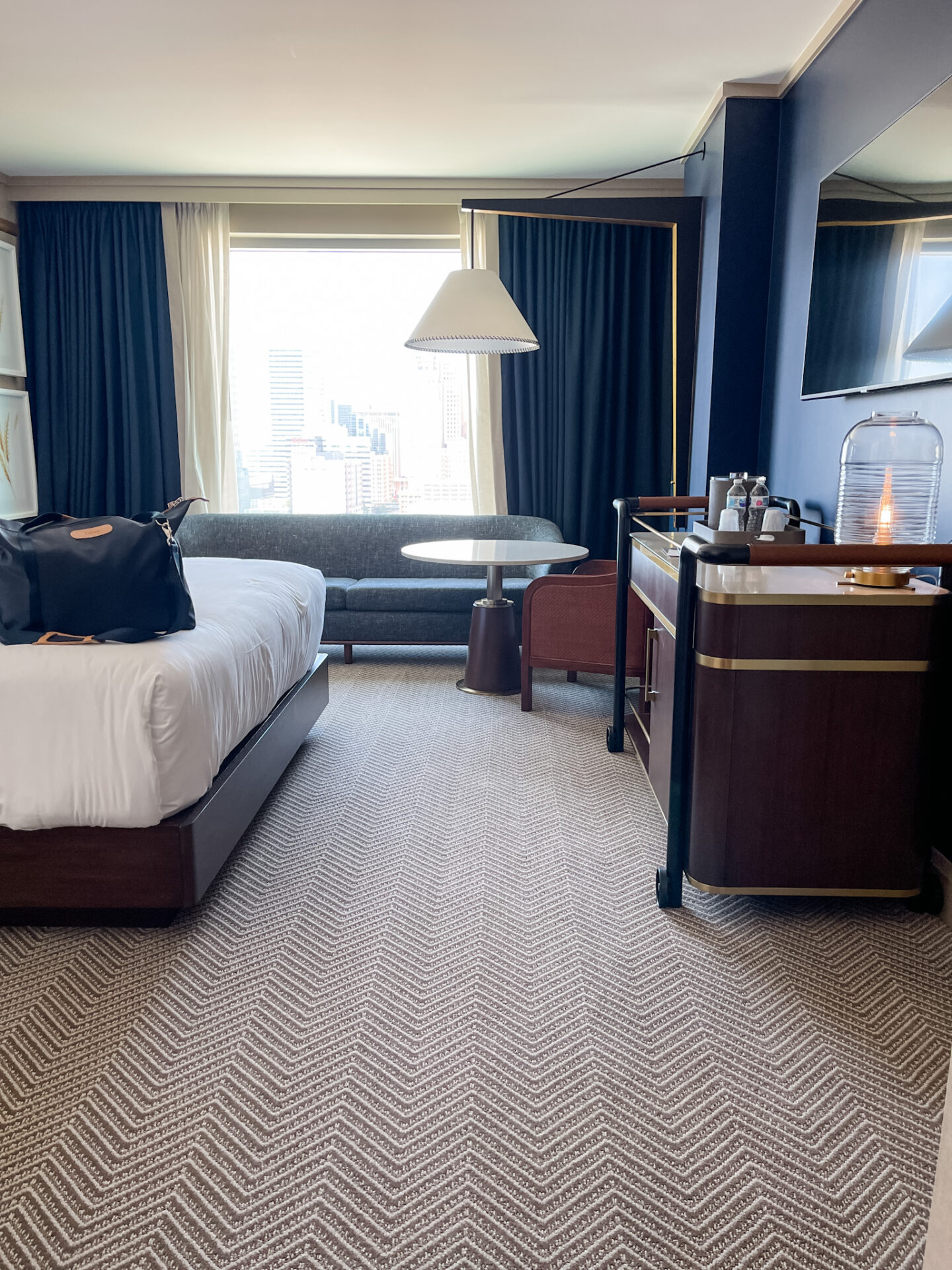 All of the rooms a Omni OKC have a view of either downtown OKC or Scissortail Park. No matter which side you're on, it's a win win. We had a view of downtown Oklahoma City from 14th floor. It was a king room and was designed so so well. It definitely had elements in it that did not feel like your standard hotel. For example, the blue tile and gold fixtures in the bathroom look like something you'd find at your really stylish friend's house.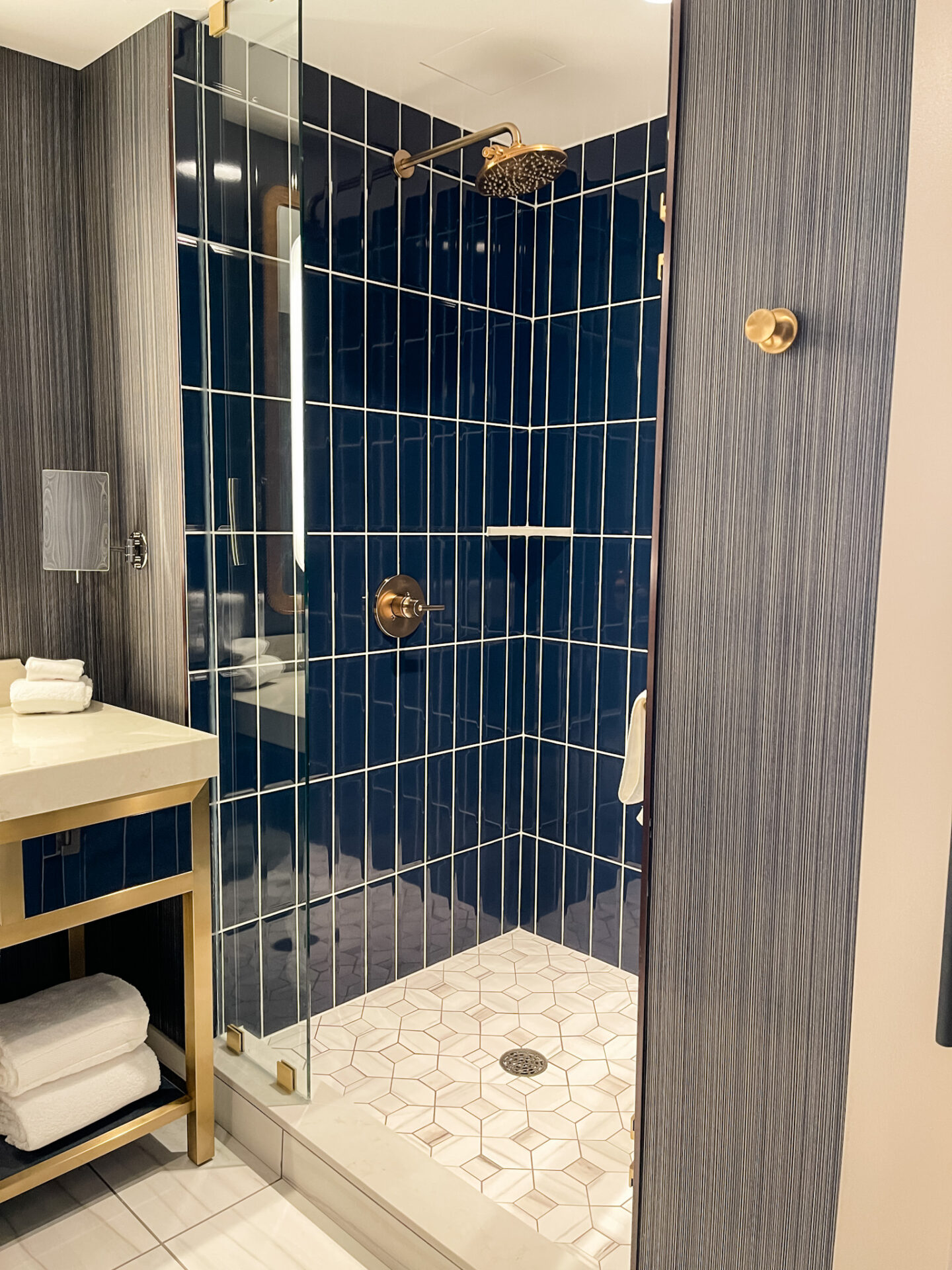 There was a coffee set up, but we didn't use it because Park Grounds was so convenient to get to from our room. It would be great if you were working from your room or having a late start and wanted to brew your own cup. The bed was super comfy and I loved that there was a couch right at the window so you could sit and just admire the beautiful view.
AMENITIES AT OMNI OKC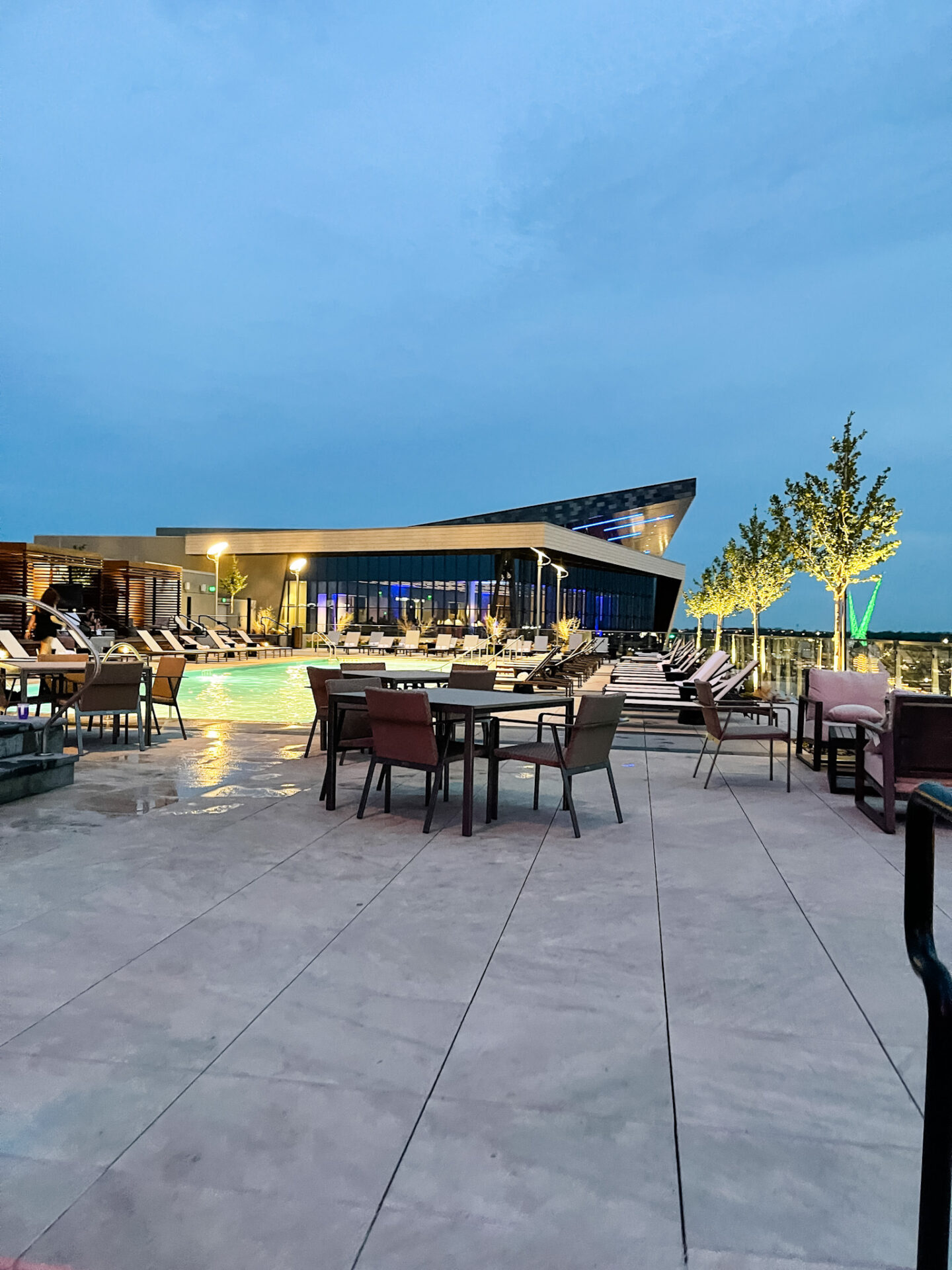 The amenities are endless at Omni OKC. For starters, the pool is incredible. It's on the third floor rooftop and has tons of lounge chairs, cabanas, and even a fire pit. We spent lots of time down there because the weather was in the high 80s both days we were there. It's the perfect spot to relax and has great views of Scissortail Park.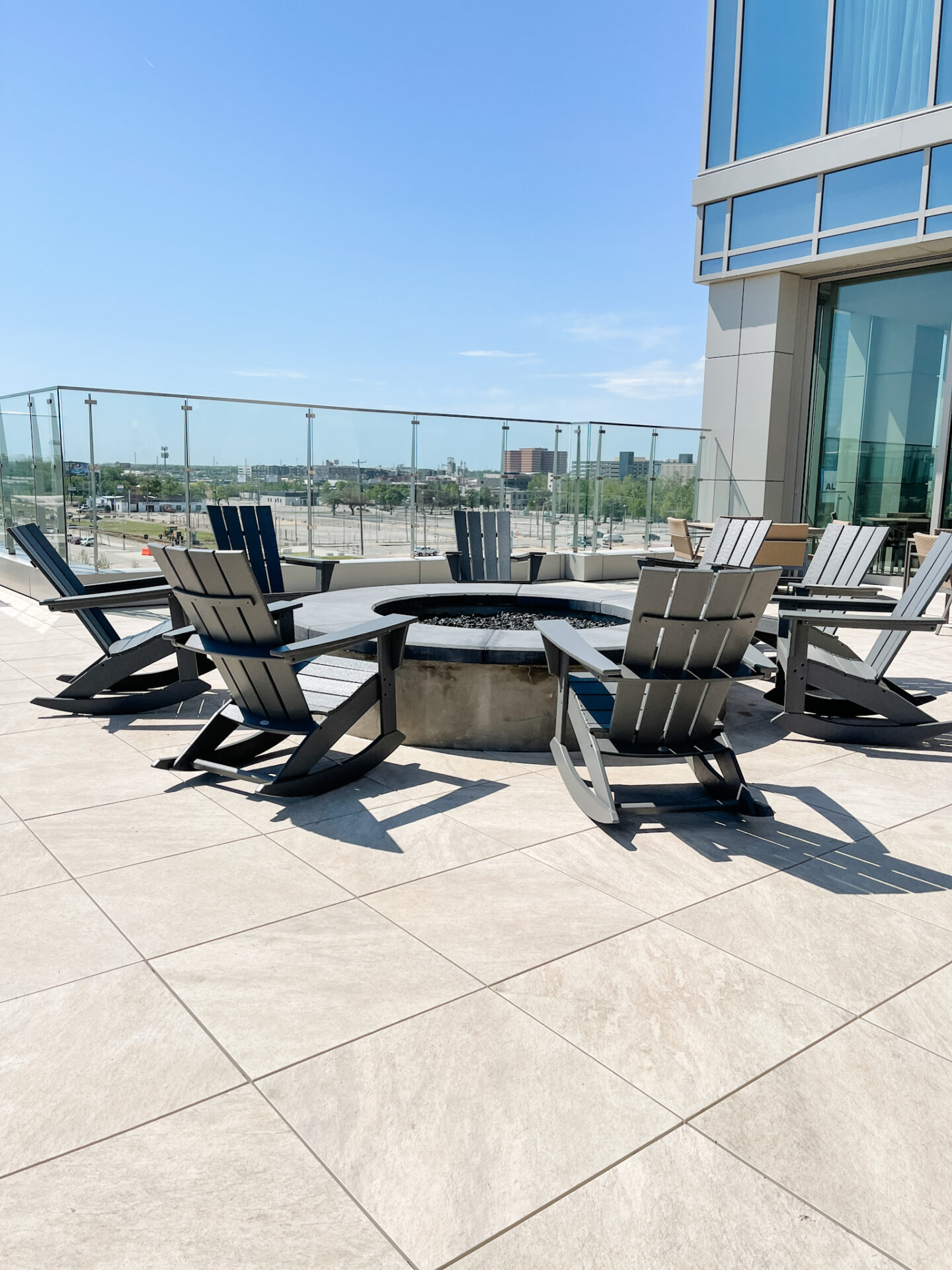 Mokara Spa is also located on the third floor, and has the look and feel of a luxury spa by all counts. You can get a facial, massage, even a mani/pedi! I didn't have a chance to try it out this trip, but can't wait to get a massage next time I'm there. You can see their full spa menu here.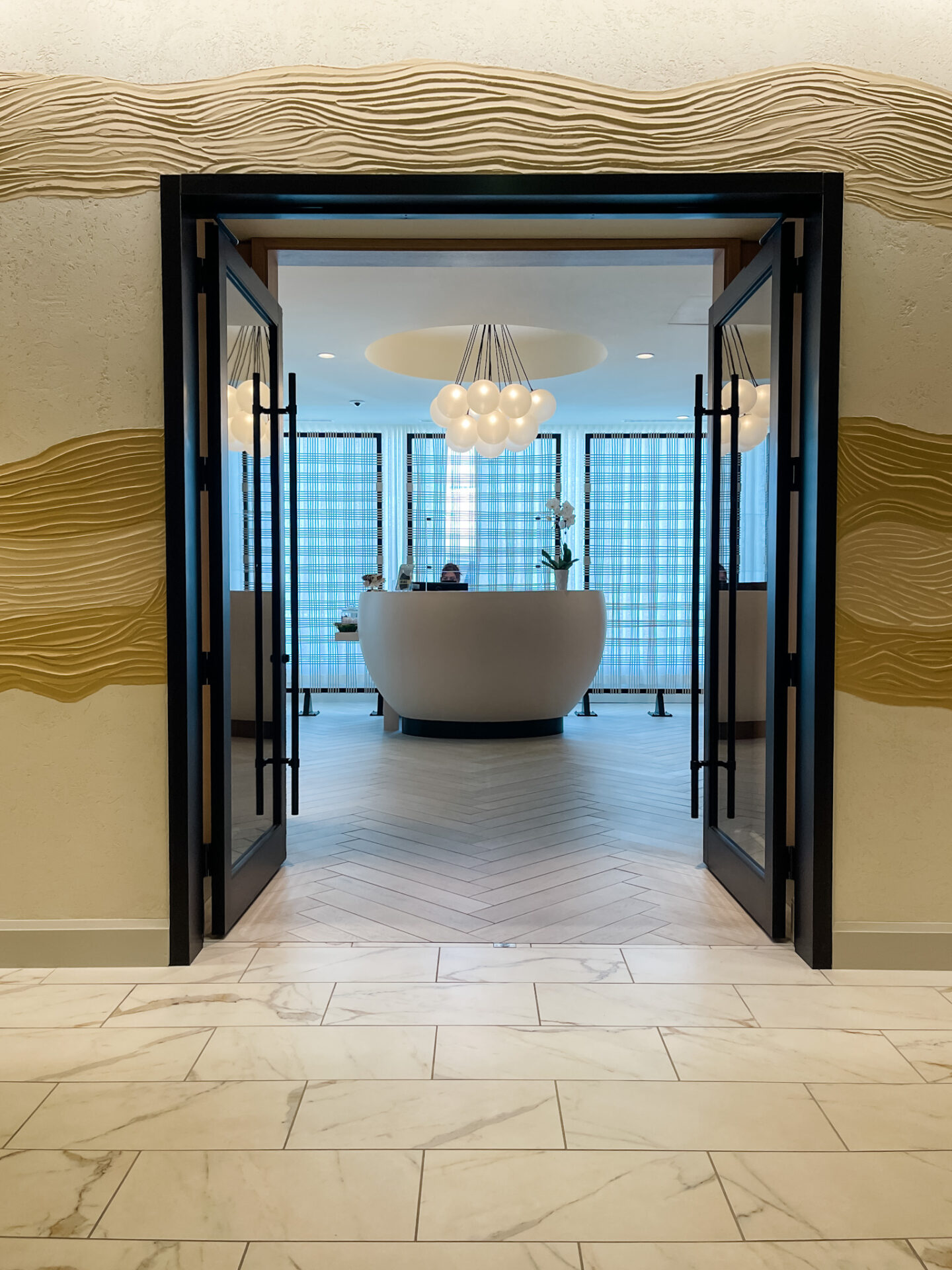 Jus down the hall from the spa was the Fitness Center. It's not your ordinary hotel gym. This one is sprawling and has every machine you could think of, even two Peloton bikes! The view looks out over the Oklahoma City skyline so you can soak up the beautiful city while you a jog or cycle.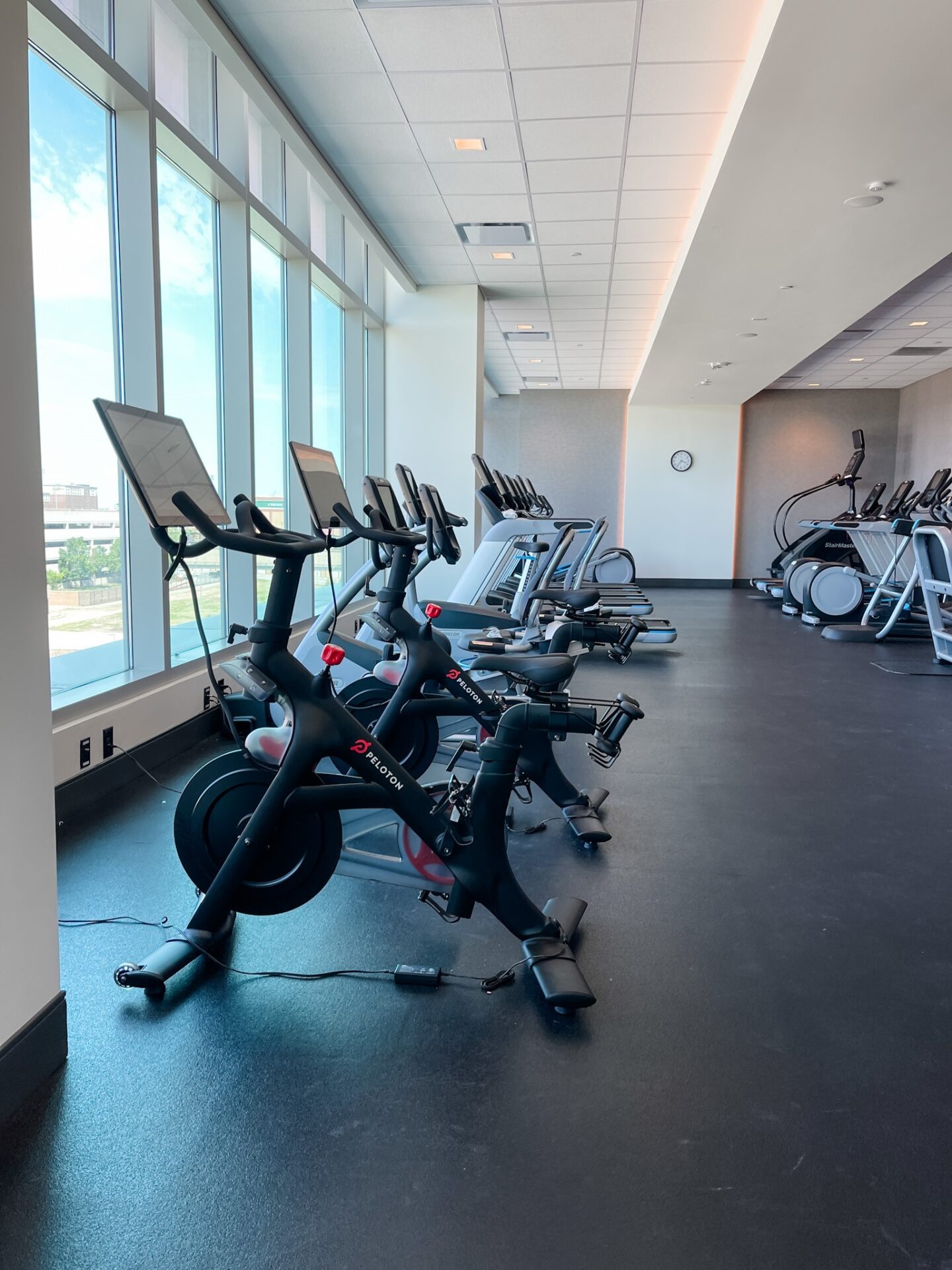 I'm looking forward to my next trip to the Omni OKC! There are lots of things I didn't get to do and several things I didn't get to eat, so a trip back is definitely in my near future.
Thank you to Omni Oklahoma City for sponsoring this post. Please read my disclosure policy for more information.