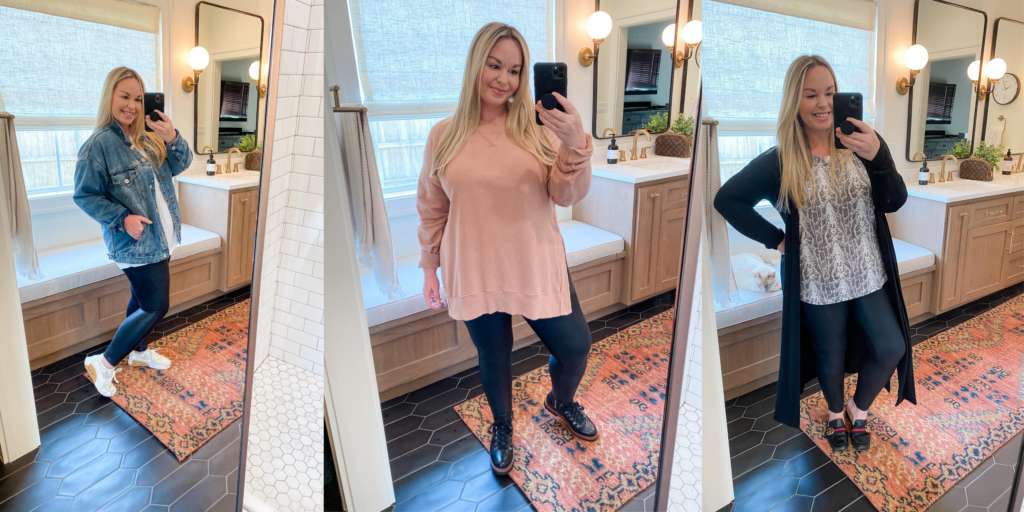 I used to be intimidated by how to style faux leather leggings. I had a pair that sat in my closet for months before I worked up the courage to experiment. The good thing about faux leather leggings is well, they aren't real leather so they can actually work in any season. I've tried several brands of faux leather leggings, and I always come back to Spanx. I wear a Large Petite, but they come in petite, tall, regular and go up to a 3X. I always thought they were a little "extra" for me, but when I figured how a way to style them that worked for me, I jumped on the bandwagon. Here are three ways that I like to style faux leather leggings.
LOOK ONE: CASUAL YET PUT TOGETHER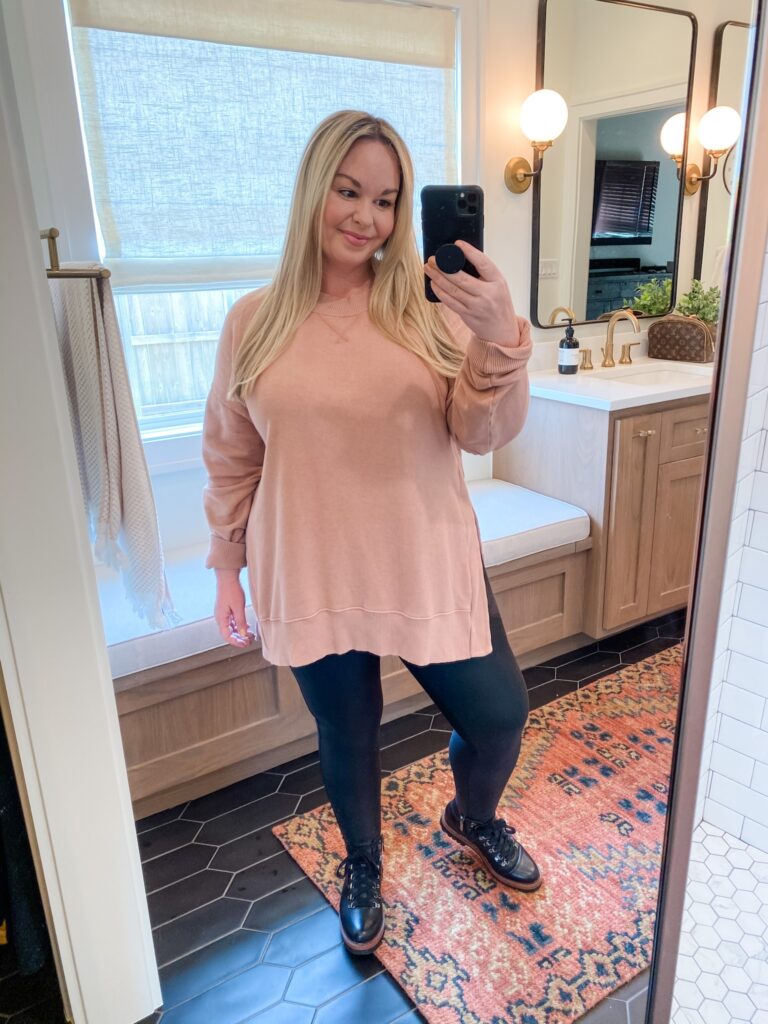 When I realized I didn't have to "dress up" to wear these leggings, I became more open minded about what I had in my closet to wear with them. I love wearing a neutral colored sweatshirt or casual sweater & booties because the leggings alone are like I said before…a little extra. This tones them down a bit and makes it an outfit I could literally wear to the grocery store.

LOOK TWO: WORK OR PLAY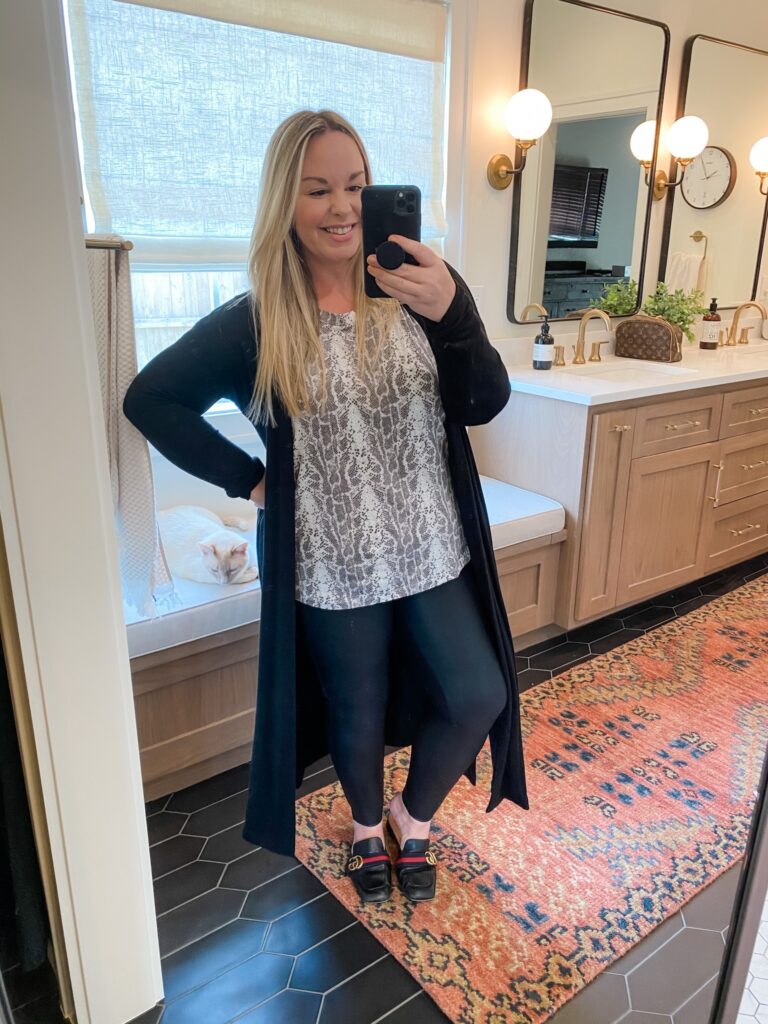 This is the dressiest look of the three, and it's still super comfortable. A nice t-shirt with a long statement piece like this black duster can go a long way. I gave up wearing heels long ago, so I paired it with my favorite Gucci mules. I got these in Paris, so every time I wear them I feel special.

LOOK THREE: COMFY + EDGY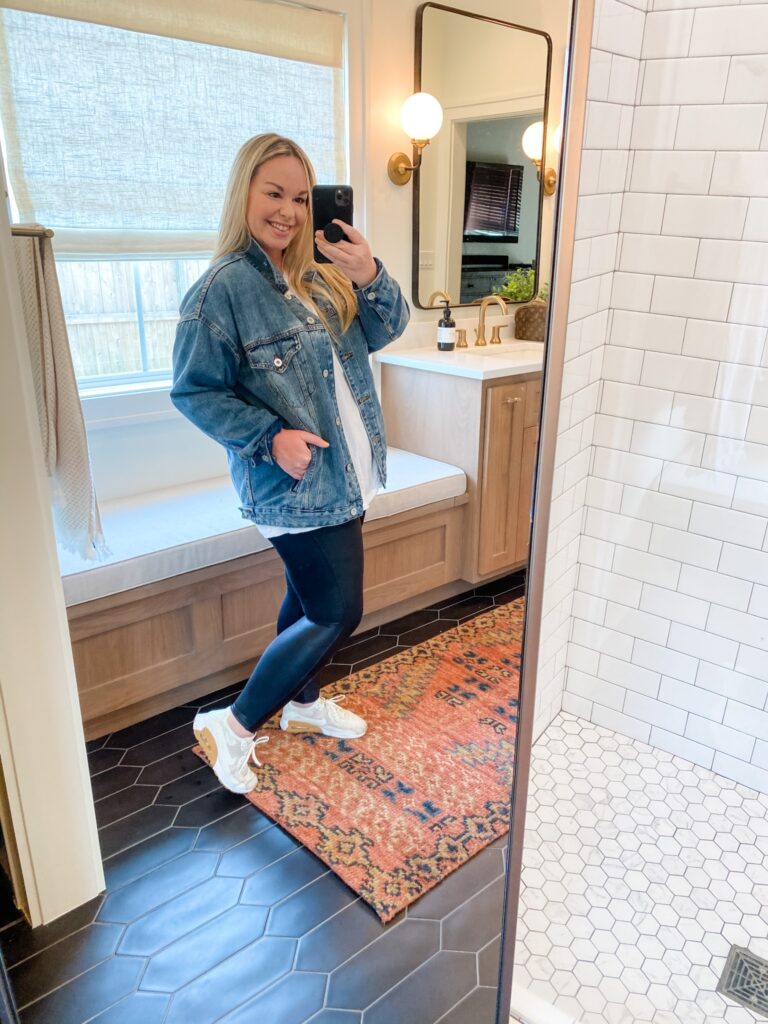 Now this is an outfit I can get behind. This is the perfect transition to fall look because it's just the right about of layers and comfort. This over-sized jean jacket is my go-to when the temps start dropping. It makes everything look more chic and stylish, not that these leggings need any help! I love a good white sneaker, but a fun colored pair would be great here too.

SHOP THIS POST