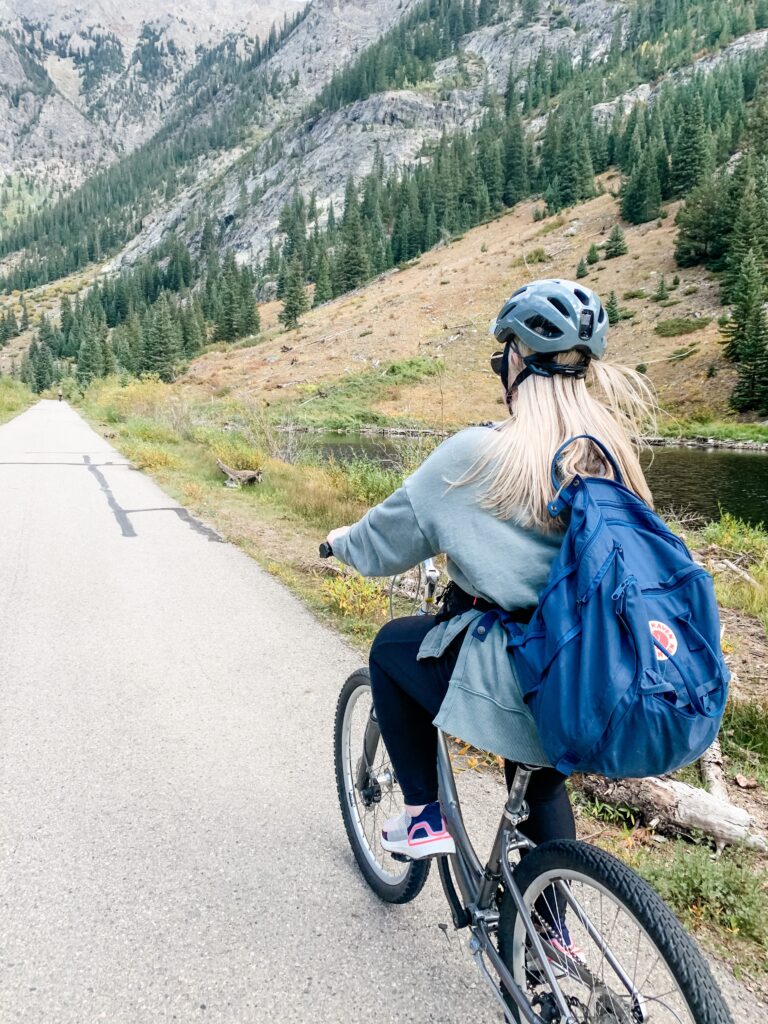 Use this guide to Breckenridge to plan your next mountain getaway!
2020, am I right? Usually at this point in the year, I've been on tons of plane rides, lots of weekend road trips, & maybe even an international vacation. We travel a lot during normal times, so being hunkered down since March has been quite different for us (and everyone else too, I'm sure).
Last week, I traveled via a rented mini van to Breckenridge, Colorado. It's about a 10 hour drive from my sister's house in Kansas. I went with my sister and her family (which includes a three and a one year old), and her mother in-law. I'm going to share some things we did to prepare to make it as safe of a trip as possible, plus all my favorite things and my guide to Breckenridge, Colorado.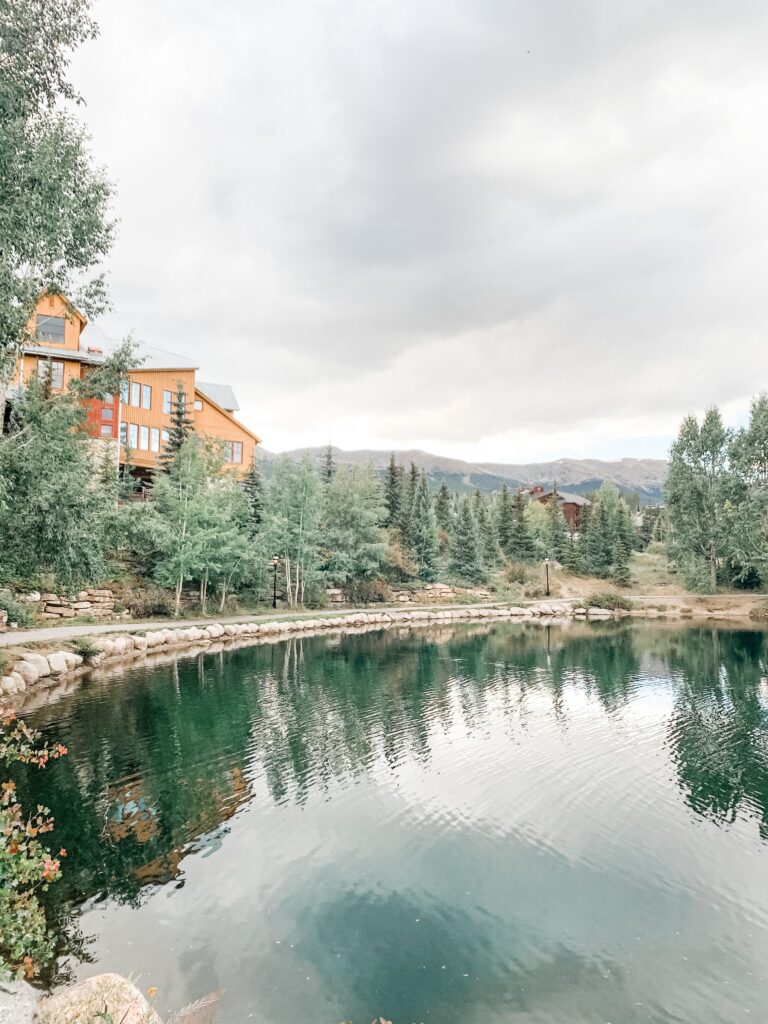 PREPARING FOR THE ROAD TRIP
Like I mentioned, we rented a mini van. We did this for a couple of reasons. First, the price was too good to pass up. As most of you have seen, hotels, flights & rental cars are at bottom dollar prices right now because of the pandemic. Second, none of us really wanted to put the miles on our car. And lastly, none of us had a car that everyone would fit it, so we really didn't have a choice!
After we picked up the rental van, we made sure it was completely cleaned, wiped down, and disinfected. It was a brand new van, so we knew that not many people had been in it, but you just never know, ya know? We knew that we would need to limit the amount of times we stopped for food or anything else that would require us going inside somewhere, so we packed some serious car snacks/food.
I took my Yeti Hopper and filled it with things like homemade guacamole, salami with cheese, fresh fruit, peanut butter & jelly sandwiches, cold diet Dr. Pepper, and water. We had lots of other snacky food like Dots Pretzels, Smart Sweets candy, etc. We were absolutely set from a food and drink standpoint, which made it easy and allowed us to only stop when we needed gas or when the kids needed to run around for a few minutes.
GUIDE TO BRECKENRIDGE: WHERE TO EAT
We made it to Breckenridge in good time, and immediately went to my number one favorite spot to eat there. Giampietro's has handmade pasta, amazing salads, and tons of other great menu items. I always get the fettuccine bolognese. It's enough for two or even three people to share. Main street was completely blocked off to allow for restaurants to have extra outdoor dining space. We ate just about every meal outside and masks were required everywhere, even outdoors if you were in the Main Street area.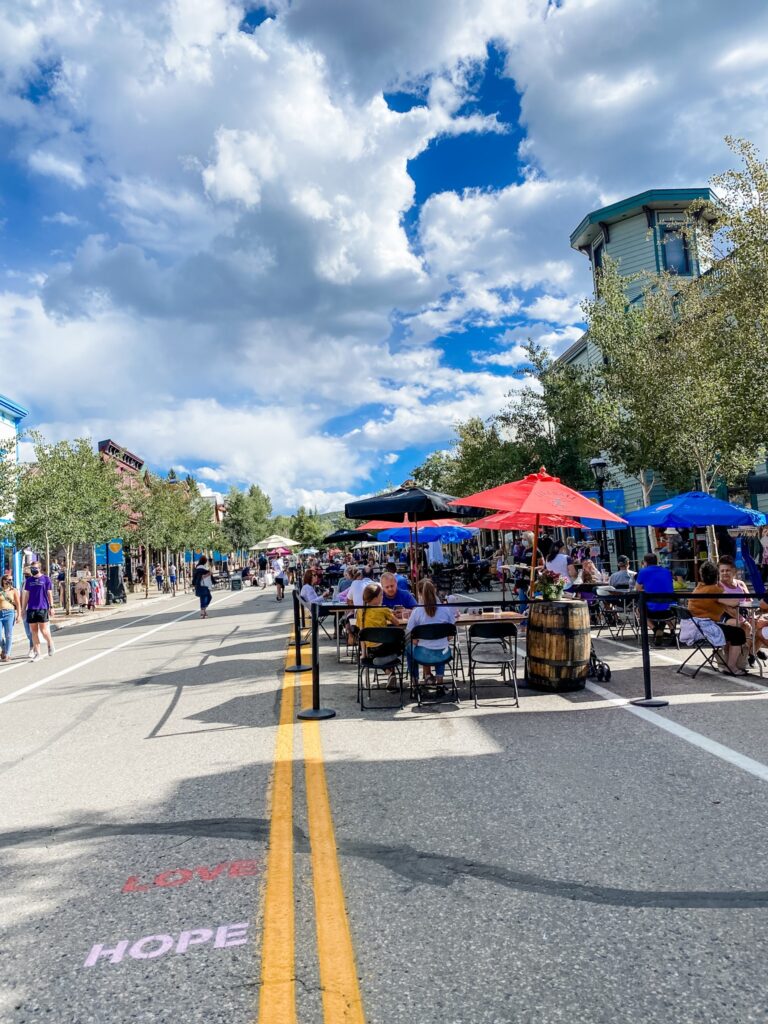 We usually get groceries the first night & have breakfast in the condo, but if you are like me and love donuts for breakfast, there is a Daylight Donuts on Main Street. For a healthier option, I love going to LoLo Juice for an smoothie bowl.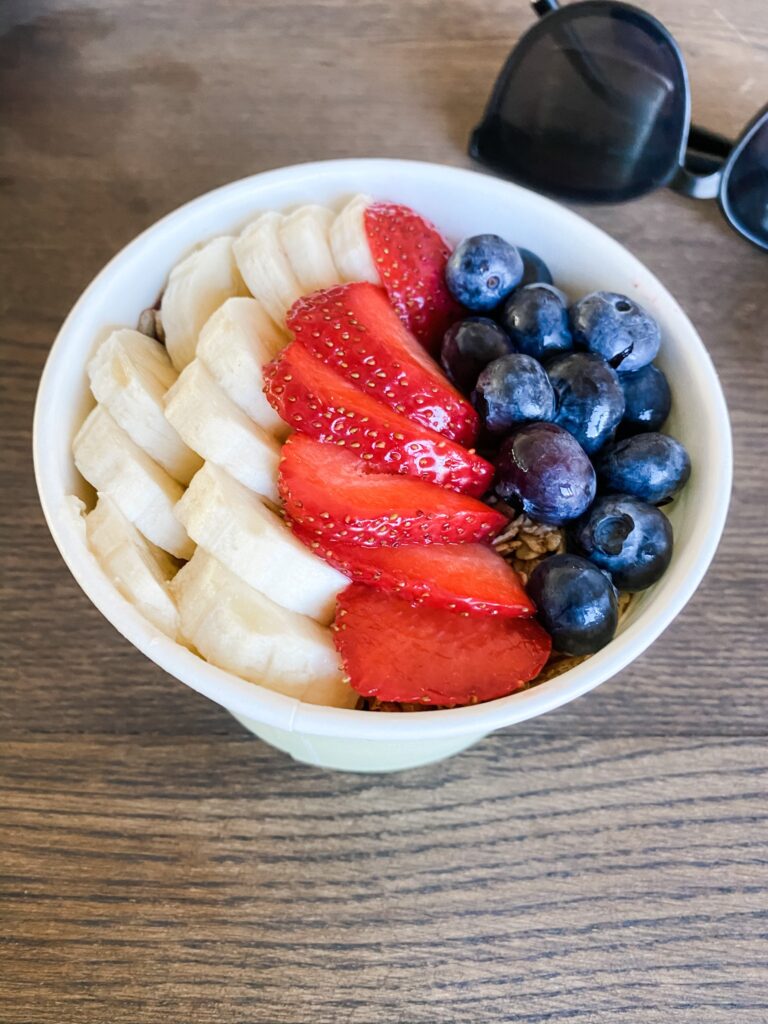 Another place we usually frequent multiple times per trip is Empire Burger. They have homemade onion rings & fries that are out of this world good, and of course amazing burgers. It's very kid friendly and we had a great seat on the patio every time we went.
If you're looking for a night cap or a drink after a long day of exploring, the best option is Rita's. Order the Roca margarita, I promise it's worth every bit of the $17 that it costs. It's made with fresh squeezed juice and is the perfect combination of sweet & sour.
As far as deserts go, the Main Street staple is Crepes a la Cart. Be prepared though, lines during this social distancing era can cause up to an hour wait. I waited an hour for our crepes one night and I can't say I regret it. My go-to order is a Nutella, Strawberry & Banana crepe. I also love Higgles for ice cream. They make homemade waffle cones made to order, and at the moment I can't think of anything better than that.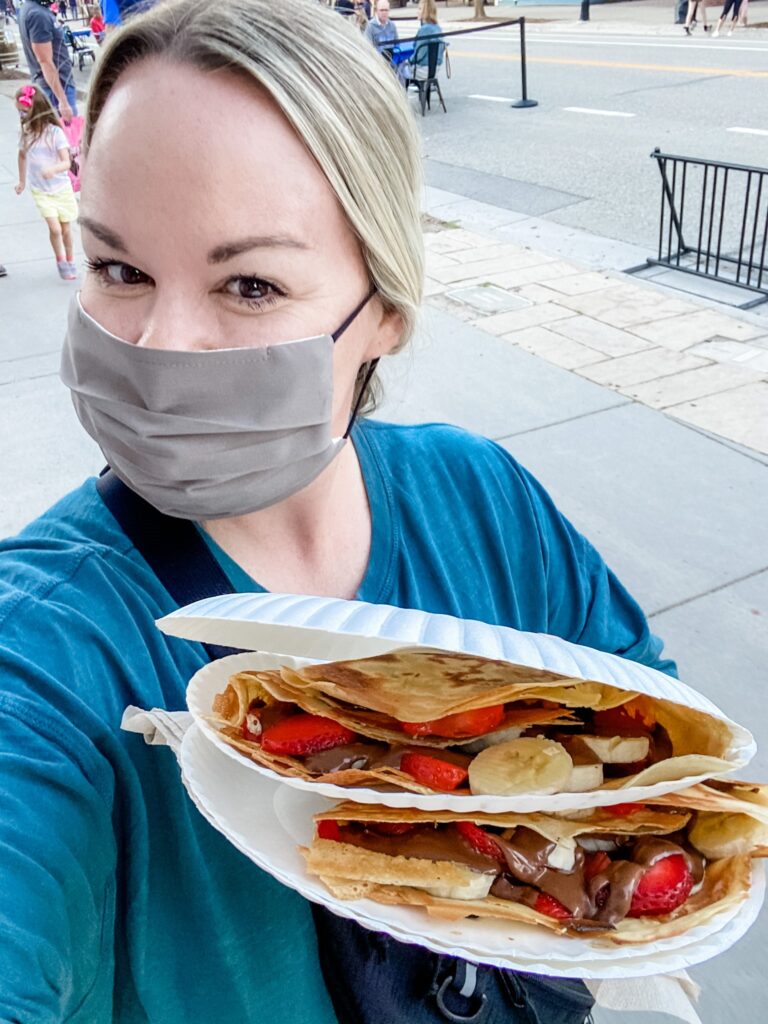 GUIDE TO BRECKENRIDGE: WHAT TO DO
No matter what season you visit Breck in, there is no shortage of things to do. We went in the summer this time, so the normal skiing adventures were traded in for hikes & walks around town. The weather was perfect, in the low 70s every day, so it was great being outdoors. One of the favorite things we did this trip was we did a short hike to discover a 15 foot troll in the woods. His name is Isak Heartstone, and my nieces absolutely loved it. He's a work of art and it's a very easy hike to get to him. Start at the Illinois Gulch Trail head and look for the troll signs.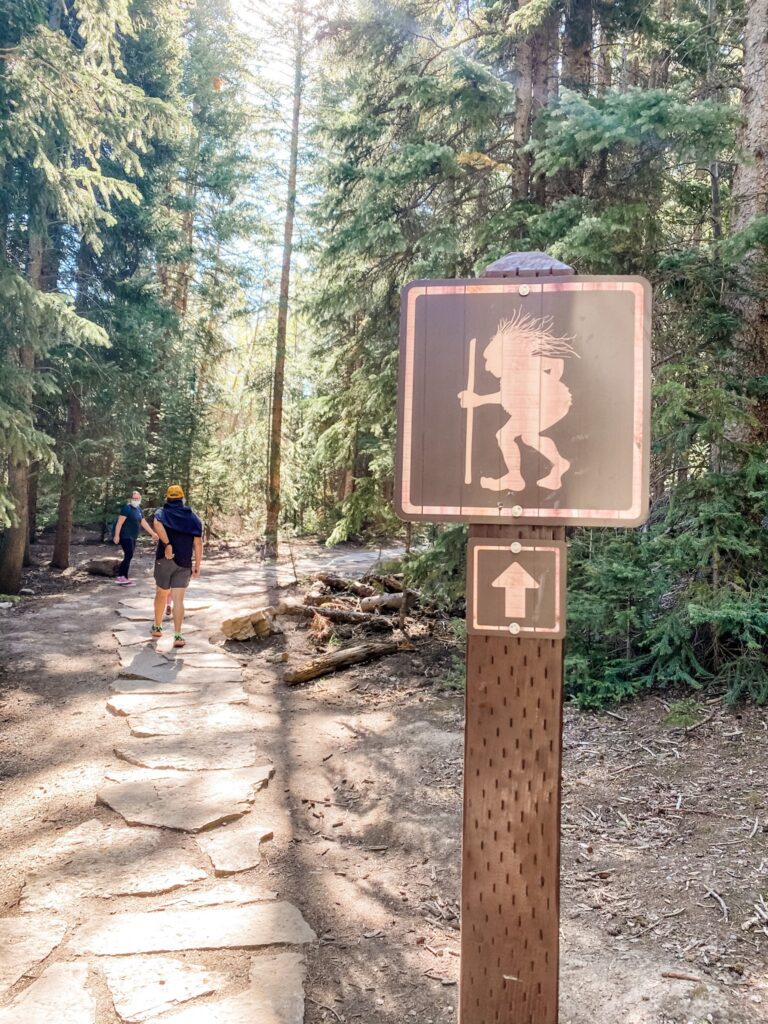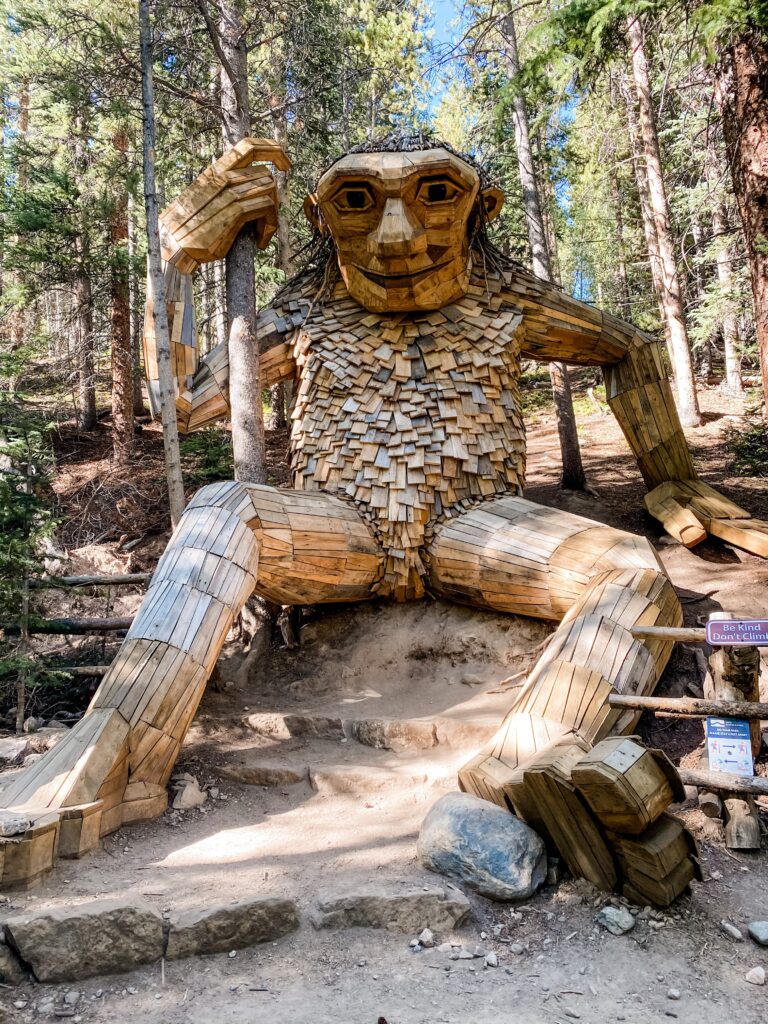 On our last full day there, we rode the free gondola up to Peak 8 of the ski resort and rode the Alpine Slide. It was a very long slow ride up via chair lift, but the views from the slide were totally worth it. If you're afraid of heights, I would probably steer clear of this one.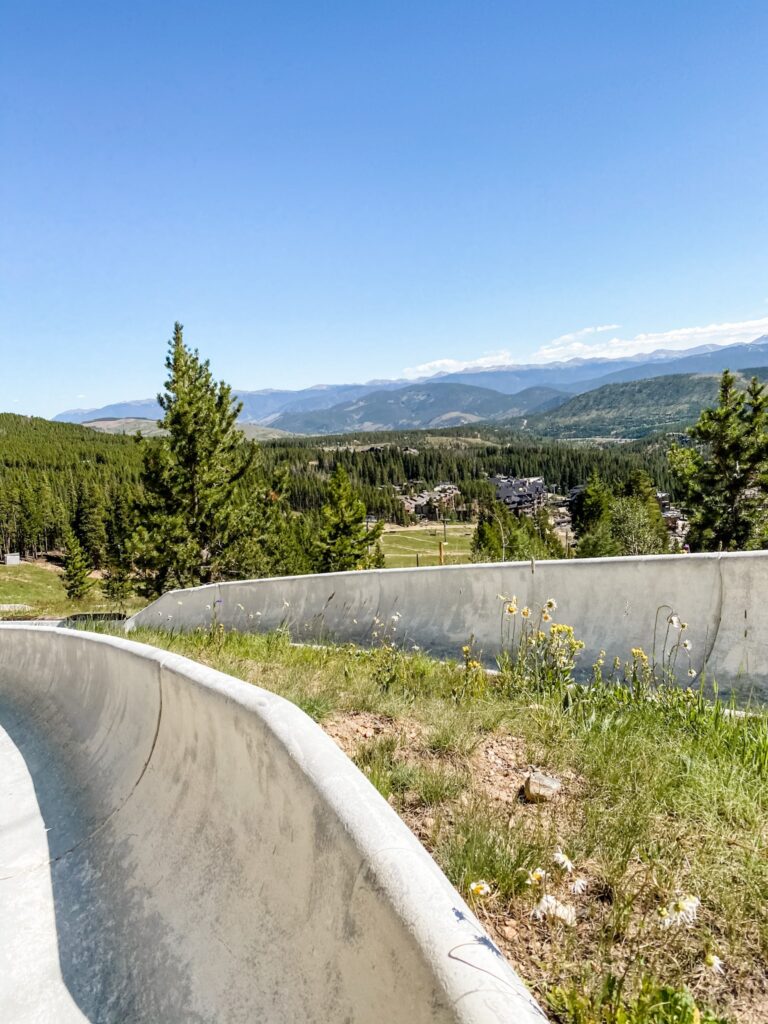 If you are looking for more adventurous activity, then I highly recommend biking down Vail Pass. We rented bikes from Pioneer Sports Rentals in Frisco, CO and the experience was really great. Frisco is about a 10 minute drive from Breckenridge, then you hop on their shuttle and they drive you to the top of Vail Pass with your bike. It's a mostly down hill 16 mile bike ride that was surprisingly not as hard as I thought it would be. You get post card worthy mountain views the entire time, too. The trail ends up on Main Street in Frisco, just a short ride back to the bike rental shop.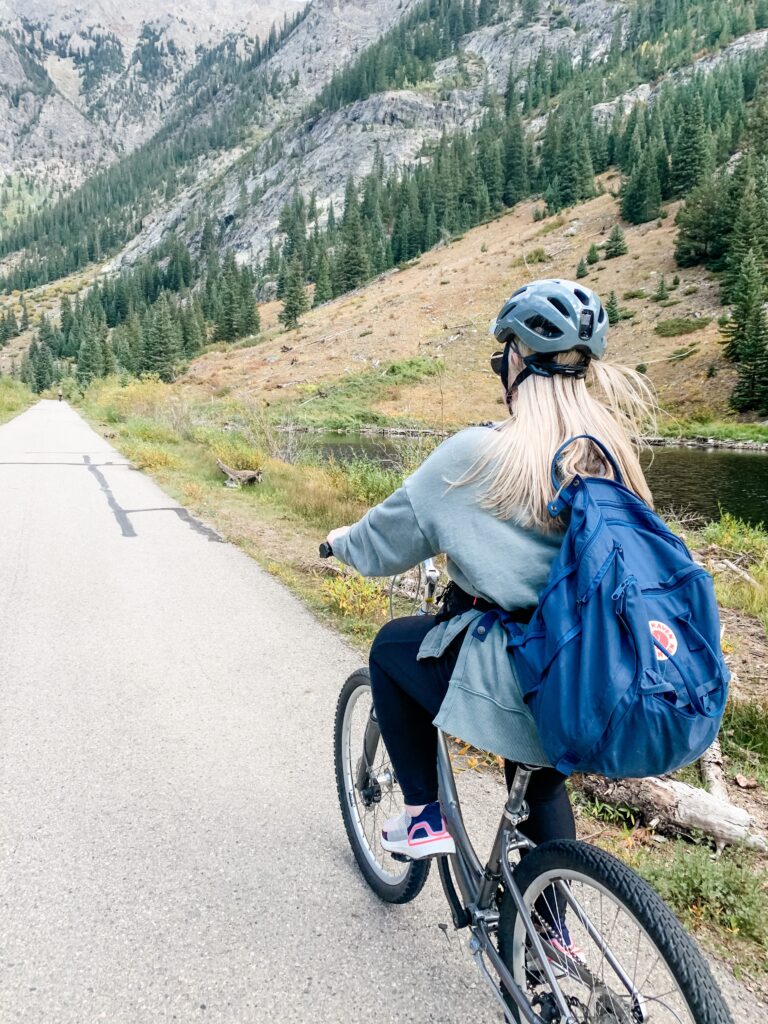 GUIDE TO BRECKENRIDGE: WHERE TO STAY
We almost always rent a condo, but I've stayed at a hotel a few times and It was just as fun. If you're going with more people though, I'd highly recommend a condo. This is the condo we stayed at on this last trip. It was right off Main Street next to all the shops, and had a fantastic view of the mountains. If rending a condo isn't your style, there are also some great hotels. My favorites are Residence Inn by Marriott and Double Tree.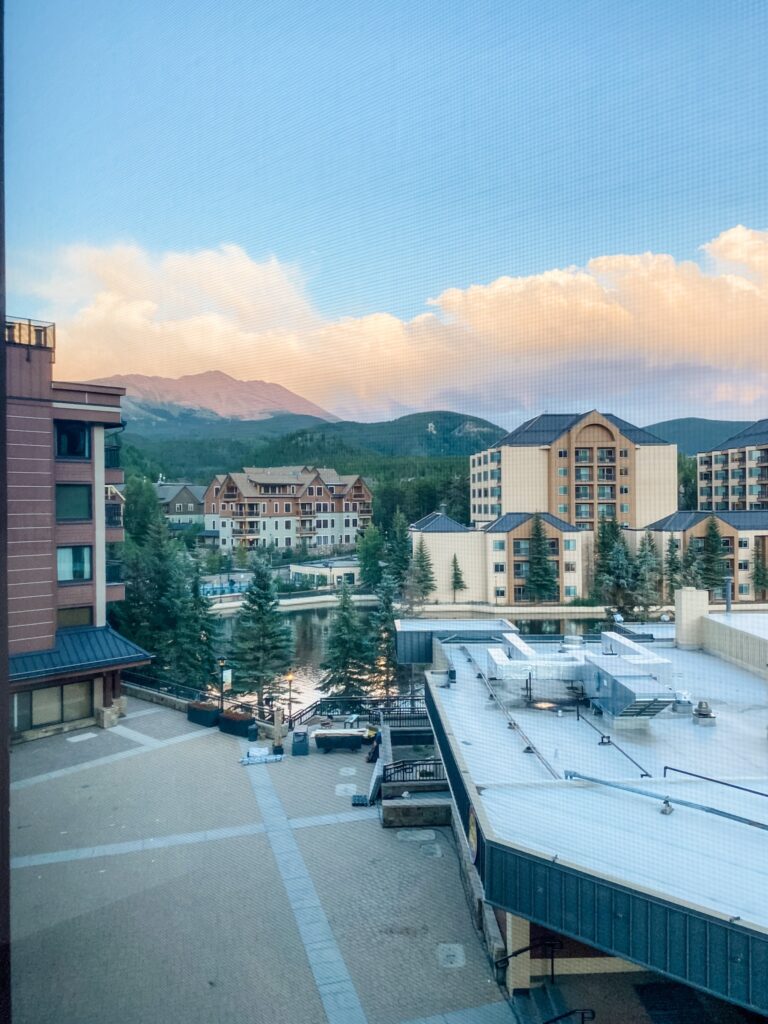 Every time I leave Breckenridge, I always wish I had just one or two more days there. It's such a quaint place with a really great restaurant scene and an abundance of activities to do during all seasons of the year. I hope you enjoyed this guide to Breckenridge! I can't wait to go back.