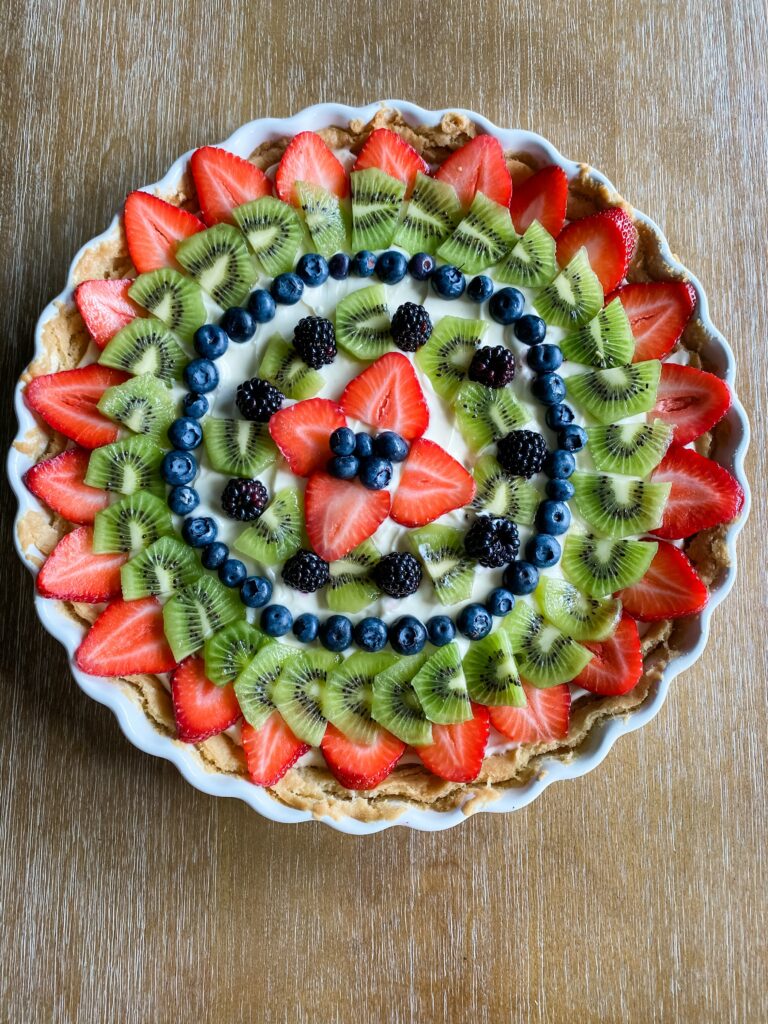 This easy fruit pizza recipe was a staple in my childhood. It seemed like my sister's & I were always cooking up something weird or new in the kitchen. One of my fondest memories was making "rice crispy treats in a cup." I think that one would be fun to revisit, because looking back I remember about an inch of melted butter just sitting in the bottom of the cup. Maybe I'll revise that recipe and post it soon, ha!
Another favorite thing that we loved to make as kids was fruit pizza. In fact, it's still something we all love to make as adults too! I love how versatile it is. My sister Sarah's easy fruit pizza recipe always turn out looking and tasting the best, so I asked her to share it. You can make it with any kind of cookie dough, and make it in any shape you want. While you can definitely use homemade sugar cookie dough for this recipe, I'm all about shortcuts. Store bought sugar cookie dough makes this fruit pizza the easiest recipe you'll make all summer long. The most difficult part about it is arranging the fruit!
INGREDIENTS:
*Feel free to sub any other fruit you like for this, this recipe can be completely modified to your preference!
1 roll store bought sugar cookie dough
1/4 cup fresh blueberries
2-3 kiwi, sliced
Handful blackberries
1 block cream cheese
1/4 cup softened butter
1 cup powdered sugar
1 tsp vanilla
DIRECTIONS:
Preheat oven to 350 degrees. Grease a pie plate, tart plate, or small baking sheet & press dough into it until about 1/2 inch thick. Bake sugar cookie dough for 10-12 minutes taking it out before it is fully baked through. It will continue to cook after it's removed from the oven, giving you a nice gooey delicious crust. Let crust cool completely.

Using a stand or electric mixer, combine the cream cheese, butter, powdered sugar, & vanilla until smooth. Spread all over the cooled cookie dough crust and place in the refrigerator to chill while you prepare the fruit.

Slice fruit however you like and arrange in an Instagram worthy design! Cam be served chilled or at room temp.