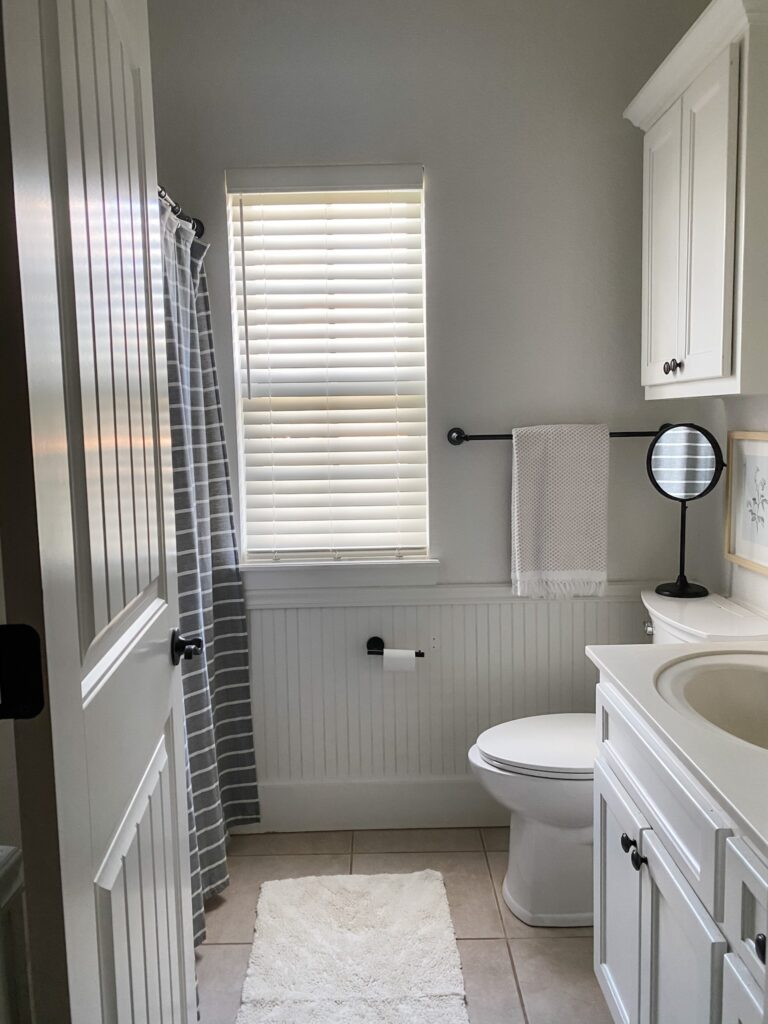 Easy DYI is not something I never thought I'd blog about. I'm not a handy person, so I normally shy away from any DYI, even easy DIY.
Until today, the spare bathroom was my least favorite room in our house. This is nobody's fault but my own, though. The shower curtain was the same one that had been there since bought the house (kind of gross, I know), the bath mat was years old from Ikea, and the back of the toilet was littered with random stuff. And the antlers, don't get me started on the antlers. I went through a phase where I loooooved decorating with taxidermy.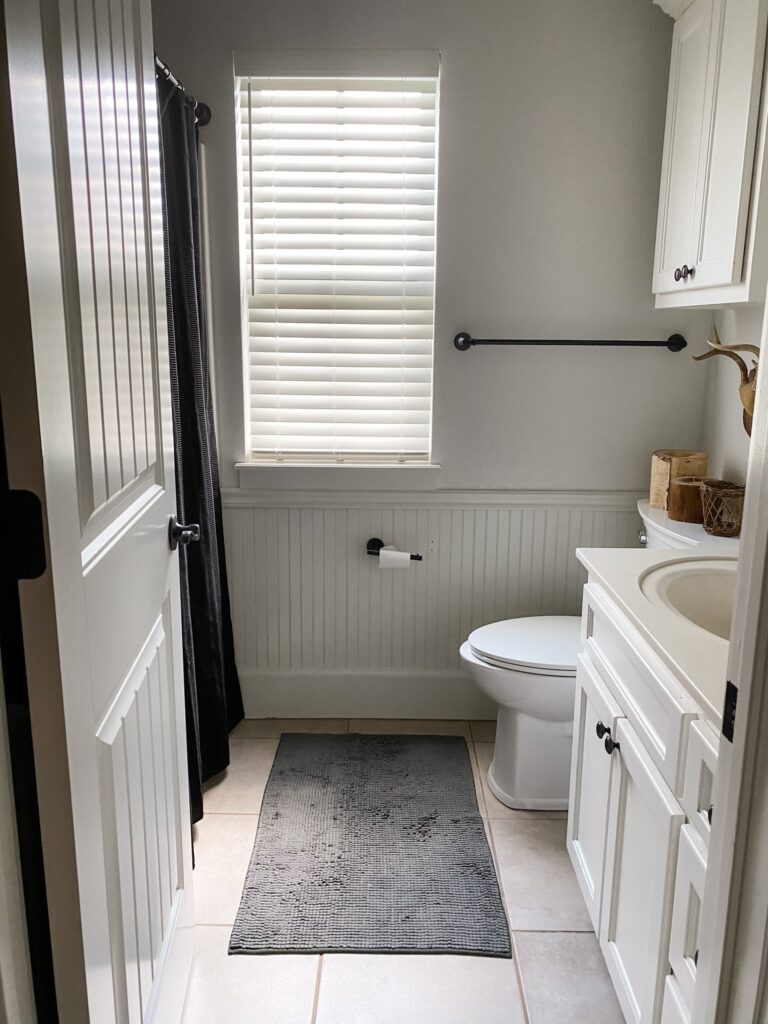 I knew I wanted to update the bathroom, but I had just come off painting a bedroom so I wasn't about to pick up another paint brush. I think it's really important to love where you live, and I did not love this bathroom. I decided that I was going to give the spare bathroom a face lift, but challenged myself to do it for $50. I chose a small budget because I know that sometime in the future, we will do a full reno. Spending a lot of money on it right now did not seem smart. I also knew that I had things around my house that I could use which wouldn't cut into my budget.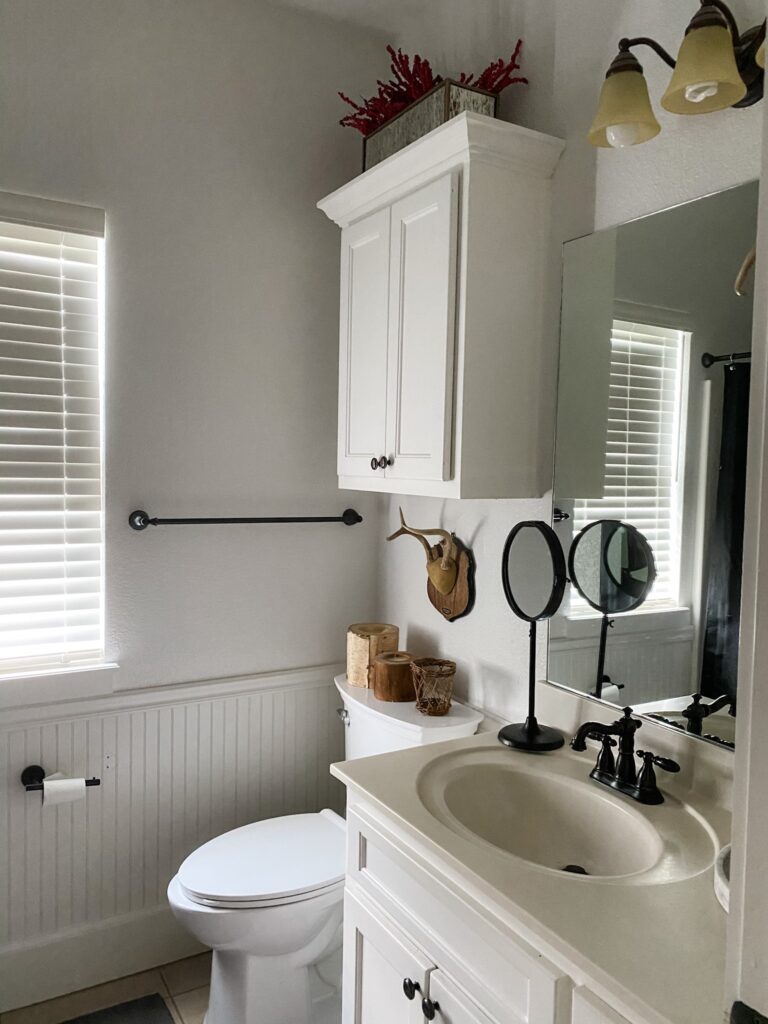 The light fixture was my absolute least favorite thing in the room. The yellow shades on it were a nightmare, and the entire thing just looked…dirty. I contemplated a new fixture all together, but I really wanted this transformation to be as easy. I also knew I wouldn't find a fixture I loved and still be within my $50 budget.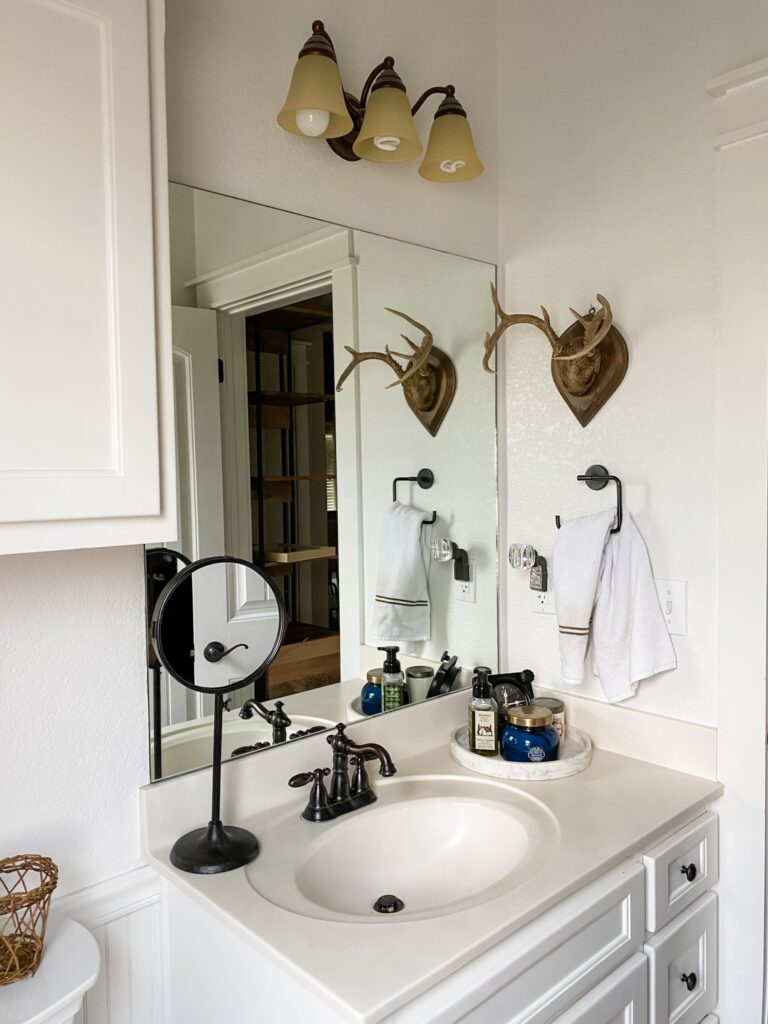 I went to Lowe's in search of bargain or a close out deal on a fixture, and ended up finding the wall of replacement glass shades. I had no idea you could just swap out the current shades on a fixture. I got three clear ones for $8 each, and prayed they would fit on my existing set up. Spoiler: they did!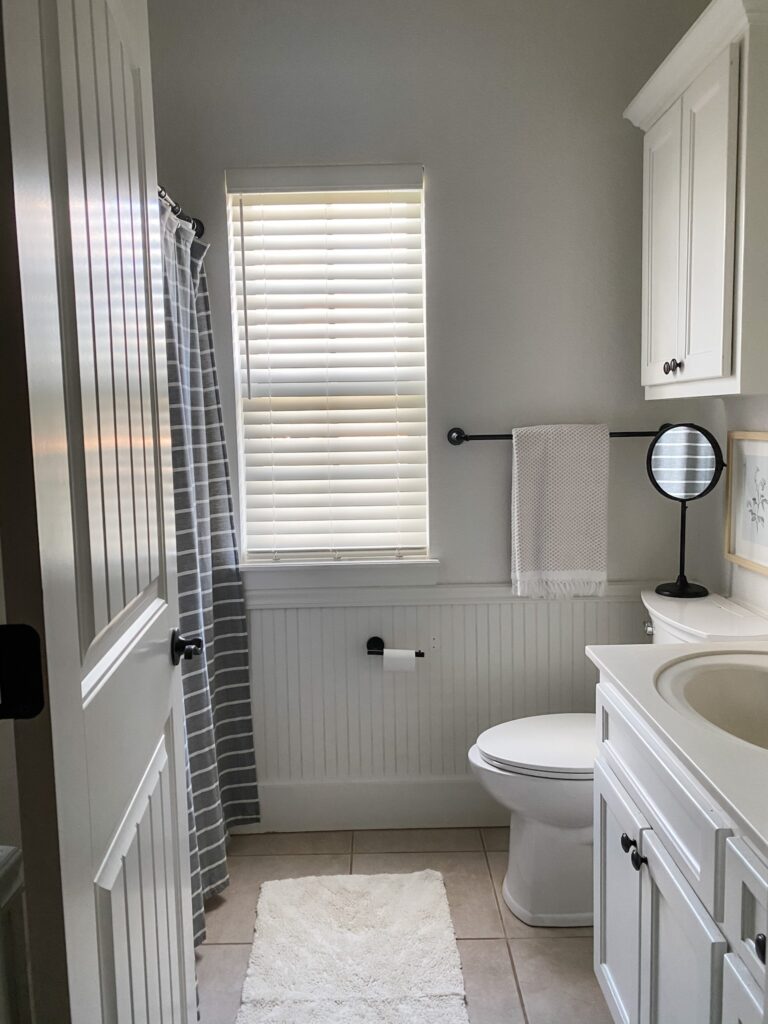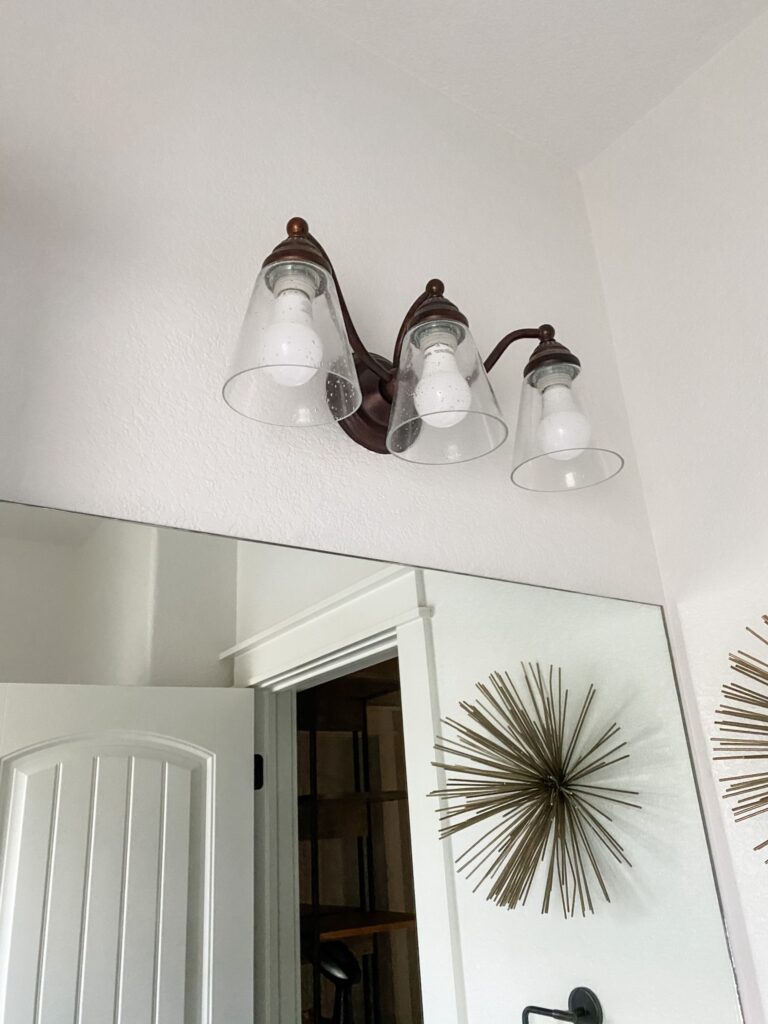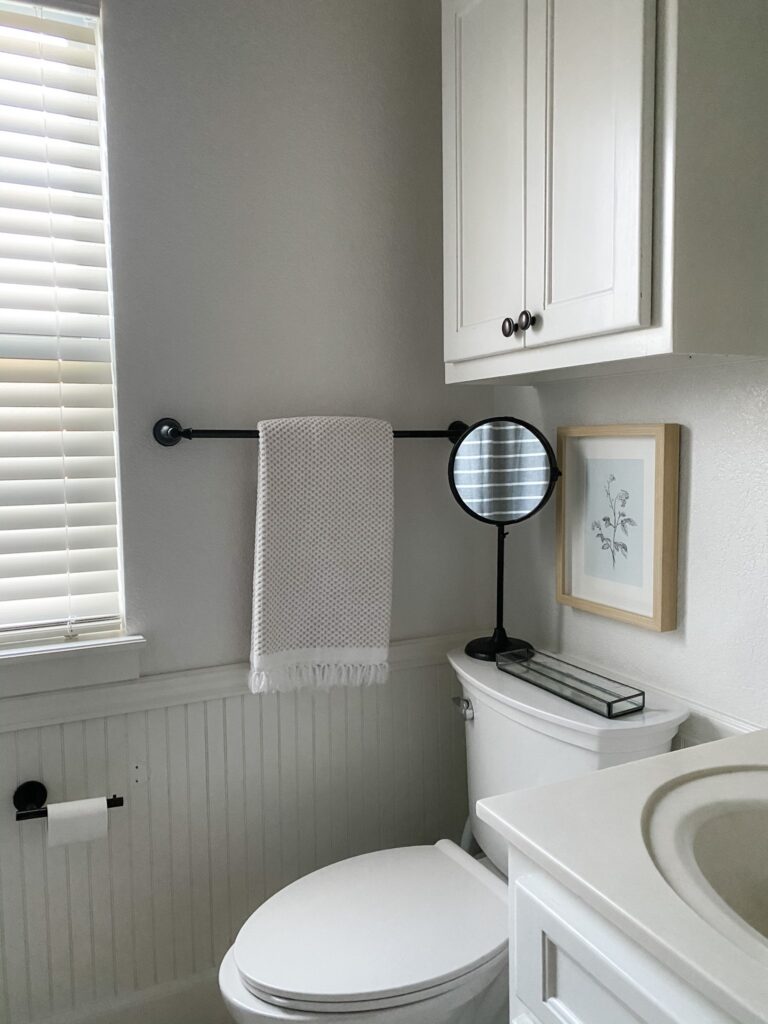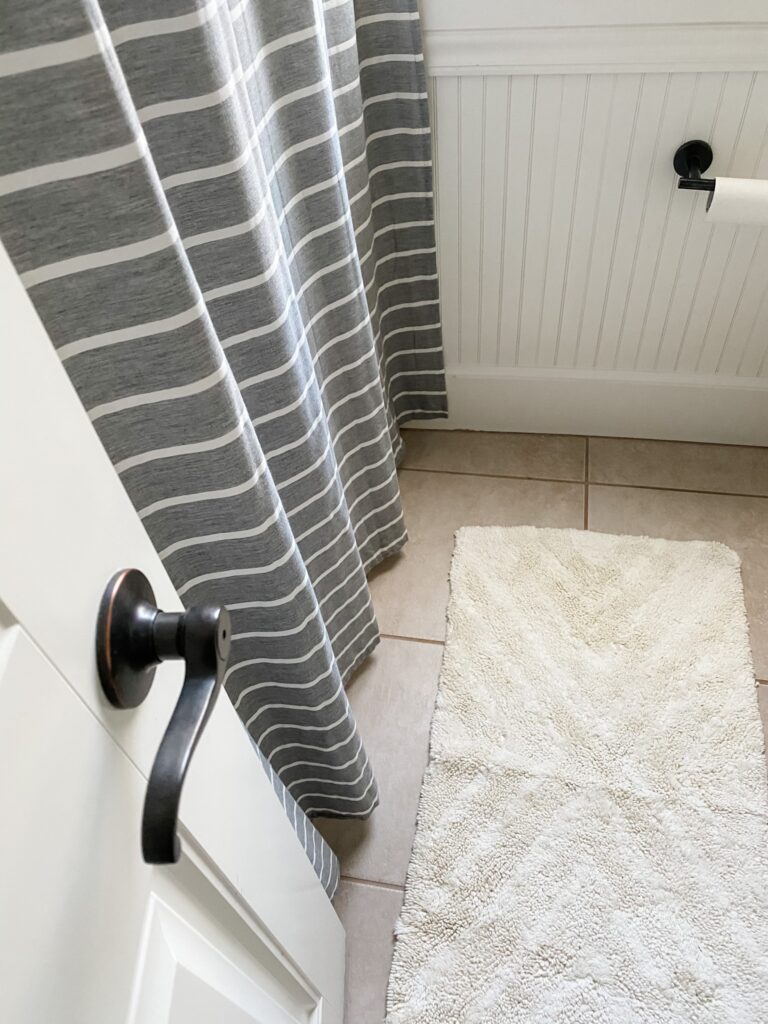 A shower curtain & art from Target, some shopping around my house, and I was ready to start the make over. I literally did this on my lunch break, that's how quick it was. I loved the way it turned out, and I'm kicking myself for not doing it sooner. Some things I found around my house were: bath mat, wall art, pretty soap, towels, & some other random decorations that were stashed away. Everything was older, so I've linked similar items.
I spent $56 total on everything, and I am happy to say it's no longer my least favorite room in the house.
Read about my full master bathroom renovation here!
SHOP THIS POST