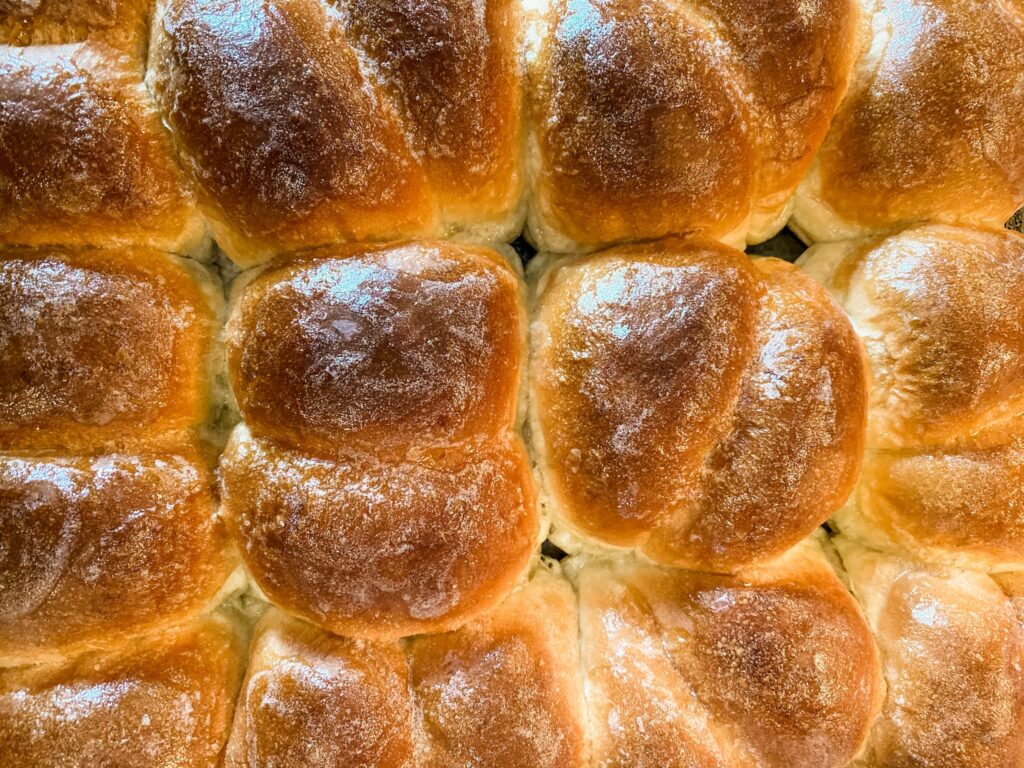 Cooking a giant meal for the holidays can seem pretty daunting. If you don't enjoy cooking, or if you simply just aren't great at it, then hosting a holiday dinner can be stressful. Not to toot my own horn or anything, but I thrive when I'm making a holiday meal for a crowd. I think of it as a well constructed orchestra that lasts from Monday to Thursday of Thanksgiving week, and I am the conductor.
If you get frazzled at the thought of hosting Thanksgiving, then this post is for you. Not only am I rounding up all of my favorite Thanksgiving recipes in one post, but I'm also providing a schedule, a very simple menu, and a grocery list so that your Thanksgiving dinner can go off without a hitch.
THE MENU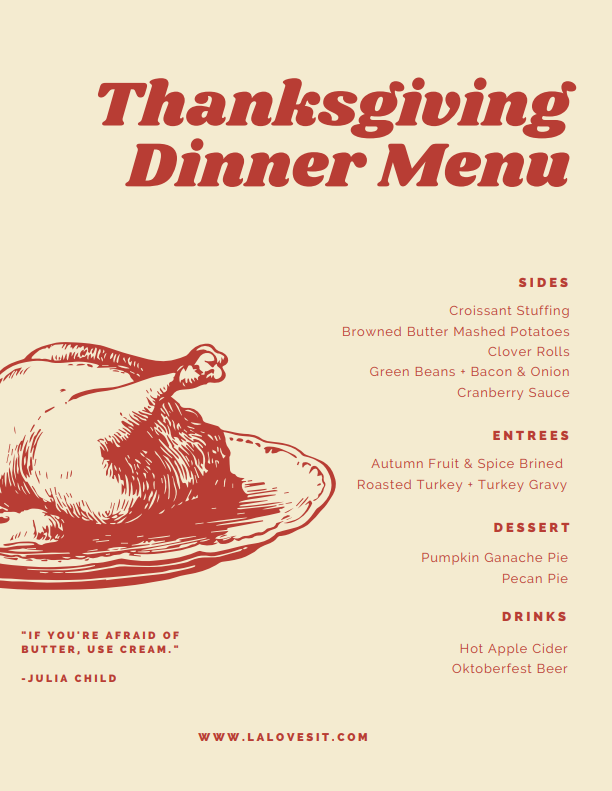 Let's dive in, shall we? This is the perfect classic Thanksgiving dinner menu. It checks all the boxes, and will leave little to be desired, I promise! This menu is a mix of my own recipes, as well as some tried and true recipes from my favorite chefs and food bloggers. I rarely ever deviate from this menu because I am a Thanksgiving purist to the core.
THE TURKEY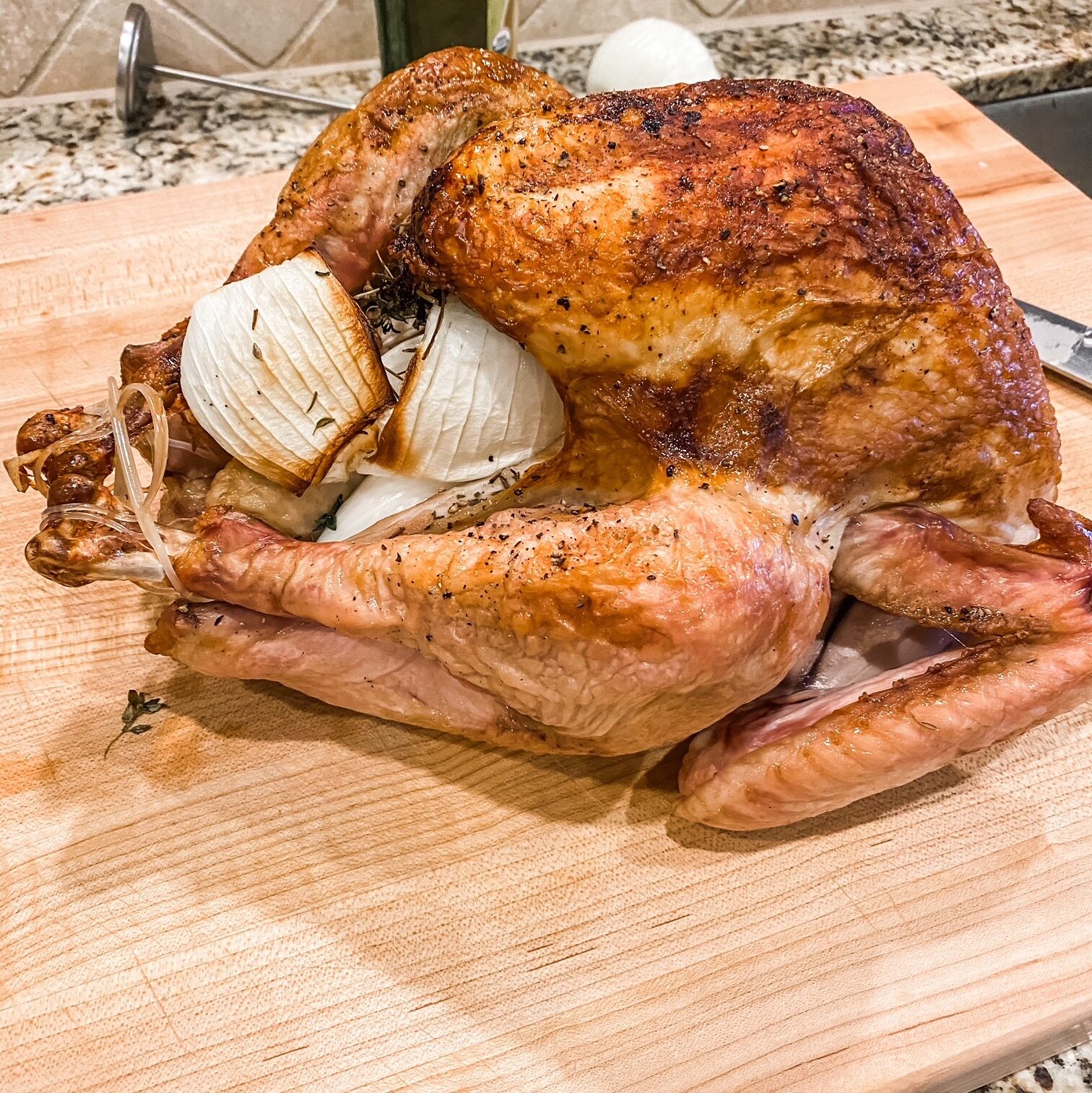 A few years ago, I started brining our turkey, and never looked back. I use this Williams Sonoma Brine Kit. It comes with everything you need: the brine, the seasoning, & the brine bag. If you already have the brine bags & seasonings, you can purchase the brine mix separately here. Autumn Fruit & Spice is my absolute favorite variation. I brine the turkey according to the instructions on the brine packaging, then roast it using this recipe. It turns out juicy & flavorful every single time.
THE SIDES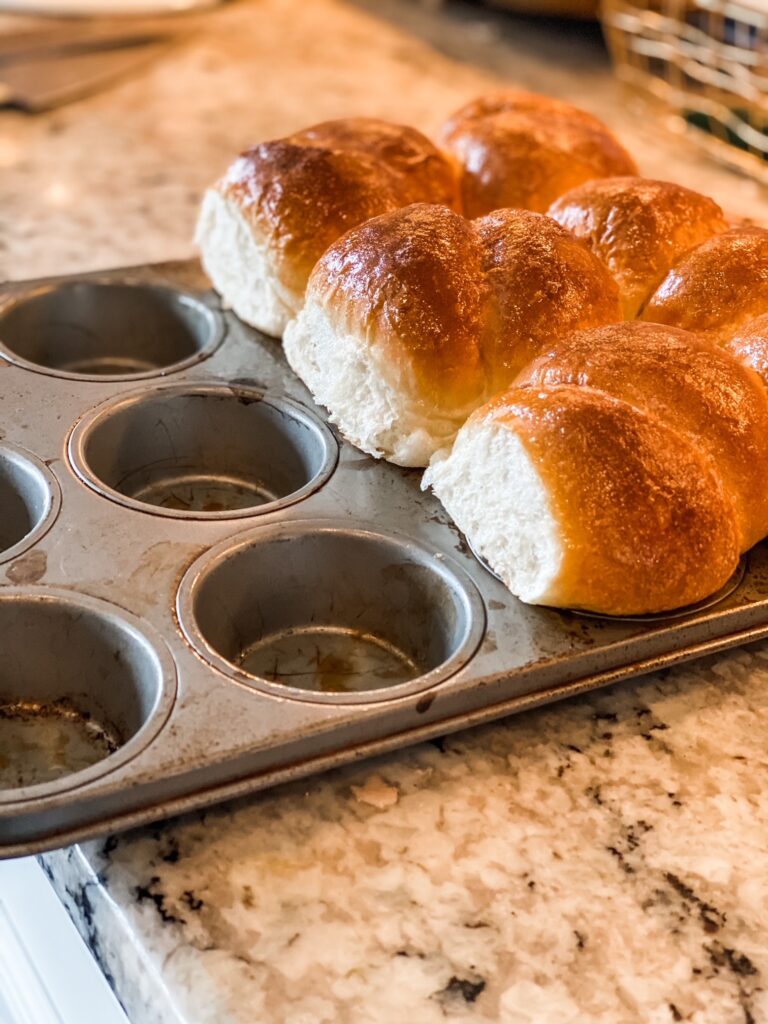 Let's just be honest here, the sides are the star of the show. My all time favorite short cut of Thanksgiving is using frozen dinner rolls. I don't care who tells you otherwise, you cannot beat Rhodes Bake-N-Serve rolls. I just take them out of the freezer, put them in a muffin tin, and let them rise for a few hours while I work on the rest of the meal. I like to jazz it up a little and put two in each spot of a muffin tin and call them "clover rolls." It's one of the first things I do on Thanksgiving morning (more on the full schedule of events below!). Just follow the instructions on the back of the package, they are fool proof.
The number one recipe I get asked for is my Green Beans with Bacon & Onion. They are so incredibly simple, and can cook for hours on the stove while you do other tasks in the kitchen. I love using canned green beans for recipes, but this is one instance where I would not use anything other than fresh green beans.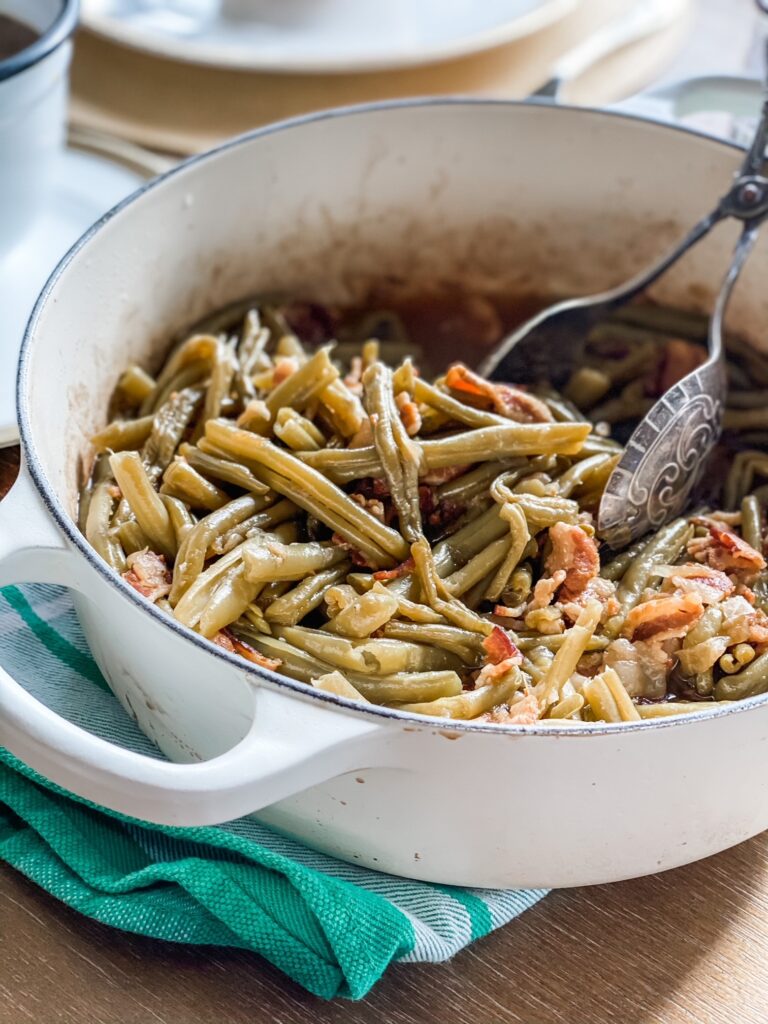 This may be an unpopular opinion, but I do not like cranberry relish or cranberry sauce. I don't know why it's even a thing, but I make it anyway to please the other people in my family. I love using Ina Garten's Make Ahead Cranberry Sauce recipe (I omit the Granny Smith apple) because it's very easy and fast. The one silver lining to having leftover cranberry sauce is that it makes for the perfect condiment on a Thanksgiving leftover panini.
It wouldn't be Thanksgiving without stuffing, and this is one area that I like to get a little eccentric. I'm not a fan of traditional stuffing or stuffing mixes, so I usually use this Basic Stuffing Recipe & use croissants instead of bread. It takes it to another level and is so delicious.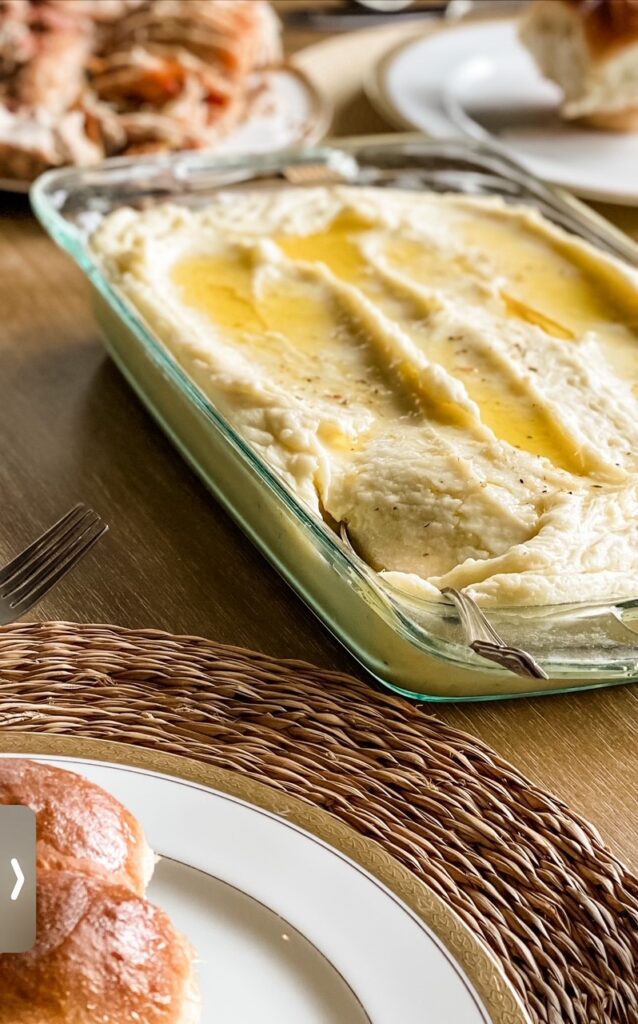 If I had to pick a favorite thing about Thanksgiving dinner, it would hands down be mashed potatoes & gravy. I use this classic mashed potato recipe that's so simple without a lot of fluff. Well there's a little fluff. I like browning the butter before adding it into the potatoes after they've cooked, but I promise that's the only extra step and it's worth every second that it takes. For gravy, I use this recipe that uses a few simple ingredients in addition to the liquid gold turkey drippings.
THE DESSERT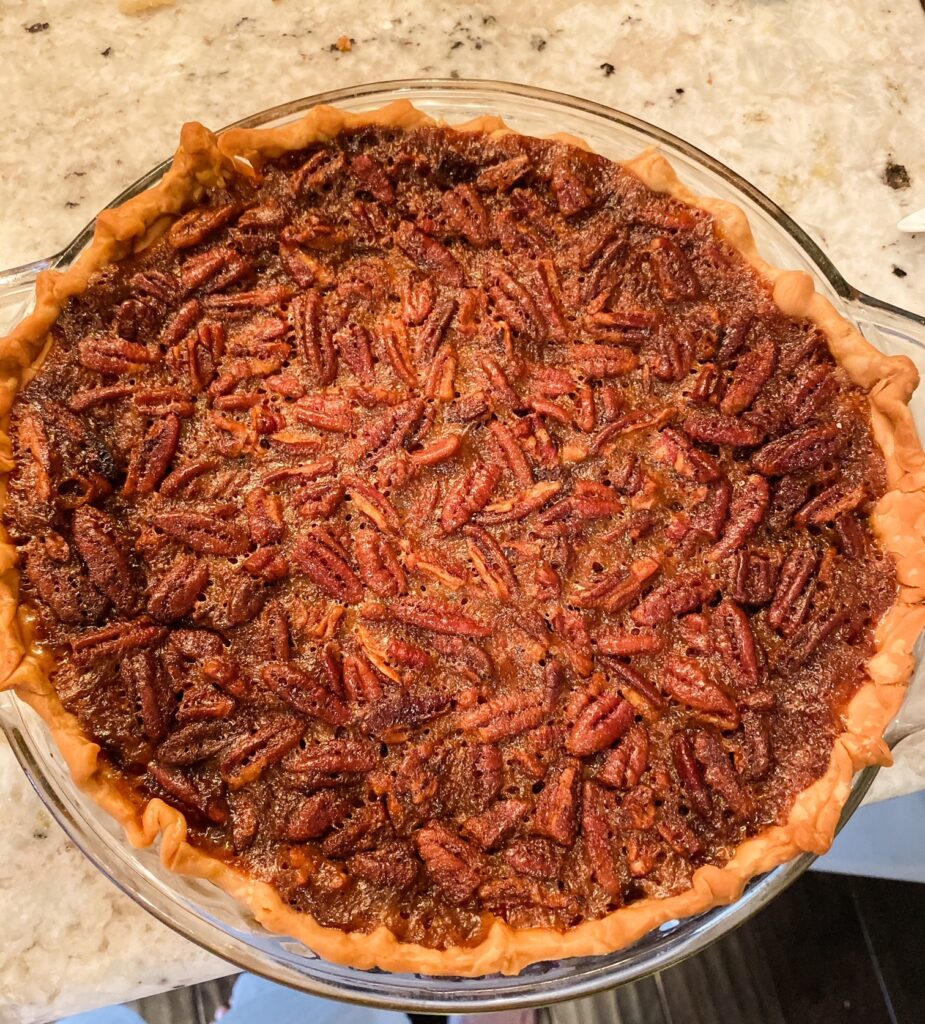 I keep it pretty traditional with desserts. Some years I've gone out on a limb and done a pumpkin cheesecake or pecan bars, and I always miss the classic pumpkin and pecan pies. For the dough, I will either buy Pillsbury pie crust, or use this recipe to make it homemade.
For pecan pie, I use the recipe on the back of the Karo Light Corn Syrup bottle for the filling. It's called Classic Pecan Pie, and it never fails.
The pumpkin pie is a little bit more involved. A classic pumpkin pie would work fine here, but I recently discovered this recipe (scroll to the end of the highlight!) for Pumpkin Ganache Pie from Milk Bar and my life was changed. It's worth all the extra-ness, I promise!
THE DRINKS
If I'm being honest, I like to enjoy my Thanksgiving meal with a cold can of Diet Dr. Pepper, but also realize it's fun to offer something more in line with the season. Hot apple cider is a great option, because you can buy a gallon of it pre-made, warm it up on the stove, and add in cinnamon sticks for some pizazz. Another great option for a cold beverage is any kind of Oktoberfest beer. This one is my favorite.
THE SHOPPING LIST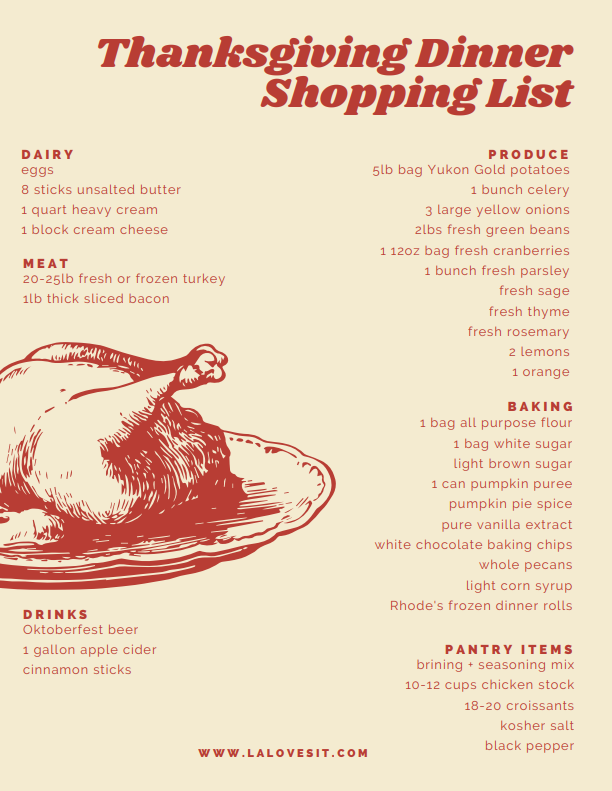 This is everything you'll need to make all of the recipes referenced in my Thanksgiving Dinner Menu. Quantities aren't exactly down to a science, but are pretty close. You may have a little more than you need of some things (like chicken broth), but the worst thing is needing something from the grocery store while you're in the process of making Thanksgiving dinner.
THE SCHEDULE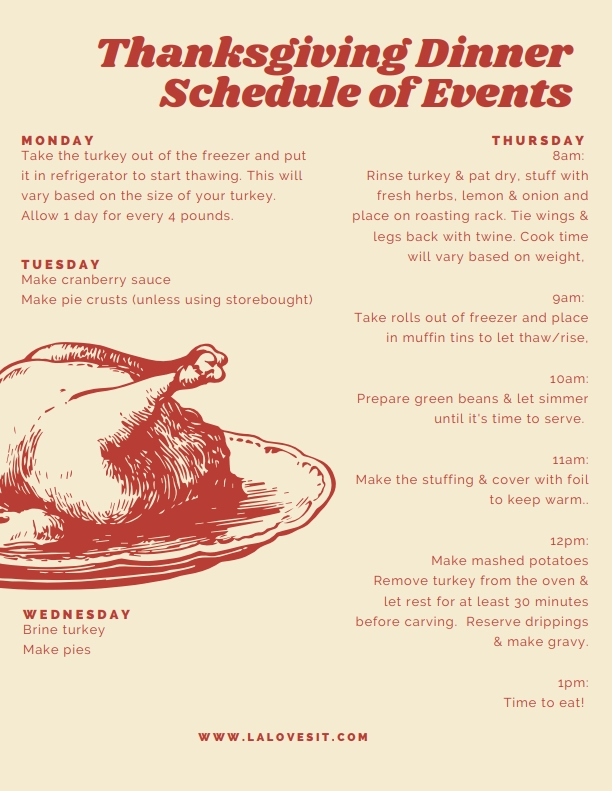 I saved the schedule for last because I think it's the most time consuming and overwhelming part of the whole process. I like to start a few days ahead and make things that I can so that I'm not doing everything on Thursday. This is just a guide and is based on serving the meal at 1pm, so adjust the timing to what works best for your schedule.
The most important part of this schedule is taking your turkey out of the freezer early enough to give it plenty of time to thaw. You should allow one day for every four pounds, so make sure to plan for that. I've forgotten this step one time in my life and I will never make that mistake again. Most (but not all) grocery stores are closed on Thanksgiving. If you do forget, you may get lucky and find a fresh turkey somewhere to save the day.
NOTES & TIPS
On the topic of brining, I like to place my turkey in the brine/brine bag, then put it in a bucket or disposable roasting pan. This just ensures that if there is a leak in the bag, that it's not going to drip all over the fridge.


If you're buying your turkey from somewhere and won't have drippings for gravy, you can buy this turkey base to make gravy. I don't think it's as good as the real deal, but it's definitely better than no gravy at all.


If you are roasting your own turkey, this is my favorite roasting pan by far. I know it's an investment, but it will last a lifetime. I have the large size, but the small works great if you cook for a smaller crowd.


Always put butter on the rolls the second they come out of the oven!


If you're not keen on baking, there are always great local bakeries that offer Thanksgiving pie pre-orders and will even let you pick up on Thanksgiving day. This is such a great shortcut to save time and energy, plus you're supporting a local business.


If you don't have twine to tie the turkey legs & wings back, you can always tuck the wings and use aluminum foil to tie the legs together.