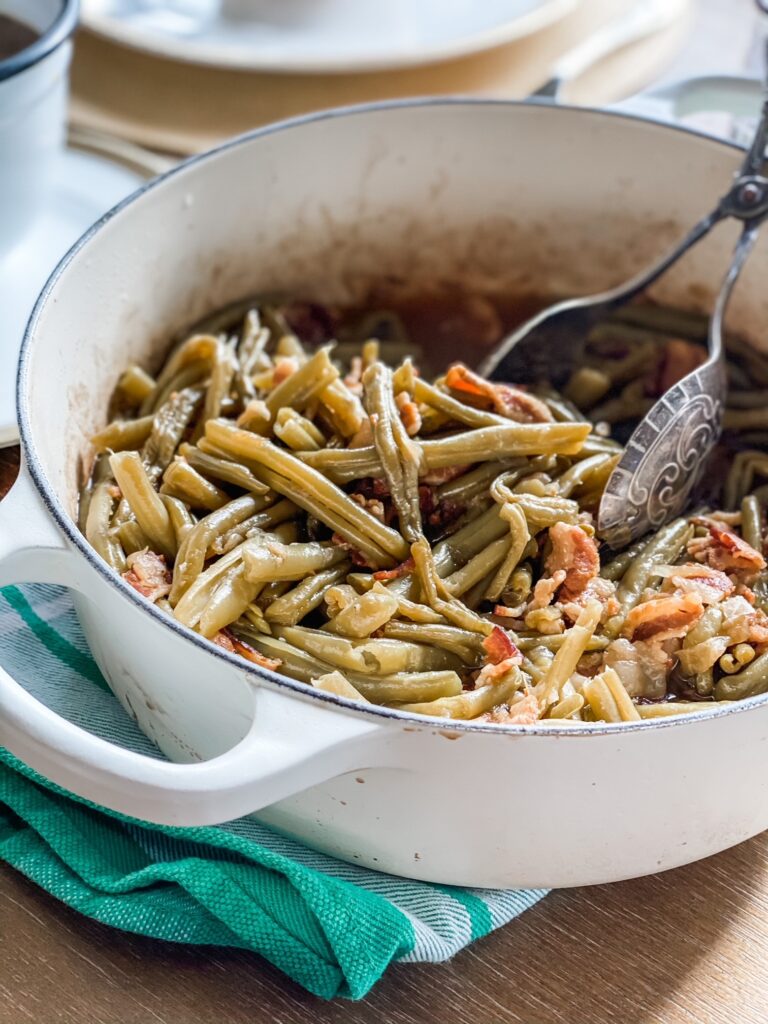 When I was growing up, my parents always had several very large gardens. All summer long we lived on what seemed like a rotation of two or three meals that consisted of mostly things that were picked fresh from one of those gardens.
My favorite meal that my mom would make using the produce her and my dad grew was a very simple dish of green beans, potatoes, & bacon. She would add onion & chicken stock too, sometimes. It was a "throw everything in the pot" kind of meal with no measurements or fuss, and it turned out perfectly every time. Sometimes it was the main dish, sometimes it was the side. I absolutely loved it.
Fast forward to my adult years and to a time when I host Thanksgiving dinners of my own. I was on the hunt for a side dish recipe that wasn't cranberry sauce or sweet potato casserole, and remembered my mom's green beans & potatoes. Since I was already serving mashed potatoes, I nixed those from her original recipe and came up with my own variation. When we all sat down to eat together, you would have thought I was serving a side dish made of pure gold. "How did you make these green beans?" and "These are the best green beans I've ever had!" were the comments swirling around.
Last year, which now marks the last Thanksgiving I spent with my mom before she passed away, I made her my version of her green beans. She raved about them for days, and even asked me for the recipe, which is the ultimate compliment in my book. I hope your family loves these as much as mine does. I also hope that you share the recipe with whoever asks for it, because I guarantee they will.
INGREDIENTS
2 large onions, diced
2lbs fresh green beans, trimmed
1lb bacon, diced
3-4 cups chicken stock
salt & pepper
INTRUCTIONS
In a large stockpot over medium high heat, add bacon and brown until cooked through, but not crispy. Remove bacon from pan and sauté onion in bacon fat until translucent, about five minutes.
Add the green beans, bacon, & enough chicken stock to just cover the green beans into the pan with the onions and reduce the heat to low. Partially cover & let simmer for at least an hour, stirring every 15 minutes or so. Add salt & pepper to taste.