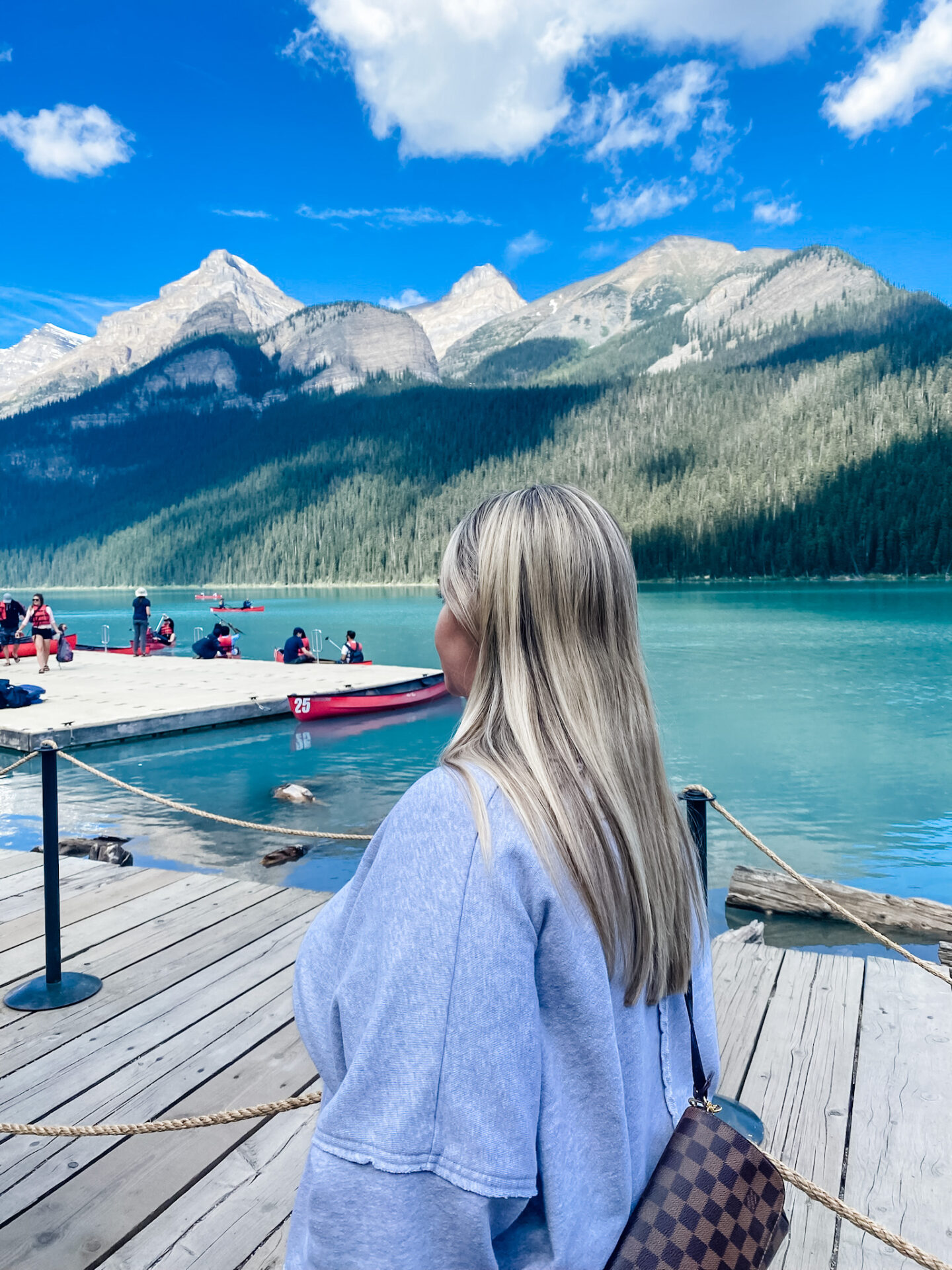 You know those trips you go on and you think to yourself the whole time you're there "I could really see myself living here." That's how I feel about Calgary. Every time I visit, I fall more and more in love with the city and everything it has to offer.
I've been fortunate enough to travel to Calgary for work several times over the years, and my most recent trip was hands down my favorite. I'd never been to Calgary in the summertime, so this felt like a brand-new adventure for me. I went with several of my co-workers (who have turned into some of my best friends!), so it was both a lot of work and a lot of fun.
WHERE I STAYED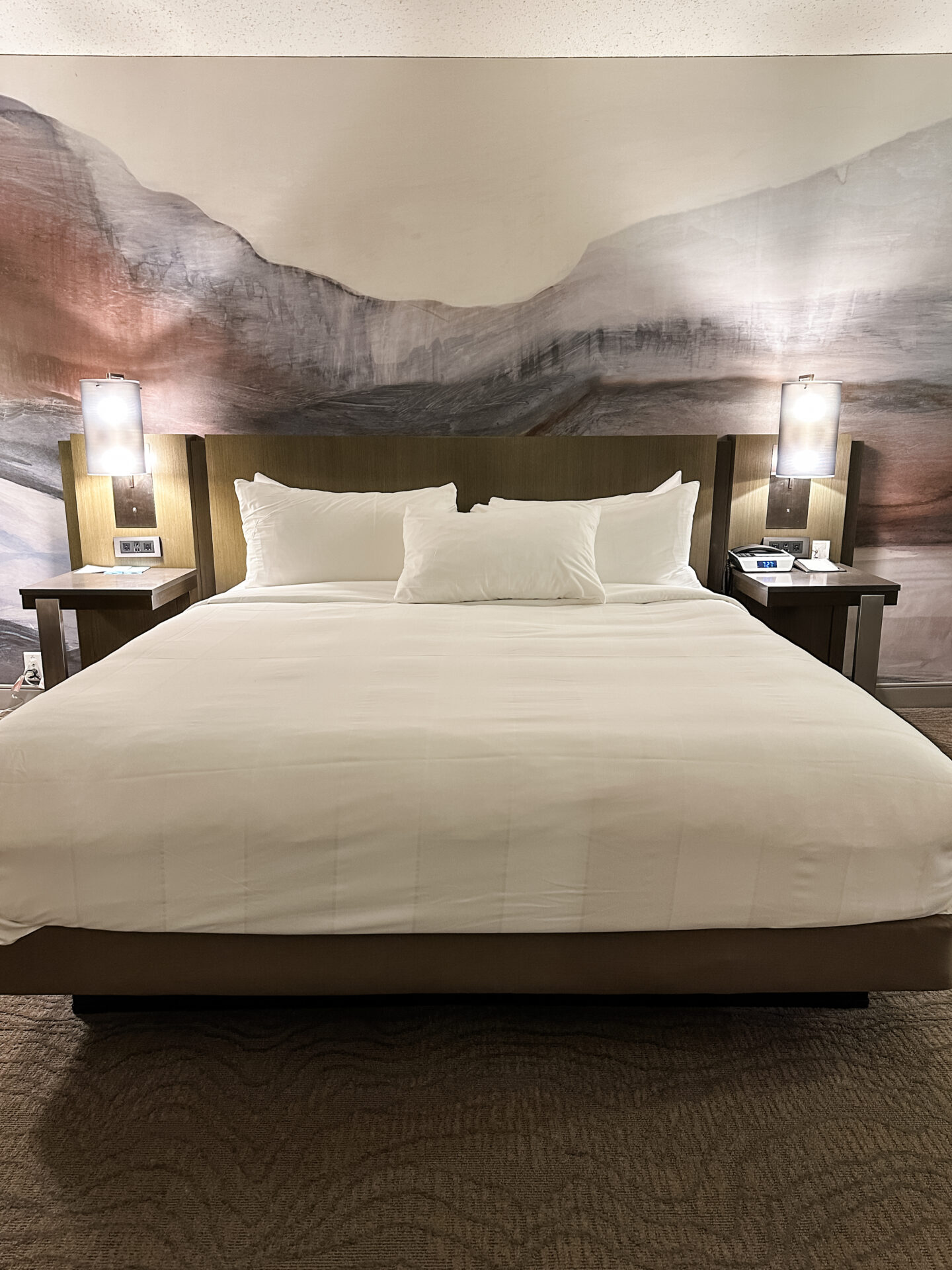 Downtown Calgary is my favorite location in the city to stay in. It's central to everything I love to do, and most importantly, it's close to all my favorite places to eat and drink. The Calgary Marriott Downtown has quickly become my go-to hotel. I love this property because it's a five-minute walk to the office, the bar One18 Empire has some of the most creative cocktails ever, and the rooms are spacious with incredible views of the city.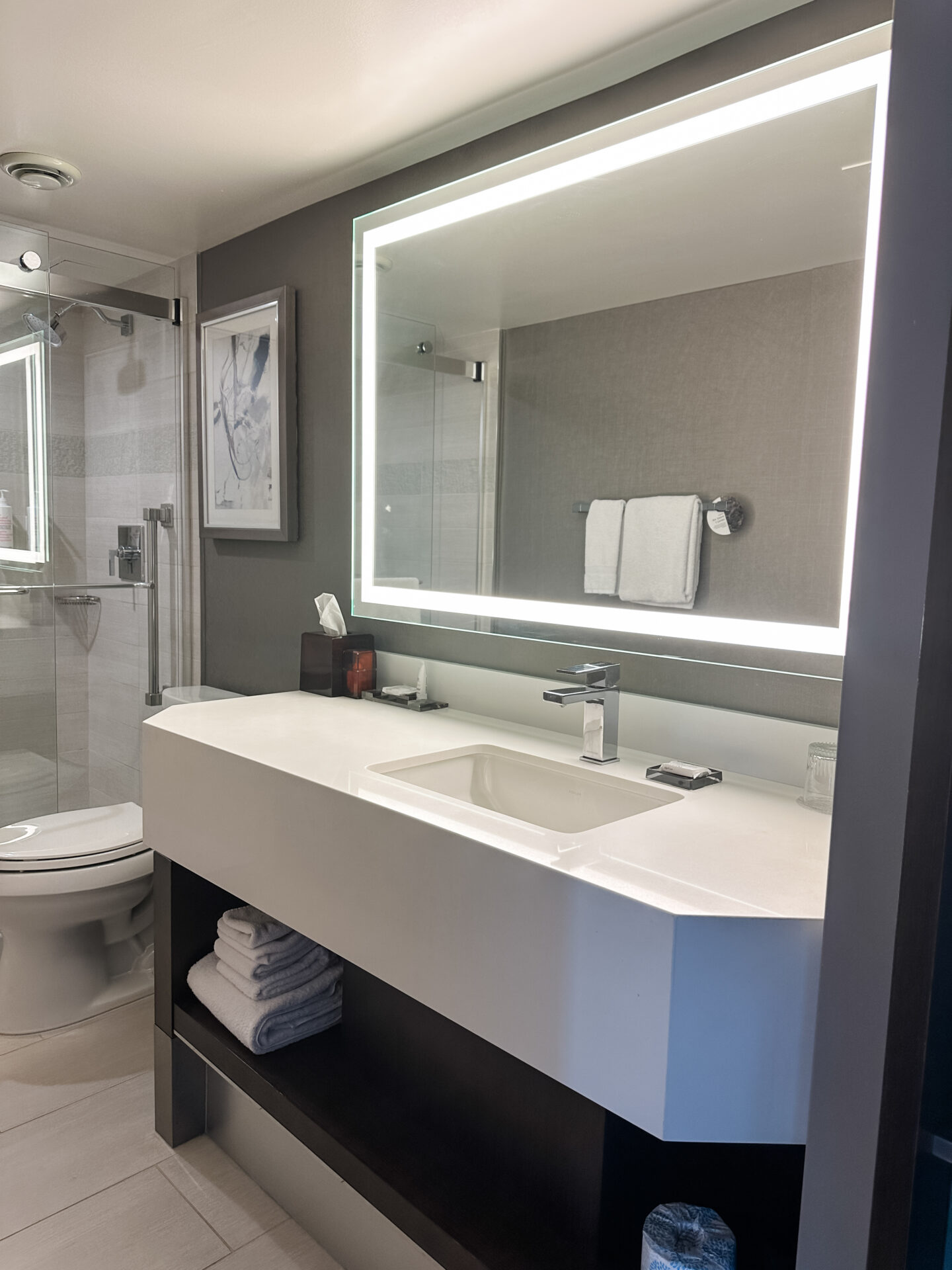 Because it's summer, One18 Empire is offering a seasonal opportunity to enjoy their craft cocktails and delish food on the rooftop, cleverly named OneUP Patio. The weather was perfect during my most recent trip there, so we were able to enjoy the patio on several occasions. They also host spin classes and other fun events on the OneUp Patio.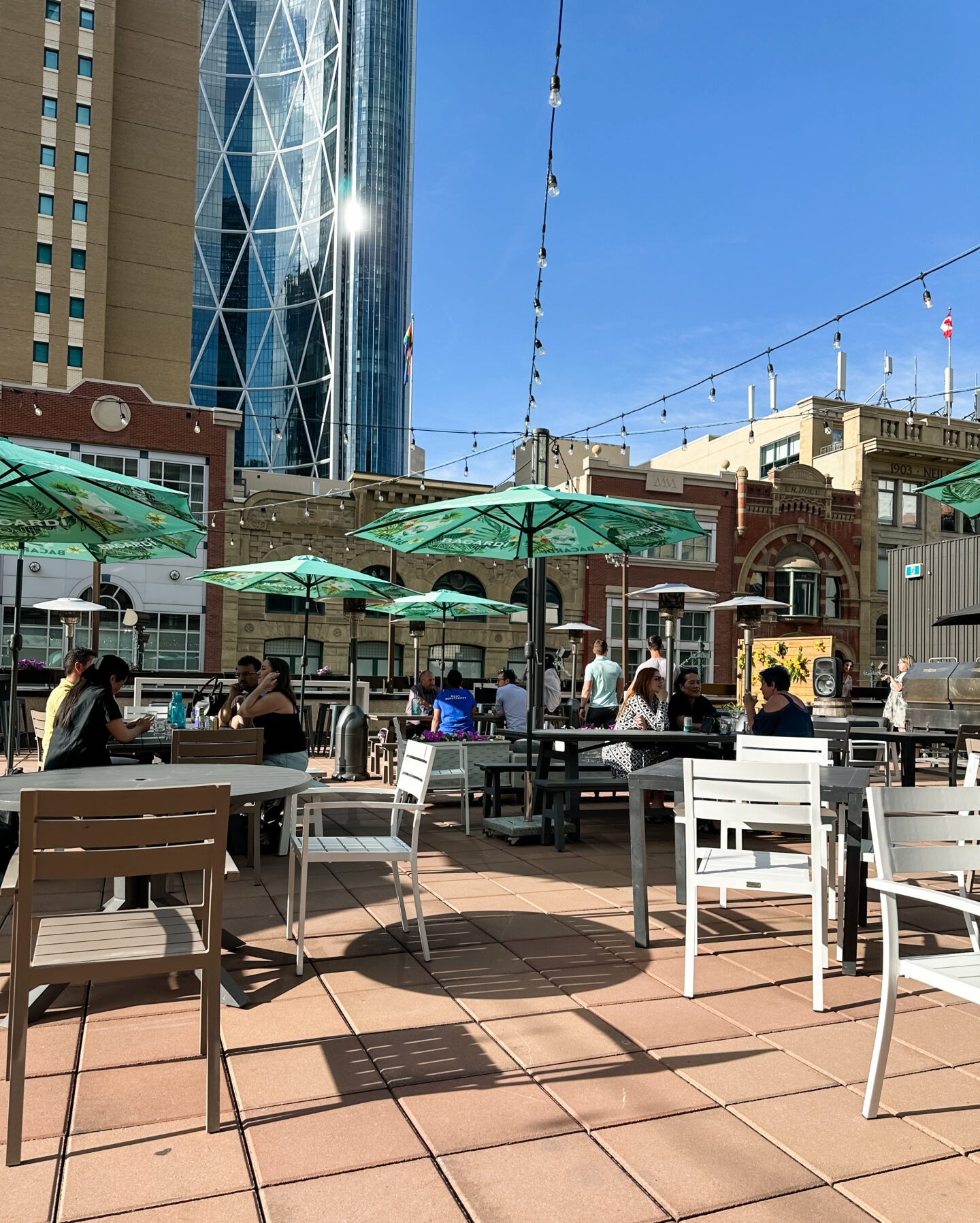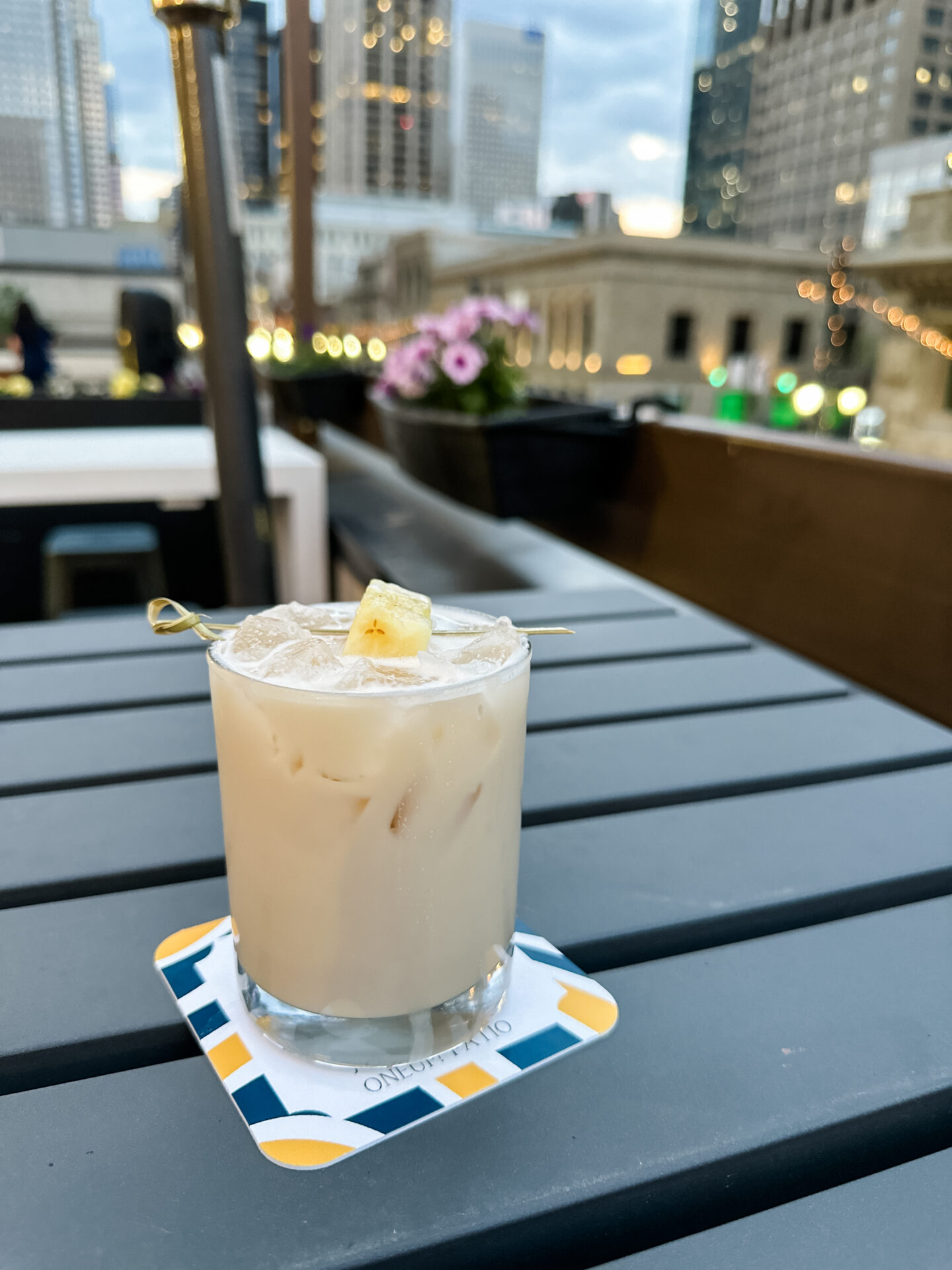 I had a king room on a high floor this time, and the views were incredible. Depending on what side of the hotel you're on, you can see the outlines of the Main Range Mountains. I love a spacious hotel room so I have space to get organized and unpack as soon as I check in.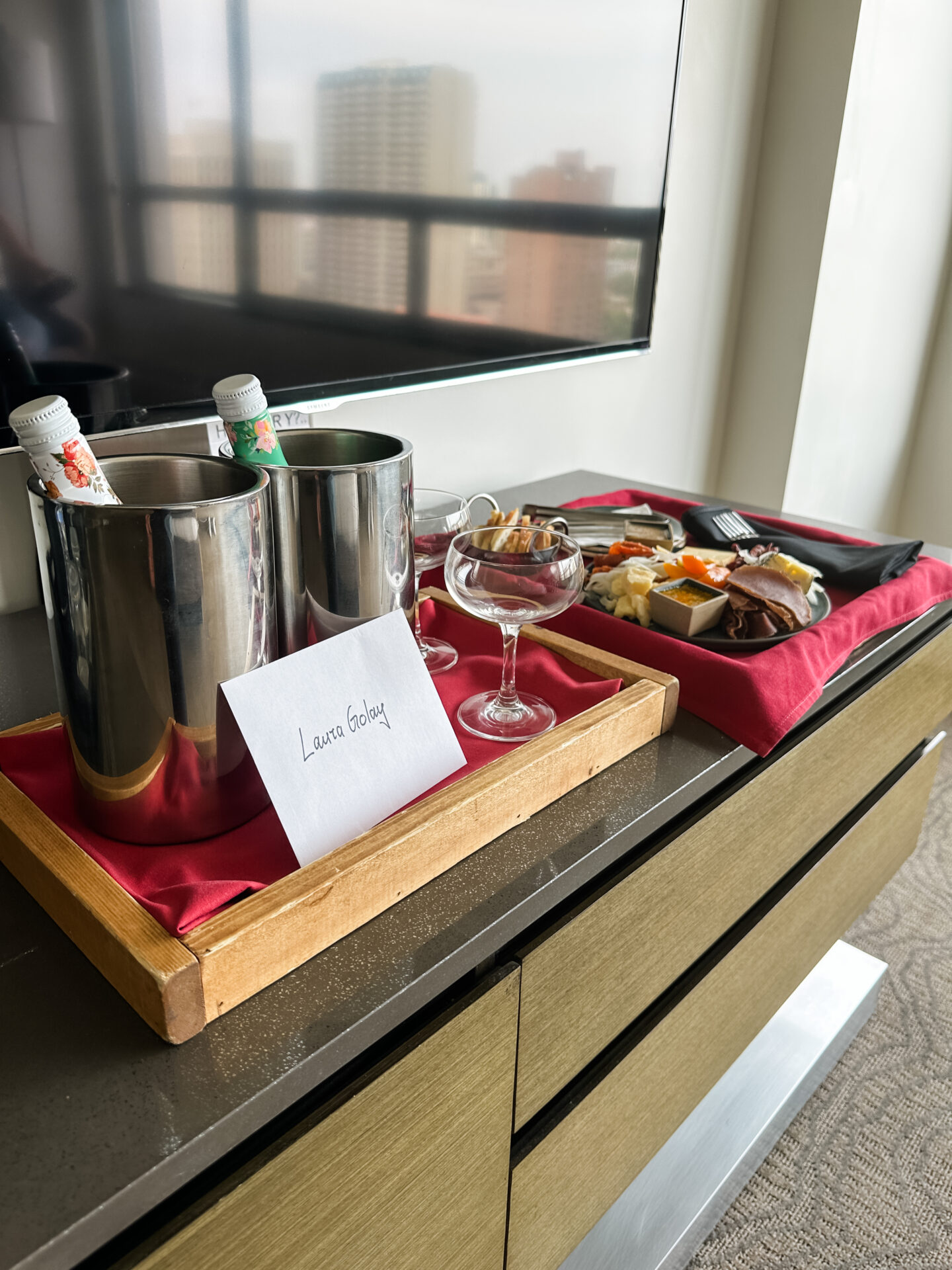 In addition to the bar & patio, Calgary Marriott Downtown also has a really wonderful M Club. It's located on the second floor, and offers a really nice view of the OneUp Patio bar. The M Club offers a nightly happy hour with a great selection of small bites, as well as breakfast each morning. There are several nice touches around the lounge, like the candy bar where you can fill your own bag with gummy candies.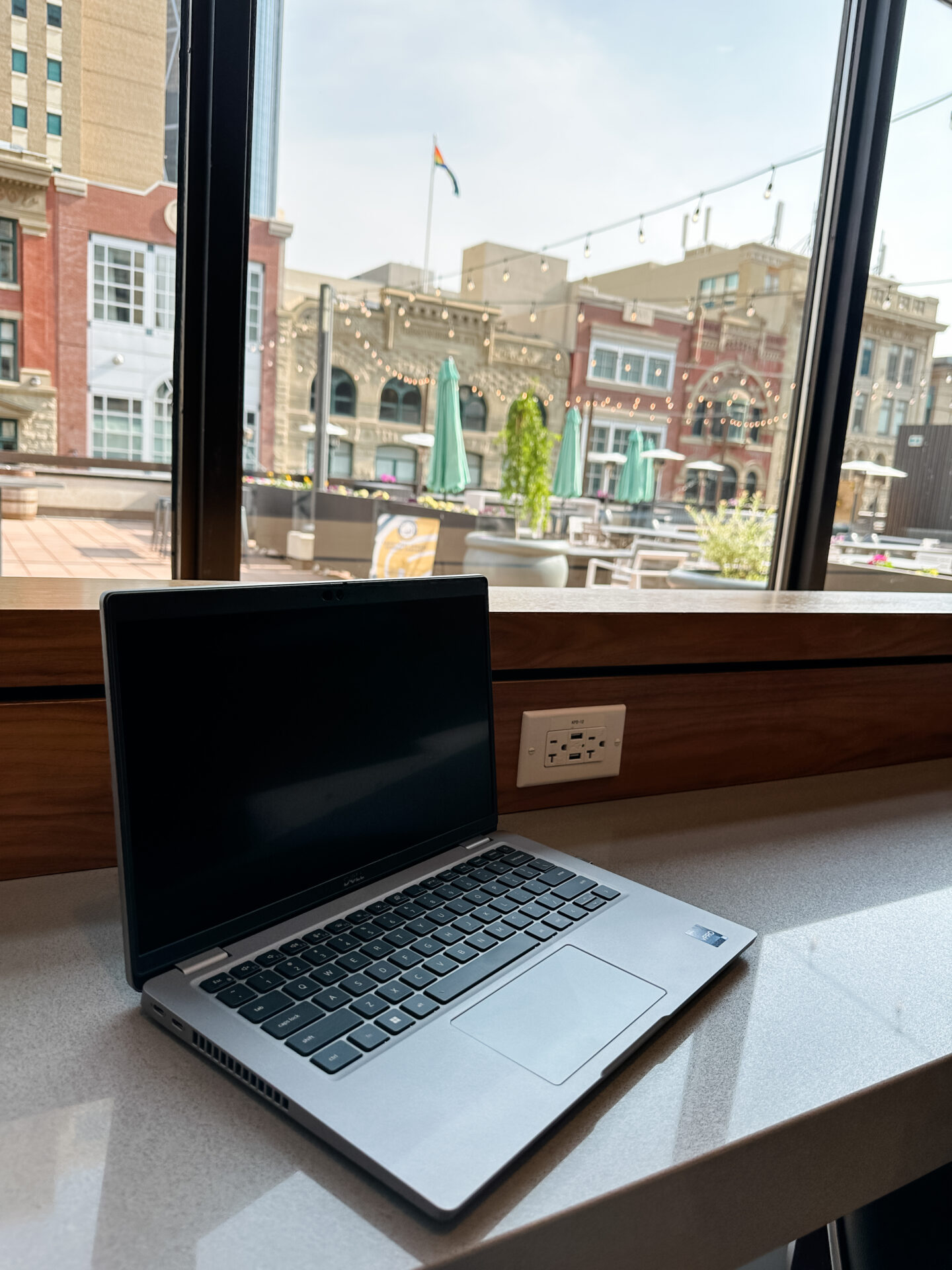 Perhaps one of the most convenient features of the Calgary Marriott Downtown is that there is a Starbucks located right in the lobby of the hotel. This made it easy to grab my tall Pike each morning before heading to the office.
WHERE I ATE
If you know me, you know that I play each trip I take around the food & drink. This trip was no exception, and it was simple because Calgary is such an amazing food city. I challenged myself to try new places this time, and while I was successful in that, I still had time to frequent a couple of my old favorites. I can't stress this enough: every place I am about to mention requires a reservation, even for parties of two people.
TEN FOOT HENRY – I'll just start with my favorite restaurant in Calgary. Actually, it's one of my top three favorite restaurants ever and it's called Ten Food Henry. Ten Foot offers a very small, intimate setting that is full of life plants hanging from the ceiling, and a cozy open kitchen concept. Since it's small inside, it's really not great for parties of more than six people. My favorite seat is at the bar where you can watch the talented chefs orchestrate putting out some of the best dishes in the city. They have rotating dishes, but they are known for their roasted tomatoes. I was skeptical at first, but believe me when I say: get the tomatoes. It's a dish with roasted cherry tomatoes, whipped feta, & dill served with warm grilled pieces of toast, and it simply cannot be missed.
BARBARELLA – Barbarella is another place that I'd been before, but wanted to make sure I visited again. It's a stunning restaurant to look at with even better food. Located on Eight Ave right in the heart of the buzzing city center, it sits on a corner with large doors that open from the bottom to provide an airy and inviting vibe. My favorite thing to get here is the calamari, which is cut into strips not rings, and the Spaghetti Limone with prawns. The cocktails are beautiful, and the atmosphere is really unlike any other restaurant in Calgary.
MAJOR TOM – Listen, I know that every other travel guide for Calgary is going to include Major Tom, but trust me when I say, you must go. While they have good food, the drinks and the views are why you go here. It's 40+ floors up and offers some of the best views I've ever seen anywhere. I love the espresso martini and the Paloma, but you seriously cannot go wrong with anything on the cocktail menu. Pro tip: go at sunset so you can see the cotton candy sky dip down behind the mountains as the sun goes down.
NATIVE TONGUES – This one is the most casual, laid back of all the places I went. Native Tongues has a really homey vibe and feels like your favorite taco joint from home. I had been here before, so I ventured out to try some new things this time. My favorites here include the birria taco and the chips and guacamole appetizer. Don't sleep on the cocktail menu though, when I was there it was themed after different artists/songs like Taylor Swift and Jack Johnson.
WHAT I DID FOR FUN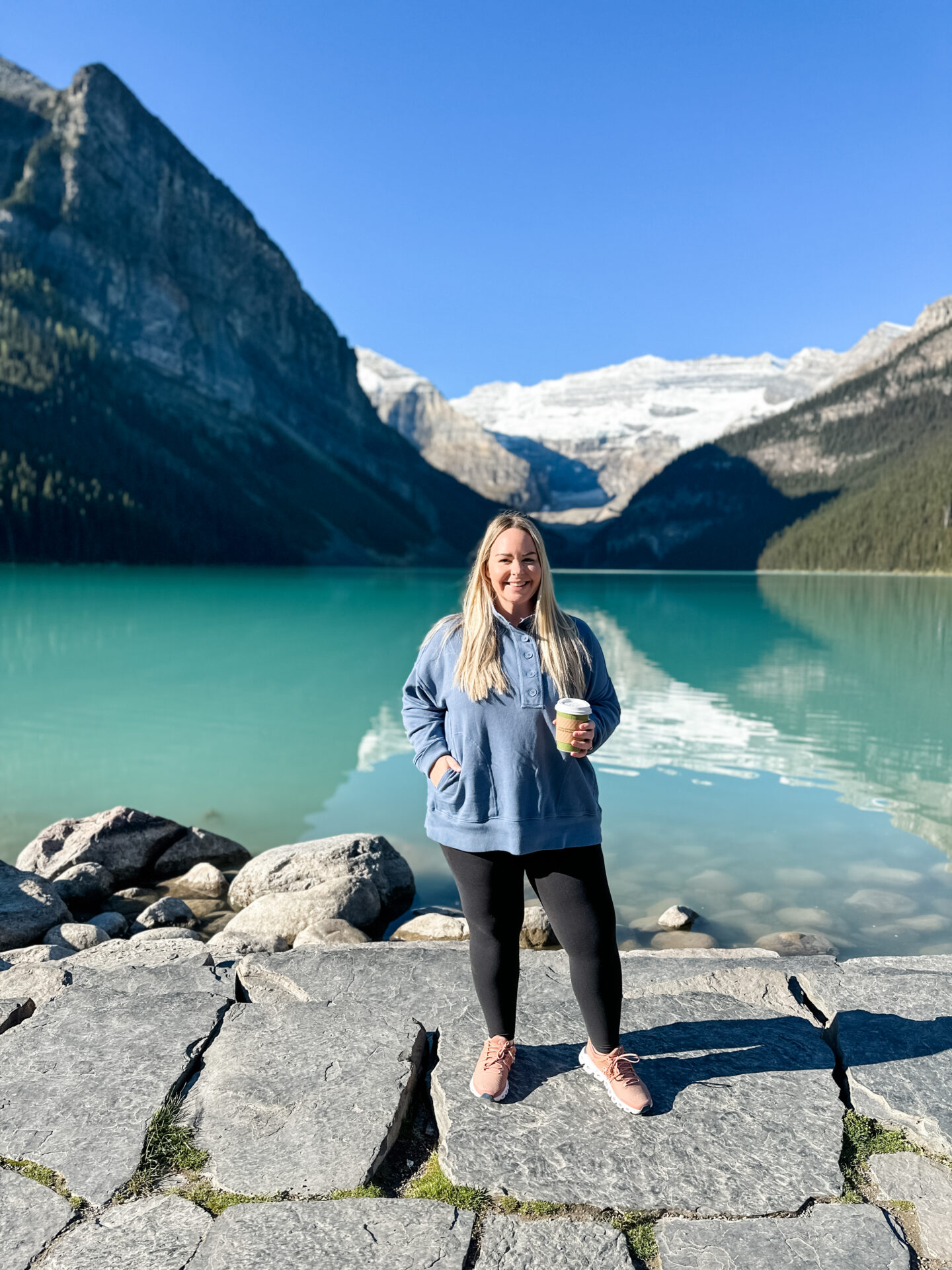 Like I mentioned before, I was in Calgary for a work trip, but I did have the opportunity to squeeze in some fun in. If you're going to Calgary, you absolutely must go to Lake Louise. It is truly the most beautiful thing I've seen with my own two eyes, and the hype is absolutely real. It's just under a two hour drive from Calgary, so makes it a perfect day trip if you don't want to stay the night. My favorite thing to do is park at The Fairmont, which sits right on the lake, grab coffee from inside, then head out to the lake to walk around and take breathtaking photos.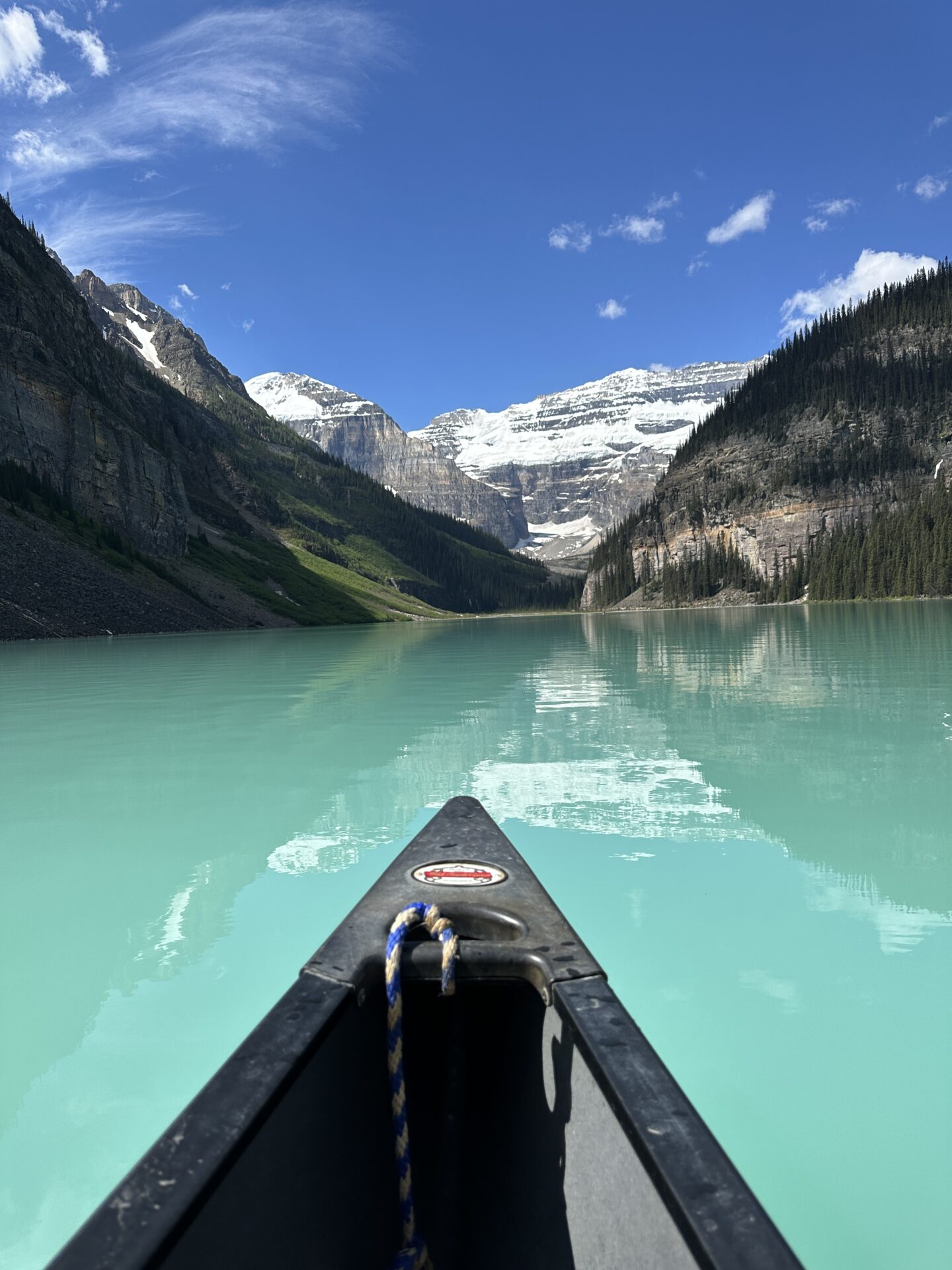 The Fairmont does have a boat house where you can rent canoes for either 30 minutes or an hour. It costs $155 for an hour, and it's worth every penny. You can fit three people in one canoe, and I recommend getting there as soon as they open to avoid waiting in a long line.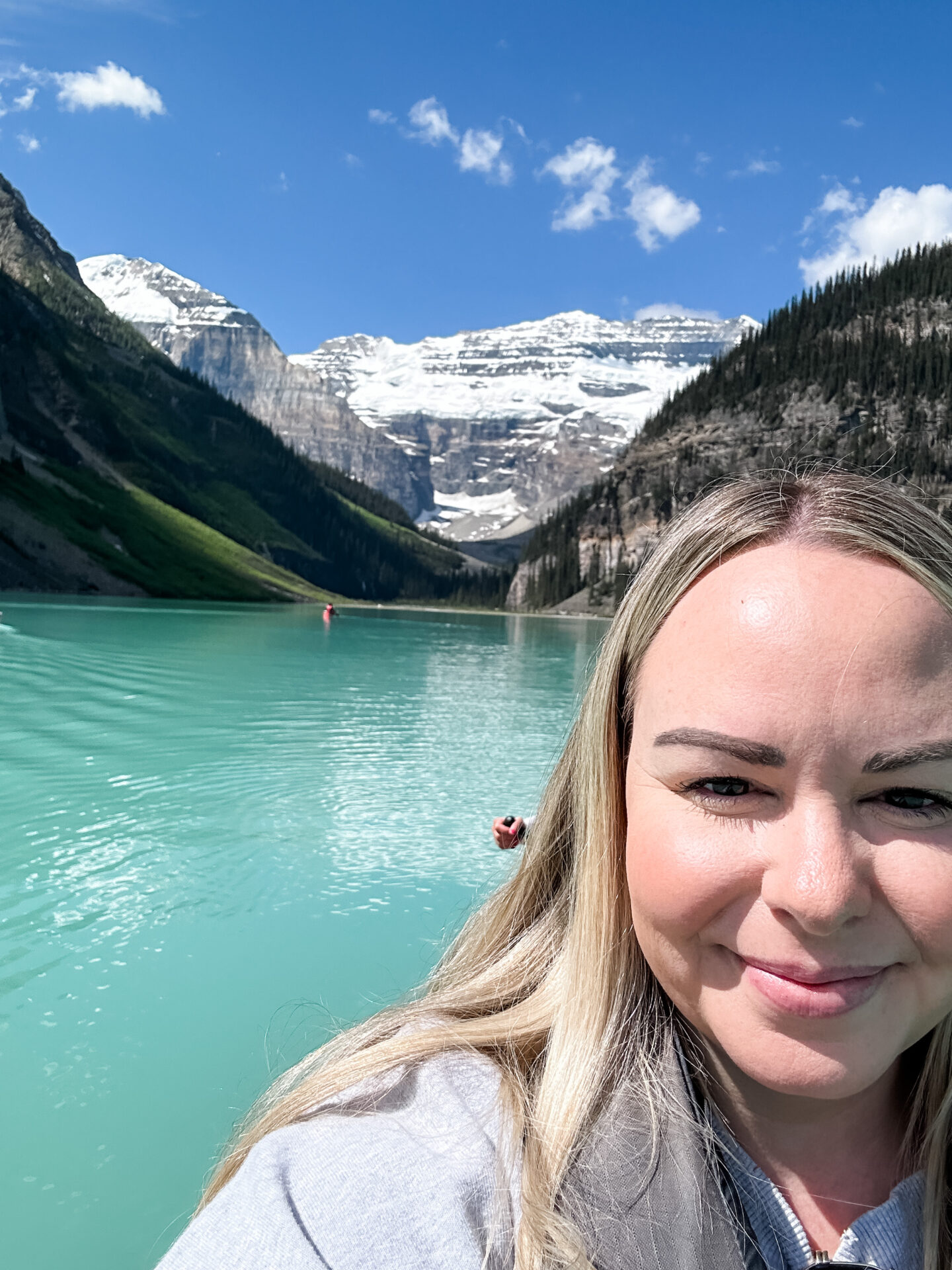 If you're going to Lake Louise, you might as well stop in Banff on the way back. Banff would be a great spot to spend a weekend, as it has many options for luxury and mid range accommodations. We just grabbed lunch at Park Distillery in Banff on the way back from Lake Louise. It was a Sunday afternoon in the summertime, so you can imagine how busy it was. Many streets are blocked off for pedestrians only, so parking can be a bit of a challenge. Just make sure you pay attention to signs so you don't end up on the wrong side of a parking ticket.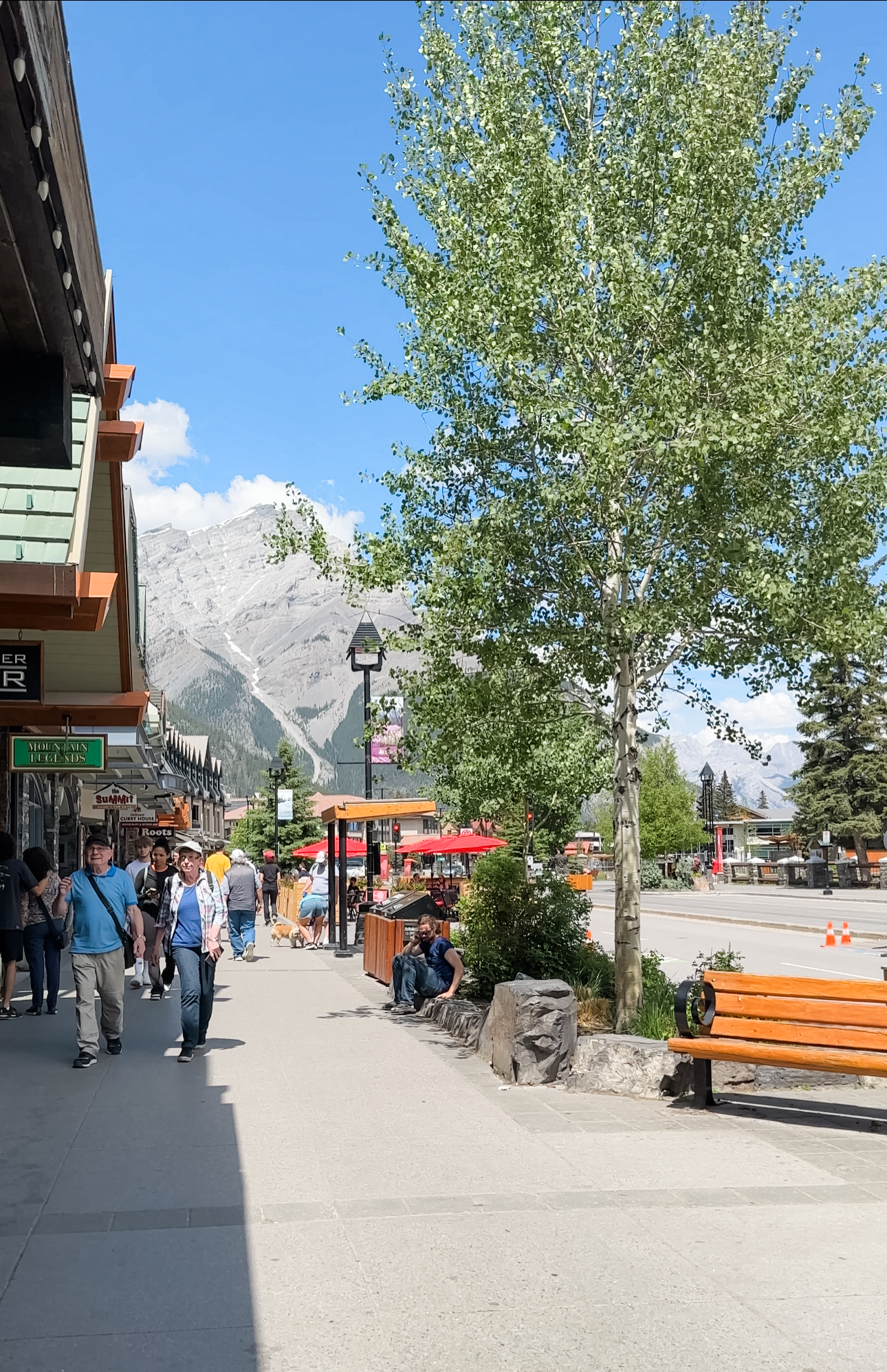 Summer in Calgary proved to be one of the most beautiful trips I've ever taken. The weather was perfect, the city was bustling, and people were in good moods all around. Until next time, Calgary!
Thank you to the Calgary Marriott Downtown for sponsoring this post. Please read my disclosure policy for more information.