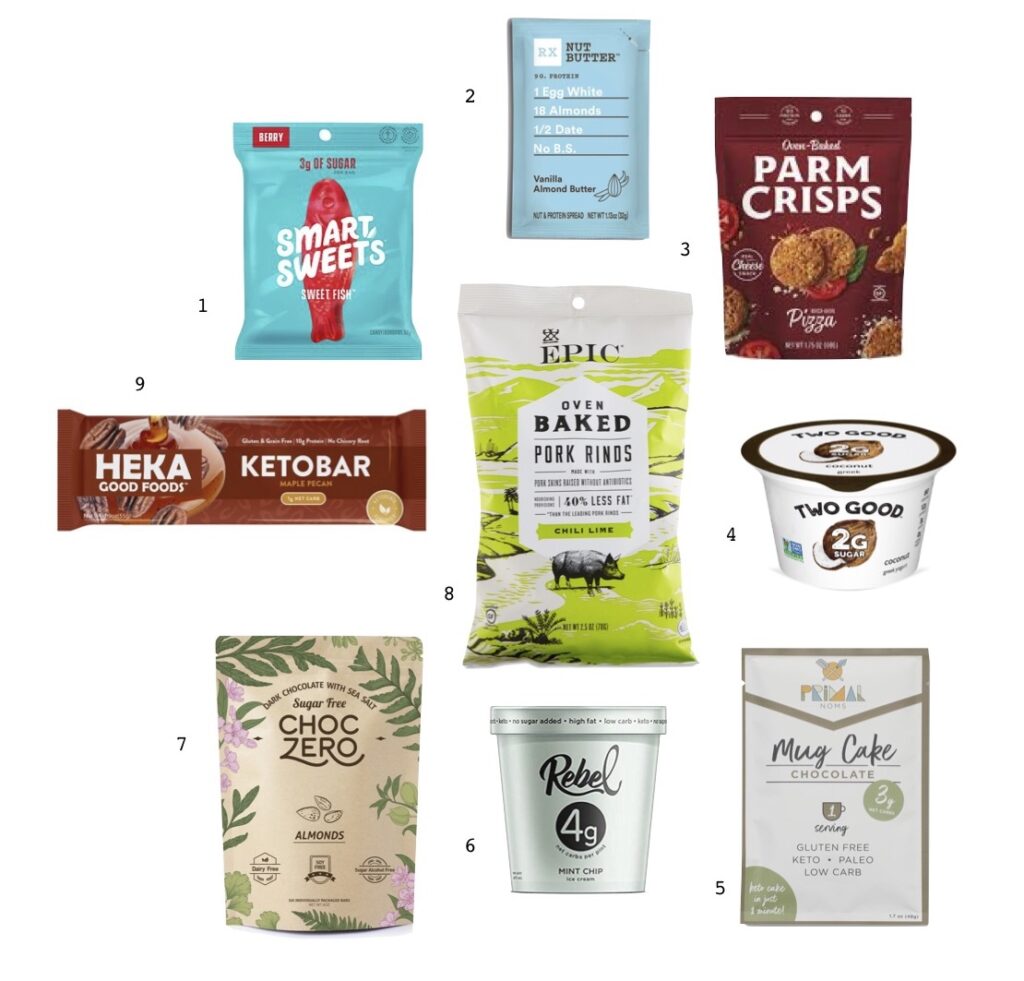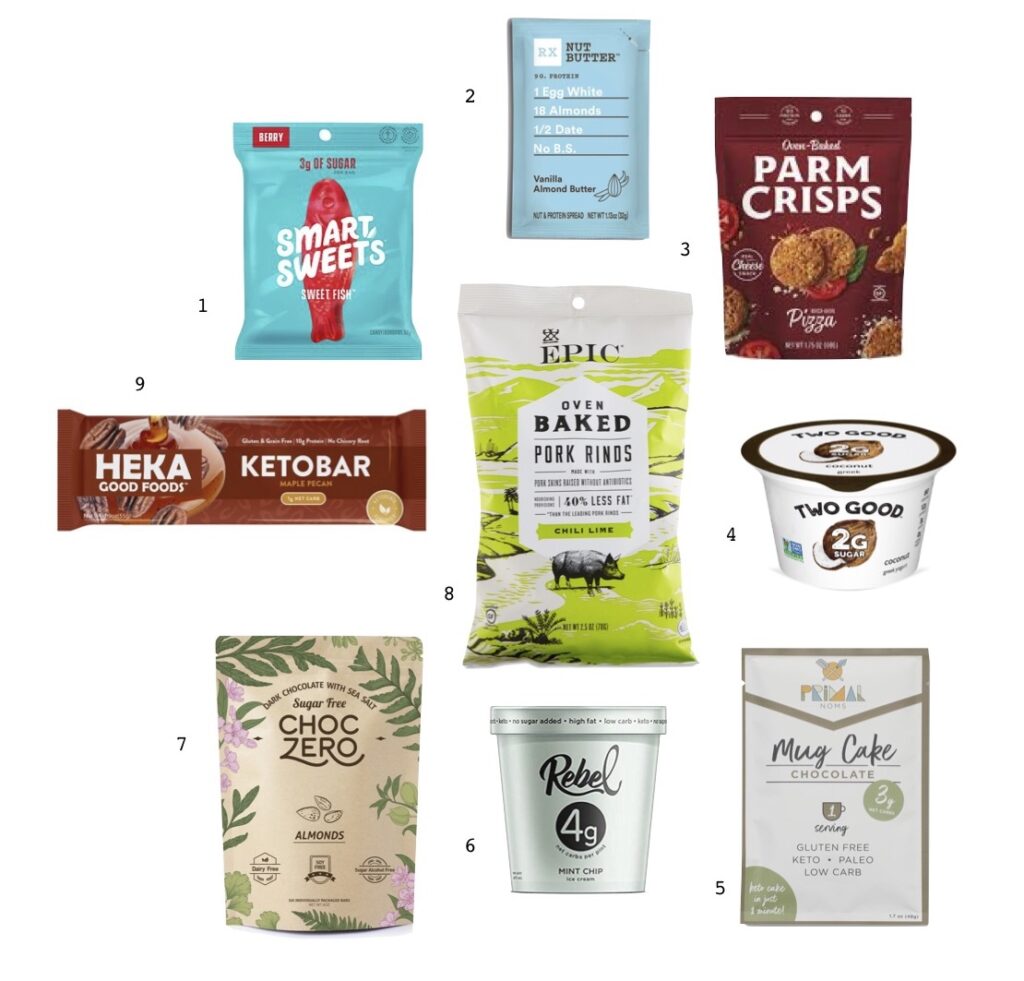 Smart Sweets Sweet Fish: These are by far my favorite way to curb my candy craving. I love all of the candy that Smart Sweets makes, but my all time favorite is the Sweet Fish. For one bag of the Sweet Fish, it's 7g net carbs, so it's not something I indulge in everyday. I love packing a bag of these when we go to the movies so I'm not tempted with something else. You can use discount code LALOVESIT for free shipping on their site!


RX Vanilla Almond Butter: This is another easy snack that you can throw in your bag and save for when you have a craving for a treat. It's 5g net carbs per pouch, so it's definitely something I save for days when I know I'm going to be traveling or may not have access to a healthier snack options.


Brick Oven Pizza Parm Crisps: These keto snacks are a great alternative to chips or crackers. I love to eat them plain, but they are even better dipped in a spinach artichoke dip or topped with a a slice of cheese. At 1g net carb per serving, these are the perfect alternative to crackers.


Two Good Coconut Greek Yogurt: Ok, you may be thinking that yogurt is more of a breakfast item than a snack, but the coconut flavor of the Two Good yogurt will likely change your mind on that. I wouldn't go as far as saying it's a good ice cream alternative, but at 3g net carbs per container, it can hit the spot when you're craving something sweet. My local grocery store carries a lot of flavors, but I've also seen it at Target.


Primal Noms Mug Cake Mix: Mug cakes have been a saving grace for me since starting a ketogenic diet. I know you can make one from scratch without using a mix, but these mixes from Primal Noms make life so much easier. The chocolate is the lowest as far as net carbs go, coming in at 3g. My favorite flavor is carrot cake, with peanut butter coming in second. A little melted butter, one egg, and 90 seconds in the microwave is all you need to enjoy this treat.


Rebel Ice Cream: This ice cream is probably the most purchased keto snacks on this list because it's so dang delicious. Depending on what flavor you get, it ranges from 4-7g net carbs per pint. My favorite flavor is strawberry, but if I'm being honest, I'd eat them all. The only downfall to Rebel is that you have to let it sit out for at least 20 minutes before you enjoy. Otherwise, it's an icy mess. It's definitely worth the wait, though!


Choc Zero Chocolate Bark: This bark is so good! It comes individually packaged with two good sized squares. I would call this more of a candy bar than bark. Each bar is 2g net carbs, so it's basically a guilt free treat. My favorite flavor is the dark or milk chocolate with almonds, but there are so many other combinations I'd love to try. It's really good with some nut butter on it! I normally buy this at Whole Foods, but there are way more options online.


Epic Oven Baked Pork Rinds: I get a little burnt out on pork rinds, but the flavors that Epic has come out with have been amazing. My favorite is the Chili Lime. They have a great kick and are a great chip replacement. These (like most other pork rinds) are 0g net carbs per serving.


Heka Good Foods Maple Pecan Bar: I've tried what seems like every single Keto friendly bar out there, and this is BY FAR the best. The texture is amazing and reminds me of pecan pie filling. No weird aftertaste, and the best thing about these is that they are 1g net car per serving. I always have at least two of these in my bag for when I'm craving something delicious.

I generally order most of these keto snacks online (except for the yogurt and ice cream), but you can check the brand website store locators to see if they are carried in a store near you.