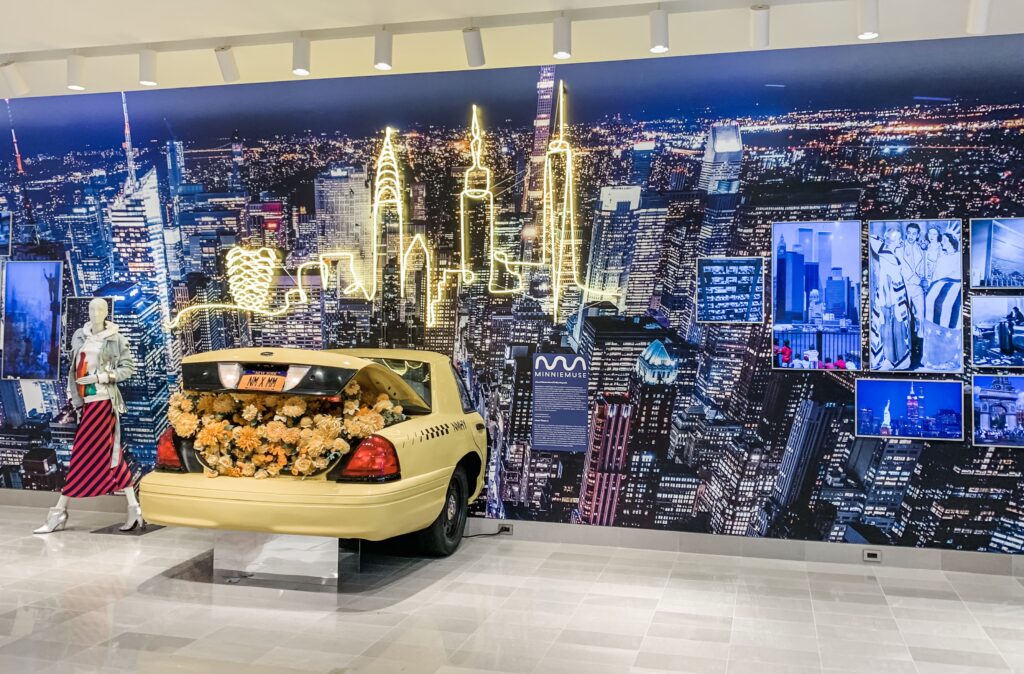 Let me preface this post by saying this guide to NYC is going to be a long one, so settle in. New York City is one of my favorite destinations of all time, and I'm really excited to share all of my favorite things about our most recent trips there. I'll cover where we love to stay, eat, and what we love to do. Just a warning, there is nothing touristy about this post. If you're a first-timer to The Big Apple, I won't be covering any of the major landmarks that you'd probably want to see when you're there. Kit from The Kittchen has a great post that includes all of the best landmarks and museums to hit. You can find her post here. Ok, let's get started!
WHERE TO STAY
Both hotels were booked via Amex Travel using my American Express Platinum card. Because of that, we got the following amenities: free breakfast for two, early check in, late check out, free wi-fi, welcome gift, and a $100 food & beverage credit to use anytime during our stay. This greatly influenced which hotels we considered, as not every hotel is eligible for these amenities. However, nothing in this post is sponsored.
Park Hyatt New York: Holy wow. I considered easing into the fact that this place was by far the best hotel I have ever stayed at, but why bother? From the moment we checked in to the time we left, we were treated like royalty. Since we booked with our Amex Platinum, we could check in at noon, which we took full advantage of. Upon checking in, the front desk attendant handed us two waters and a packet filled with all the information about our Amex Platinum benefits we'd receive during our stay. Then, she walked us to our room and showed us how to "work" everything. I thought this was a bit excessive, but then quickly realized this was not your average hotel room.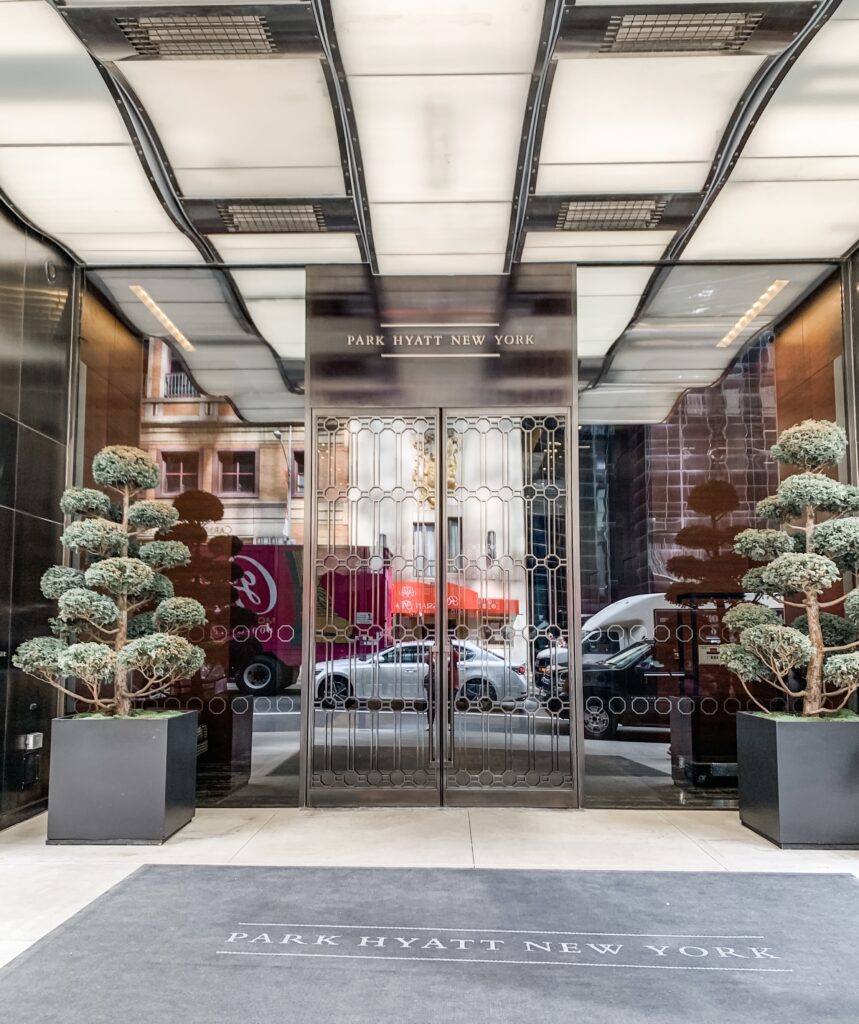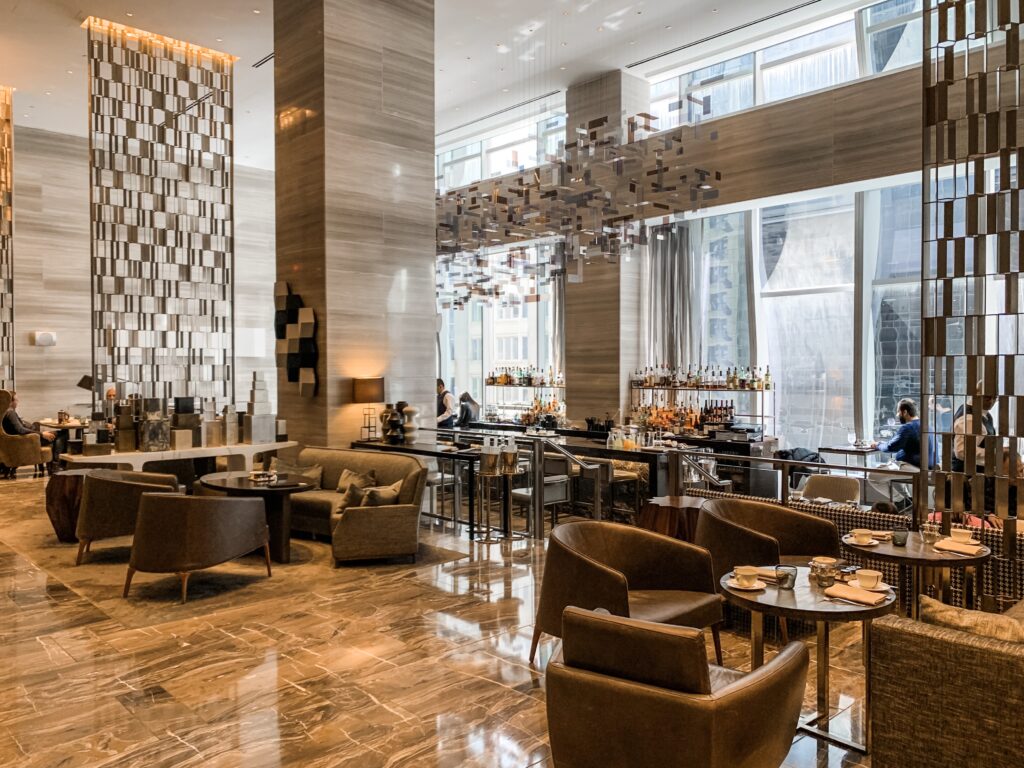 The room came fully equipped with automatic window shades and curtains, a TV in the bathroom mirror, a doorbell, and there was no Do Not Disturb hanging door tag in sight. You simply push a button next to the bed and a red light appears outside your door indicating you do not want to be bothered. There was also a really impressive bar and Nespresso set up that I used every morning. Next to the desk, an iPad was docked and ready to use for anything you needed during your stay. Need extra pillows? No problem, just request it on the iPad. We also used it to order room service, which was so convenient and effortless. We received a welcome gift delivered to our room as soon as we settled in. It was my boyfriend's birthday, and they even personalized the cake for him. A nice extra touch.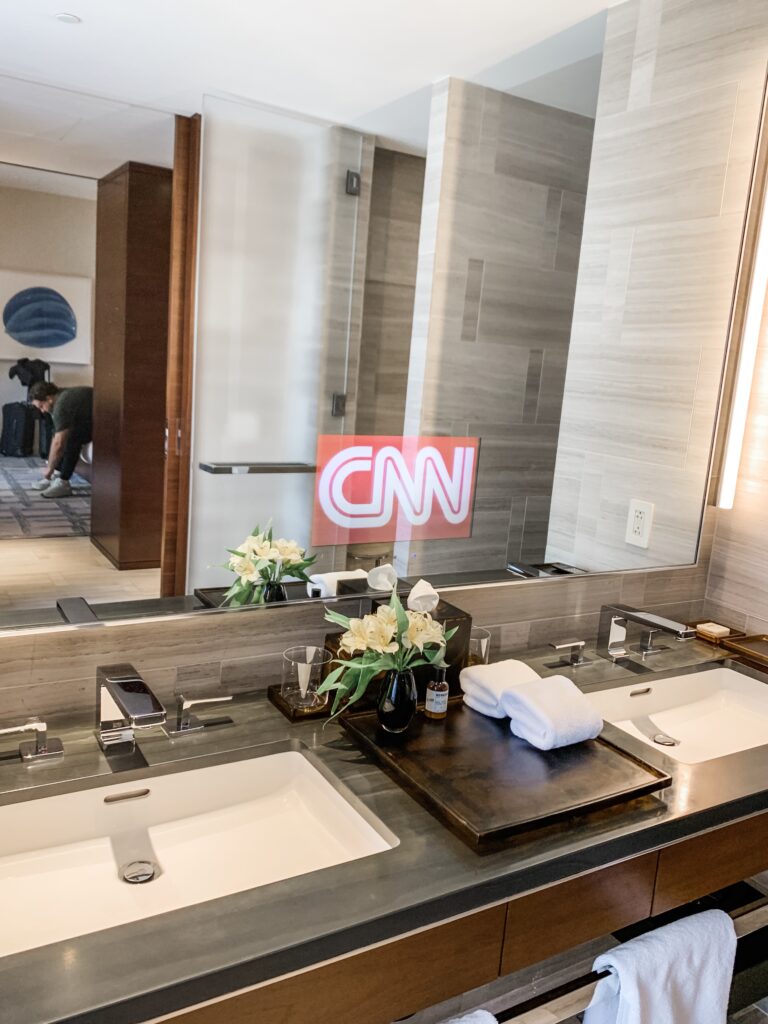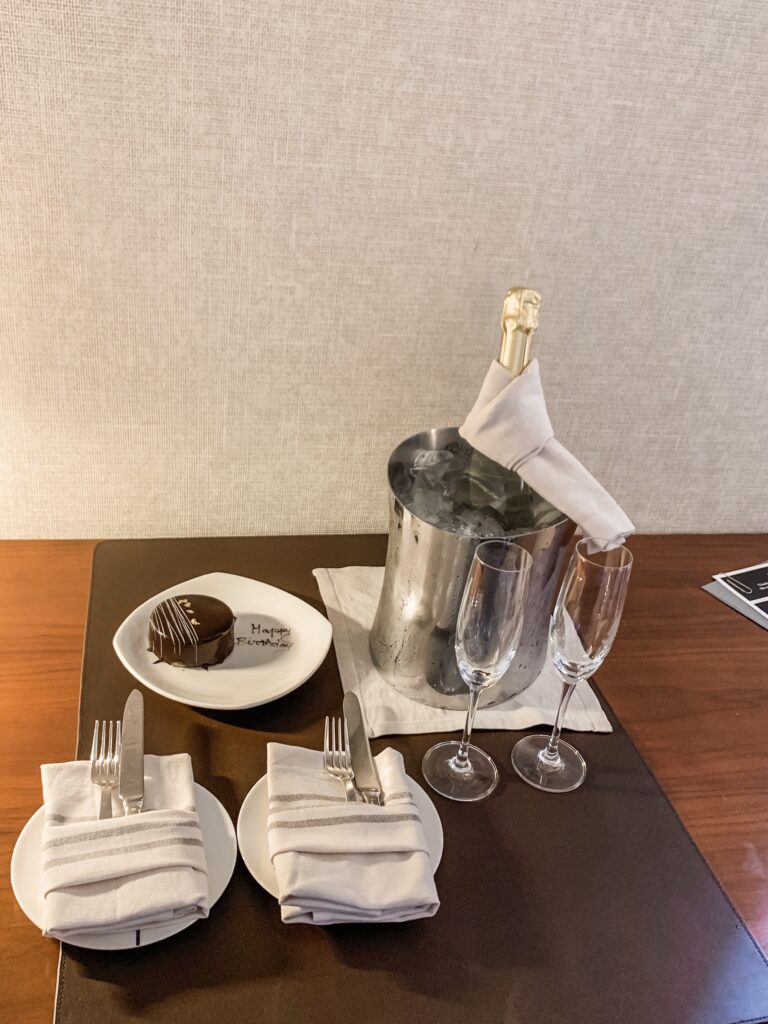 Every evening, our bed was turned down and slippers were set out for us. I LOVED this because a well made bed is the way to my heart. I don't do a great job of it at home, so when someone comes in and does it for me, it wins serious brownie points. There were so many other extras that just made me happy. Le Labo shampoo, conditioner, & soap, big fluffy towels, and cozy bathrobes to name a few. This guide to NYC does not skimp on talking about the hotel amenities!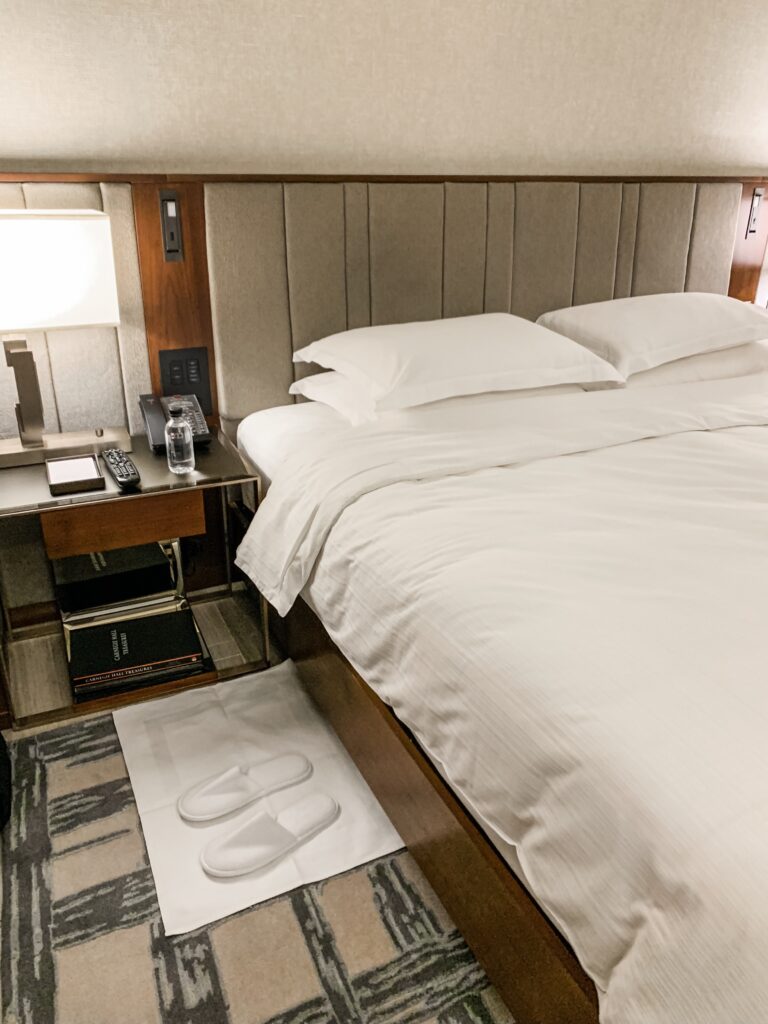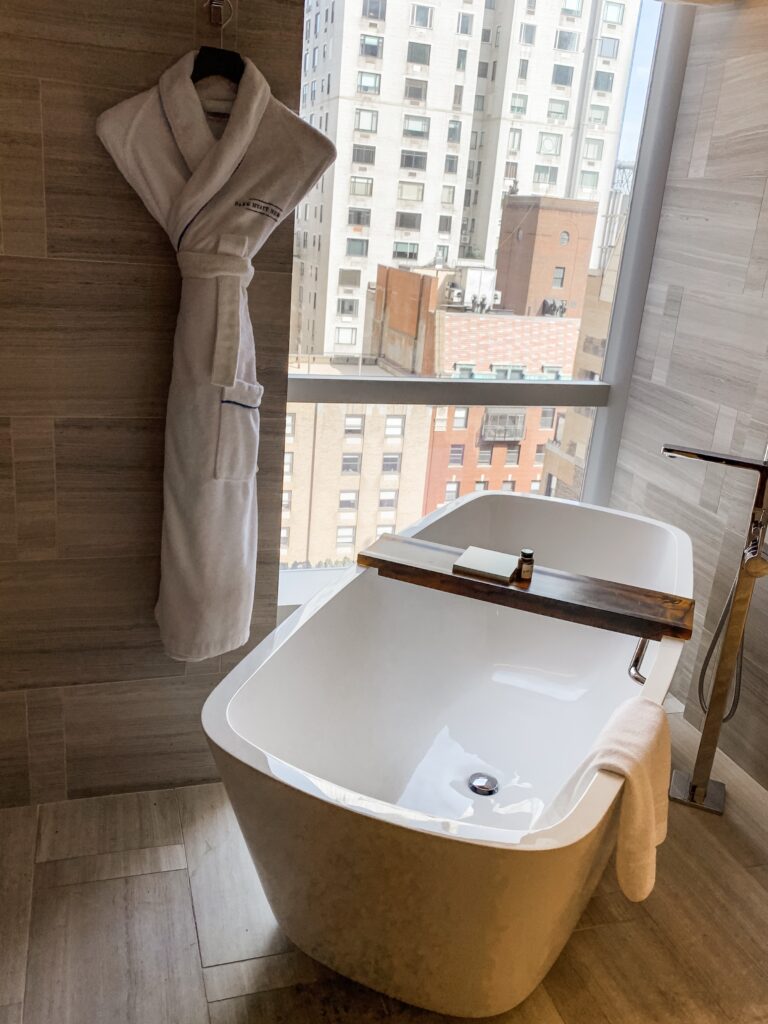 We didn't utilize the spa or the pool this trip, but we did spend a lot of quality time in the restaurant. Since we got free breakfast every morning, we made sure to take full advantage. Most hotels in the Amex Fine Hotel & Resorts network will give you a set dollar amount you can spend at breakfast, but not the Park Hyatt New York. They basically said, order whatever you want "within reason." We each got an entree every morning, juice or coffee (or diet coke), and something extra to share. Every single breakfast we ordered was comped (upwards of $100 each morning), and we had no issues with our bill when we checked out. This breakfast credit works for both dining in the restaurant and room service. A good guide to NYC will always let you in all all the good travel deals.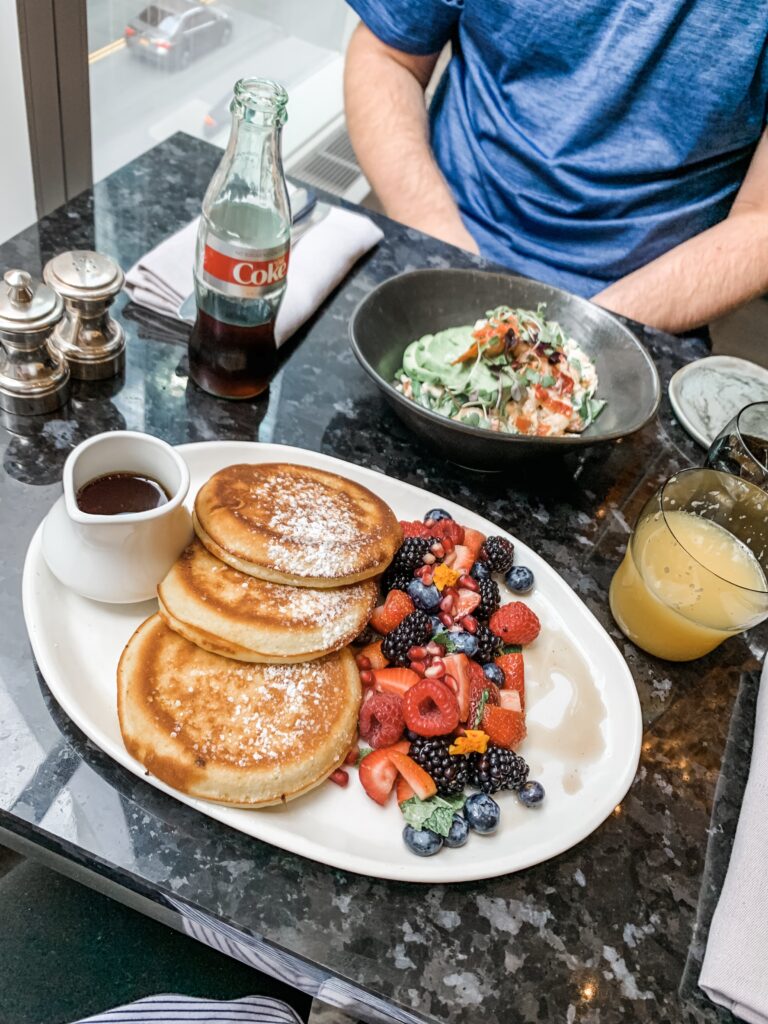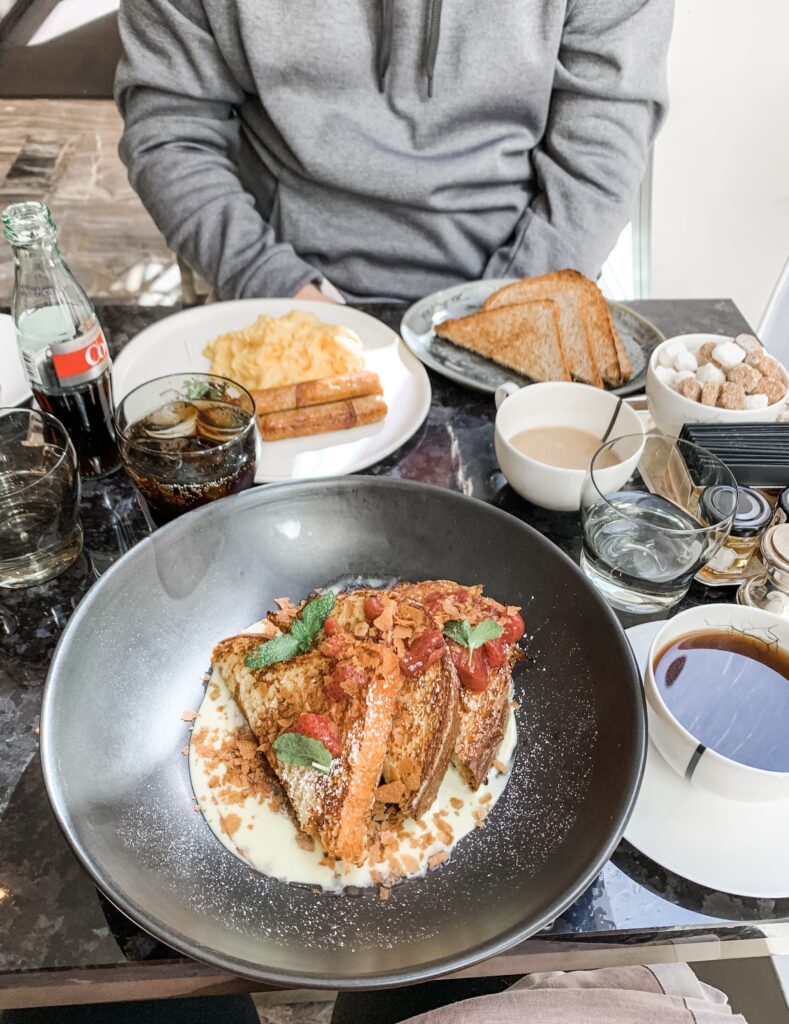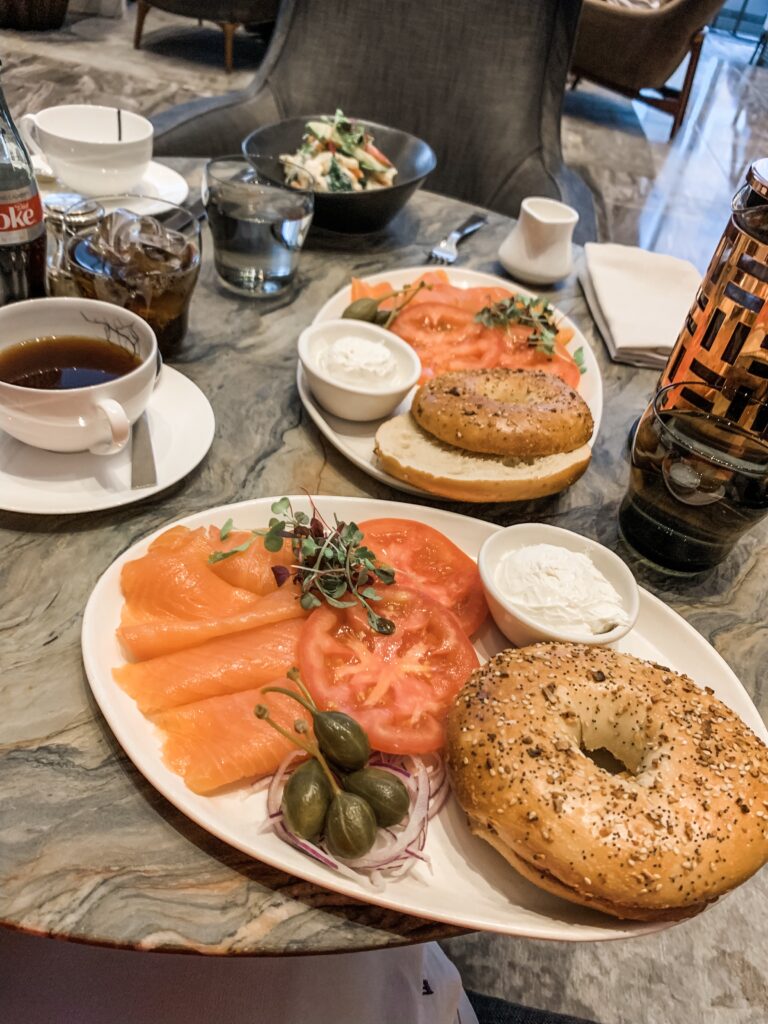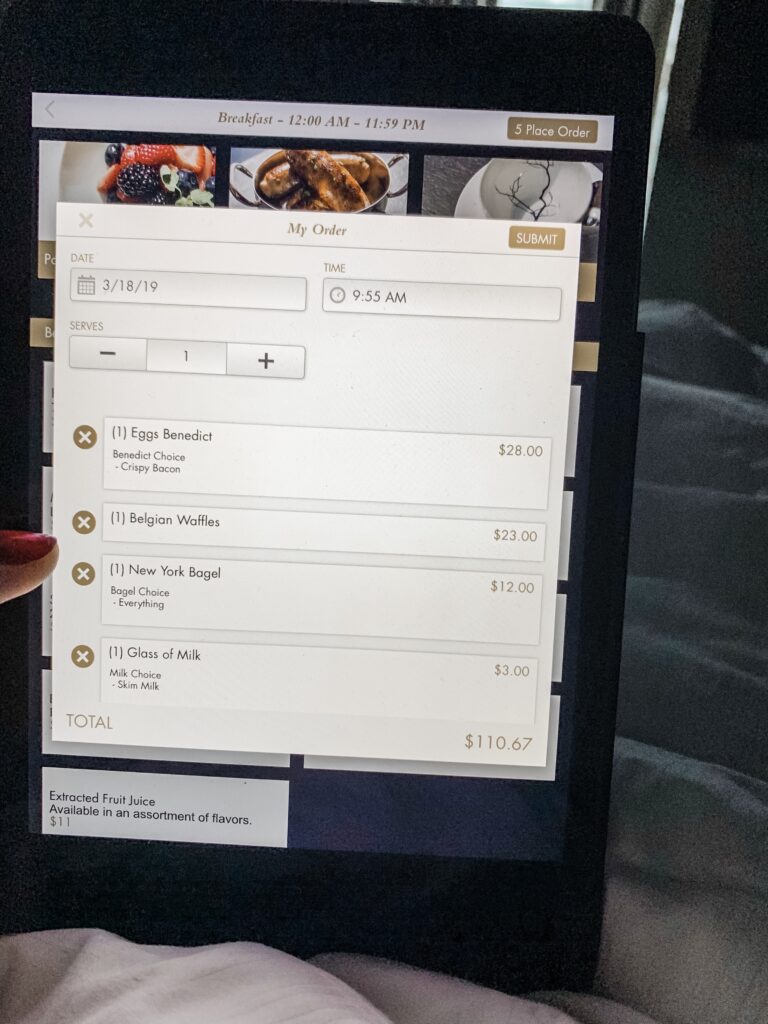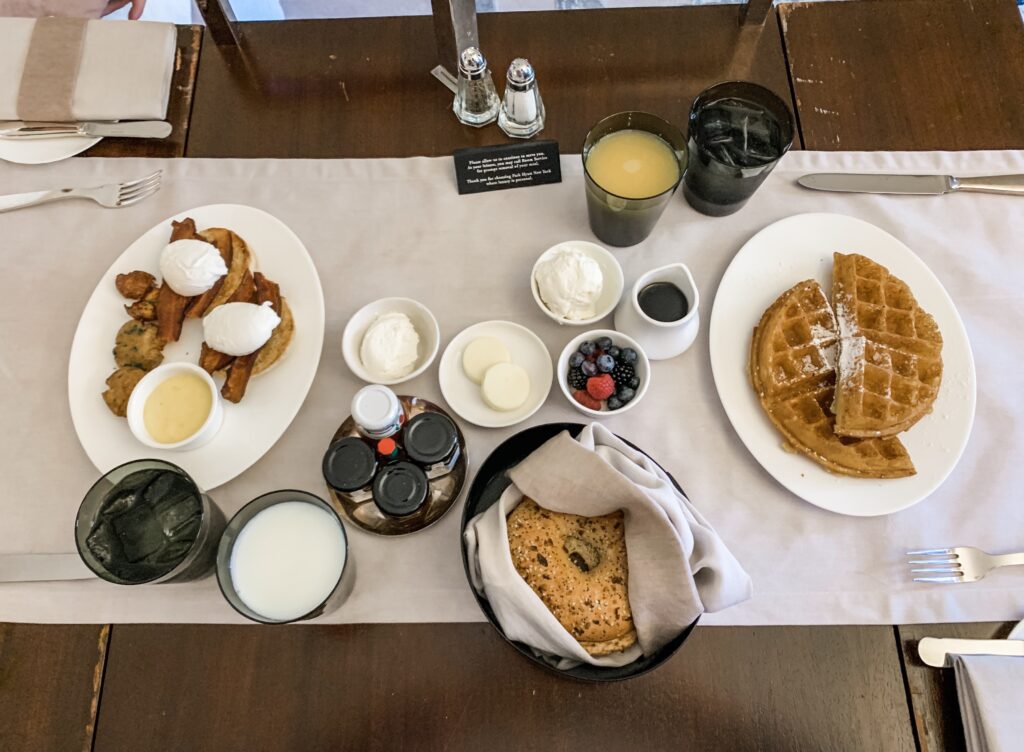 The location of the Park Hyatt was perfect. It sits across the street from Carnegie Hall on West 57th street, just blocks from Central Park. Easy access to the subway, and lots of great shopping and eating within reasonable walking distance.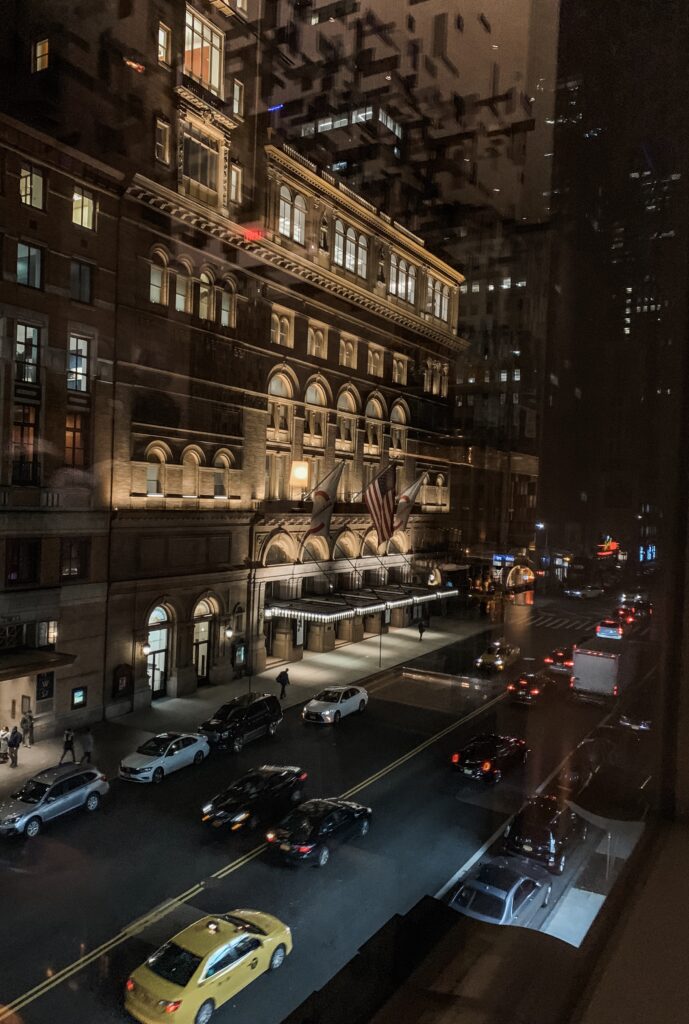 Listen, I get that this hotel is very pricey. It's definitely a perfect hotel for a special trip or occasion. And if I'm being honest, I would not have booked it if we did not have the Amex Platinum and received all the additional perks. That was the cherry on top that really made our stay worth every penny. My guide to NYC has both affordable and splurge hotel options, which leads me to my next spot.
Mr. C Seaport: I had never heard of Mr. C hotels until I was searching for NYC hotels on the Amex Travel site. It's a fraction of the cost of the Park Hyatt, but you still get all of the same great amenities booking with the Platinum card. I read some reviews and decided to book, again based solely on the fact that we would be showered with extra perks.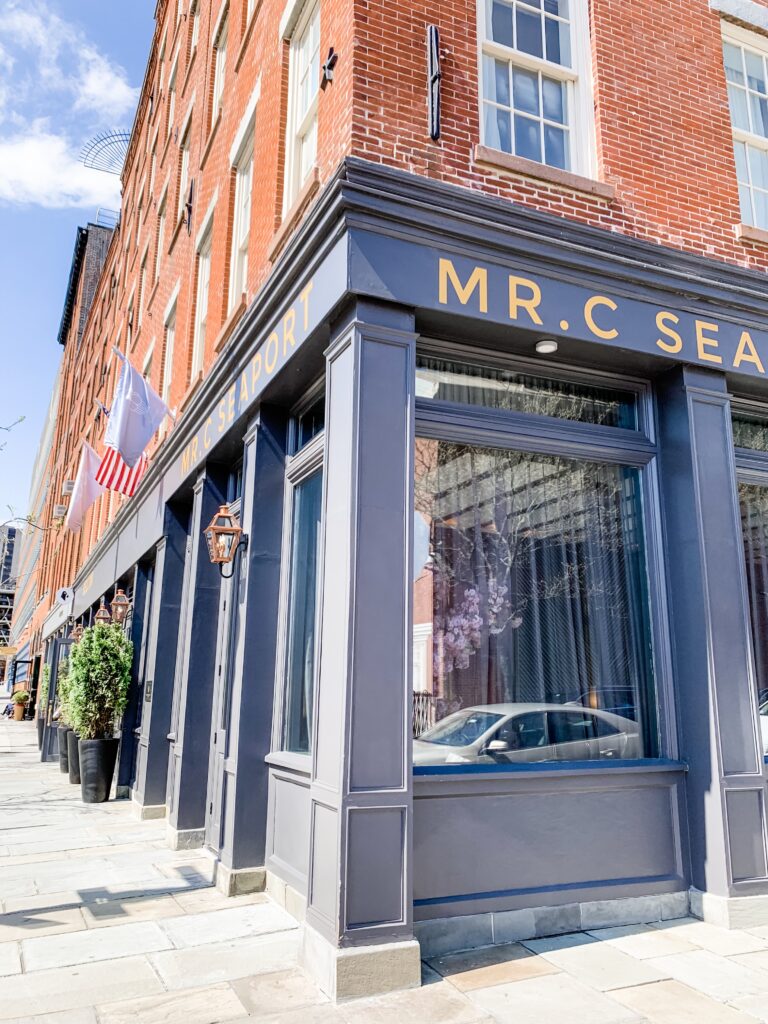 When we arrived, we were welcomed with a Bellini, the Mr. C signature cocktail. A front desk associate walked us to a waiting area and gave us our drinks, along with a packet containing all the benefits we'd get because we booked through Amex. They check you in while you wait & sip on your Bellini, then escorted us to our room. I knew that because of the price point of this hotel, it wasn't going to be near as luxurious as the Park Hyatt, but it had it's own sort of charm. It felt very European from the second we walked in, and that feeling carried into our room. It was very simple, clean, and a good size. Also, the bottle of champagne sitting on the night stand was a really nice touch.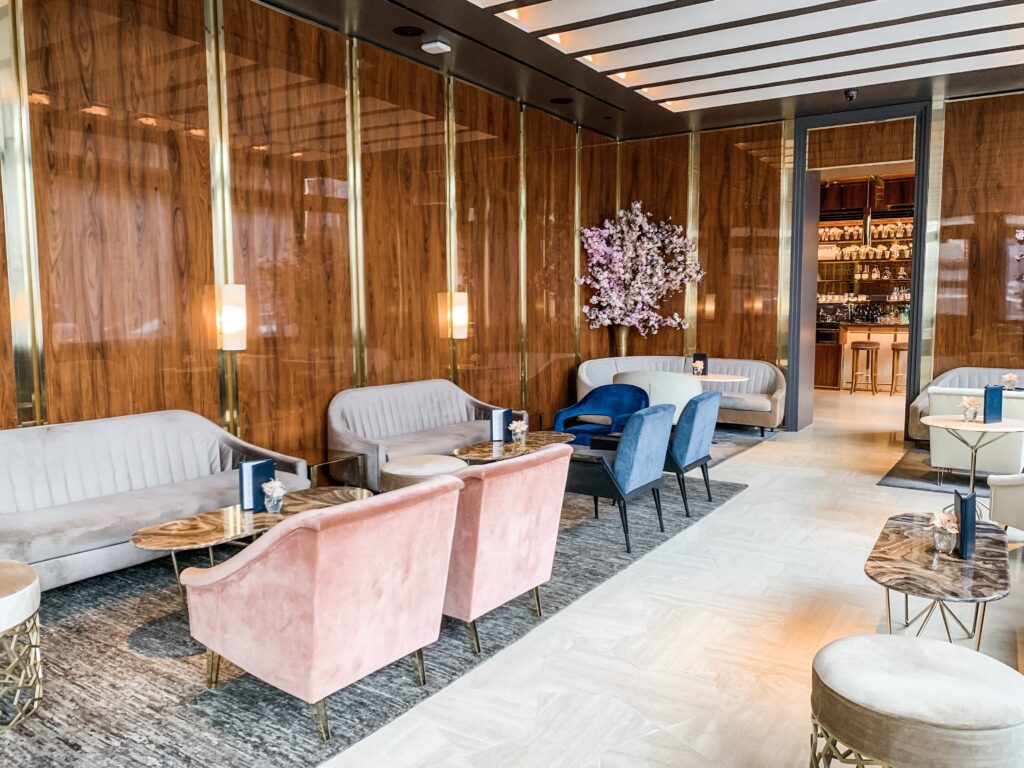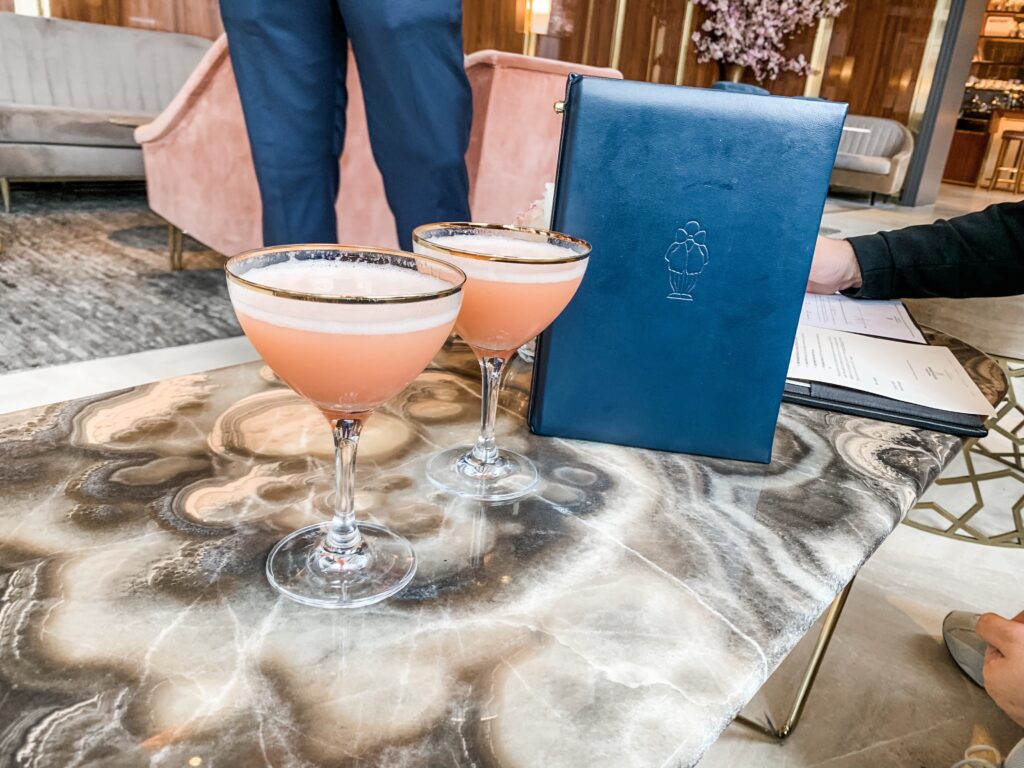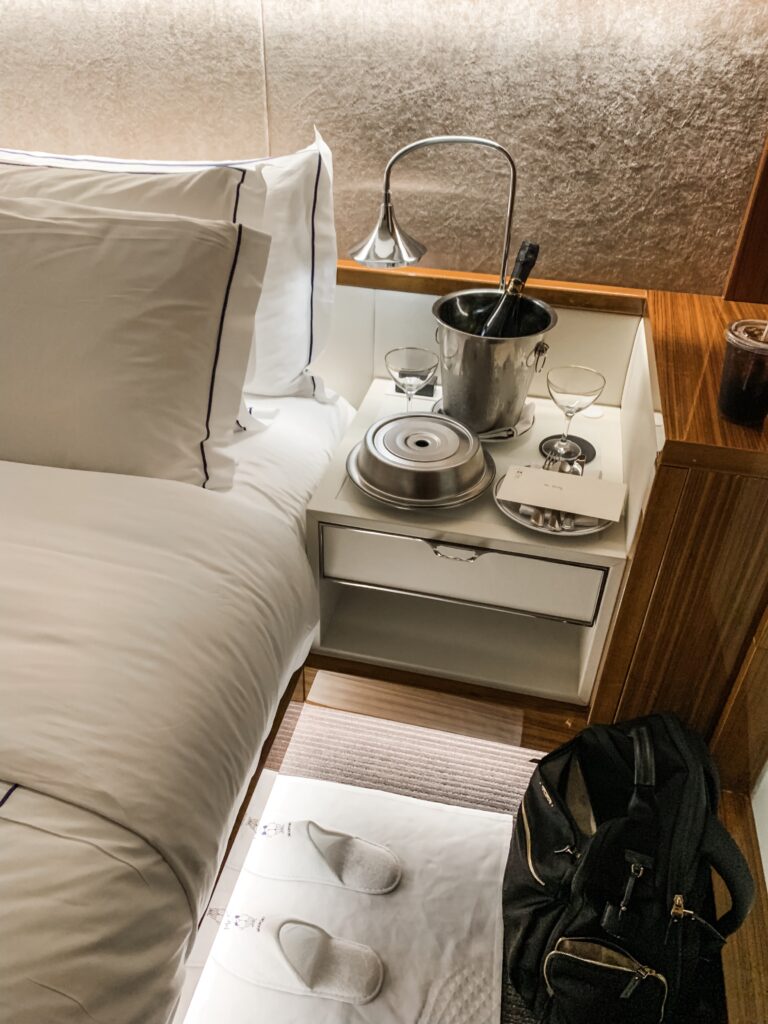 Our first breakfast at Mr. C's restaurant Bellini consisted of something sweet and something savory. We ordered French toast and eggs Benedict and both were good enough to order again. Mr. C. wasn't as generous with the breakfast credit as the Park Hyatt, and we were limited to $60 a day, which turned out to be more than enough. We also got the $100 food & beverage credit on top of that, so if we ever overspent at breakfast, it wasn't a big deal. The other breakfasts were equally as delicious, and we chose to dine in each morning in lieu of room service.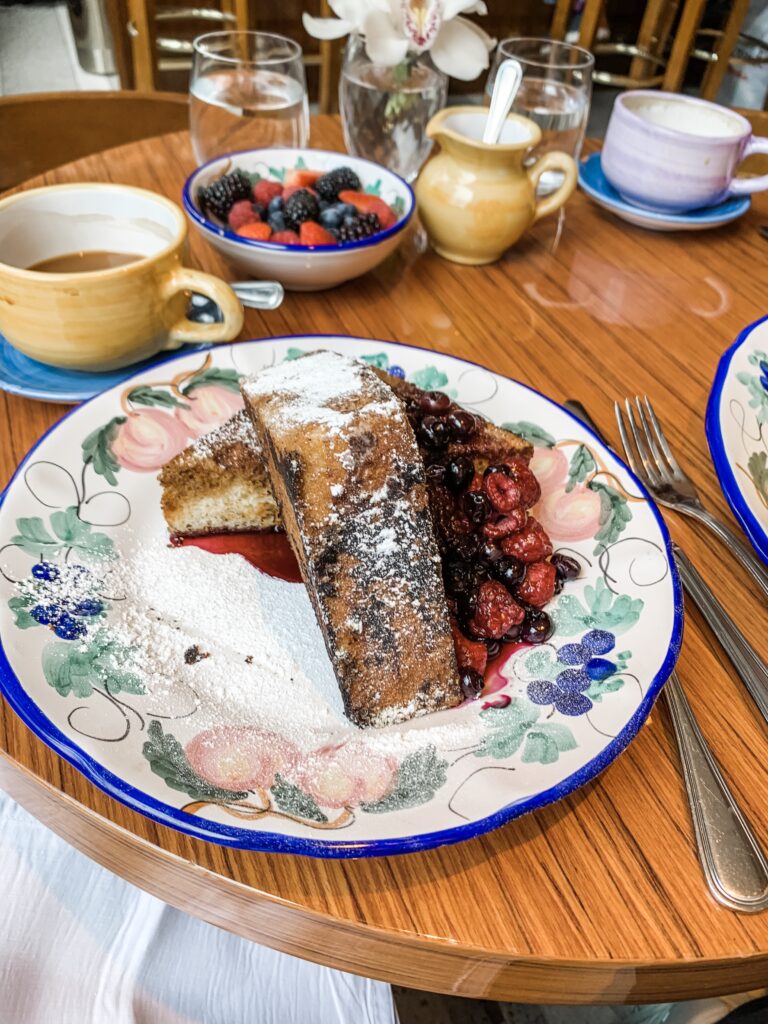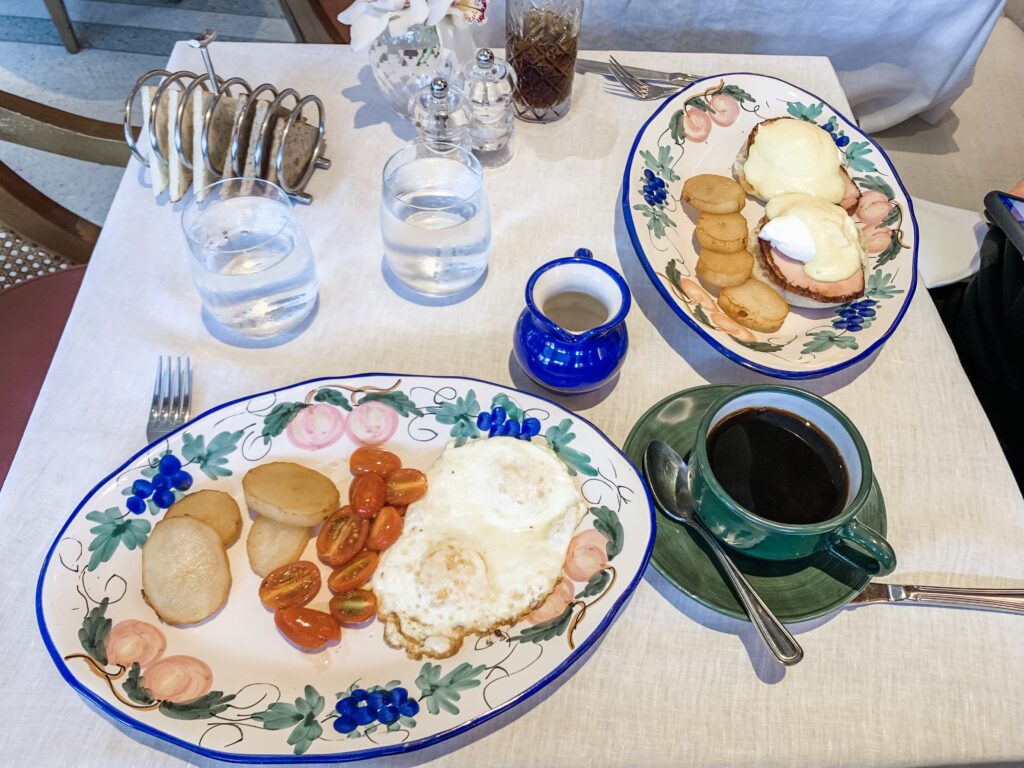 The location of Mr. C is in the Seaport district, which is right next the Brooklyn Bridge on the Manhattan side. It's close to downtown, the 9/11 Memorial & One World Trade Center, and a short car ride away from SoHo. One of the best perks at Mr. C is their Lincoln Navigator town car that will take you up to twenty blocks for no charge (definitely tip!). We utilized this every day and either had the driver drop us off in SoHo or at a subway station if we wanted to go somewhere farther away.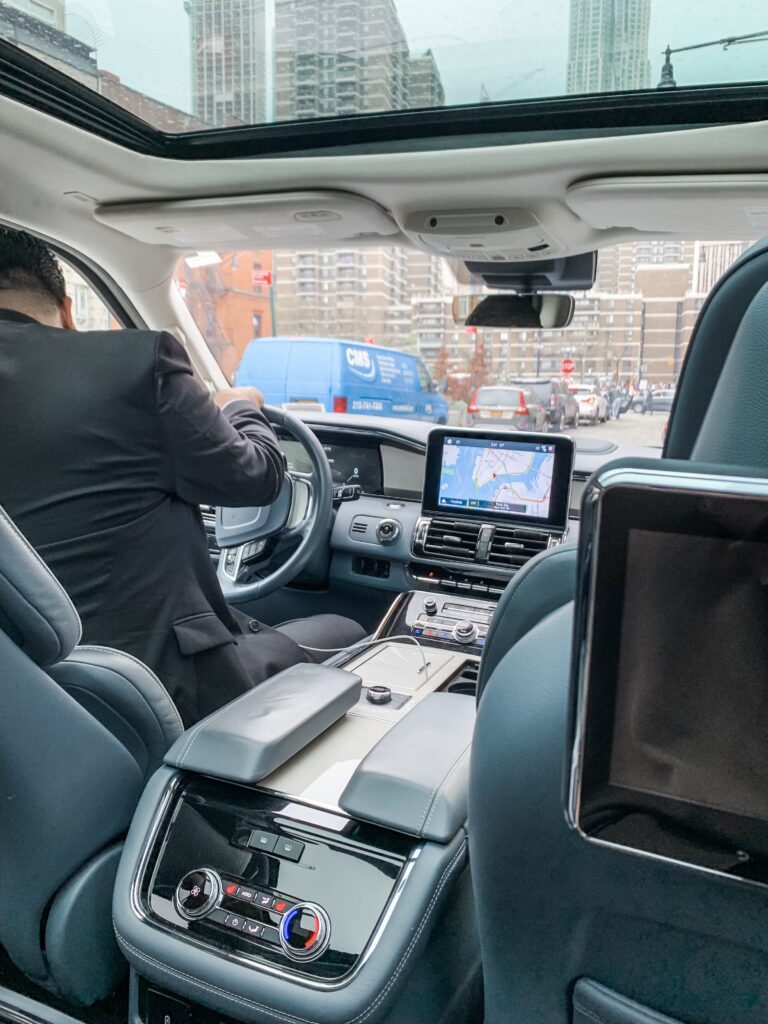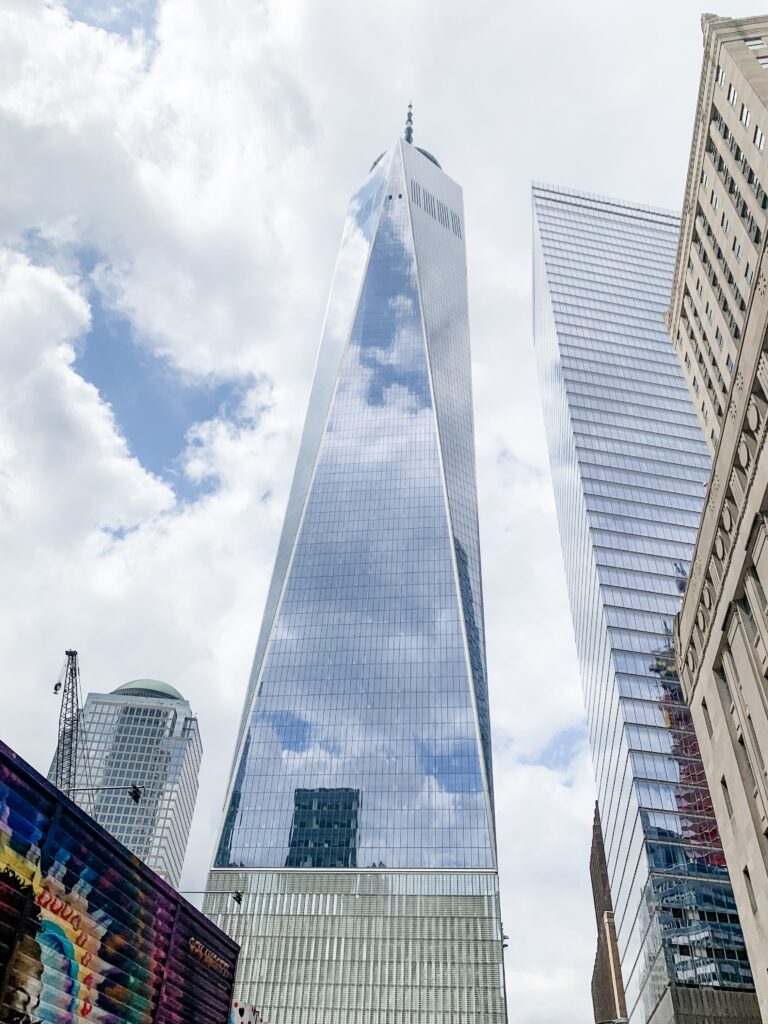 My feelings about re-booking are the same for Mr. C as they are for the Park Hyatt. We booked this hotel because of the good price point and the value you get, but also because of the extra perks we get with our Amex Platinum card.
WHERE TO EAT
Piccola Cucina Osteria: Let's just start with my number one fave, shall we? No guide to NYC would be complete without talking about this place. It is so good that the second we land, we get in an Uber and go here even before checking in to the hotel, luggage and all. It's TINY and you should book a reservation if you want to try it. Not because it's fancy, but because it's that good. I order the lobster pasta every single time and have never been let down. It's also right across the street from Dominique Ansel Bakery (cronuts, anyone?), so you can just hop across the street for a sweet treat when you're finished eating. My favorite thing to get from the bakery is a chocolate chip cookie in the shape of a shot glass filled with cold milk.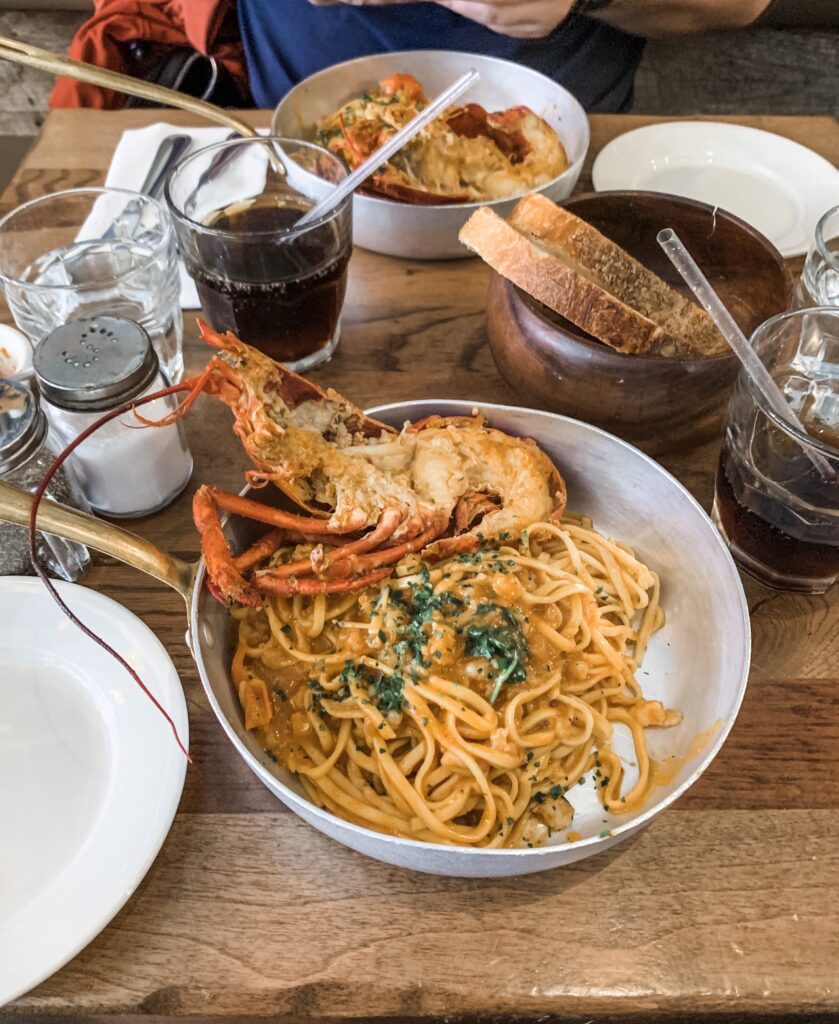 Luke's Lobster: This is another place that we frequent multiple times when we're in NYC. There are several locations, but my favorite one is in the Plaza Food Hall. I always order the lobster roll and we normally get a lobster bisque to share. Can you tell I love lobster?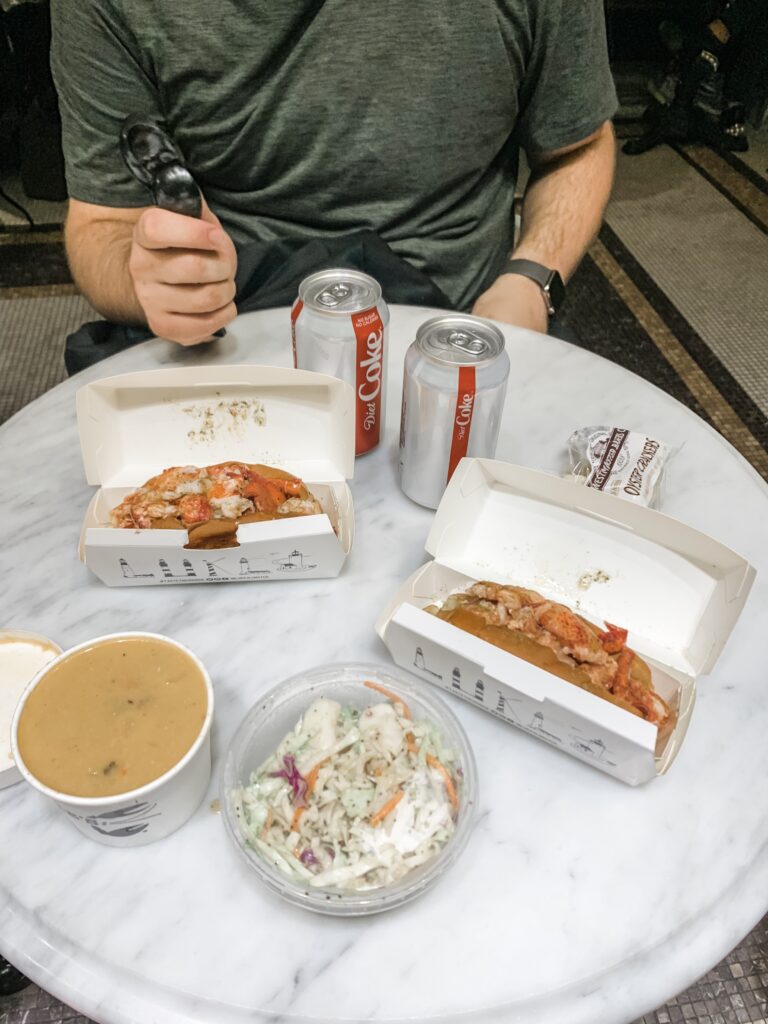 Ed's Lobster Bar: Ok this is getting embarrassing. I live in a land locked state though, so can you blame me for wanting delicious seafood on vacation? I've never had anything bad here, but my favorite thing to get is the lobster mac & cheese, however they serve what is arguably the best lobster roll in Manhattan.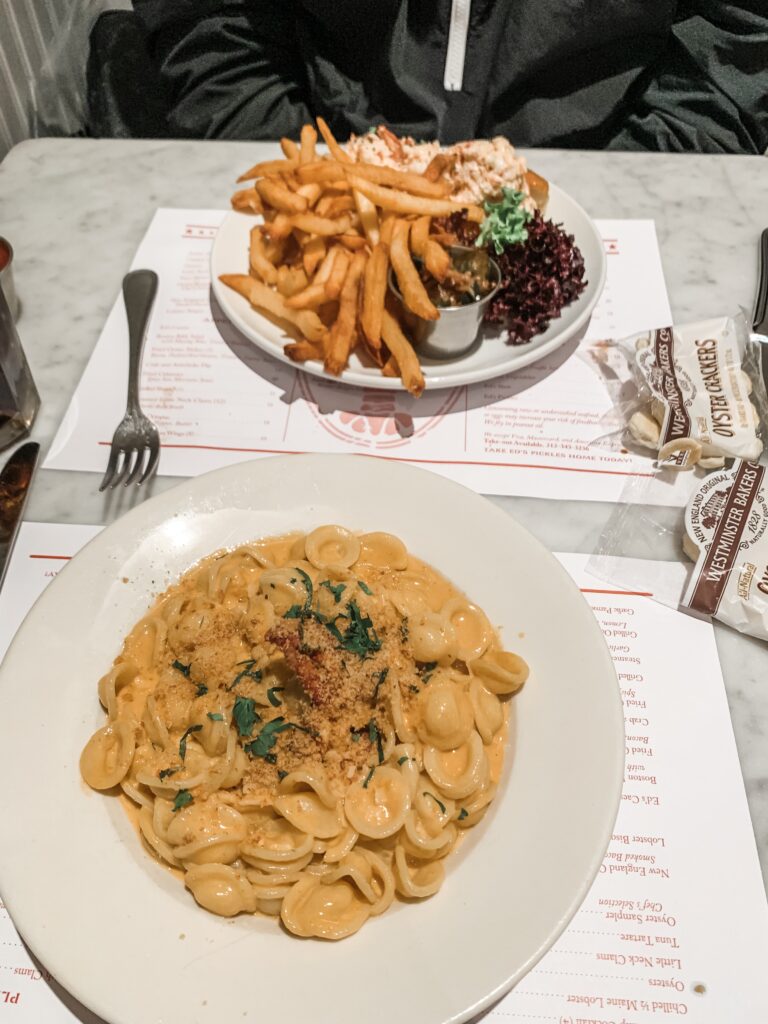 Joe's Pizza: There are a lot of opinions about where to get the best slice in New York City. I've tried all the places you hear about in those debates, and my favorite is Joe's. It's just simple, thin, delicious pizza. They get people in and out quickly, so there's a chance you may not even have to stand in line. A good guide to NYC will always include Joe's.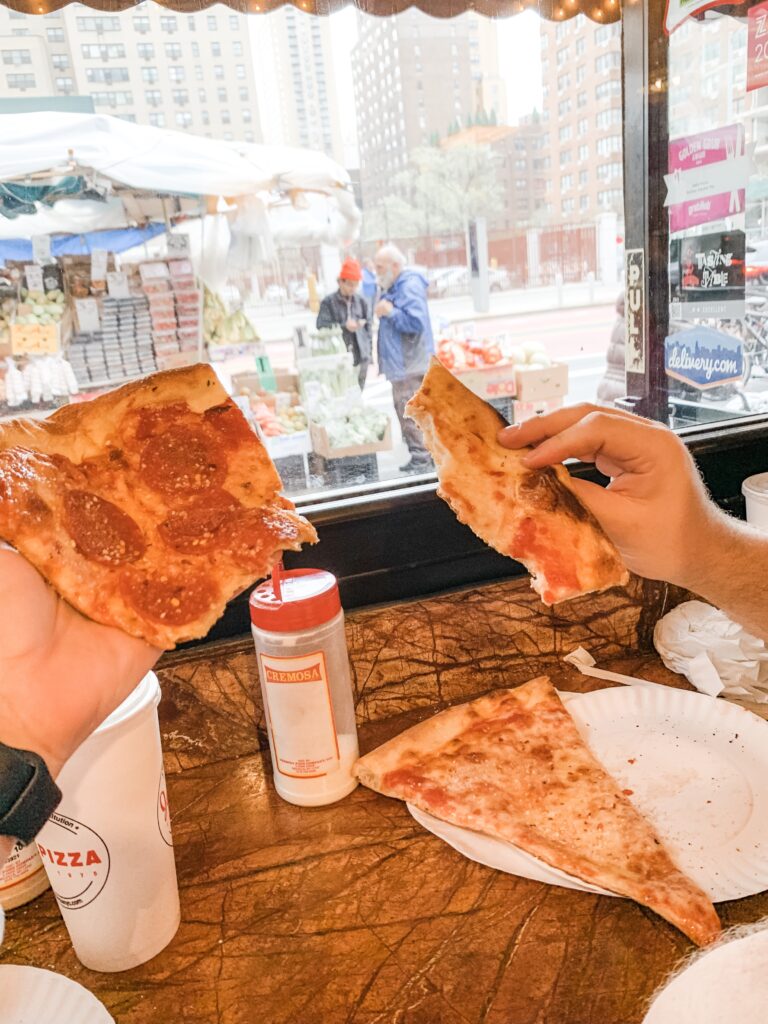 Milk Bar: The B'day Truffles here are life. I always stock up on these to bring some home. You can order all of their items online, but you will pay a pretty hefty shipping fee. I can say with full confidence that it would be worth every penny, though!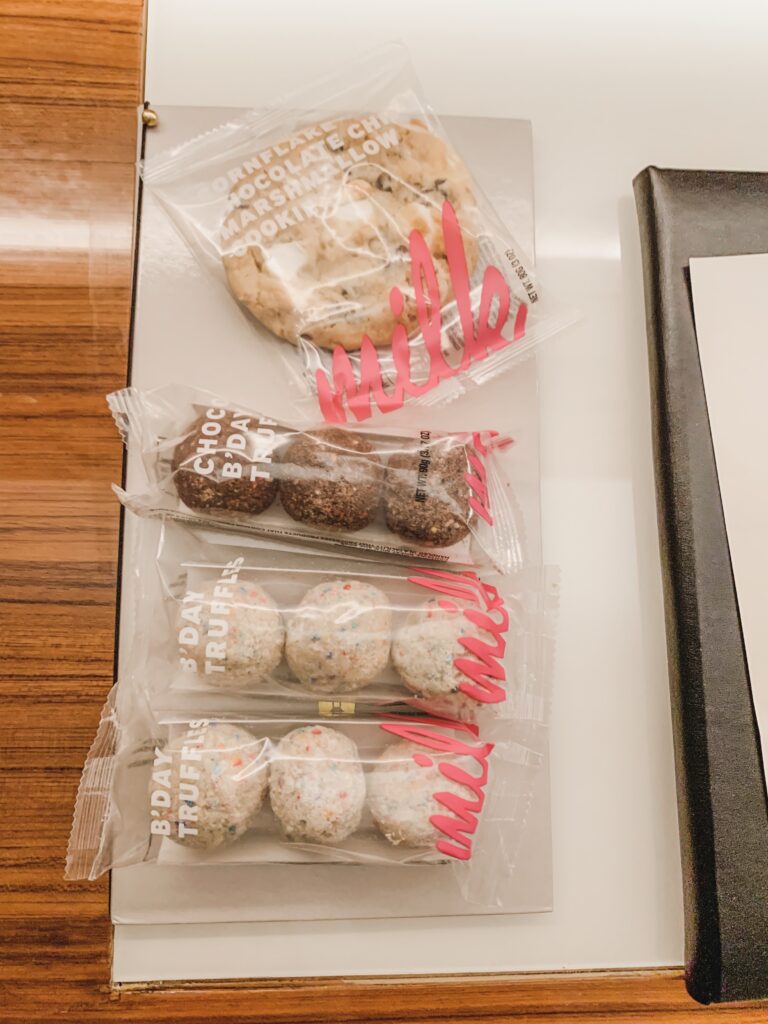 Magnolia Bakery: Most people go to this iconic place for the cupcakes, but I go for the banana pudding. They have several flavors, but the classic is what I always reach for. There are tons of locations all over the city, so it's a very accessible treat.
Van Leeuwen Artisan Ice Cream: This place offers so many good flavors, and even has vegan options. That's not why we go though, we go because it's so dang good. Honeycomb in a cup is my favorite combo, but their homemade waffle cones are a close second.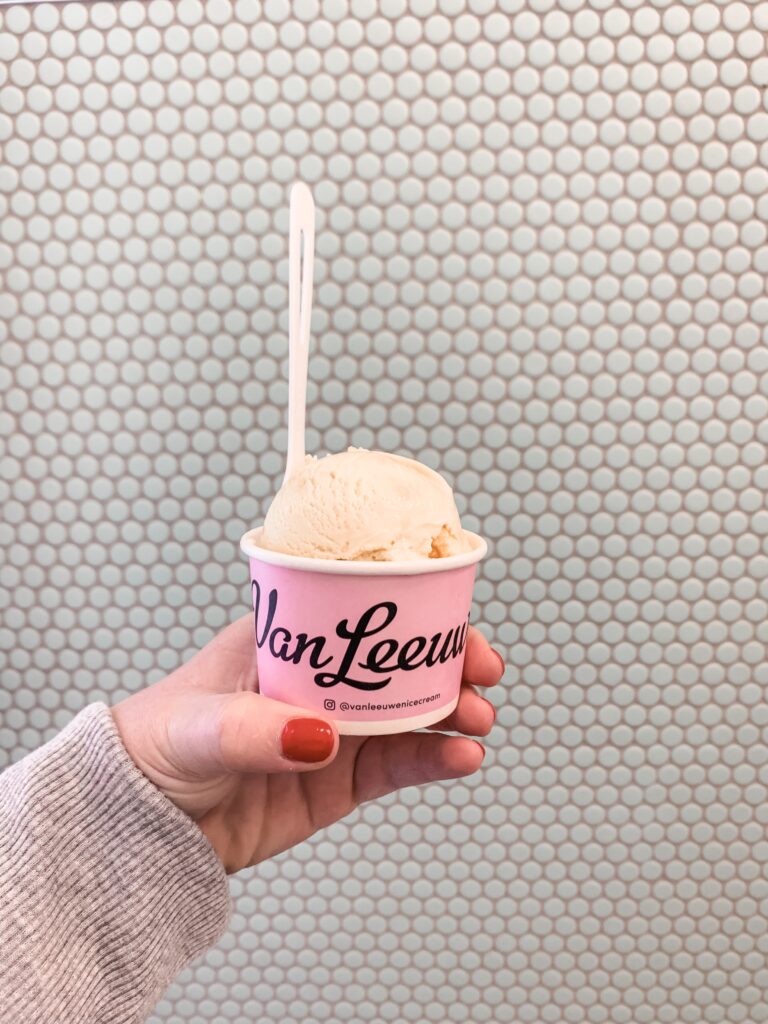 If the weather is crummy or even if it's not, Eataly is a really great place to wander for a couple of hours. It's a market that houses multiple restaurant concepts, and it's one of my favorite places to browse. You an make reservations at most of the restaurants inside, or you can just grab a slice or a sandwich on your way out. There are two locations in NYC, one in Flatiron and one downtown.
WHAT TO DO
Obviously, NYC is going to have every store you could ever dream of. I love hitting up all my favorite luxury stores, but also going to the brick and mortar locations that are hard to find anywhere else. Muji is one of my favorite places to shop in New York. There are lots of locations and I can't even really compare it to any other store because there's nothing like it. You can get anything from travel containers to a beautiful duster coat at Muji. It's a unique store full of really simple things.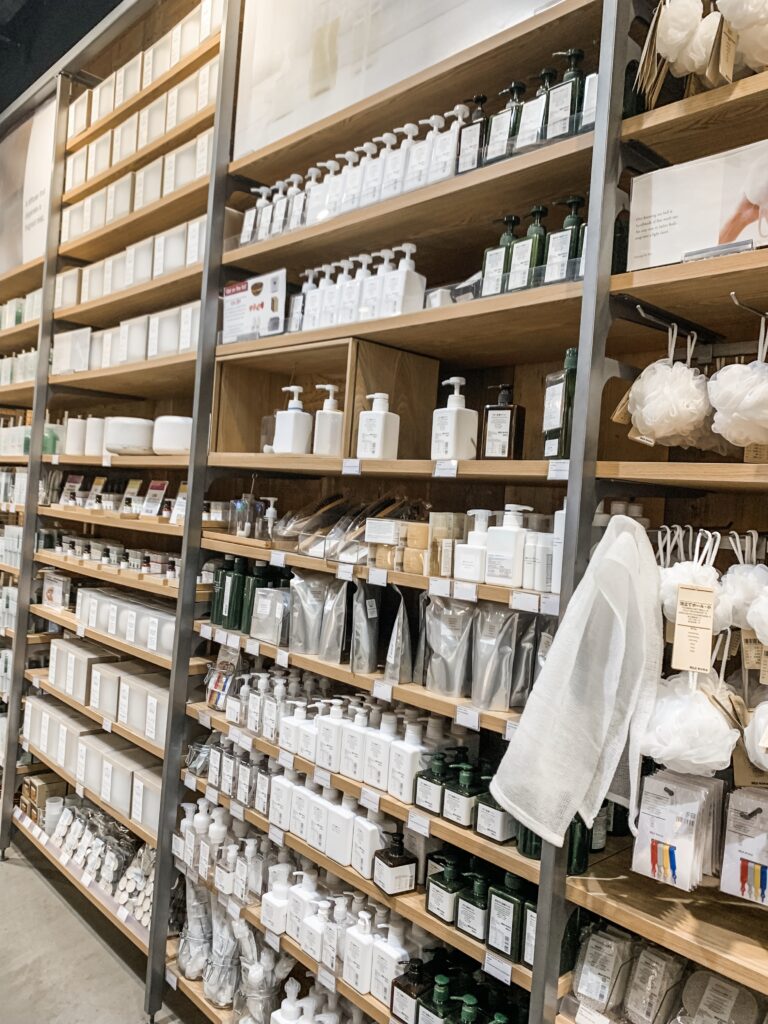 Another favorite store of mine is Dover Street Market. Think luxury fashion mixed with contemporary museum vibes. My friend Zach works at Dover Street, so it's a bonus that I get to see him when I shop there. They have six or seven floors, each with a different concept and full of all the things you'd find in HighSnobiety's latest articles. There's also a cafe on the first floor, so when you're done trekking through all the floors, you can refuel with one of their delicious treats.
If you like skin care or make up at all, Glossier is a really fun stop. It's a beautiful store that almost looks like an art exhibit. They have a grand stair case that leads up to the retail floor. I love that they have an entire room that is specifically designed for trying their products. The light pink hues everywhere just really put me in a good mood. Boy Brow and Lidstar are my two favorite products. Tip: go when they first open in the morning to avoid a really long line. A good guide to NYC always helps you avoid pesky lines.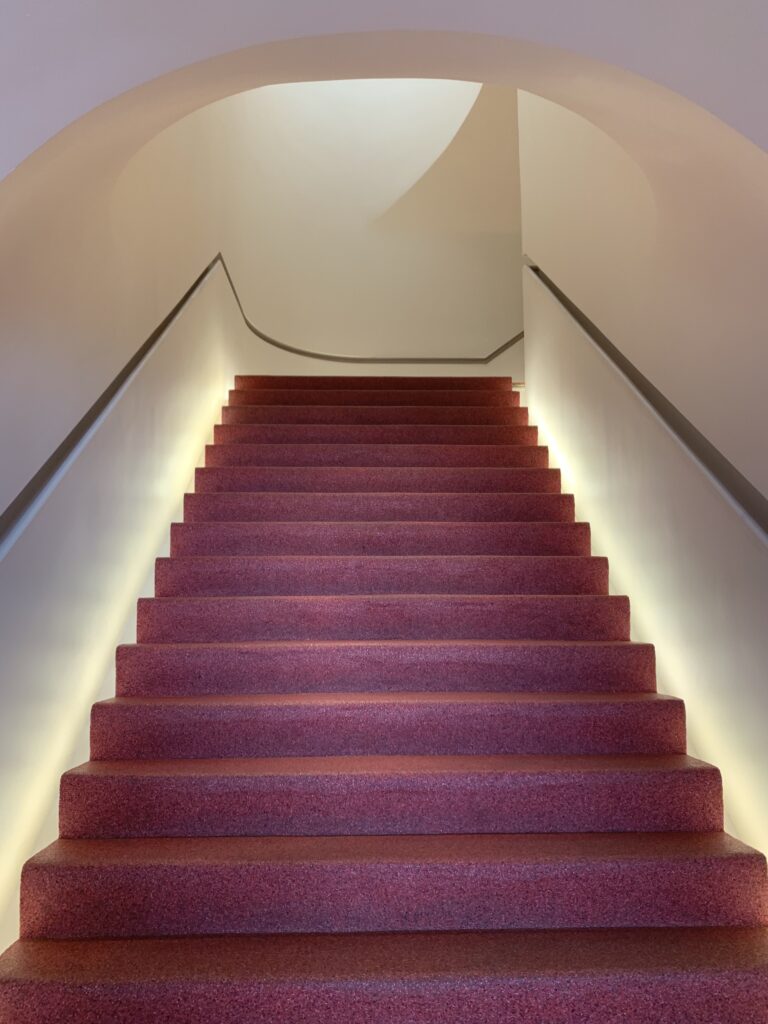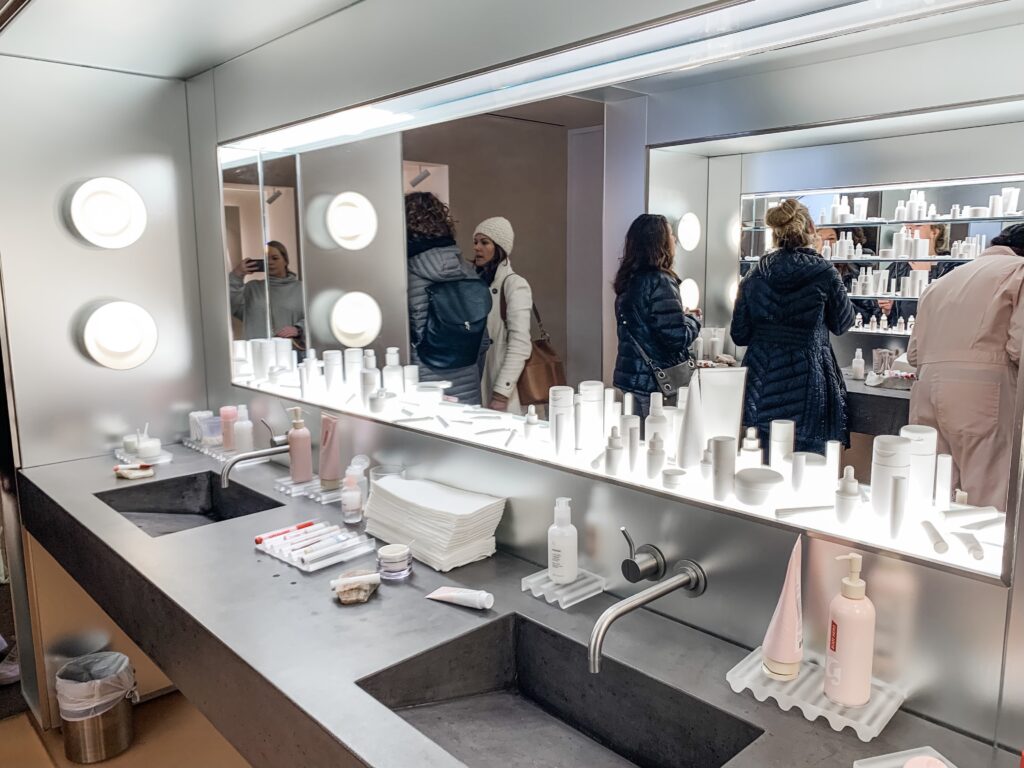 Call it cheesy, but I love the NBC Studio Tour. I held off on taking this tour the first two times we went to NYC, but I'm so glad we finally did it. Rockefeller Center alone is a spectacle, but seeing the inner workings of all the great NBC shows is the icing on the cake. If you are a fan of SNL, Jimmy Fallon, or any NBC show really, this is the activity for you. I loved seeing where SNL was filmed, so much so that they had to ask me to keep moving along because I just stood and stared at that tiny stage that has housed so many fantastic hosts. Tickets can sell out for this, so book them in advance.
Get tickets to a Yankees Game. Even if you're not a sports fan, you'll have a good time I promise. Taking the subway to the Bronx with everyone decked out in Yankees gear is probably how a lot of people become bandwagon fans. It's such a beautiful energy and a great ball park to visit. It wouldn't be a complete guide to NYC without talking about the Yankees, am I right?
Go to Hudson Yards. We were in town the weekend that it opened, so the tickets to climb the stairs of The Vessel were sold out. There aren't really indoor malls in NYC, but this is the closest thing to that. It was rainy & cold the day we went, so we welcomed the indoor distractions.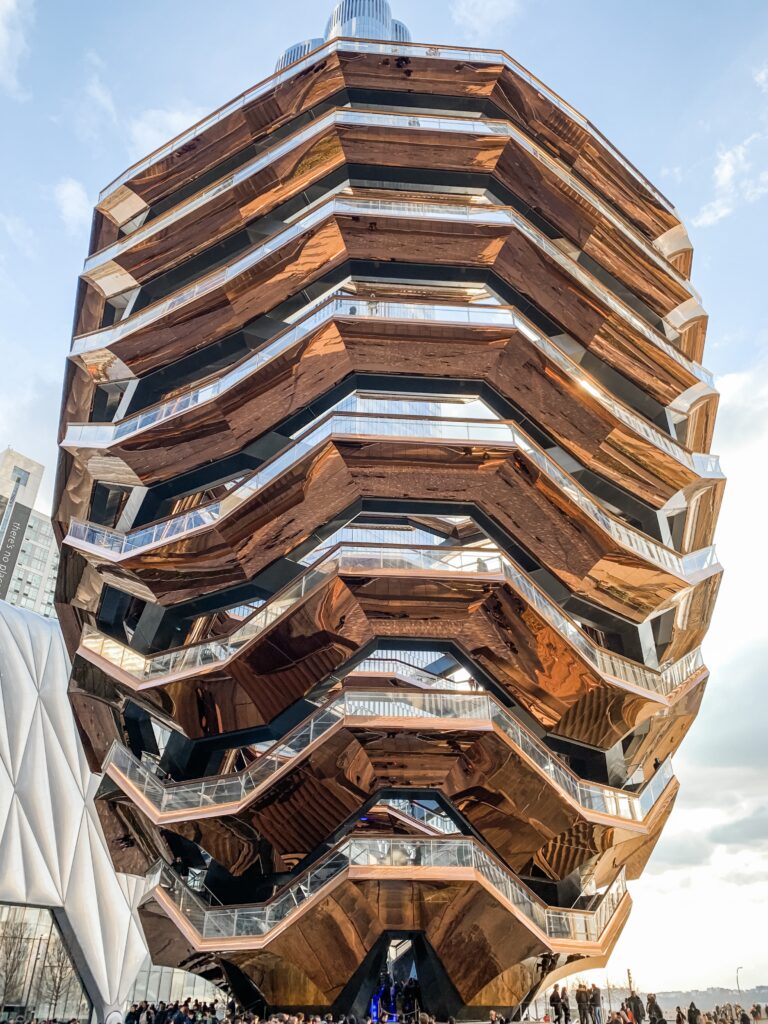 See a Broadway show, or two, or three! This is by far one of my favorite things to do in New York. I normally buy my tickets through Ticketmaster because they always have some sort of deal going for Broadway tickets. My favorite show I've seen to date is Waitress, with Mean Girls coming in at a close second. Book of Mormon was hilarious and extremely offensive, so don't take your grandmother to that one. I could do an tire guide to NYC based solely on Broadway shows.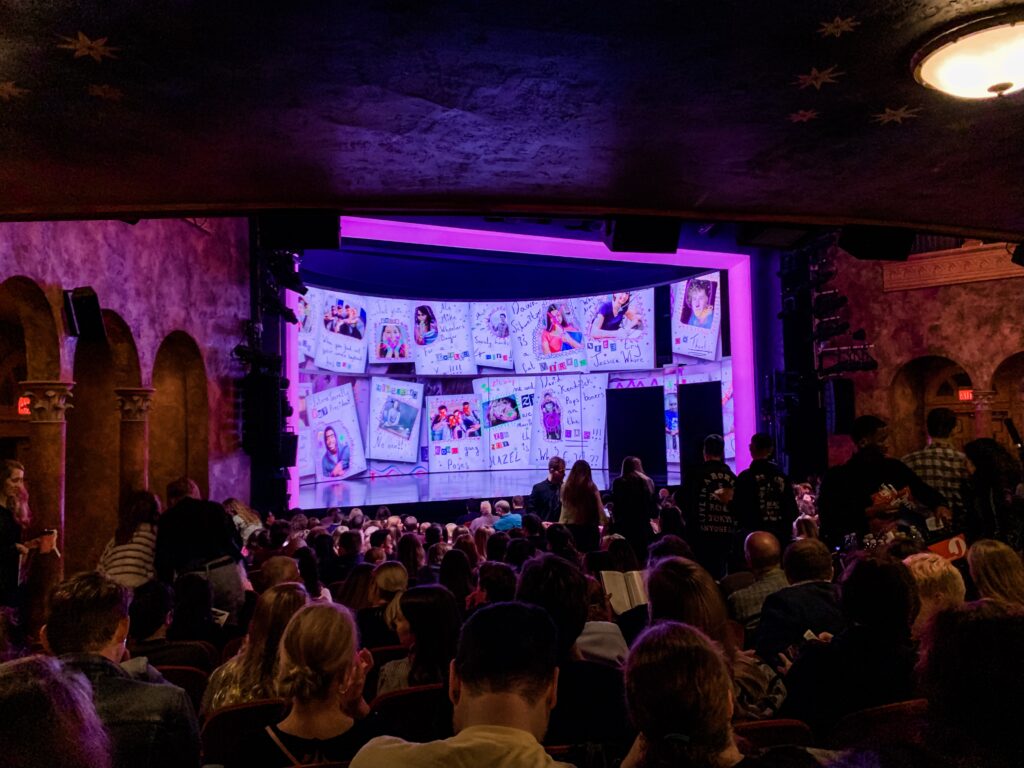 Lastly, look out for celebrities. It's not a guarantee, but there is a chance that you'll bump into someone you've seen on the big screen. Just as we were about to get in a cab to leave for the airport, we saw Russell Crowe and Seth MacFarlane filming the Showtime show The Loudest Voice on a sidewalk near Central Park. It was a great way to end our trip.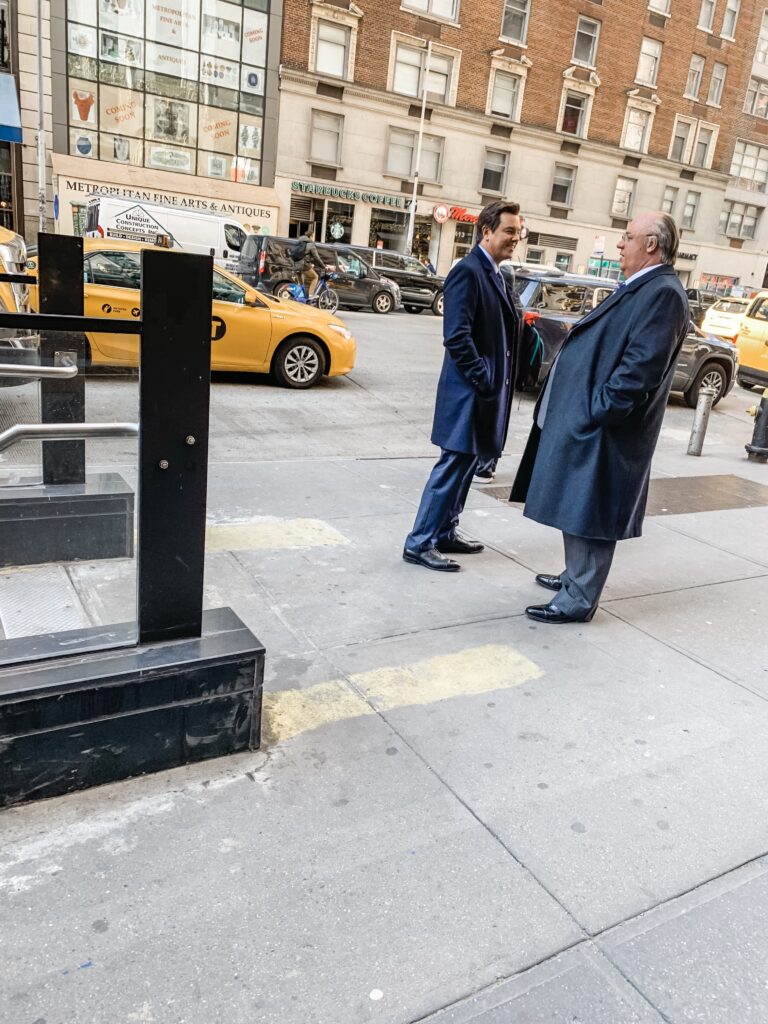 GUIDE TO NYC: FINAL THOUGHTS
I hope you enjoyed my guide to NYC! I think it's one of the most magical places to visit. Everything you could ever want, right on one island. I love NYC so much and writing this makes me want to go back…brb checking flights! 😉
Read about my guide to Chicago here!