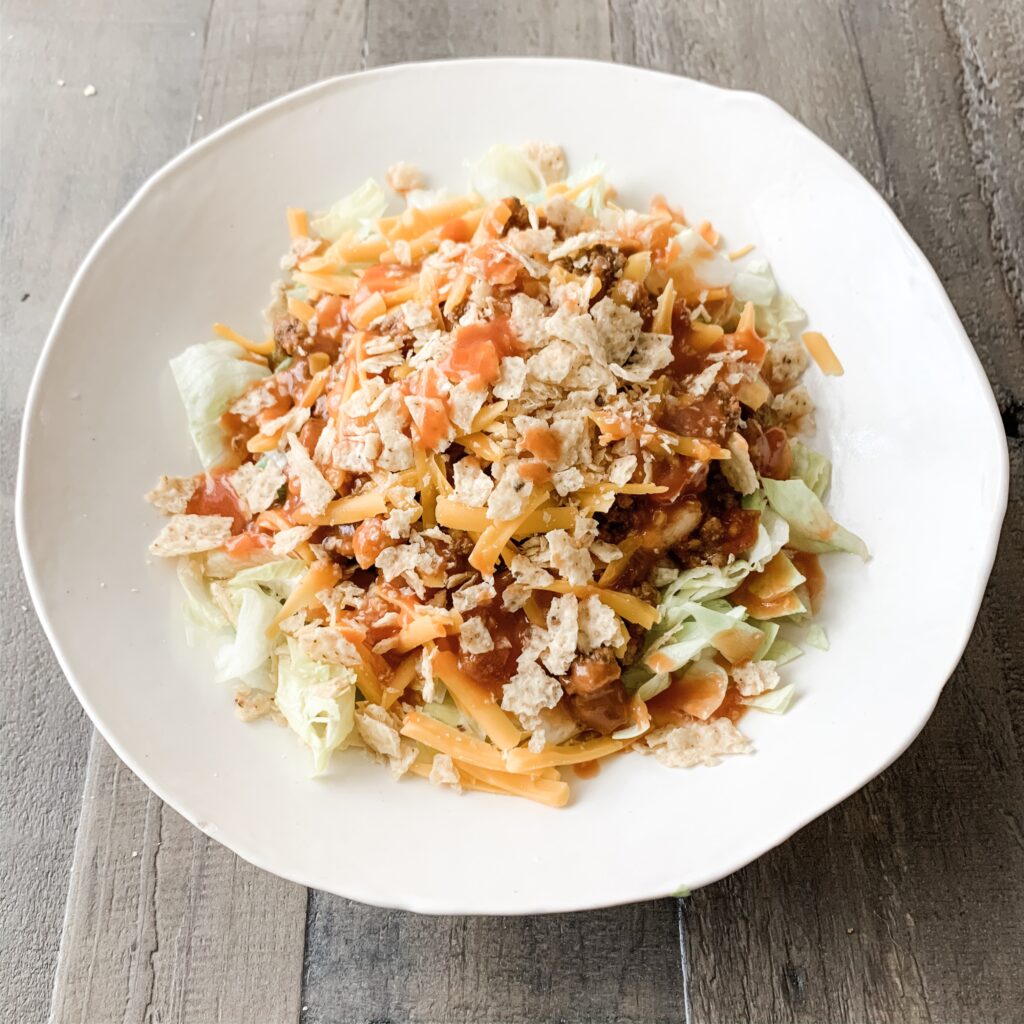 This easy taco salad is so simple that it's almost ridiculous that I'm writing a recipe for it. I had to do it though, because this is the recipe that I get the most requests from my friends and family for. I once timed myself when I was making this and the timer stopped at just under nine minutes when I was finished, that's how easy it is. I used to make a much more complicated version of this, and when I went to make it one night for dinner, I realized I only had half the ingredients and the wrong kind of beans. By accident, I created the most important dinner staple in our household and I'll never go back to the fussy version of this. I hope you and your families enjoy this easy taco salad as much as we do.
INGREDIENTS
1lb ground beef
1 10 oz can tomatoes + green chilis
1 can great northern beans, drained
6 tablespoons taco seasoning
1/4 cup water
1 head iceberg lettuce
Cheddar cheese for topping
Salt & pepper to taste
Salsa or hot sauce for dressing
Tortilla chips for garnish
RECIPE PREPERATION- EASY TACO SALAD
Begin by heating a skillet to high heat. Brown the ground beef until almost completely cooked through. Add tomatoes with green chiles, taco seasoning, and water. Turn heat to medium and let simmer for about five minutes. While the meat mixture is simmering, finely chop the head of iceberg & grate cheese (cheese is purely optional and most nights I skip this step). Add great northern beans to meat mixture & stir to heat through.
Assemble the salad with the meat mixture on the bottom of the bowl, and the lettuce on top. Add your favorite salsa or hot sauce as dressing. Crush up tortilla chips on top, or if you're like me, eat a whole tortilla chip with a big scoop of salad on each bite. There is no wrong way here. Most of all, enjoy!