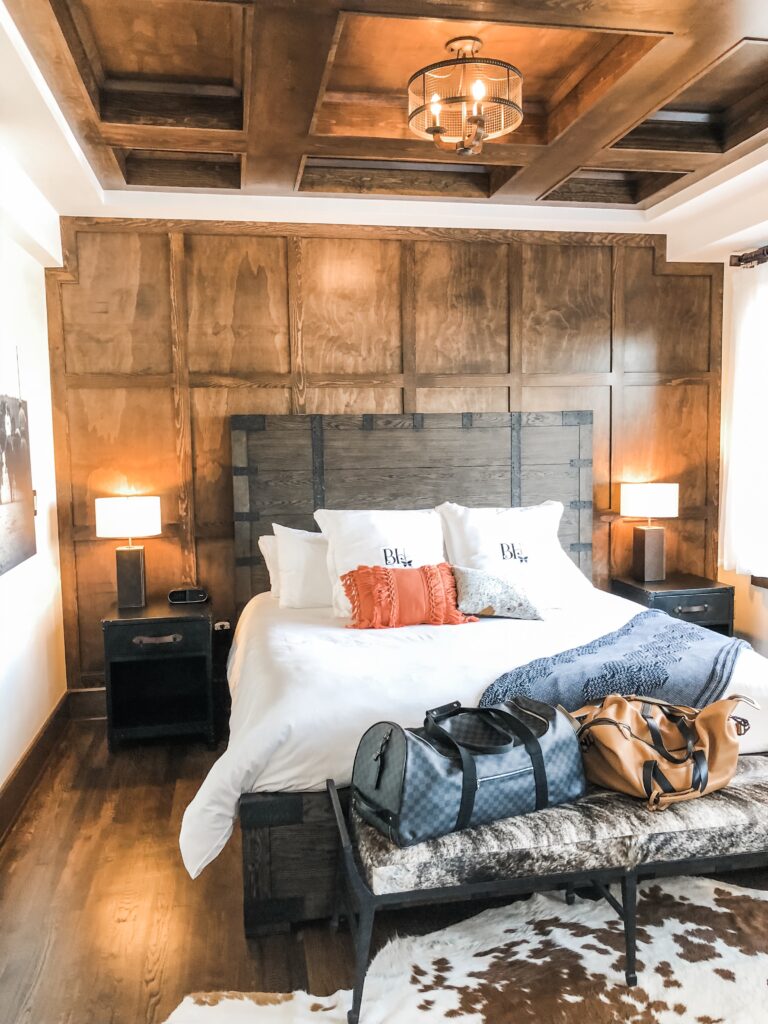 Earlier this year, we were lucky enough to score a reservation at the Pioneer Woman Boarding House in Pawhuska, OK. If you know anything about this place, you know that getting a room there is basically like winning the lottery.
CHECKING IN
We packed our bags and drive the short drive to Pawhuska, so excited to start our stay. The lobby at The Boarding House was exactly what we expected. Very rustic, warm, and welcoming. After we checked in, we were handed a form to complete for our morning coffee the next day. I found myself getting giddy at the smallest gestures, like the front desk attendant offering to take our bags to our room as she handed us an actual key to our suite. No plastic key cards at this place, we got a real key attached to an embossed leather keychain to open the door to the Tack Room.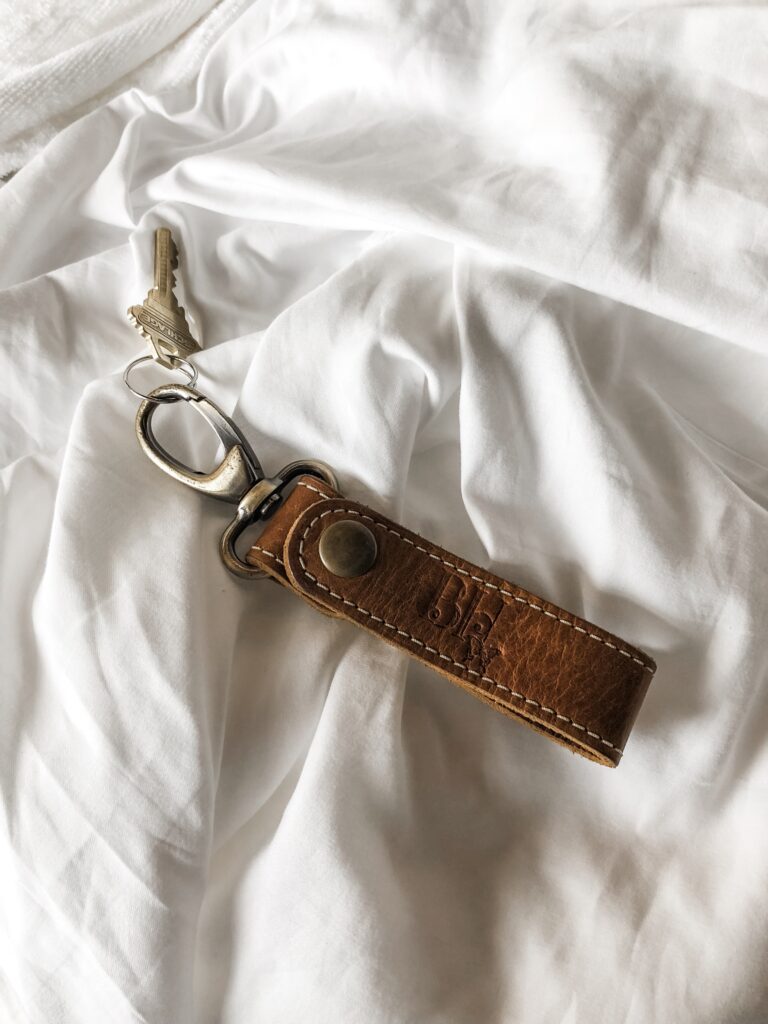 After walking up two flights of stairs, we walked past an original mural on the wall from when the building used to house a biscuit factory. I remember reading The Pioneer Woman's blog post about this mural, and it it was even more charming in person.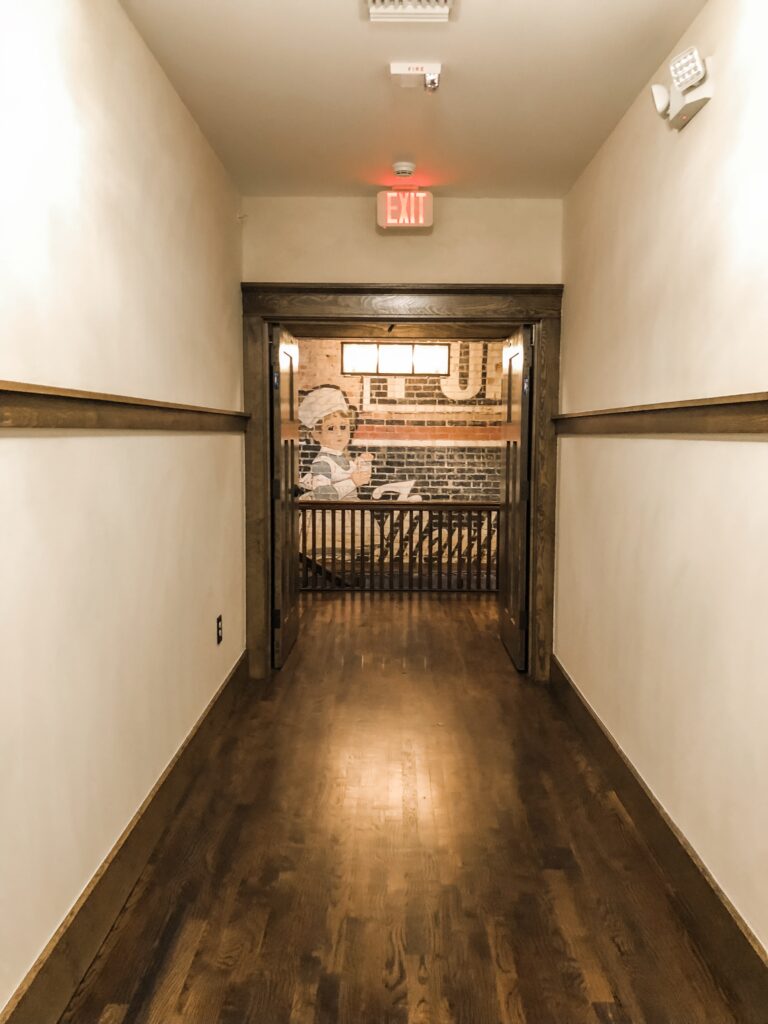 THE TACK ROOM
We arrived in our room and the fun just continued. Immediately on our left was a half bathroom, and it hit me then that we had TWO bathrooms in our suite. A short entry hallway led to a full blown living area with a couch, two chairs, and a huge TV. All of the furniture looked very familiar, and I quickly identified it as Restoration Hardware. The bed was just behind the living area, and we quickly felt like we were visiting a friend's house who has really good taste.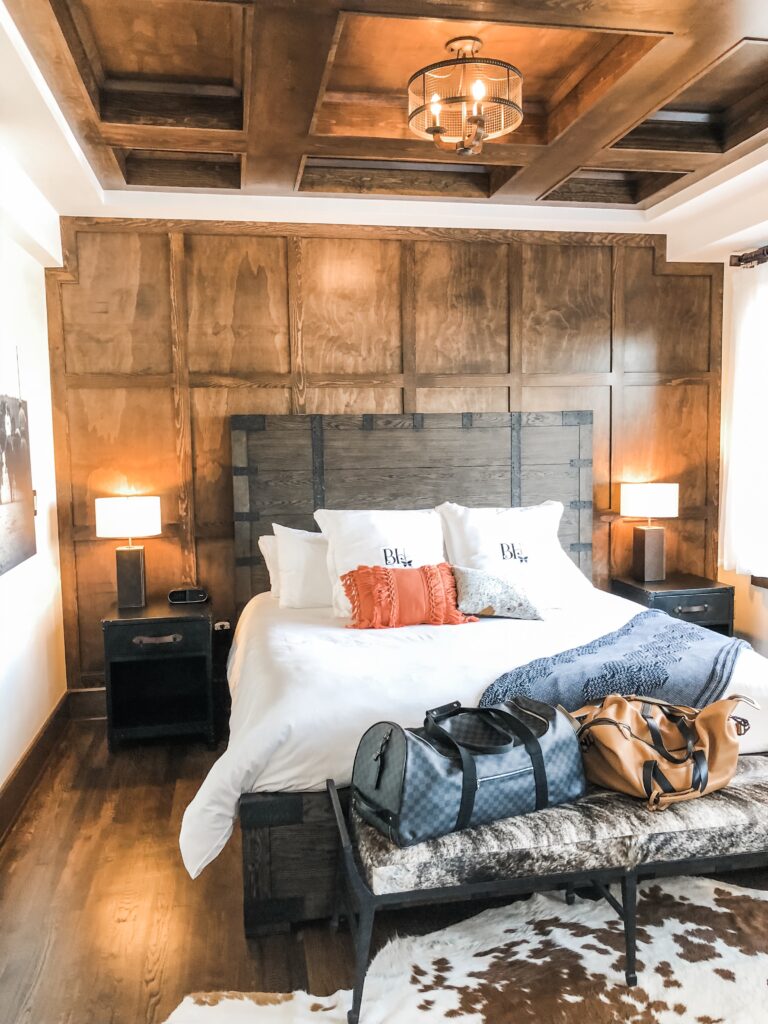 This place did not feel like a hotel at all, especially the bathroom. Fully stocked with huge fluffy white towels, it had everything you would want in a bathroom. Robes, a curling iron, a two sided walk-through shower, and an ah-may-zing bathtub. Complete with a cowboy rubber ducky.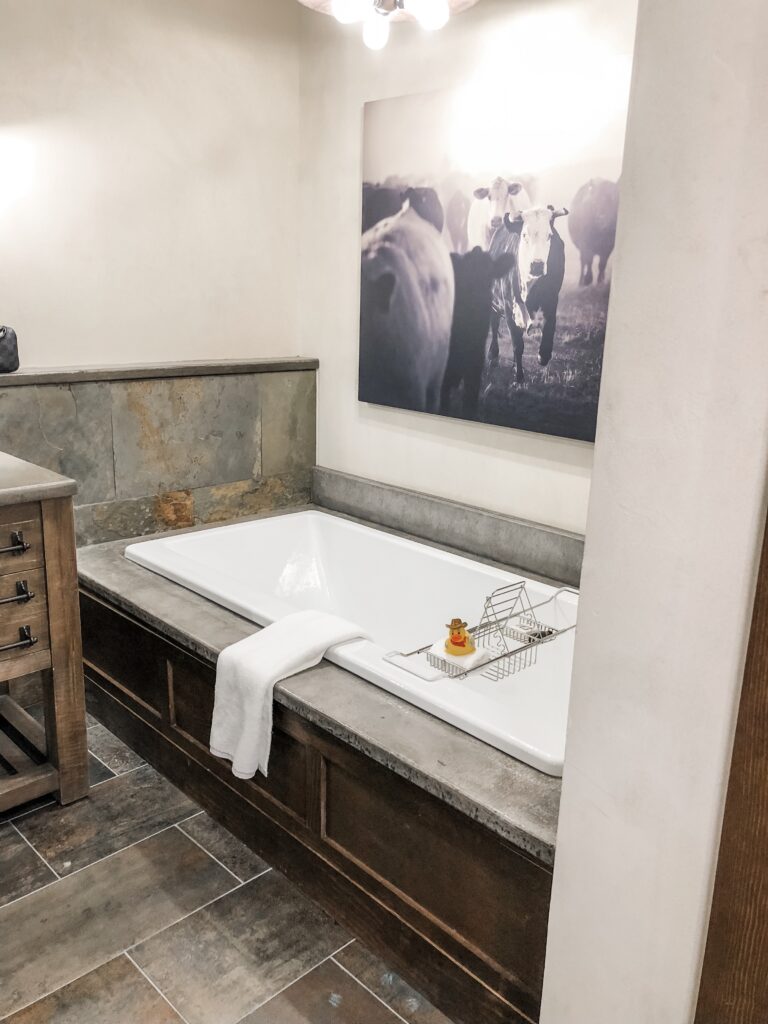 THE AMENITIES
The Boarding House has a happy hour every evening for the guests. It included wine, beer, and some pretty basic small snacks. It's held on the balcony that overlooks downtown Pawhuska, and it a great first impression. We only stayed a few minutes though, because I could not wait to start enjoying the Tack Room.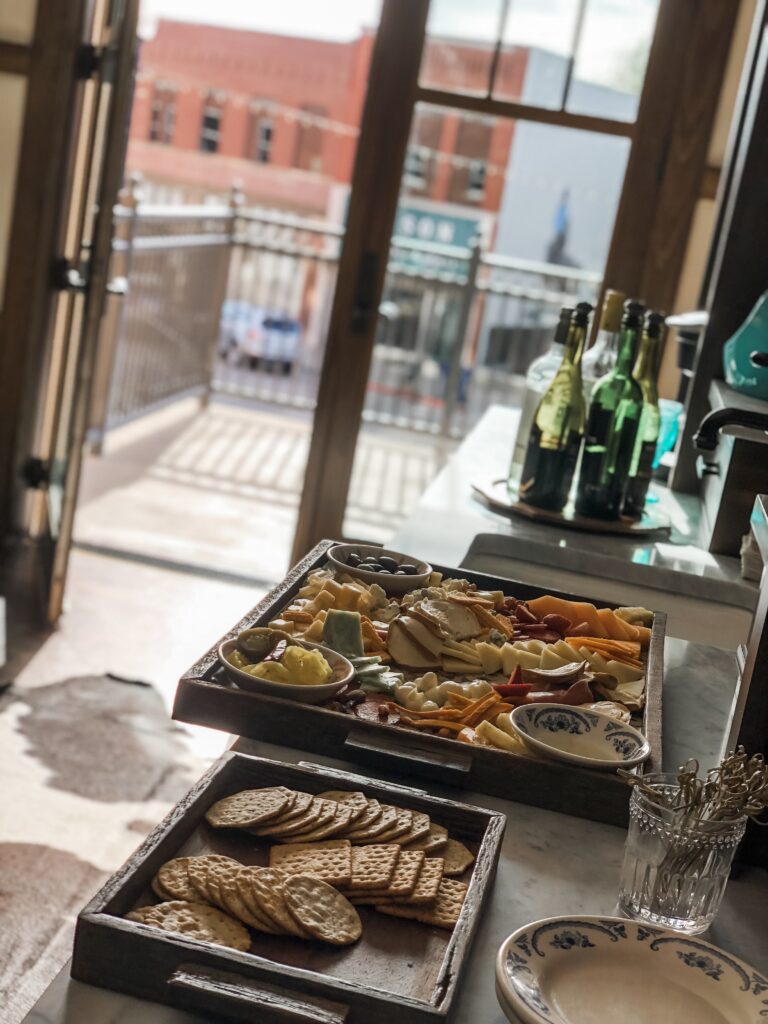 ROOM SERVICE FROM THE MERC IN PAWHUSKA
We unpacked what little we had (we only stayed one night), and started thinking about what we would order for room service. One of the perks of staying at The Boarding House is that you have the option to make reservations at the The Mercantile, the Pioneer Woman's restaurant that's just down the block. We decided to order dinner to our room, because the thought of leaving it made me want to cry.
I picked the ribeye with green beans and twice baked potato, and Josh ordered chicken parmesan. Both came with a side salad, and we got a piece of pecan pie to share. The Merc is one of our favorite restaurants, so we knew we would not be disappointed. We finished dinner & pie and then heard a knock at the door. We were greeted by two Boarding House employees who completed a turn down service complete with a warm chocolate chip cookie. I was so full from our meal, but was still so impressed with the service we received.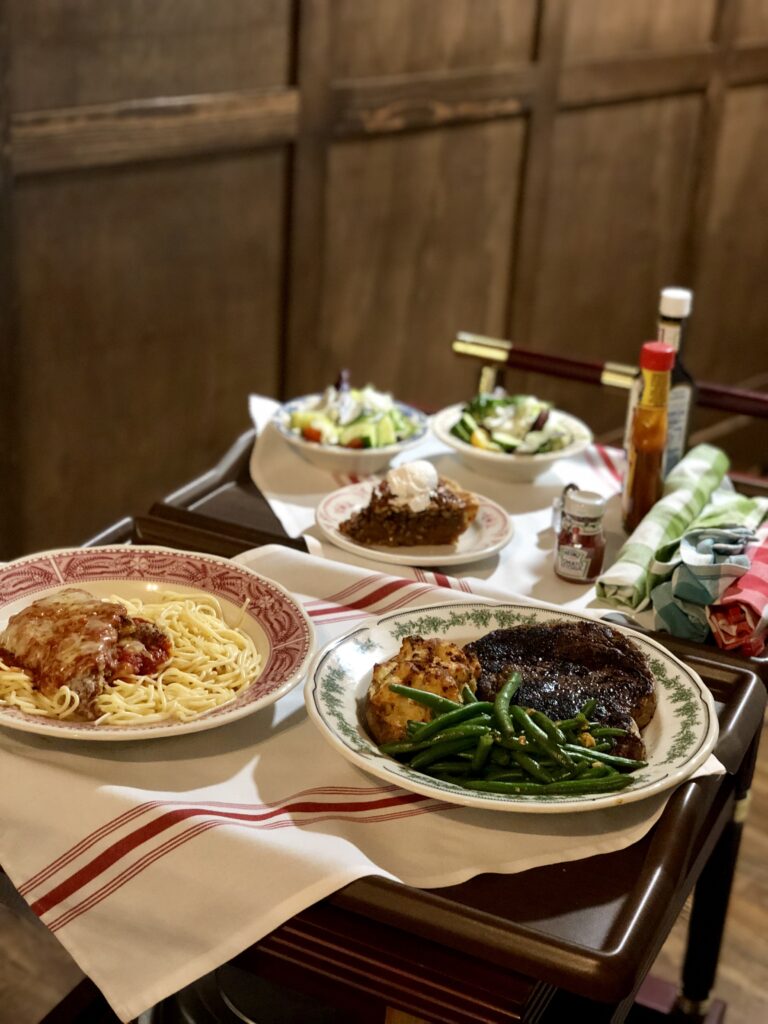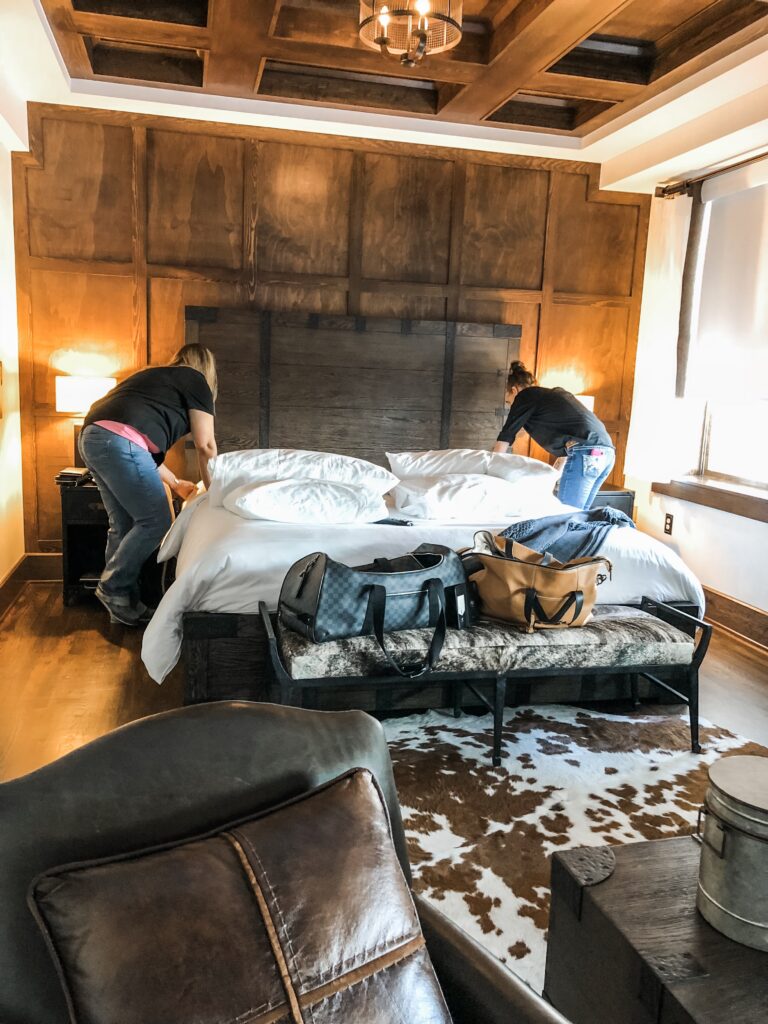 We watched a movie in bed and went to sleep. The next morning, we were dreading having to turn our key in in leave, so again we decided to order room service in lieu of walking down to The Merc. I ordered the Farmer's Breakfast and Josh got a breakfast sandwich. Breakfast at The Merc is my favorite breakfast ever, so being able to eat that in bed was the cherry on top of our stay.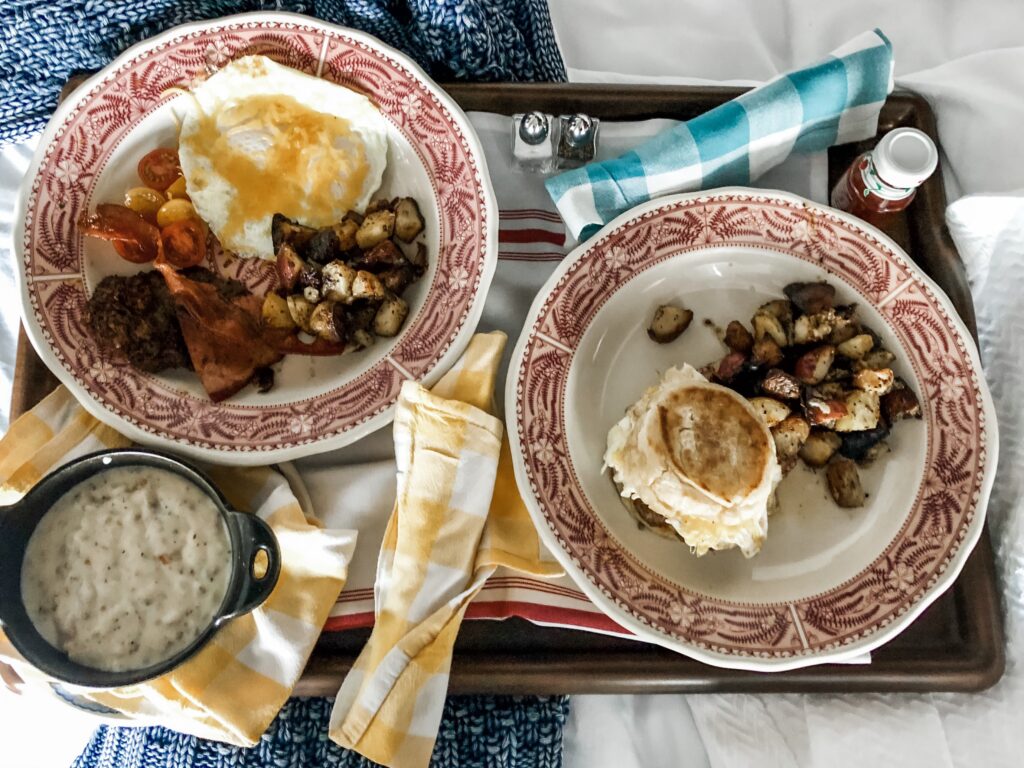 FINAL THOUGHTS: PAWHUSKA GETAWAY
After we left, we both agreed that it was probably the best hotel stay we have ever had. The room was huge and luxurious and the service was like none we've ever experienced before. We checked out and cried the entire 30 minute drive home from Pawhuska. Just kidding, but we were sad to leave. It's safe to say, La loved it.
Check out another one of our Oklahoma getaways here!