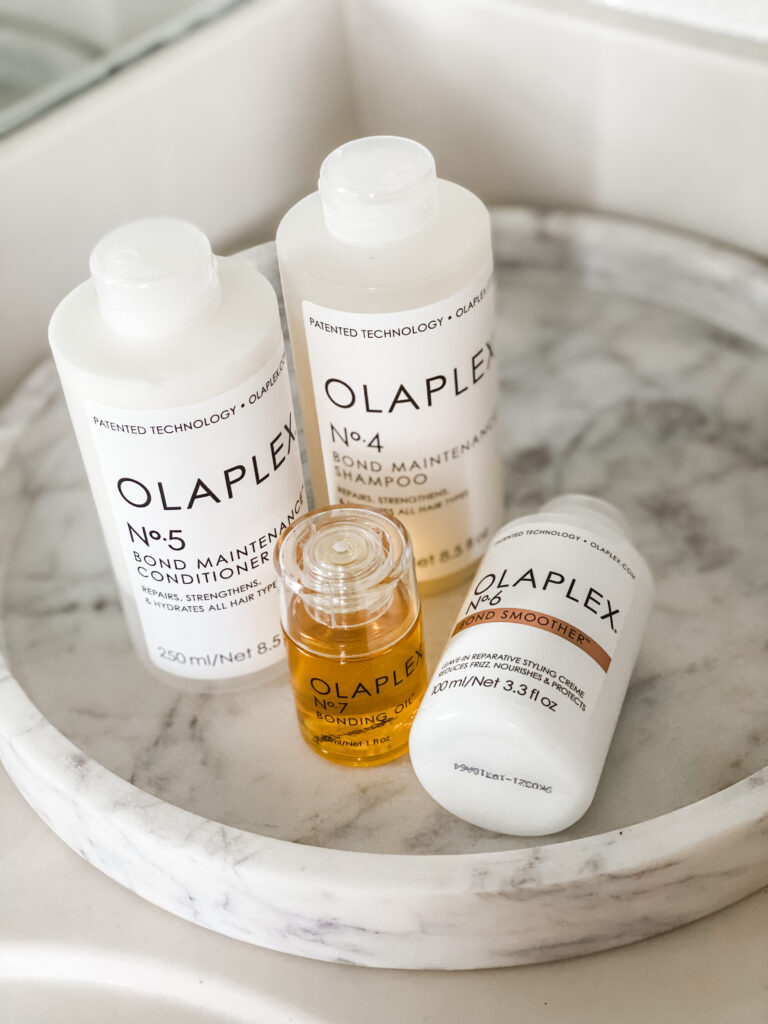 I've been a faux blond for the past 10 years, and unfortunately that has come with some compromises in my hair health. Olaplex is a seven step hair care line with loads of science to back up why it works so well. First, let's walk through each step and the benefits they provide.
OLAPLEX NO. 1 and NO. 2
No. 1 & No. 2 are exclusively for hair professionals only. These are not products that you'll find at Sephora. If you go to a salon that uses Olaplex, No. 1 and No. 2 will be part of your color services. Olaplex No. 1 Bond Multiplier is mixed with your color by your stylist. In a nutshell, this step repairs broken bonds and helps prevent damage, and begins the process of repairing the hair.
No. 2 Bond Perfector continues to rebuild and restore bonds, which helps hair stay shiny and healthy after the color process. It's applied pre-shampoo after the color has been rinsed out. I've heard that No. 1 and No. 2 can be used as a mask, but have yet to try that with my stylist.
OLAPLEX NO. 3
Moving on to the at-home steps in the Olaplex line, No. 3 Hair Perfector is a leave in with directions to use once a week, or 2-3 times a week if you have damaged hair. The purpose of No. 3 is to repair damaged bonds in between salon appointments. It's recommended to leave in for at least 10 minutes, but I leave mine in much longer than that. I like to wash my hair, towel dry, then apply No. 3 liberally. I then wrap my hair in a towel turban and sleep in it. When I wake up, I wash it out in the shower, then shampoo & condition (No. 4-5) as normal.
You will immediately feel and see a difference in your hair after using this treatment. It makes my hair so smooth and silky, and also air dries so beautifully with minimal frizz. I use it about once every two weeks, or when my hair is feeling dry and drab. If I had to choose a favorite step, this would be mine. Bottom line: No. 3 is a miracle in a bottle.
OLAPLEX NO. 4 and NO. 5
No. 4 and No. 5 are basically fancy names for shampoo & conditioner. No. 4 Bond Maintenance Shampoo also repairs bonds (see a theme here?) while cleansing your hair. One thing I love about No. 4 is that you literally have to use a dime size amount for even a full head of long hair. This stuff lasts so long and is super concentrated, which makes it lather beautifully without having to use a handful of product.
No. 5 Bond Maintenance Conditioner is to be used after No. 4 and restores and hydrates your hair without weighing it down. Same as No. 4, No. 5 also requires very little product per use. I have fairly long hair and use a quarter size for my entire head. These two steps actually make me look forward to washing my hair (gasp!).
OLAPLEX NO. 6 & NO. 7
No. 6 Bond Smoother Reparative Styling Cream is a leave in product that helps with hydrating all while taming frizz & fly-aways and cutting down your blow dry time. It's also super concentrated like many other Olaplex products, so a tiny bit is all that's needed to be effective.
No. 7 Bonding Oil is the best product I've used for increasing shine, vibrancy of color, and softness. It's SO good on it's own, but I love mixing it with No. 6 for the ultimate hair cocktail. Think of it like mixing face oil with your moisturizer…same concept. Bonus benefit of No. 7 is that it provides heat protection up to 450°.
THE POWER OF OLAPLEX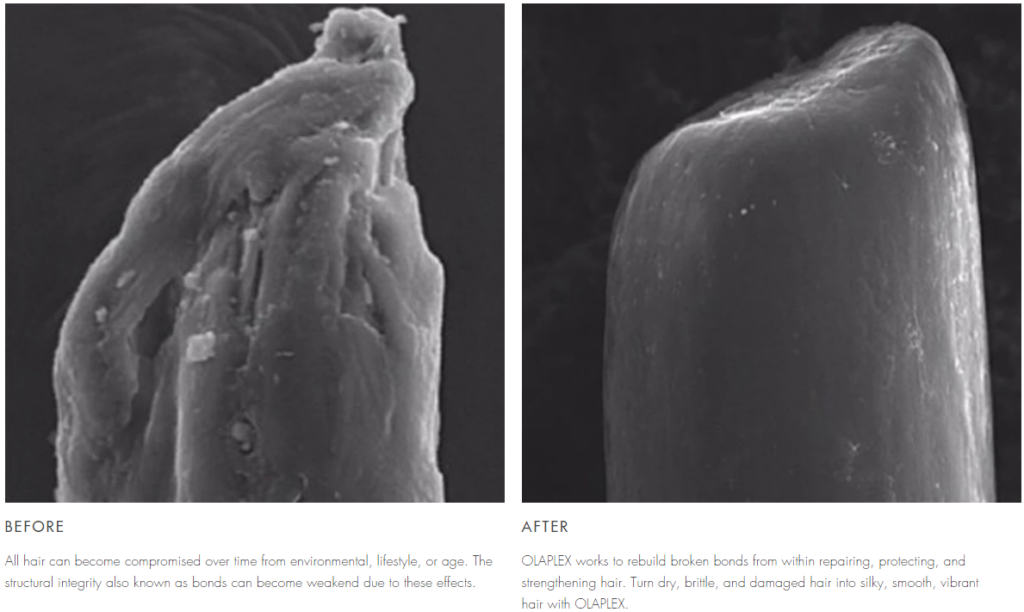 A seven step process may sound confusing and lengthy at first, but hopefully this short explanation made it feel more attainable and necessary. You can shop steps 3-7 via the links in this post or below.
This post may contain affiliate links. Please read my disclosure policy for more information.