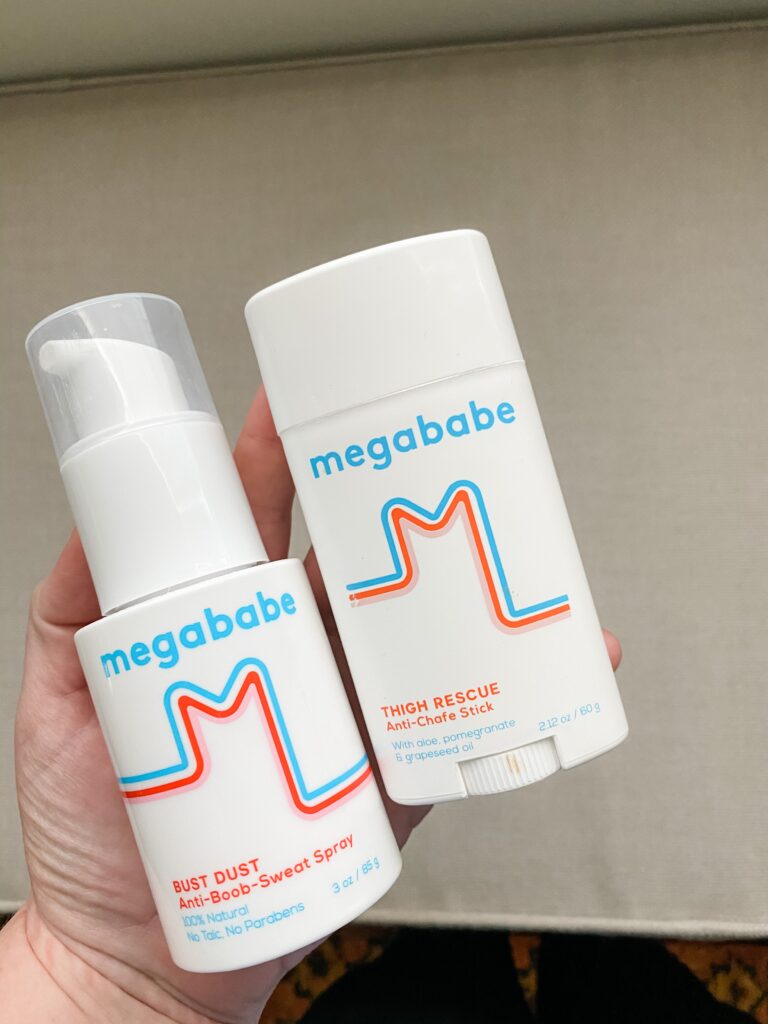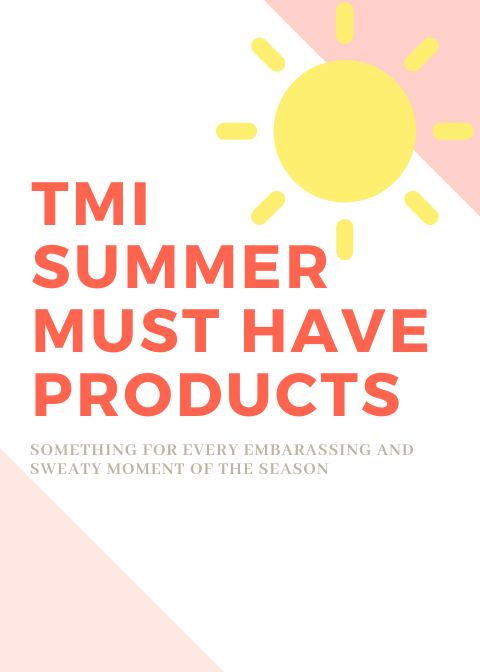 Thigh chafe, am I right? I have a very unpopular opinion about summer: It is by far my least favorite season. I live in an area where we have over 100 degree days that last for months and months. And don't even get me started on the humidity.
When summer begins, I start to rotate some of my normal every day products out and bring in some items that are absolutely crucial to have around for the hot summer months. Most of them are related to things that a lot of people shy away from talking about (hence the title of this blog post), but they are so helpful to have so I had to share! Let's get started.
THIGH CHAFE 101: MEGA BABE THIGH RESCUE
My number one, holy grail, absolutely have to have product for the summer is Mega Babe Thigh Rescue. NOTHING else compares. Not body glide, not deodorant, nothing. I have a stick of this in every bag I carry during the summer. Not only does it prevent thigh chafe, but it has amazing ingredients that are great for your skin. If you are curvy and have experienced "chub rub" or thigh chafe, then you understand the importance of having a good product to prevent it. I totally avoided shorts or shorter dresses because of thigh chafe, but since I discovered Thigh Rescue, my entire summer wardrobe has shifted to dresses and shorts!
MOISTURE WICKING UNDERWEAR
These are a must any time I'm outside for longer than 10 minutes in the summer. Let's just be real for a second: our entire bodies sweat, meaning there is sweat everywhere. You know what I'm talking about. There is nothing more uncomfortable than sweating out a pair of cotton underwear. No only does it feel gross, it can become a breeding ground for bacteria (yuck!). When I was training for a half marathon, my doctor actually recommended going commando if I was going to be running outside during the summer. I was fine with that, but wasn't fine with going commando when I had on a dress or normal clothes. I've tried several different brands, but the ExOfficio Give-N-Go and the Balanced Tech Thongs are my favorites.
PASTIES A.K.A. NIPPLE COVERS
My bra size is 34F so needless to say, I do not need any extra padding. Most of my bras are either thinly lined or completely unlined. Summer calls for thinner, sometimes even sheer tops and I really don't need everyone to see that I'm freezing after walking in to an air conditioned room. You get what I'm saying? These reusable nipple covers from Amazon are some of the best I've found. I love that I can wear a thin t-shirt with an unlined bra and have no worries about nipping out.
MEGA BABE BUST DUST
While we're on the topic of boobs, it just feels fitting to move right along to the newest product in my summer rotation. Mega Babe Bust Dust is a talc-free powder that helps absorb sweat to keep your tops and your bra dry. Quite possibly the best part about this product is the pump on the bottle. It provides a no-mess application that you can literally do anywhere without worrying about getting white powder all over yourself.
HANDHELD FAN
This product is actually great for all year round. It's perfect for setting makeup, clipping to your Peloton, and drying nail polish. However, for the summer time it can make a HUGE difference when you're stuck in the heat with no breeze. It's small and compact so it fits perfectly in any handbag. Keep one in your pool bag too, it's great for when you're laying out!
ALL THE WIPES!
I have a small pouch that I keep in my purse at ALL times. Depending on where I'm going or what season it is, I swap out necessities that I may need in that pouch. For summer, I always have a variation of wipes in that pouch. My two favorites are the megababe Rosy Pits Deoderant Wipes, megababe Megafresh Wipes. I haven't made the leap to natural deodorant yet, but the Rosy Pits wipes are a game changer when you're stuck outside sweating. The Megafresh wipes are also an absolutely necessity. I hate sweating because I do not like feeling unclean. These wipes are great for down there if you catch my drift.
That rounds out the list of summer products that help prevent embarrassing moments. I hope you try them all and love them as much as I do!