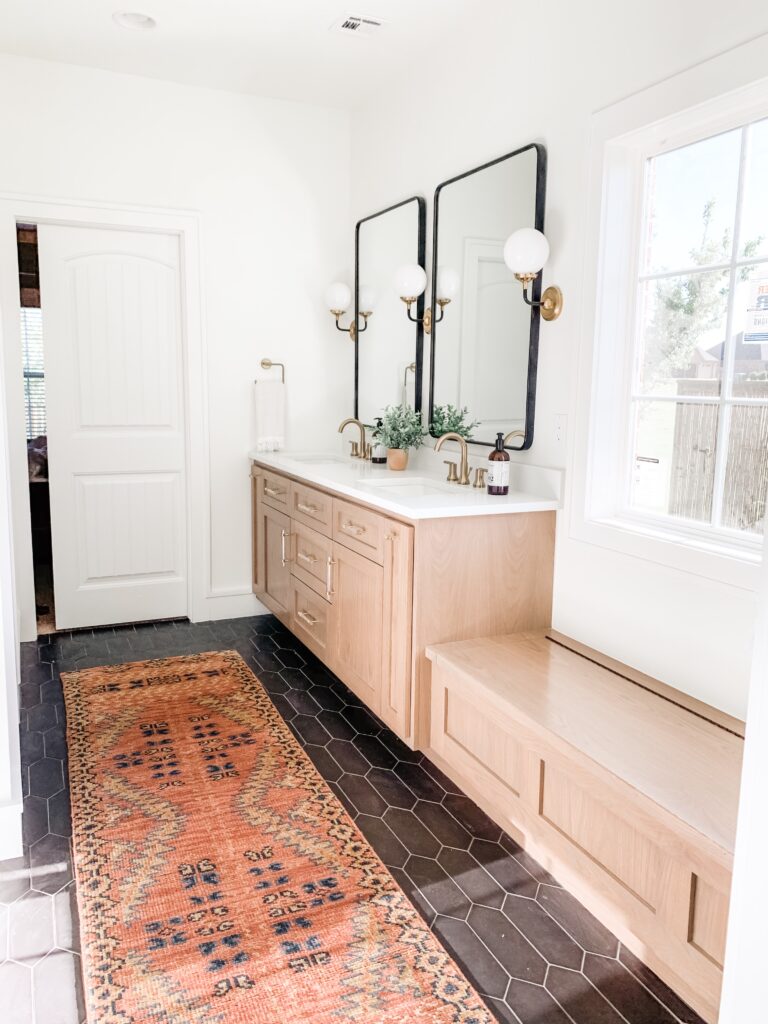 Never did I dream that three years after buying our almost new house I would be embarking on a full bathroom remodel.
WHY WE DECIDED TO DO A FULL BATHROOM REMODEL
About a year ago, I started noticing that no matter how much I scrubbed the grout in our master bathroom shower, it always had patches of black on it. It looked dirty, but I knew it was clean because I would spend countless hours with the scrub brush and cleaner. We decided to have a contractor come and look it to see if there was an issue with the water draining because it always seemed to feel (sorry in advance for my word choice)…moist.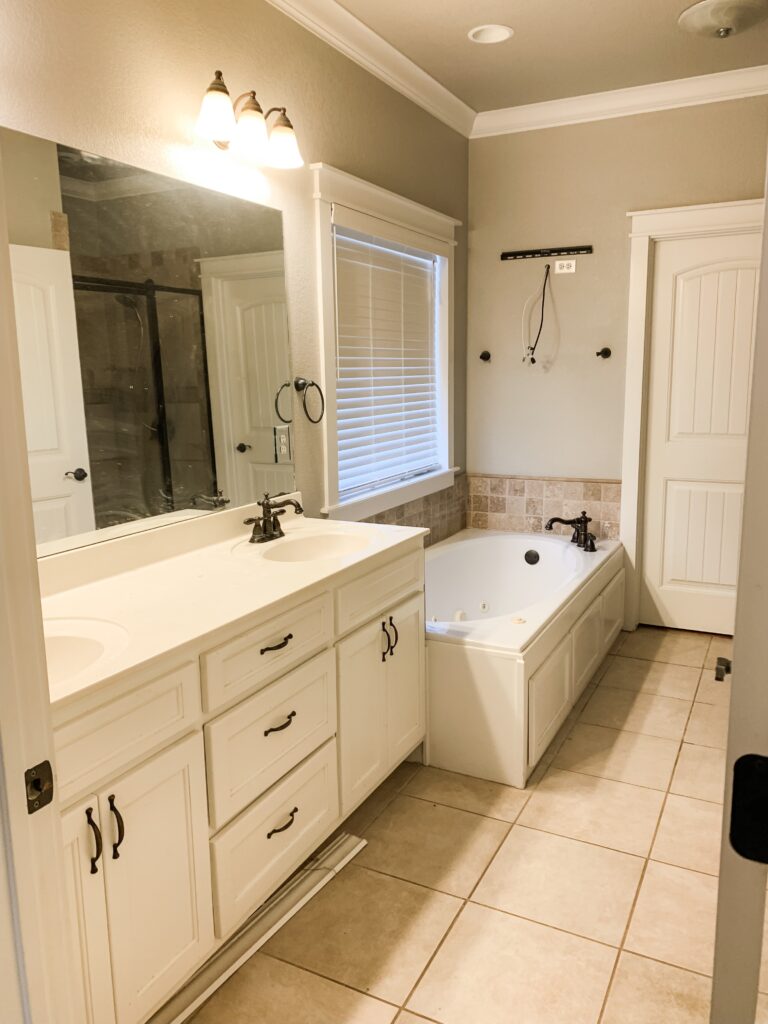 The contractor came and said that our shower was not installed correctly when the house was built (about ten years ago) and that the water was just sitting in the shower pan instead of draining like it should. My first thought was "gross" and my second thought was "I think this means I get a new shower."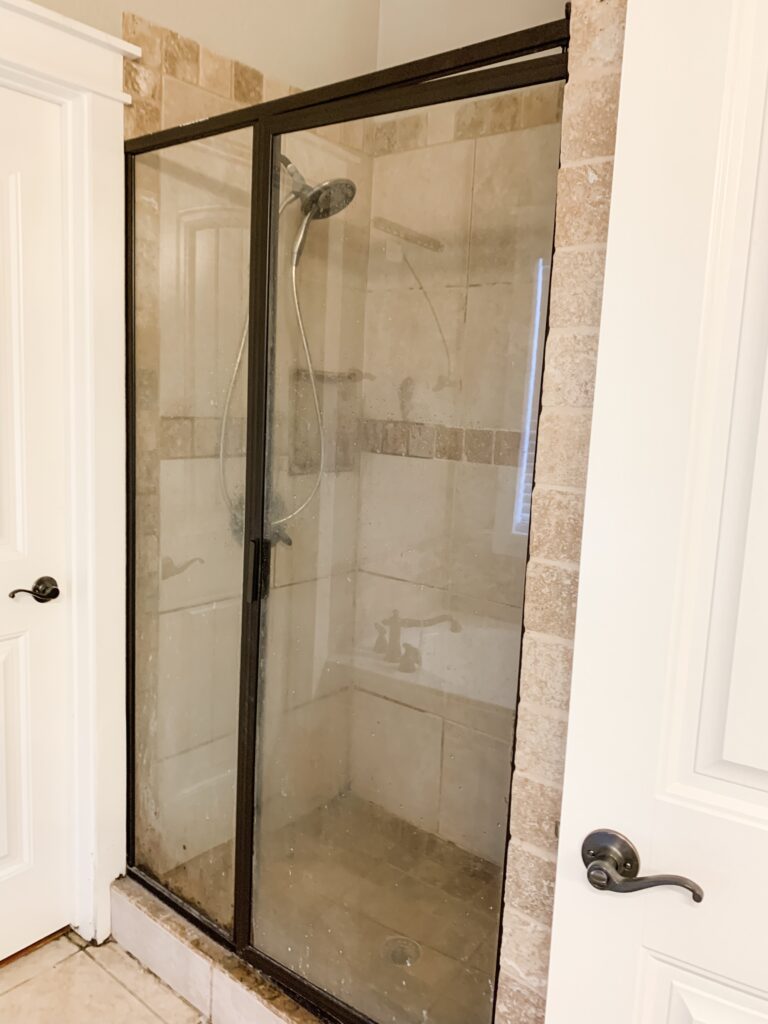 We talked about fixing the issue with the shower pan and re-tiling the shower to match what the rest of the bathroom looked like, but to be honest, I've never liked our master bathroom. It had a huge jacuzzi tub in it that cut into the already small walkway to the master closet, and all of the tile was just so…tan. We decided if we were going to remodel the shower, we were going to just remodel the entire bathroom so that we could make it into a space we truly love.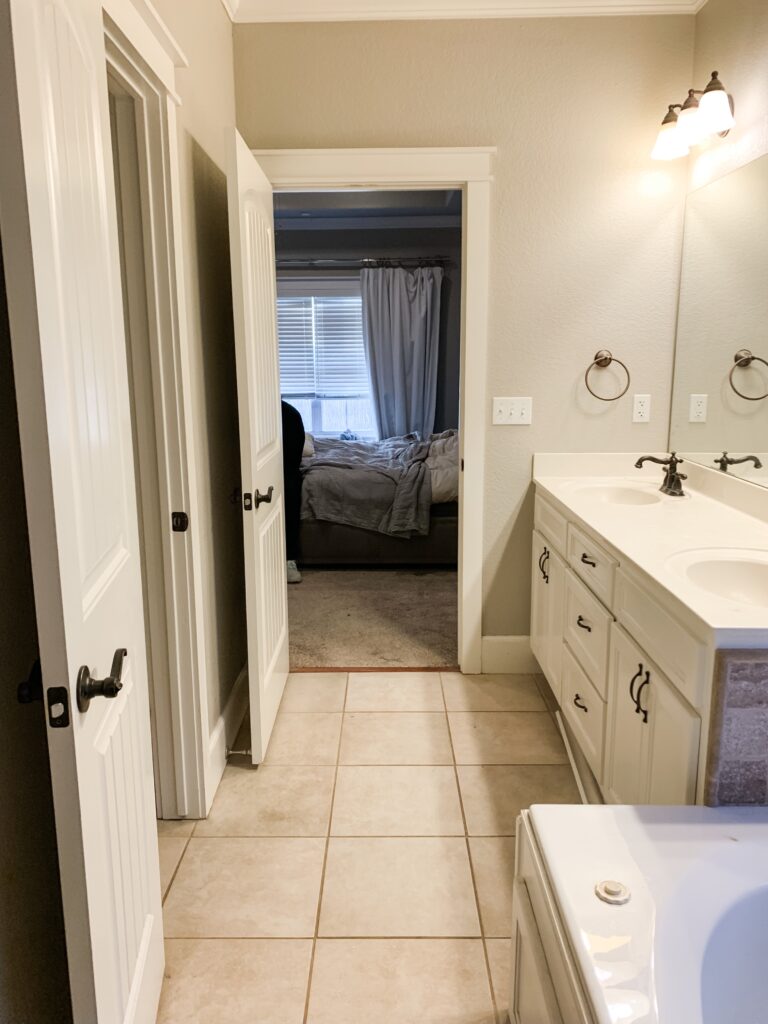 GETTING STARTED ON THE BATHROOM REMODEL: DESIGN DECISIONS
This was our first major remodel as homeowners, so I went above and beyond with research and scoured Instagram and Pinterest for design ideas. I found most of my inspiration from my favorite instagram accounts Chris Loves Julia (@chrislovesjulia) and Studio McGee (@studiomcgee). I knew I wanted something bright and airy and totally different than what we currently had.
I started with a mood board. Let me start off by saying that I am in no way shape or form a designer, but I do love home design and putting this bathroom remodel together was a lot of fun for me.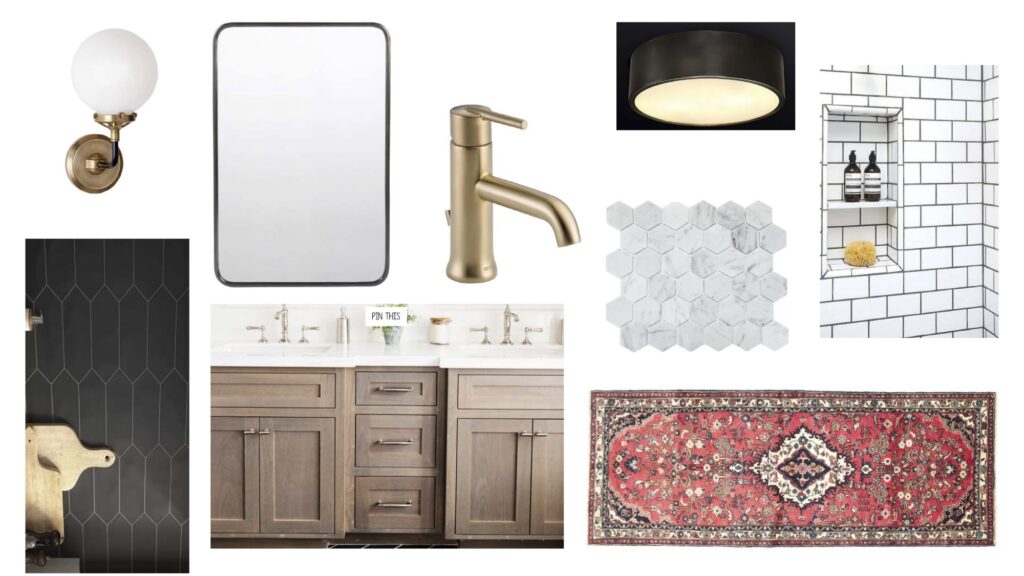 We still had a major decision to make that we were still on the fence about. Should we keep the bathtub? We both liked the idea of opening up the bathroom more and getting rid of it completely, but I also struggled with not having a beautiful tub in our new beautiful bathroom. The pros outweighed the cons of getting rid of it, plus we have a bathtub in the guest bath, so we no longer have a bathtub in our master bathroom. Again, zero regrets.
BATHROOM REMODEL BEGINS: IT HAS TO GET WORSE BEFORE IT GETS BETTER
Once we had the major design decisions made, our contractor and his team got to work. We worked with someone that we knew and trusted and who was incredible throughout the entire process. We disagreed on some things like me wanting pocket doors (I won), but I can't imagine not having that great partnership while going through a semi-intense remodel. I think that is what made all the difference in our experience.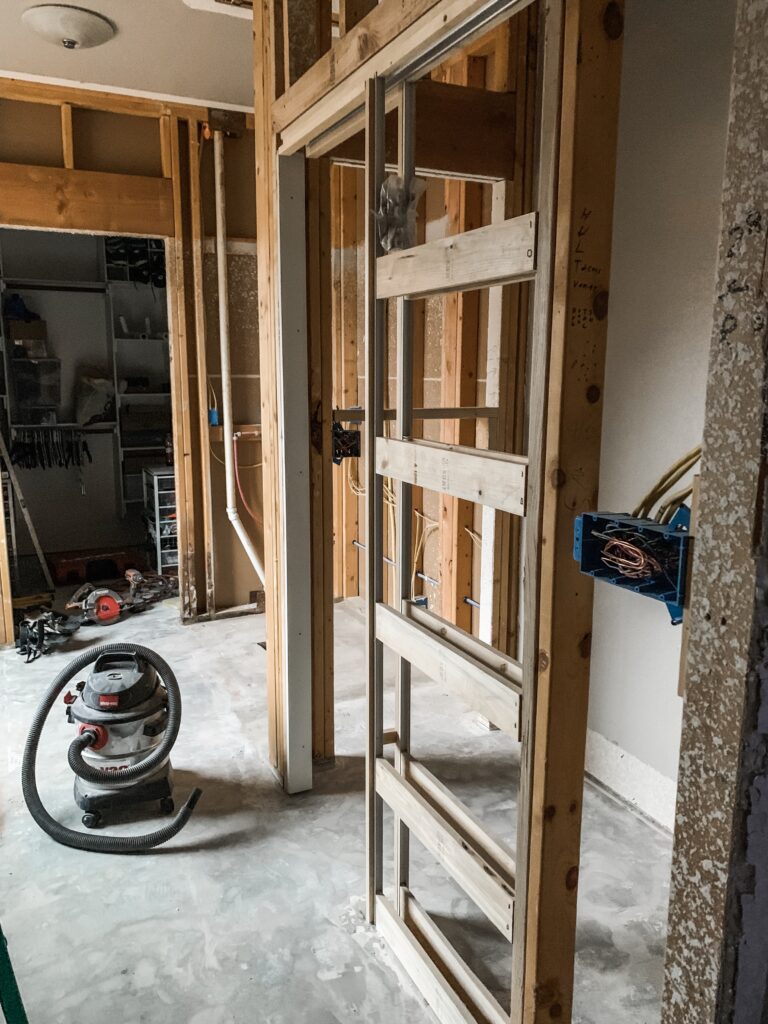 Construction moved fast, and before I knew it, all of the drywall was down and the bathroom was down to the studs. It moved quickly for the first couple of weeks, and then it started to slow down primarily because of my own indecision. If I knew what I know now, I would make sure I have every single design element picked out and ordered before any construction started. I was very particular in what I wanted, even if that meant that some things were on a 2-3 week back order. We had another bathroom to use during the remodel, and I did not want to compromise on what I wanted.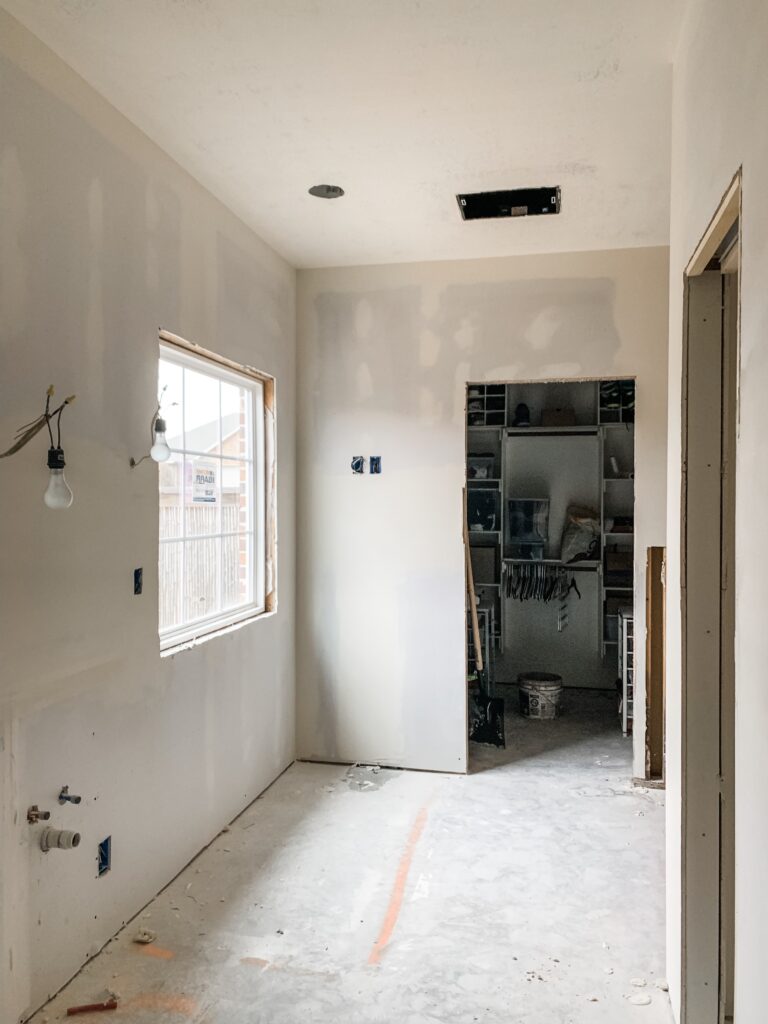 The first thing I picked out was the floor tile. I knew I wanted something different and not the giant square builder tiles that were in our current bathroom. Ultimately, we went with a matte black oblong tile from Wayfair which we ended up extending into the master closet. Next I chose the shower wall which was just standard white subway tile and floor tile, a marble-look porcelain tile.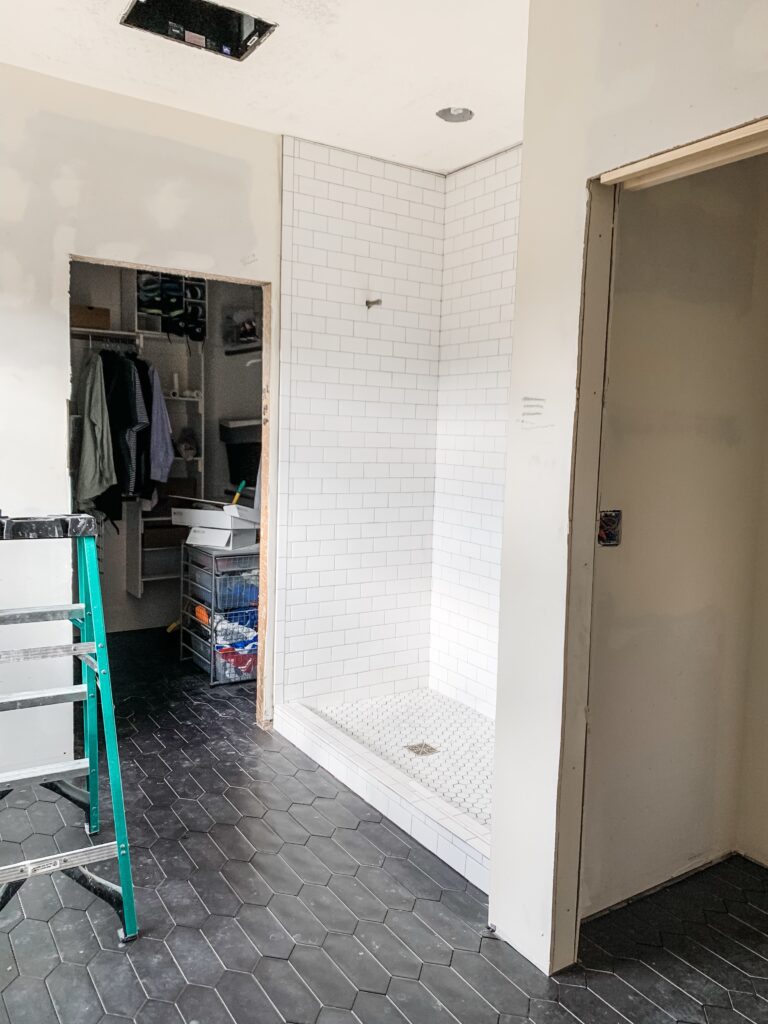 The layout was staying the same, just removing the bathtub. However, we also decided to extend the shower an extra two feet by removing a linen closet that was in the water closet. It rarely gets used it and it was full of things that we needed to get rid of. Since we were losing storage by removing that small closet, we had a custom bench made to store towels & anything else we needed to in.
Because the vanity and bench were both custom made, I was able to design it exactly how I wanted. I loved the idea of having two skinny drawers pull out on each side that would house shelves for hair product, beauty tools, medicine, etc. We went with white oak because I love the color and grain, and I knew it was something that would hold up for years and years to come.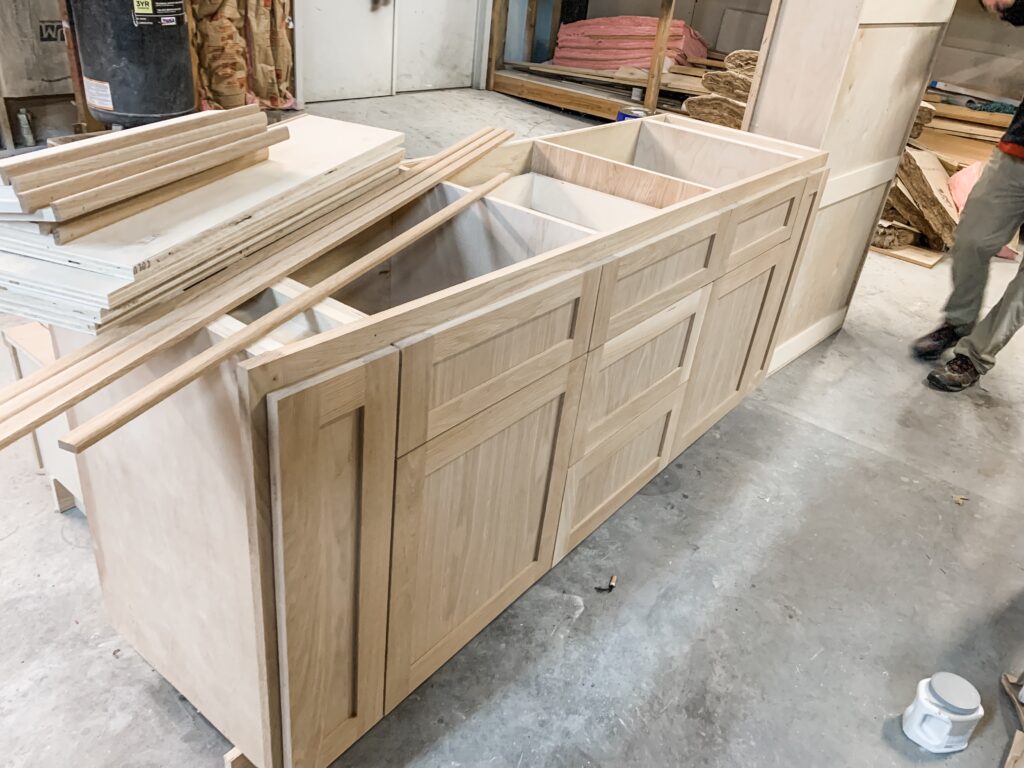 CHOOSING THE PERFECT WHITE PAINT
For wall paint color, I knew from the beginning that I wanted white. I've never painted a room white before, so this was a new adventure for me. I say adventure because white sounds so simple, but boy was I in for it. Over ten different white paint colors were sampled, but in the end we landed on Benjamin Moore Simply White.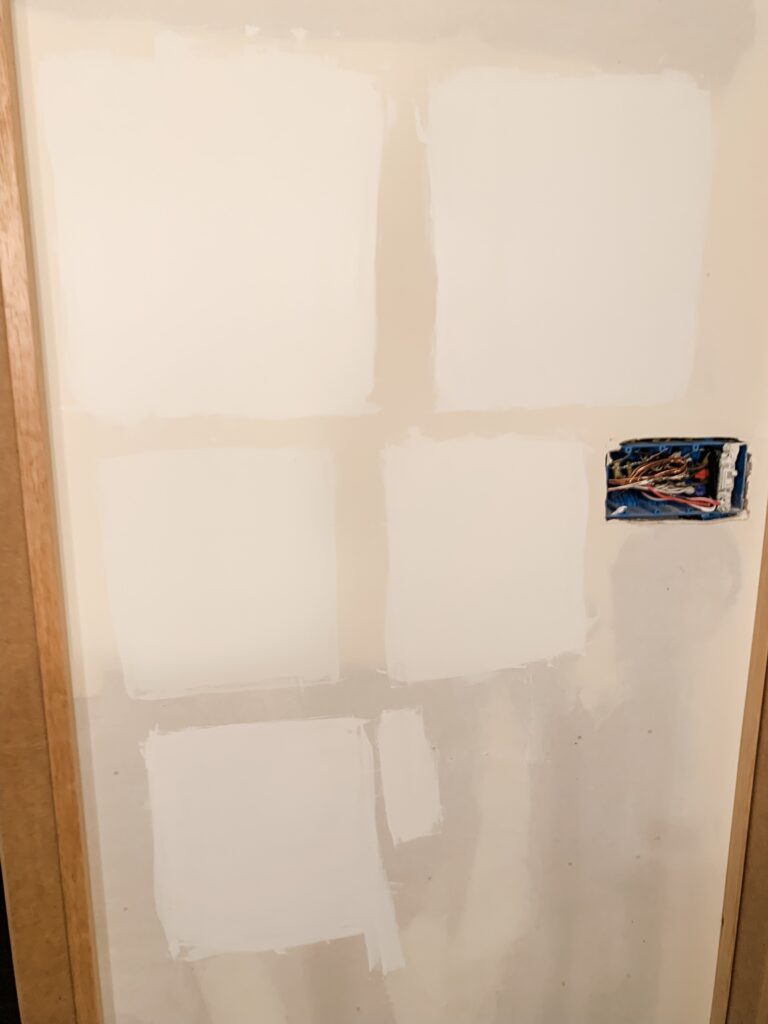 THE FUN STUFF: FIXTURES AND DECOR
I knew I wanted all brushed gold fixtures, which was probably the most risky design decision I made just because it could be a trend that's cool now, but won't be in a few years. I think I'll love them forever, though.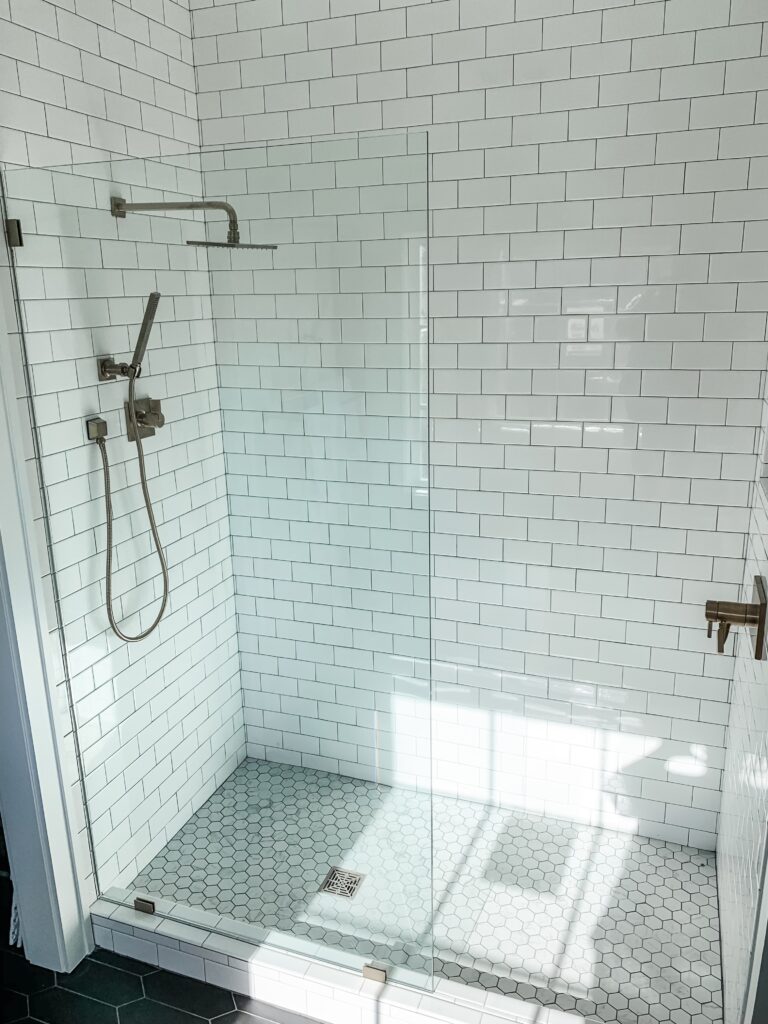 The most fun part of this remodel was choosing the lights, rug, knobs and pulls, and mirrors. Those are the things that I think I love most about our bathroom. I also love that if I get tired of them, I can switch them out at any time. Did I mention I'm indecisive?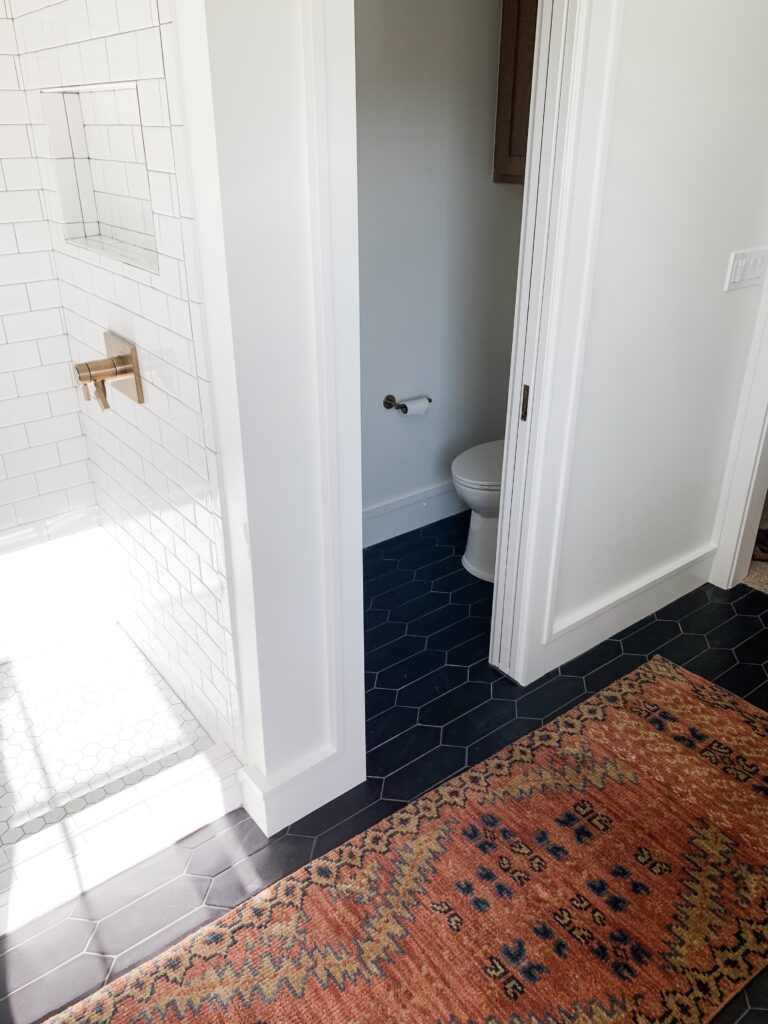 We chose the lights, mirrors and rug early on, months before any demolition had even started. The knobs and pulls were the last thing to arrive, and I'm so glad I waited until the very end. We decided to do a custom stain on our vanity in lieu of painted wood, and it was so important to me that I get the knobs right. We ended up going with clear acrylic and gold pulls from CB2. I held and analyzed hundreds of different styles, and these were the clear winner.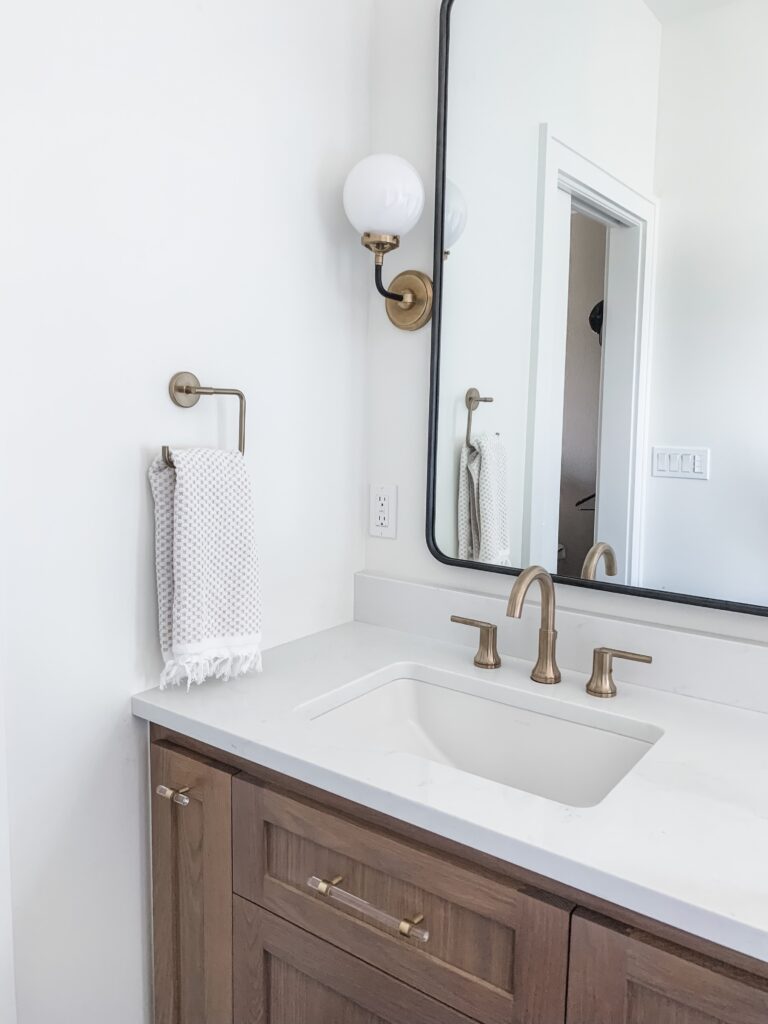 Choosing a stain for the vanity and bench was probably the single most difficult decision to make in the entire remodel. I tried to mix some stain myself to sample, but ultimately had the painter create a custom stain for us. I couldn't tell you what he used to create it, but I sure hope he wrote it down somewhere. Since we were keeping the wood stained, I wanted something clean and crips for the counter tops. We chose Metro Quartz in Colleseum, and were even able to find a remnant piece at our local stone yard.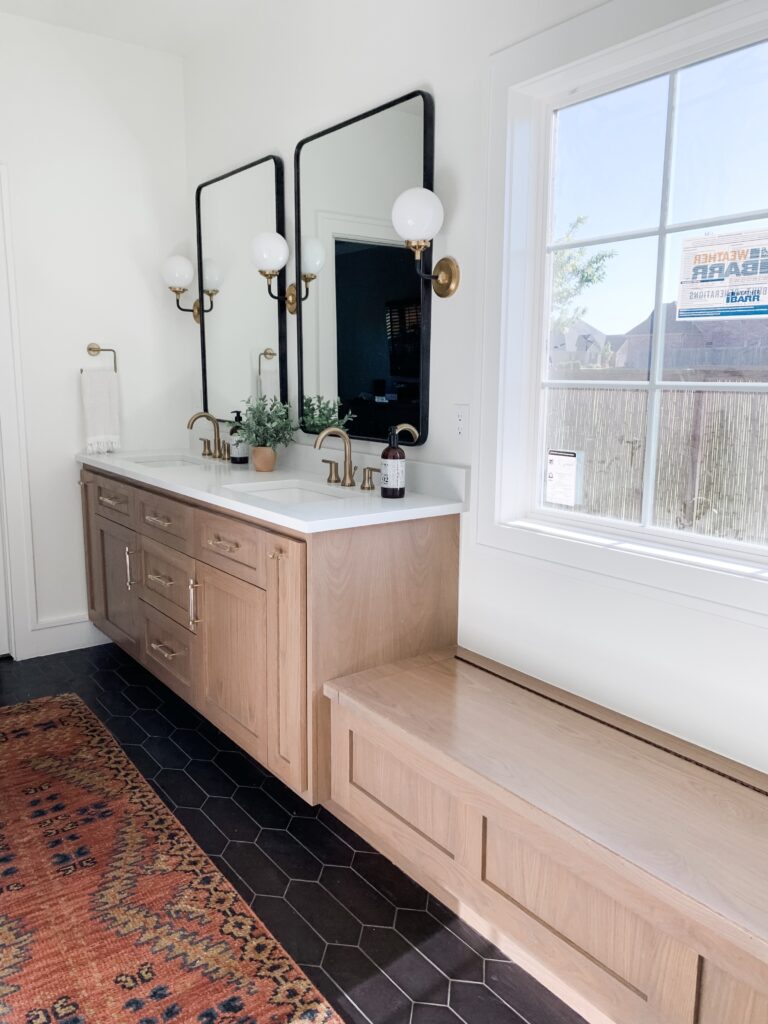 The entire remodel took about two months total, which is way longer than I ever thought it would take. There are still a few things left to do, like choose a window treatment. If I know myself though, that will probably take a couple of months. We are so happy with all of our choices and now I'm itching to start the next project. Master bedroom, maybe?
Read about my mini bathroom remodel in my guest bath here!
SHOP THIS POST