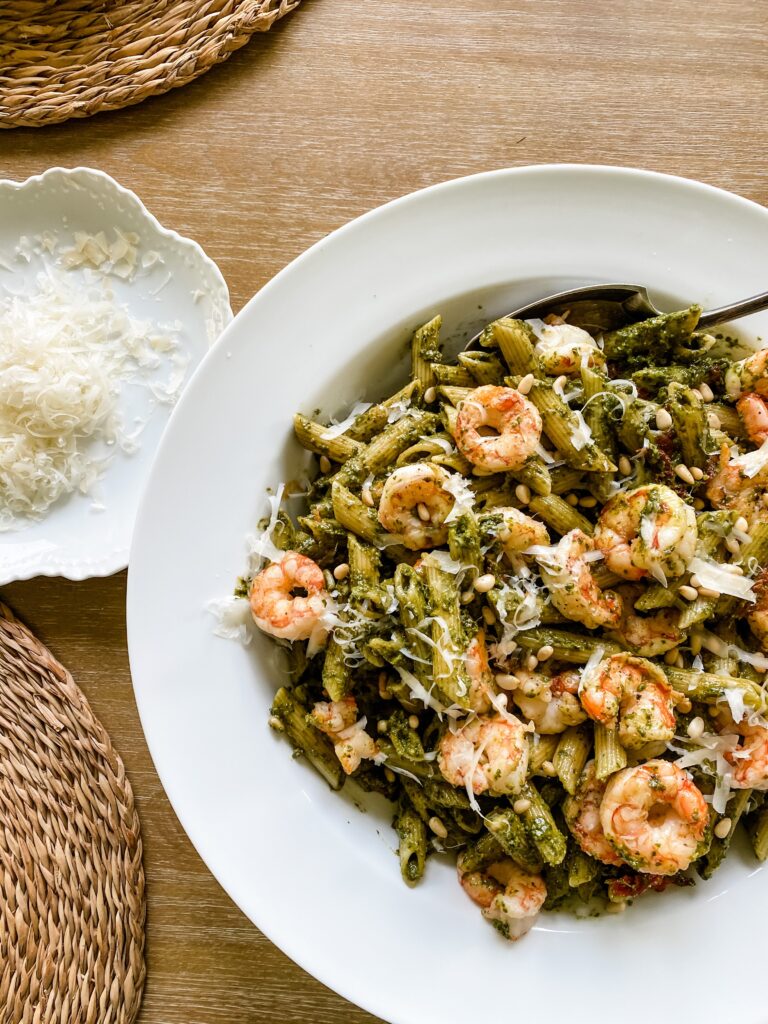 Homemade basil pesto has to be the easiest recipe on the planet. I started growing my own herbs several years ago, and it has spoiled me completely. Grocery story herbs just don't do it for me anymore. I love being able to walk out on the deck and cut exactly what I need for any recipe I'm making. My basil plants are taking over right now, and homemade pesto is my absolute favorite way it use it all up. It's also one of the easiest things you'll ever make.
My favorite way to use pesto is with penne pasta. Add a protein and some veggies and you've got yourself a great meal. It can be made with any variation of protein and veggies that you want. Sometimes I use sausage or shrimp, roasted cherry tomatoes or sun dried tomatoes, and most of the time I add mushrooms. Let your imagination go wild with this one!
Also, if you don't have an herb garden at home, don't worry! You can always buy a very inexpensive full basil plant for this recipe. You can usually find one at your local grocery store.
HOMEMADE BASIL PESTO RECIPE:
3 cups basil leaves
6 cloves garlic, peeled
1/2 cup grated Parmesan cheese
1/4 cup pine nuts
3/4 cup olive oil (more if you want a thinner consistency)
salt & pepper to taste

First, combine basil leaves, garlic, & cheese, & pine nuts in a food processor and blend until combined. Next, stream in olive oil while food processor is running. Finally, add salt & pepper and combine everything together one last time. Combine with warm pasta, put on veggies, top an omelet, freeze in ice cube trays, the options are endless!
Check out my fruit pizza recipe here!