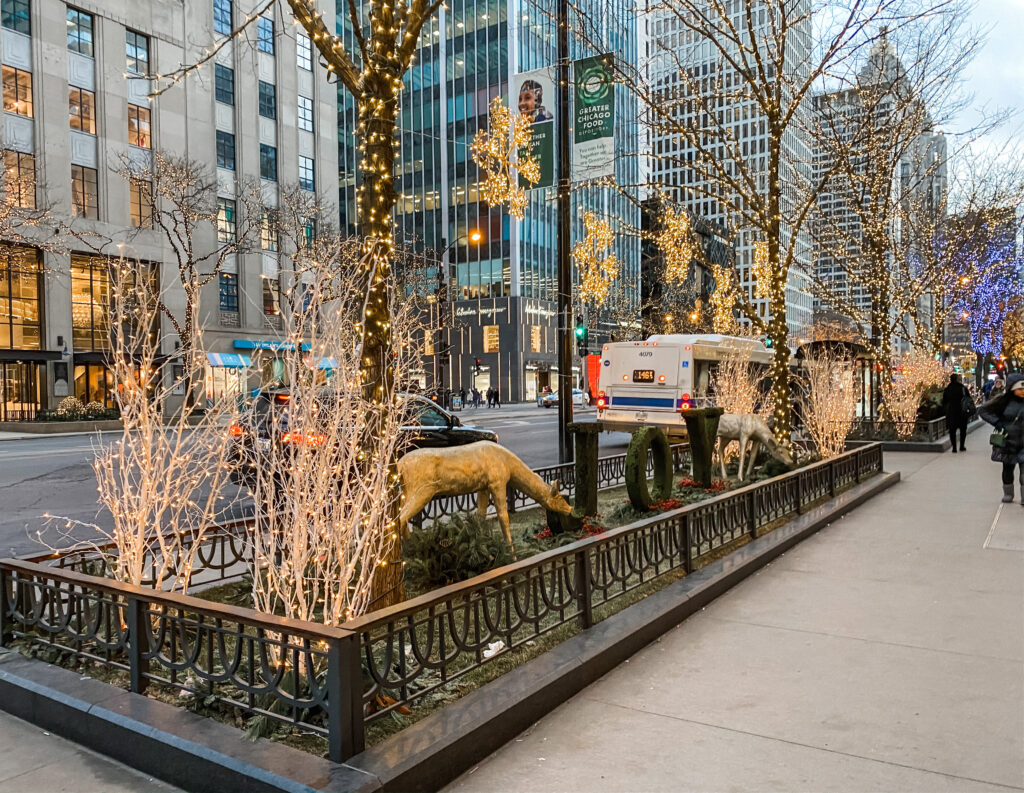 I turned 34 on Monday and spent my birthday in one of my favorite cities, Chicago, which means you are about to read the ultimate Chicago guide! I was there for basically a really long weekend and it couldn't have been a better trip. Most people don't get why I'd want to go to Chicago in the winter, but have you ever seen it during Christmas? It was magical and the whole city was lit up like a Christmas tree. I shared some highlights of things we did on Instagram, but wanted to do a full re-cap here so you're prepared next time you visit Chicago. I'm going to tell you all about where I stayed, where I ate, and what I did for fun.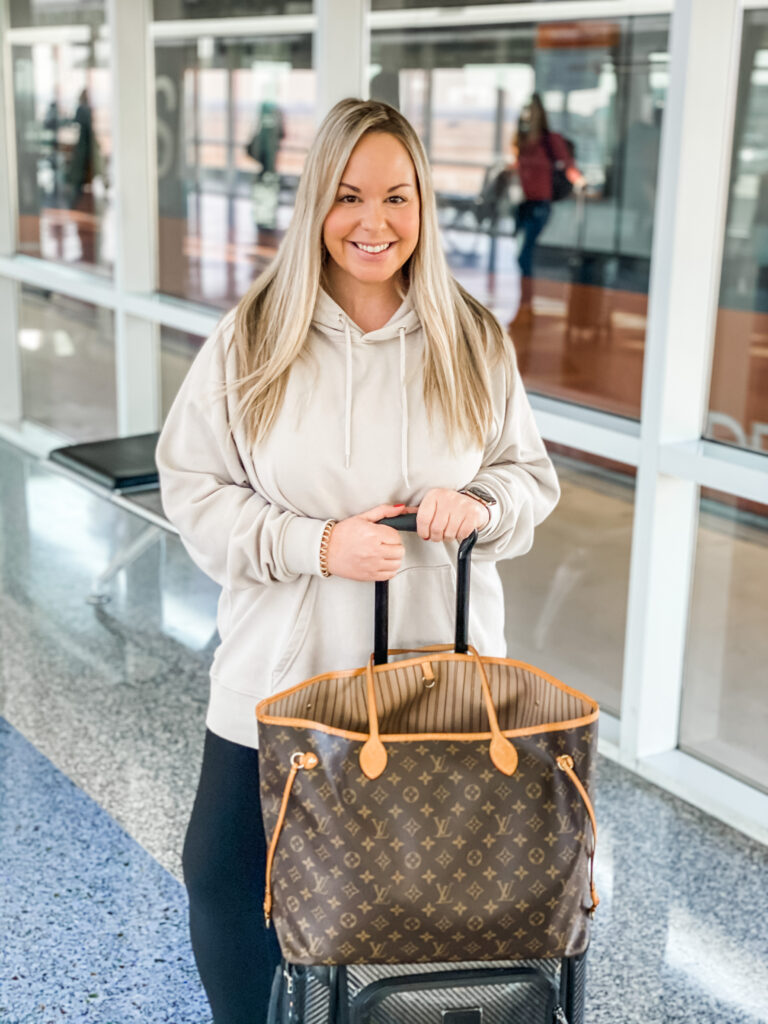 WHERE I STAYED
I was lucky enough to partner with Omni Hotel Chicago for this trip, and wow did it exceed my expectations. I love Omni hotels, but this one was spectacular. The location was so perfect, right on Michigan Avenue, and one block away from the new Starbucks Reserve that just opened (happens to be the world's largest Starbucks).
I received an email from an Omni Loyalty Ambassador a day before my arrival asking if I had any special requests. This was a nice touch, and I really appreciated how proactive it was. I requested extra pillows if you were wondering.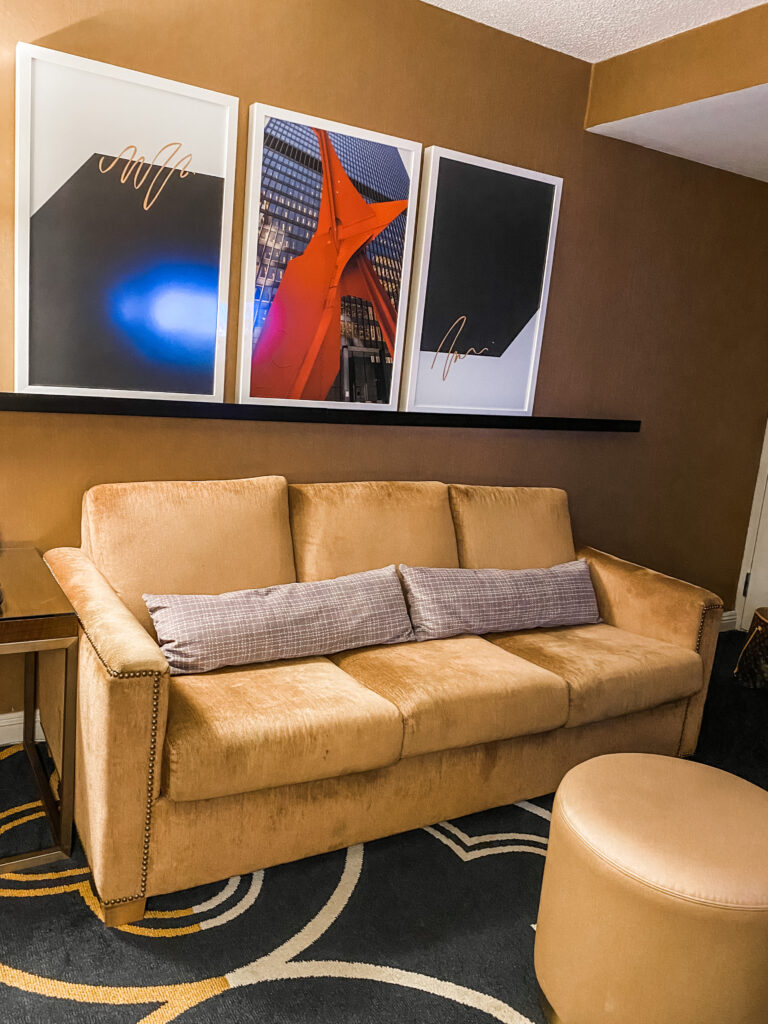 The check in process was extremely swift, and before I knew it we were walking into our 21st floor suite. Every room at the Omni Hotel Chicago is a suite, and the extra room was greatly appreciated. The first thing I noticed was a bottle of wine and a lovely desert that said "Happy Birthday" sitting on the desk. Let me just say, when hotels do things like this it just really sticks with me. Just a great "they knew I was coming" feeling.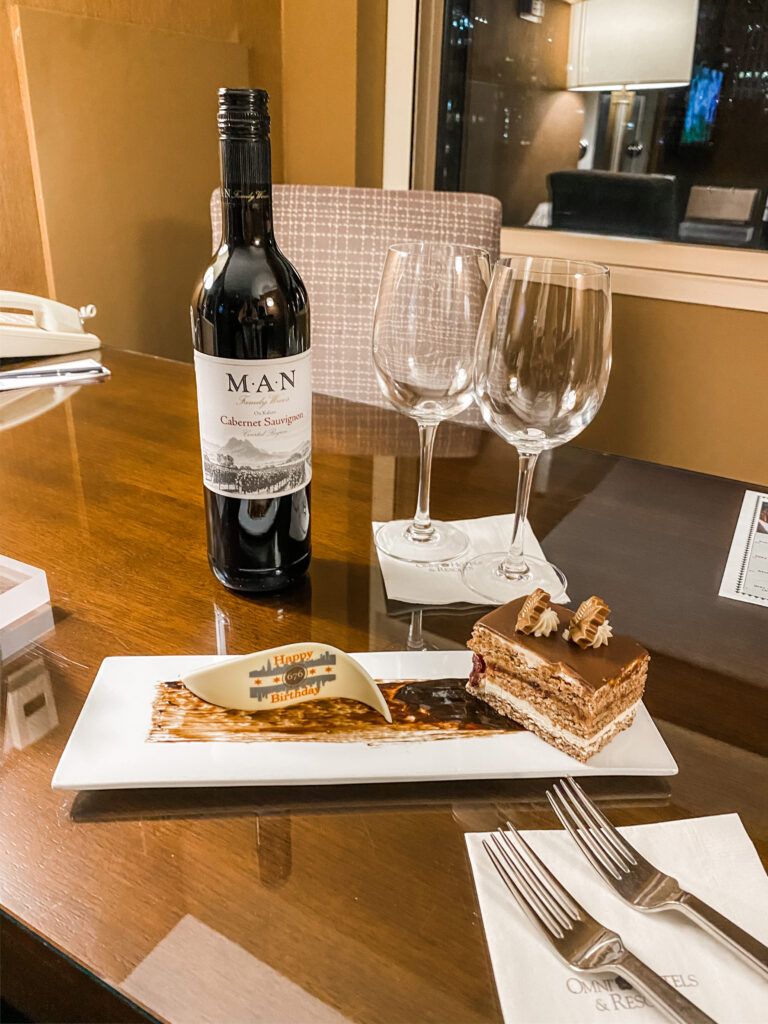 The bathroom and bedroom were both very clean and nicely decorated, and it didn't take long for us to get settled in. The views from the room were great, but I appreciated the automatic shades that you could control from the nightstand.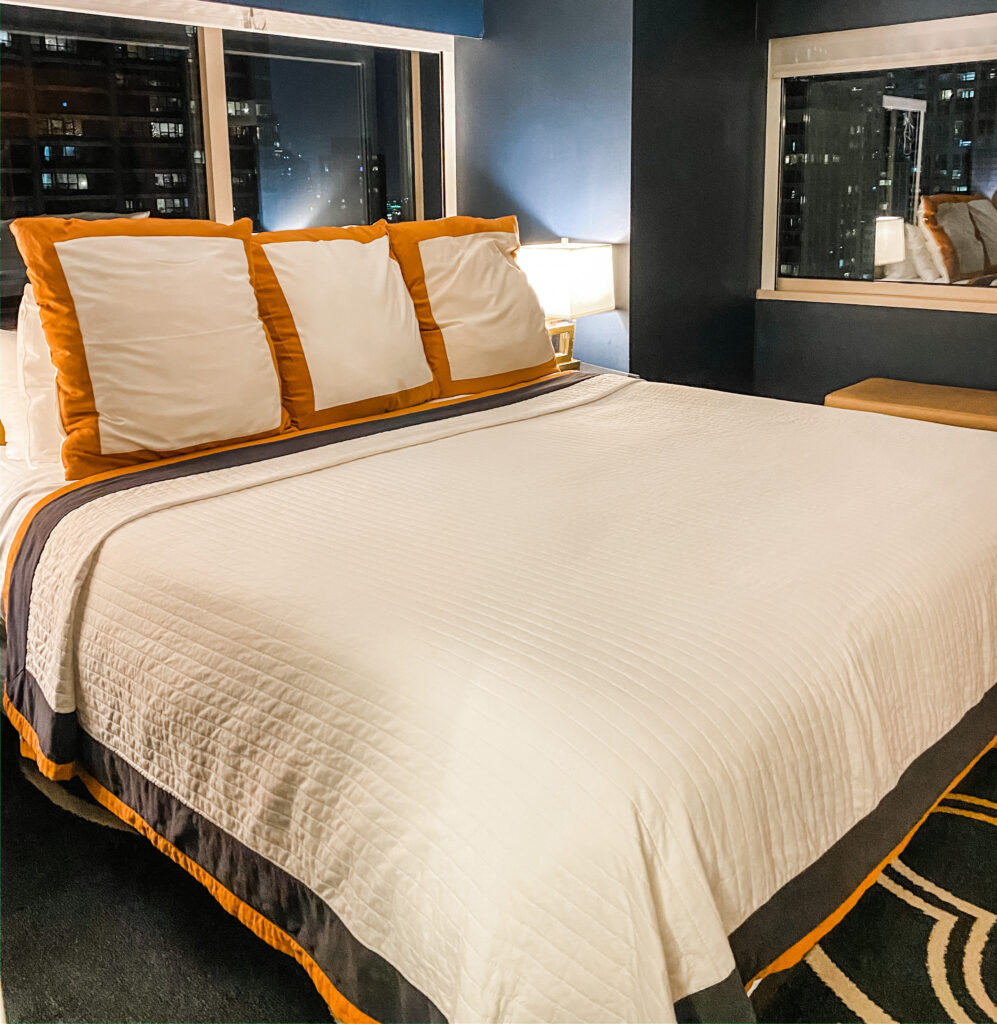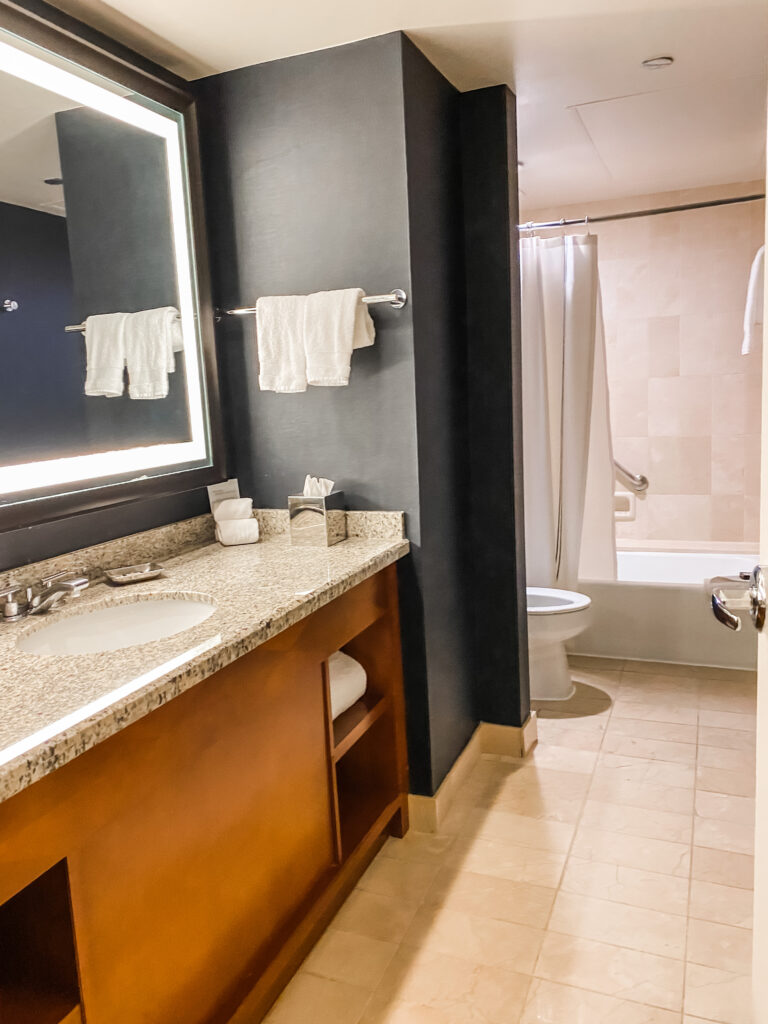 On the fourth floor, there was a really lovely restaurant called 676 Restaurant & Bar which we visited twice. Once for drinks at the bar, and the second for breakfast. Breakfast was really much better than I expected from a hotel restaurant. They had a full breakfast menu, and also an extensive breakfast buffet, complete with an egg station where you could have your eggs made any way you wanted.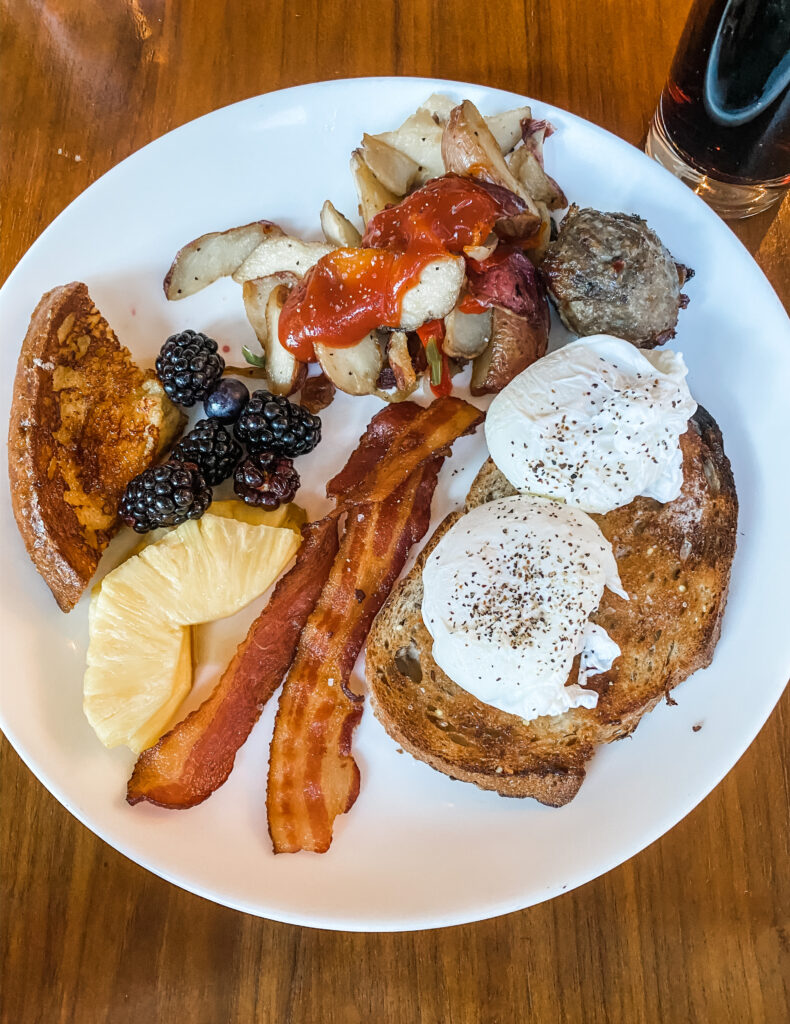 I can't stress what a good value the Omni Hotel Chicago is. The location is absolutely perfect, the service was impeccable, and the rate for the dates we were there hovered around $180 a night. We have stayed at other Michigan Ave. hotels, and this was by far the best experience we have had.
WHERE I ATE
Giordono's – You can't visit Chicago and not eat deep dish pizza. You just can't. There are endless debates online about who has the best deep dish pizza in the Windy City, and I'd argue that it's Giordono's. Lou Malnati's is a close second, but Gio's takes the cake for me. We ate here a couple of times, and my advice to you would be to not go during peak hours. The wait the first night was over an hour, but we went back for a late lunch a few days later and were seated right away. The Meat & More Meat is my favorite pizza to order.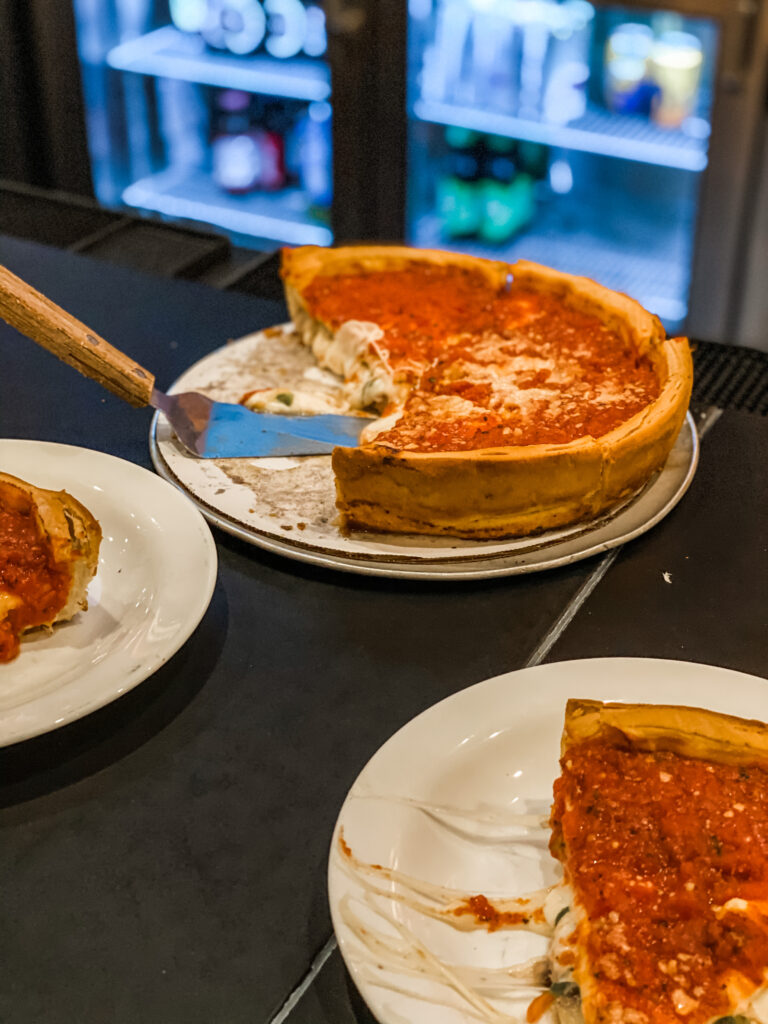 Starbucks Reserve Roastery – This was one of the best places we visited during our trip. It had just opened a few weeks before we arrived, so it was extremely busy during peak hours. Our hotel was only block away from it, so we went here every morning right when they opened. There are four amazing floors, each one with it's own concept. Our favorite floor was the "Experimental Coffee" floor. The best things we ordered were the Cold Brew Milk Shake and the Pistachio Latte. They also have pastries and baked goods, but they weren't really anything special. You can pay for a tour or "experience", but we opted for sitting at the bar with our drinks to people watch, which I think was equally as entertaining.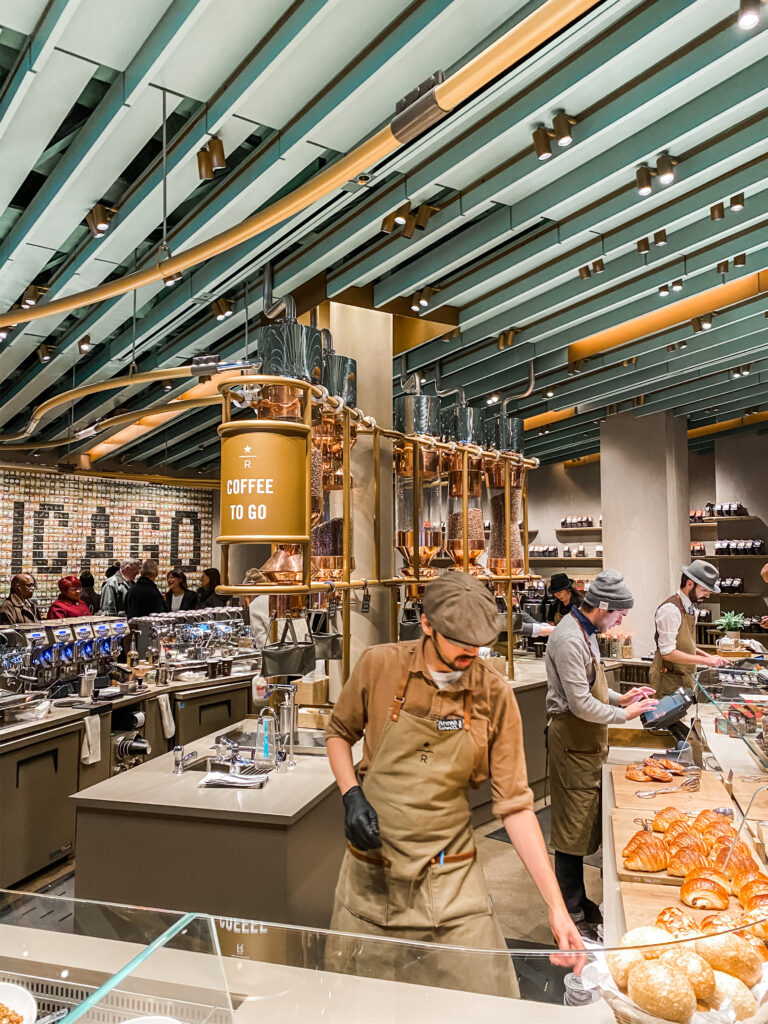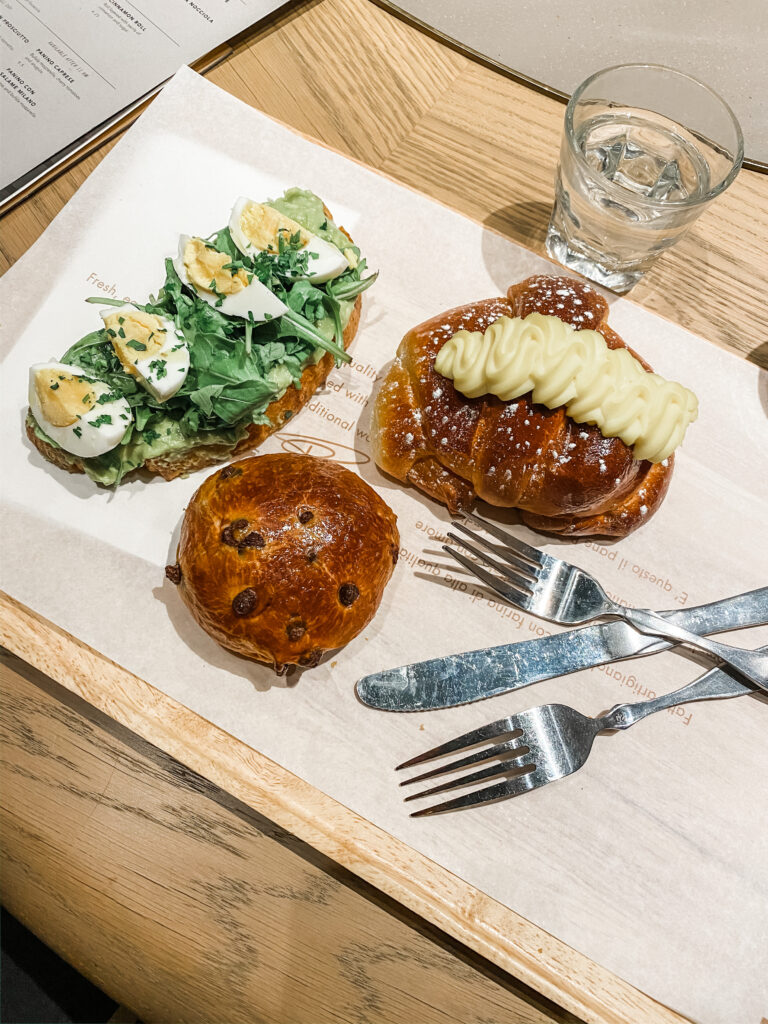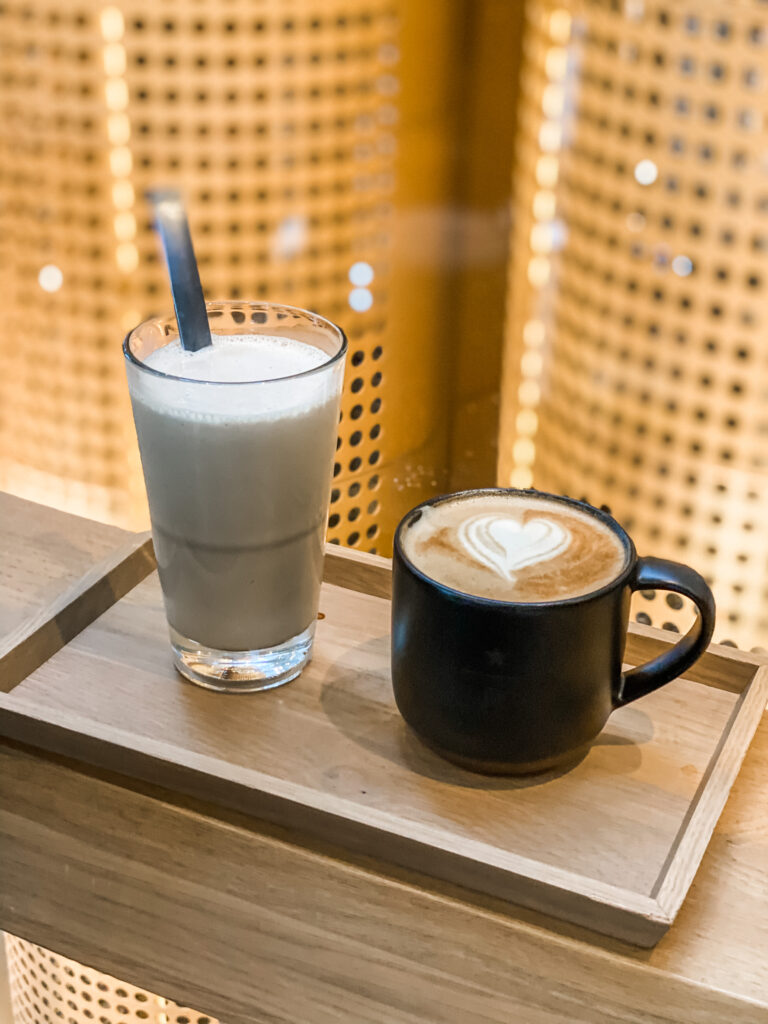 Doughnut Vault – This teeny tiny doughnut shop is a must visit in Chicago. The menu is small too, but think quality over quantity. We ordered every kind of donut they were selling that day, and none of them disappointed. My favorite was the vanilla glazed, but I can't get the apple fritter out of my head either. They tend to sell out, so I like to check their twitter for special flavors and make sure they haven't posted their "sold out" tweet yet before I go.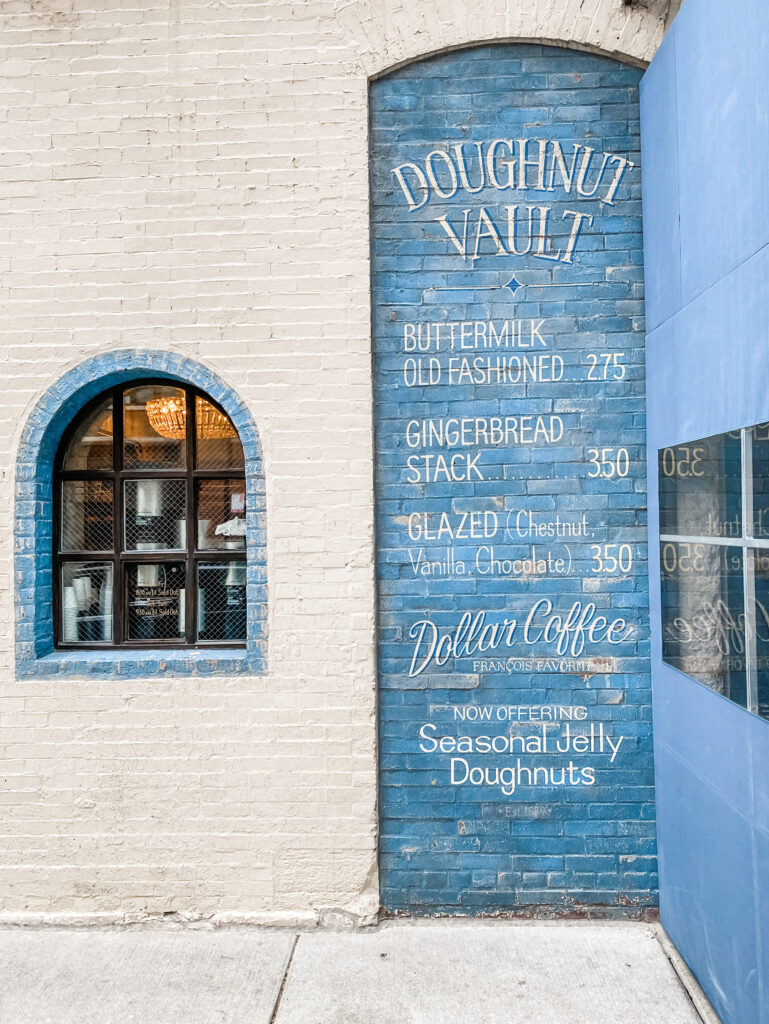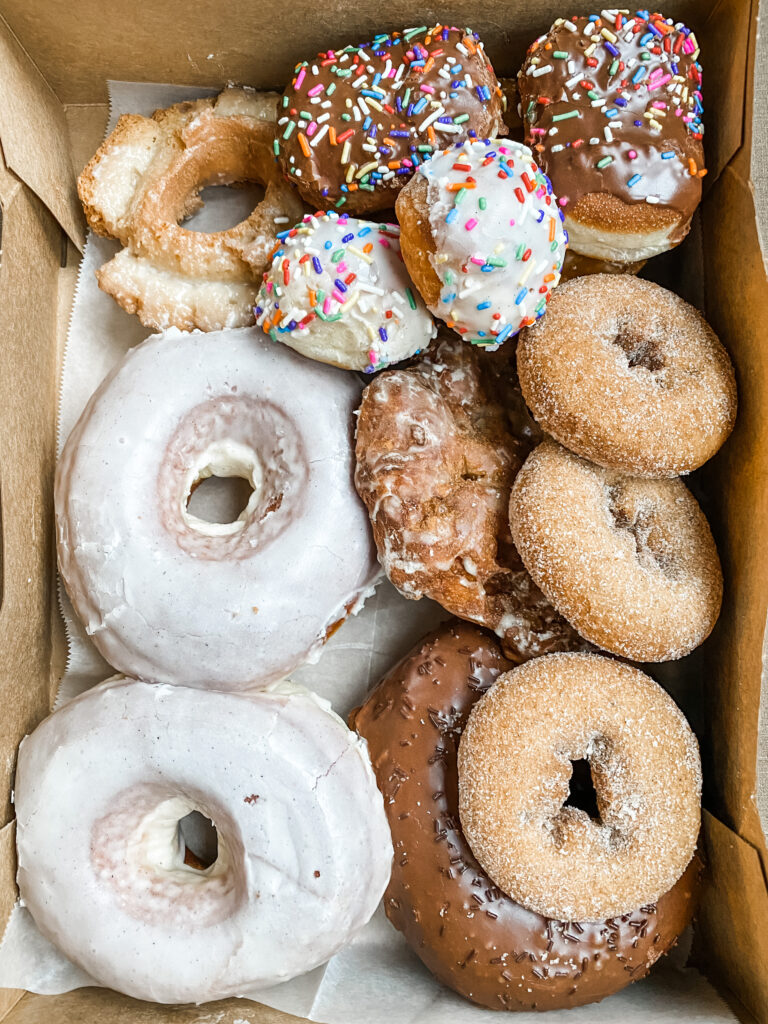 Hampton Social – If you know me, you knew that a lobster roll was going to make an appearance at some point. Hampton Social sits right off of Michigan Ave., and was the perfect spot for a quick lunch in the midst of a full day of shopping. We ordered a "jar of buttered crab" with toast for an appetizer, and each got a lobster roll with fries for our main dish. I loved the atmosphere at Hampton Social, and the food was just as enjoyable.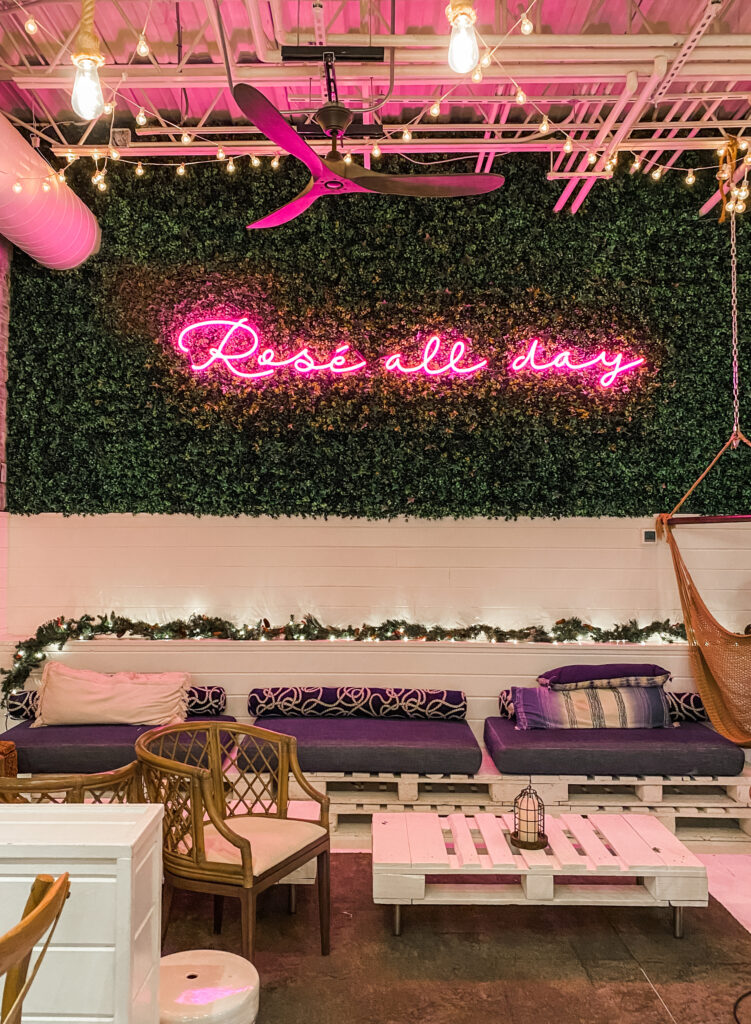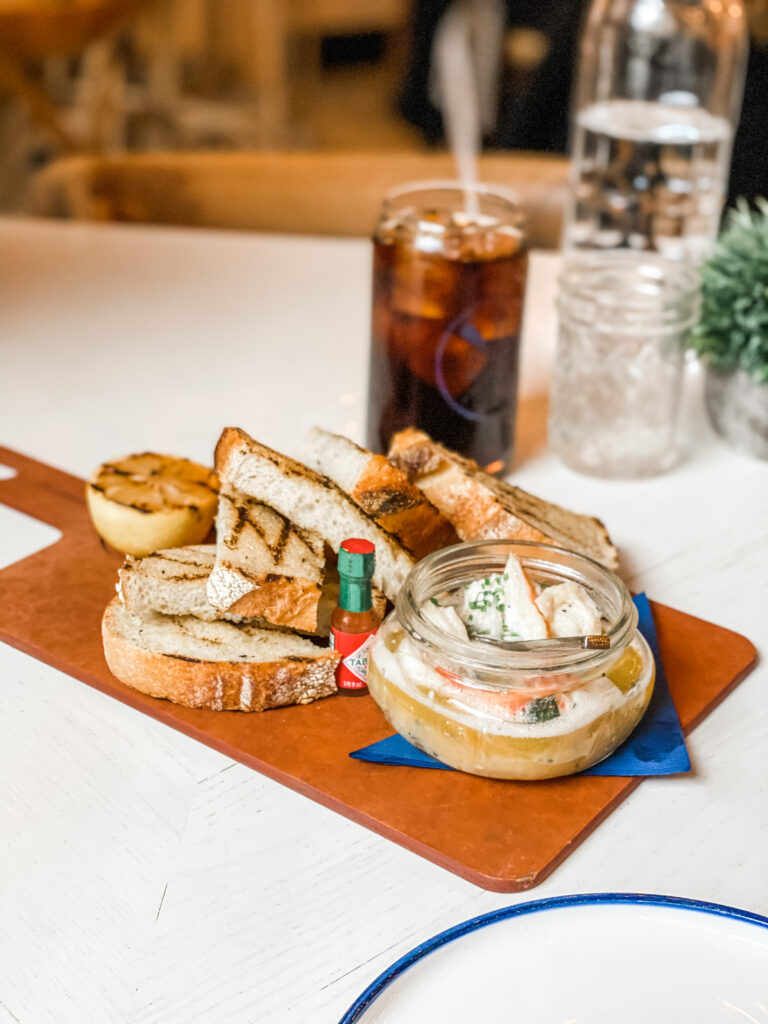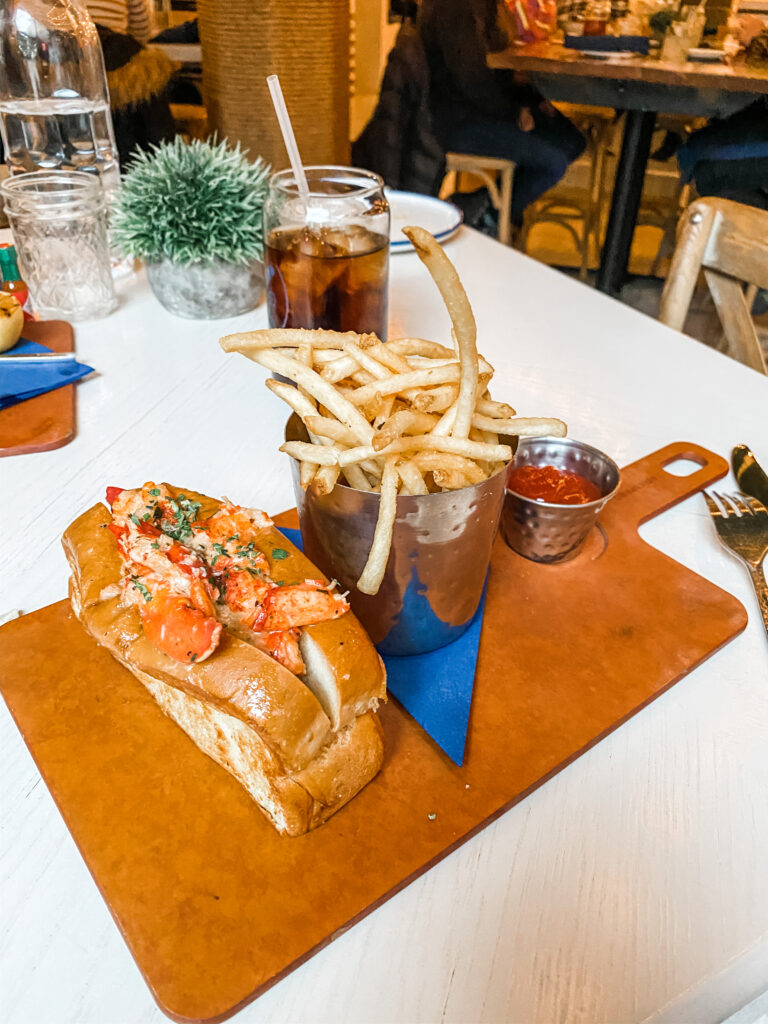 Eataly – If you've never been to an Eataly, book your flight and get to one ASAP. I could have seriously spent every day at this place without getting bored. It's a giant multi-floor Italian market with different restaurant concepts sprinkled all over. They have a crepe station, a canoli station, and then three or four restaurants to choose from. We ate at La Pizza & La Pasta and enjoyed lasagna & cacio e pepe all washed down with a bottle of Prosecco. If I lived near one of these, I'd be popping in every day for fresh pasta & the hundreds of other things I can't get where I live.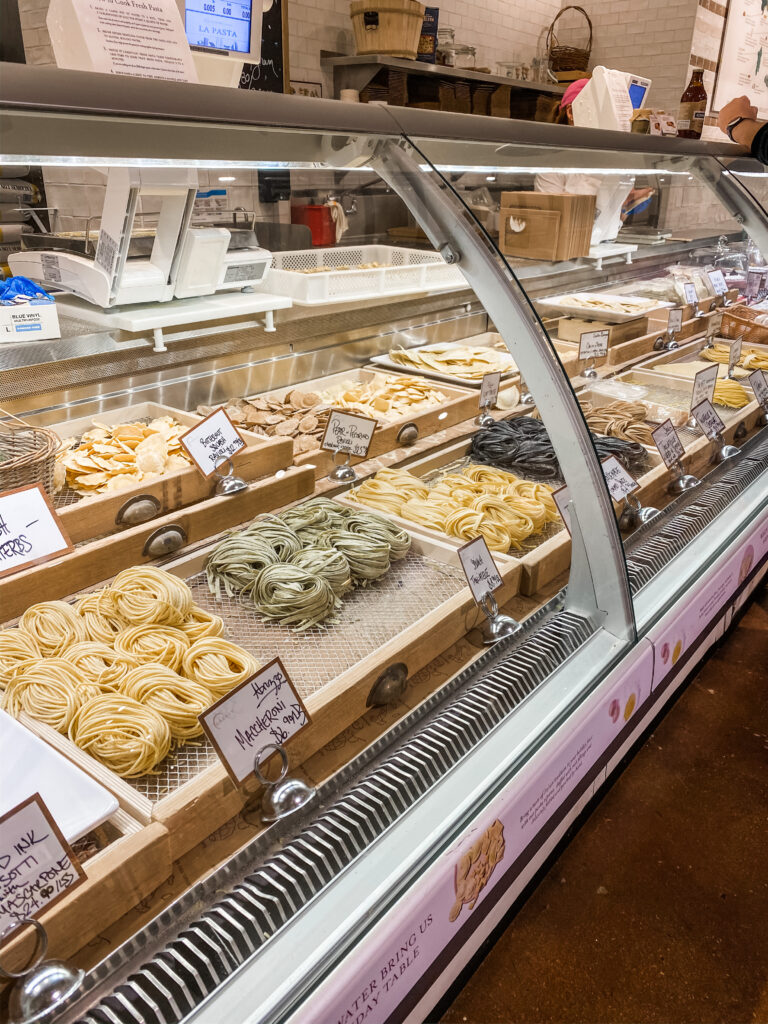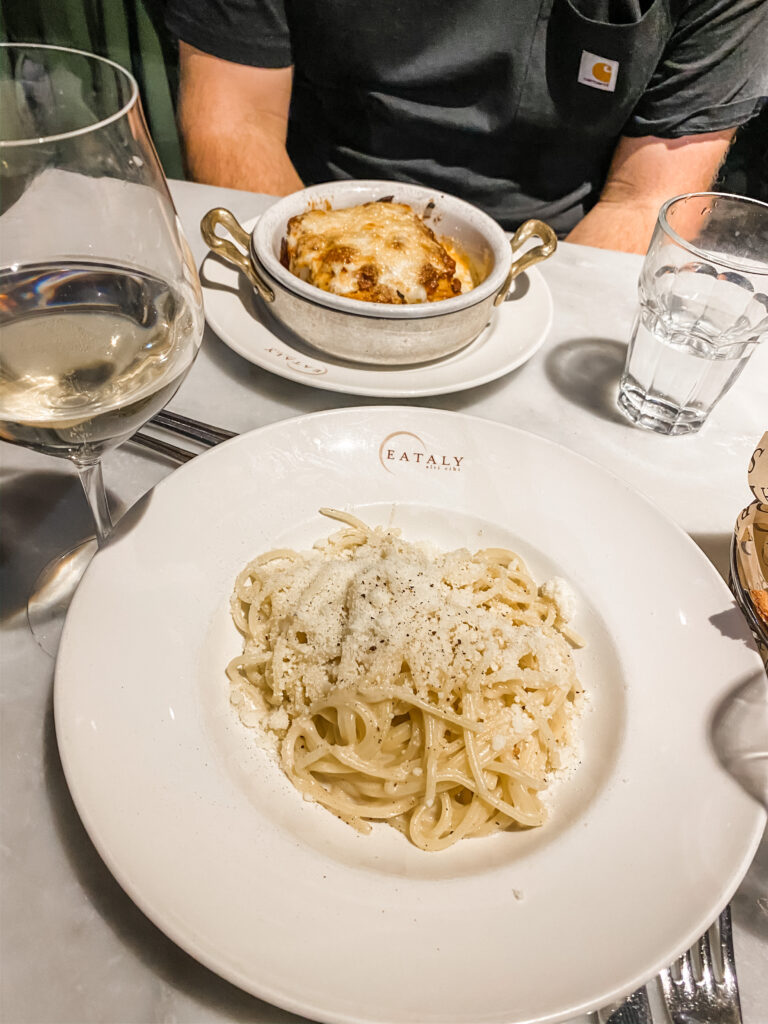 Sienna Tavern – We ate my birthday meal here and it's my favorite place on this Chicago guide. The restaurant was loud and cheerful in a really good way. We opted for pasta again and went with caco e pepe (again) and lobster linguine. This may have been my favorite meal of the trip. It ended with two scoops of gelato & a candle for my birthday. I contemplated going back the next day, but resisted for the sake of branching out.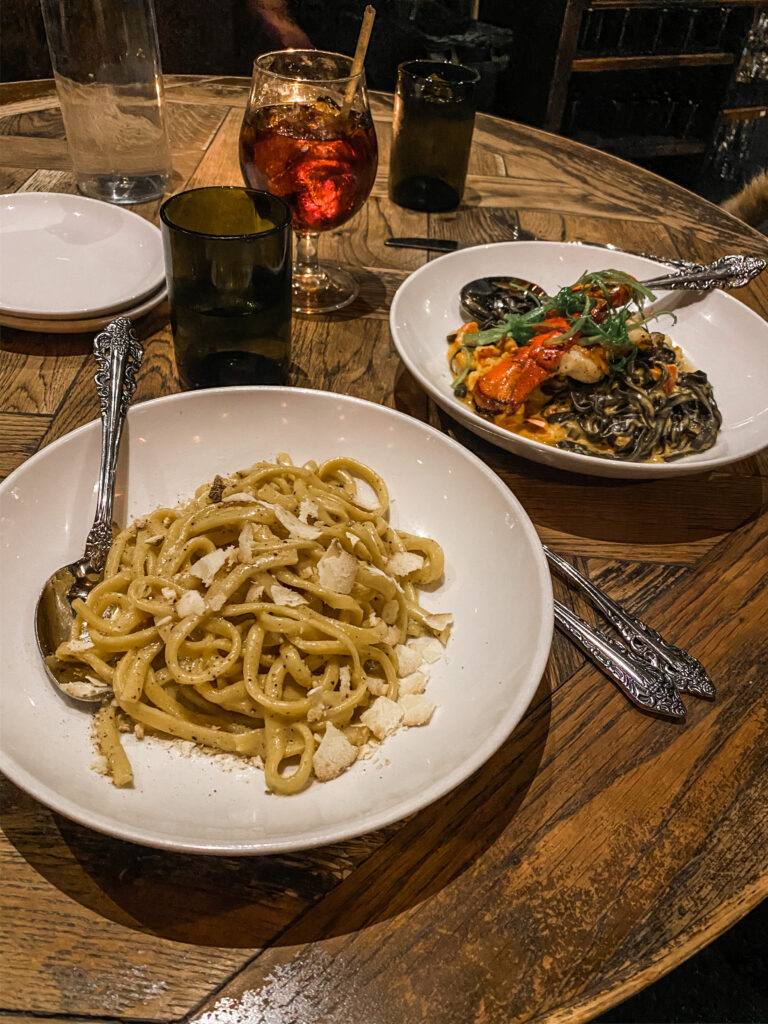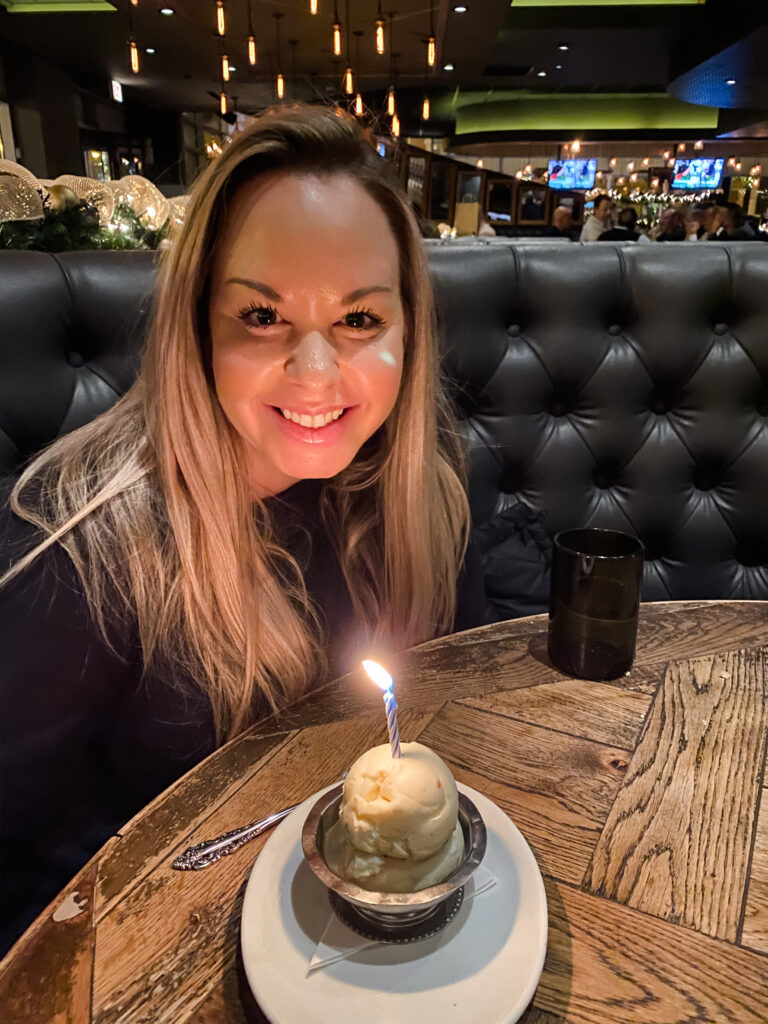 Ramen San – I was craving ramen the entire weekend, and finally gave in on our last day there. Ramen San was steps away from our hotel, and they had a delicious lunch menu. I ordered the tonkotsu ramen with vegetable fried rice and OMG the fried rice was the best I've ever had. It had crispy Brussels sprouts and kimchi mixed in, and was by far the star of the meal.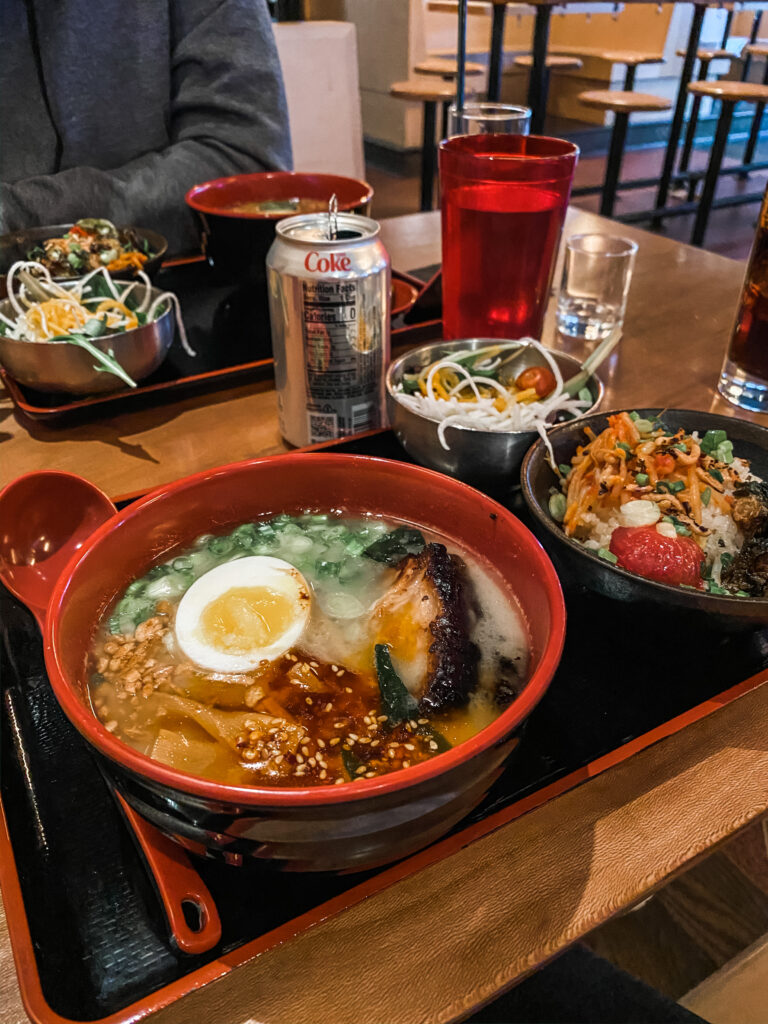 3 Arts Club Cafe – This restaurant sits in the middle of Restoration Hardware and was one of the most beautiful places I've ever eaten. I had heard mixed reviews about the food, but I quickly forgot about that when our food arrived. I ordered a french dip sandwich made with shaved ribeye (omg) and it was so heavenly. By far one of the best sandwiches I've ever had. And of course, it's a great place to snap some pics for future ig posts.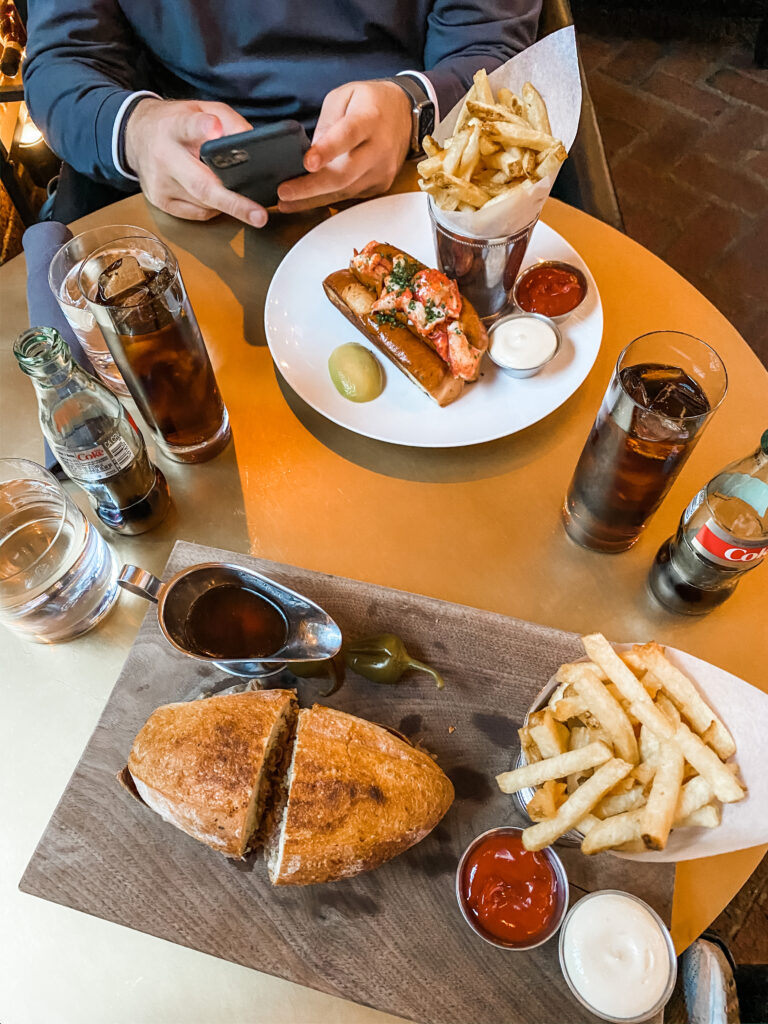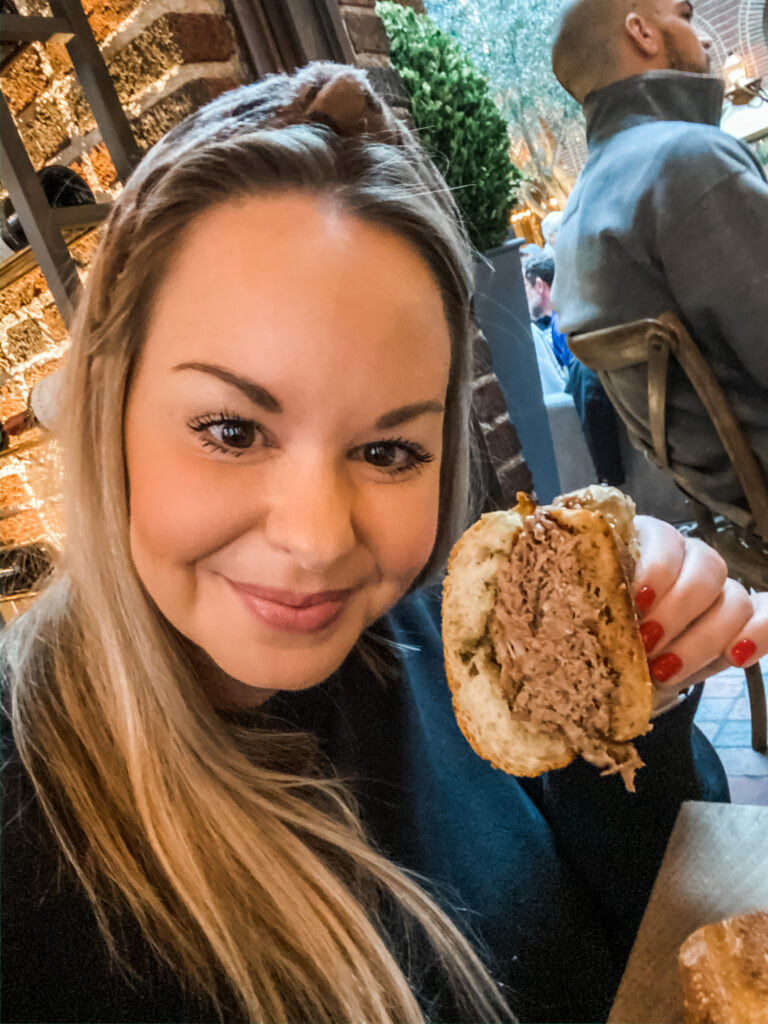 WHAT I DID FOR FUN
This wouldn't be a Chicago guide if I didn't include something about Second City. The Second City is based in Chicago, and if you ever find yourself in the Windy City, you need to see a show or two. Just about every SNL star got their start there and they have several really funny comedy shows running at all times. I love the Christmas shows, and the ones we saw this trip were downright hilarious. My favorite show we saw was Deck the Hallmark. It was basically a comedy version of a cheesy Hallmark movie, and it was so spot on.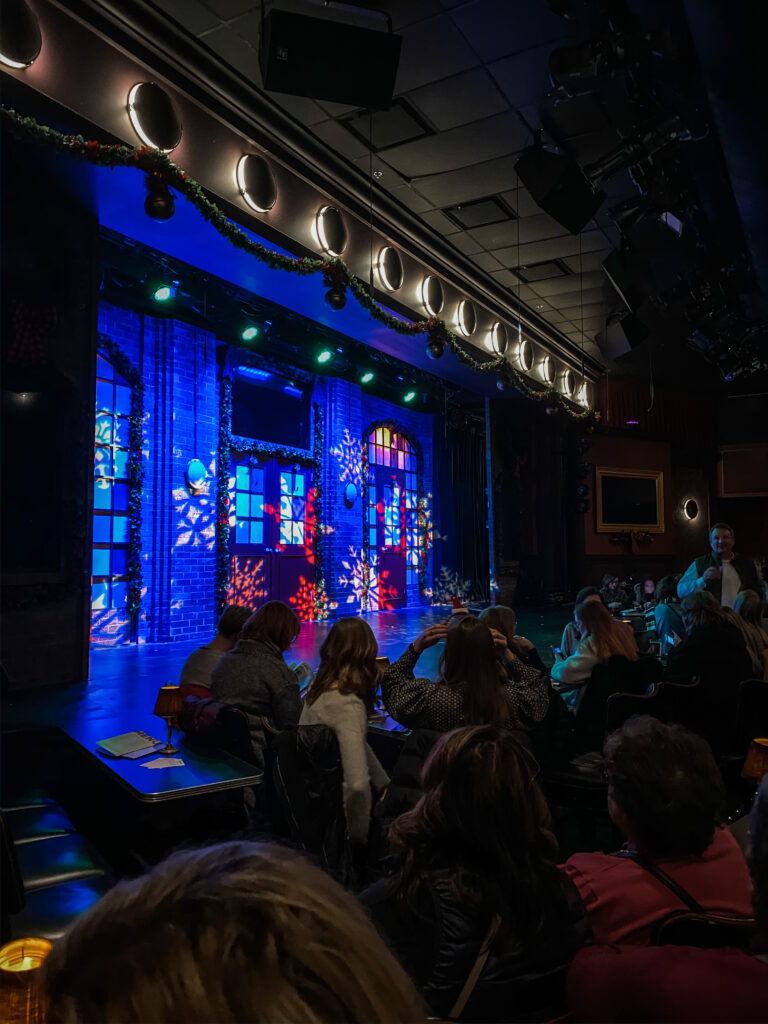 Michigan Ave. shopping is a given if you're in Chicago, especially around Christmas time. I didn't really even buy much this trip, but I did treat myself to a pair of cashmere lined leather gloves from Nordstrom and a couple of headbands from Anthrpologie. Oh, and I forgot a coat so I treated myself to a new winter coat that I did not need (ha!). I did look at new luggage at Tumi, and figured out what I want to get when mine finally gives out.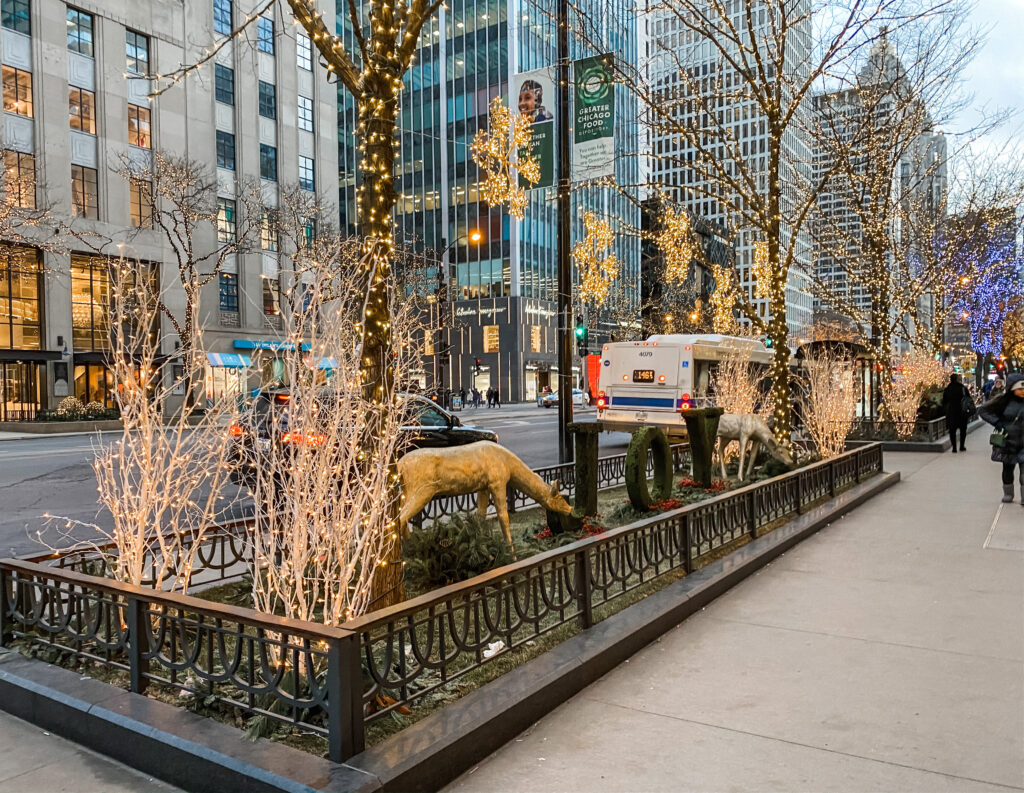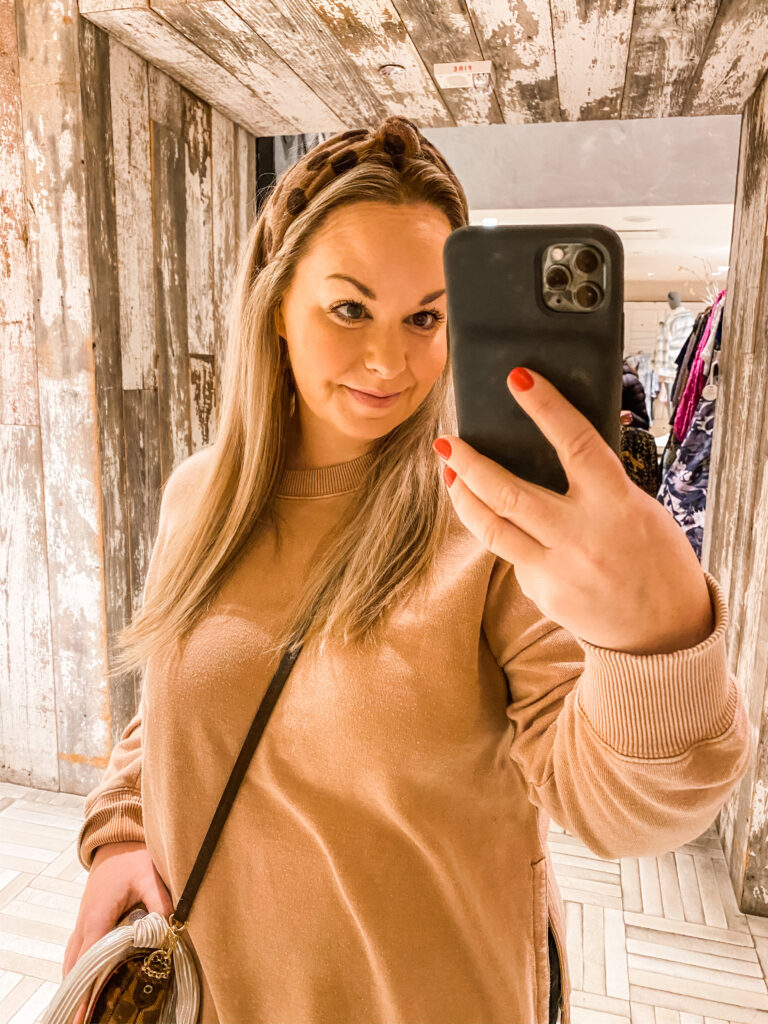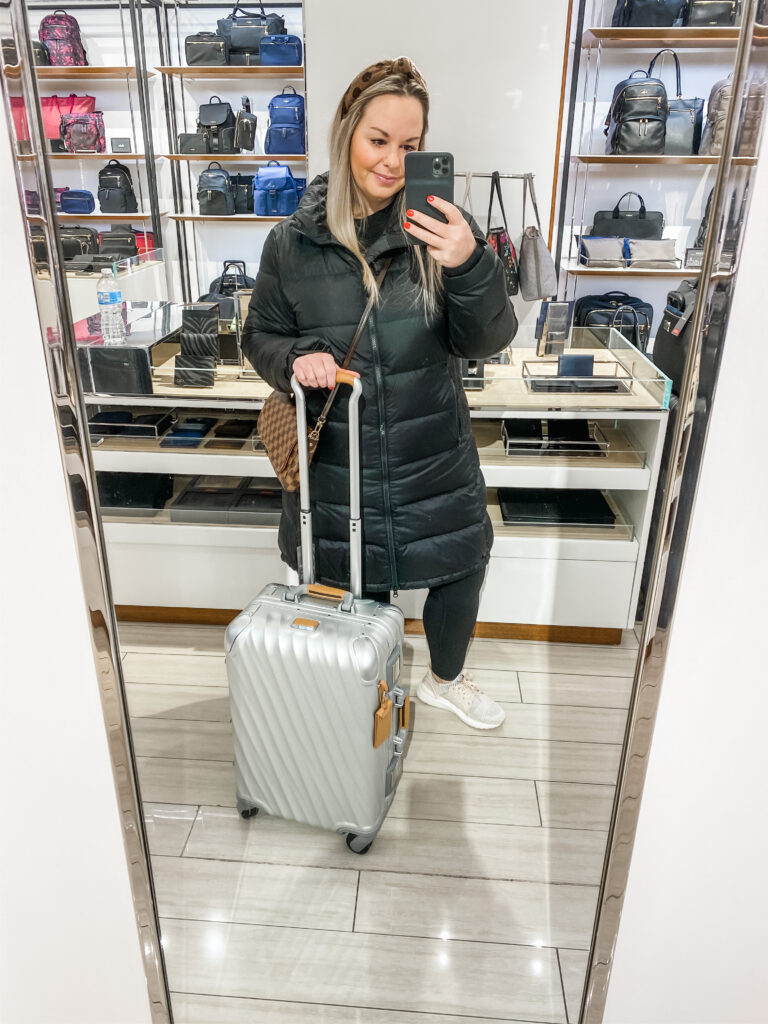 CHICAGO GUIDE: FINAL THOUGHTS
I'm always sad to leave Chicago, but that just means I need to start planning my next trip there. Maybe sometime in the spring or summer so if I forget my coat again, it won't be a big ordeal. 🙂 I hope you enjoyed this Chicago guide!
Want more guides? Read all about my guide to NYC here!
SHOP THIS POST