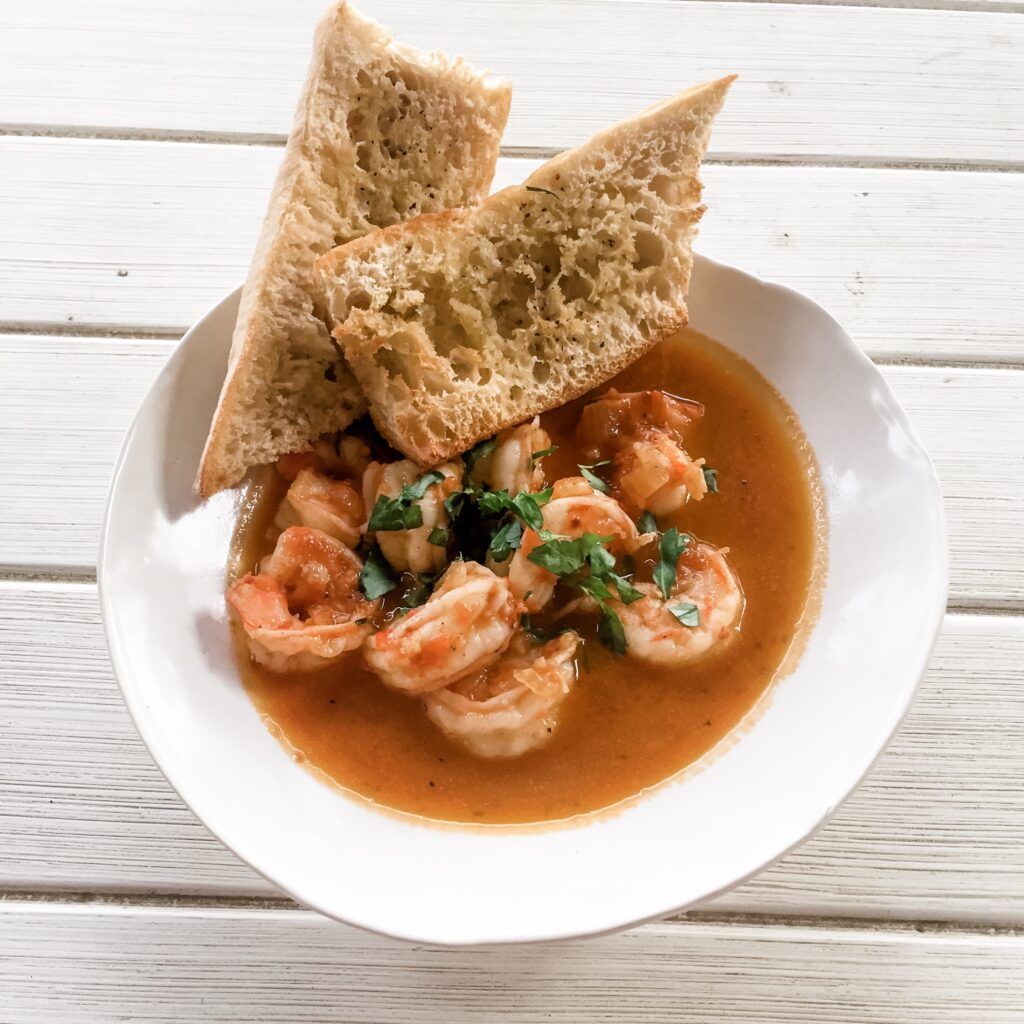 INGREDIENTS
2 tablespoons extra-virgin olive oil
1 cup finely chopped onions
4 garlic cloves, finely chopped
1/4 teaspoon dried crushed red pepper
6 cups homemade shrimp stock (instructions below)
1 pound peel-on uncooked shrimp
Chopped parsley (for garnish)
For the shrimp stock:
Shrimp peels
1 head garlic, peel on and halved
1 onion, peel on and quartered
A couple celery stalks
A couple carrots
Bay leaf
Sprigs of parsley
6 cups cold water
A little salt & pepper
RECIPE PREPARATION
To make the stock, start by peeling and deveining the shrimp, reserving the shrimp peels. Set shrimp aside. Place the oil, carrots, garlic, onion, celery, and shrimp shells in a heavy pot on medium high heat. Cook until the shrimp shells turn pink and vegetables start to soften, about 8-10 minutes. Add the parsley, bay leaves, and water and cover until the stock comes to a boil. Reduce the heat to medium low and simmer for 20 minutes. Using a mesh strainer, strain the stock over a large bowl. Discard vegetables and shells. Use immediately or you can also freeze it for up to three months.
Using a cheese grater, grate tomatoes into a bowl (this can be a little messy, but it's worth it). Set aside both the pulp and the juice from the tomatoes. Heat oil in heavy pot over medium heat. Add onions; sauté until tender and beginning to brown, stirring often, about 10 minutes. Add garlic; stir for minute or so. Stir in grated tomatoes with their juice and cook until broth thickens, stirring frequently, about 5 minutes. Stir crushed red pepper. Stir in shrimp stock and let simmer for a few minutes. If the broth looks too thick, add 1/4 cup water or more stock.
Bring broth to boil. Add shrimp; simmer until cooked through, about 5 minutes. Season with salt and pepper. Garnish with parsley. Best served with crusty bread.