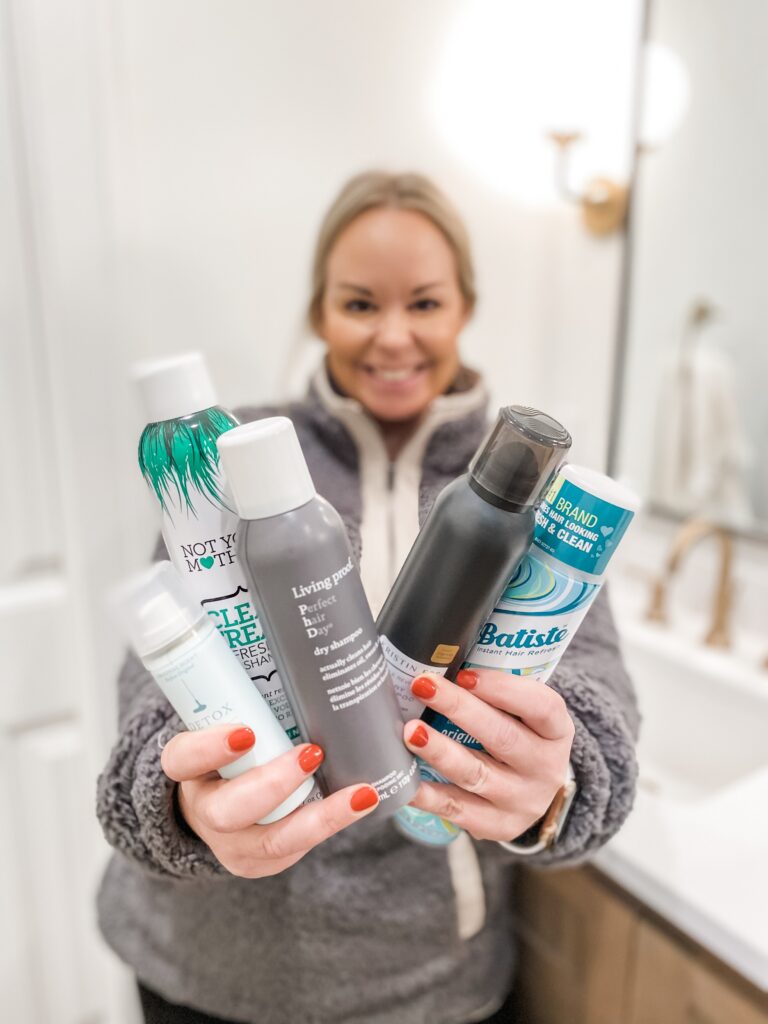 Dry shampoo is a staple in my morning routine. I only wash my hair only a couple times a week, so dry shampoo is not optional for me. I have normally dry skin, so my hair doesn't get super oily, but I love a good refresh for second, third, and sometimes even fourth day hair.
Over the last two months I've been testing some of the most popular dry shampoo brands out there. I picked five different kinds to go toe to toe with each other to see which one would win the spot as my go-to dry shampoo. The criteria was simple: I'd dedicate at least 10 days to each brand in the line up so I could really see how it performed. I picked two high end brands, two budget brands, and one in the middle. Let's get to the results!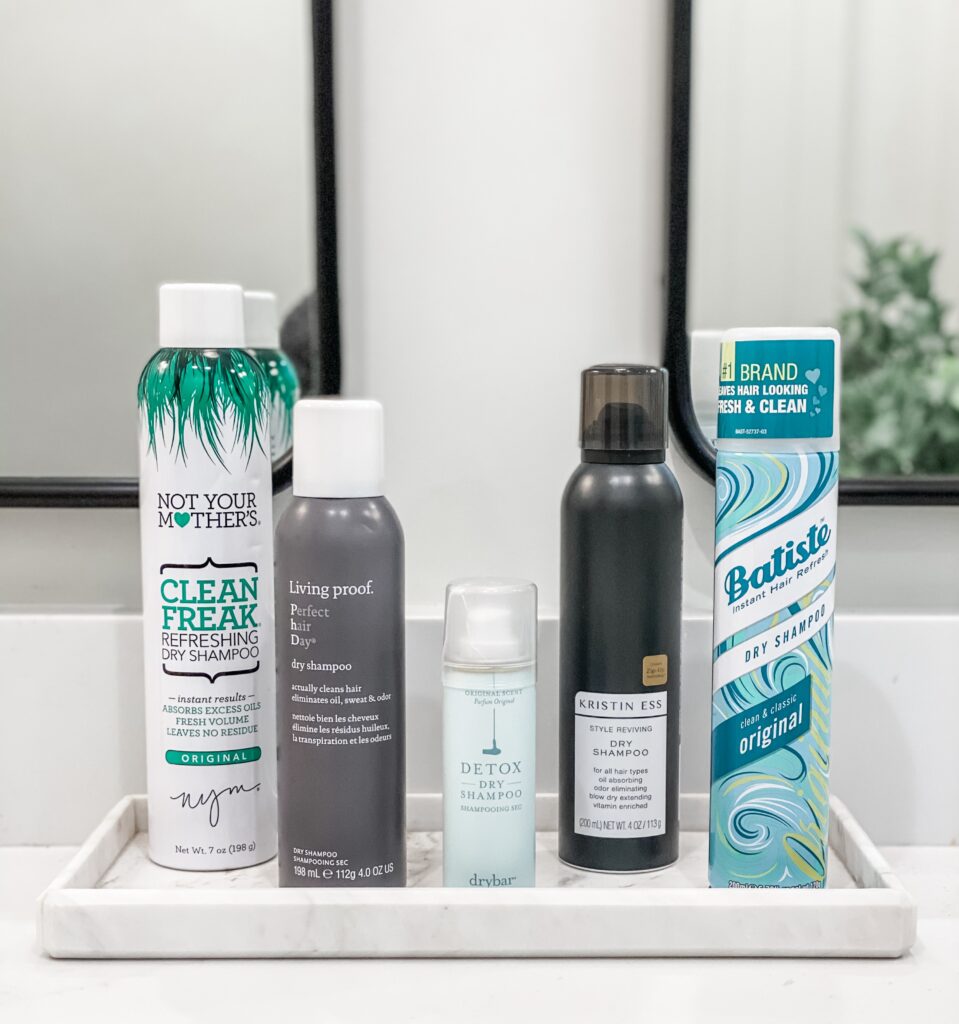 Living Proof Perfect Hair Day: I had seen this all over instagram as a cult favorite, but had never pulled the trigger because of the price tag. At $24.00 a can, I thought this has better be realllllly good. And it was! I would have to say that I think this was the best performing dry shampoo I tried. It kept my hair looking fresh for longer than the others, and the scent was not overpowering. However, this one was not the winner overall because of the price. With how quickly I go through dry shampoo, I just can't justify purchasing this a couple of times a month.
Dry Bar Detox: Another solid dry shampoo option, but the scent is definitely something that may need to be acquired. It's not overpowering, and I can't even really put my finger on what it reminds me of, but it wasn't unpleasant. This one runs $23.00, so between the smell and the price, it wasn't even in the running for the championship spot.
Kristin Ess Style Reviving: This was my middle of the road option as far as price goes. It's sold at Target and runs $14.99 a can. One of my best friends swears by this one, so I figured I would love it too, but I could not get over the scent. It's a deep musky masculine smell that lingered all day long. As far as keeping my hair looking fresh, it did a fantastic job, but the musk made me want to put this one in the trash can after one use.
Not Your Mother's Clean Freak: This was one of the budget brands I tried and I have to say, it performed like a budget brand. I couldn't even tell I had applied dry shampoo after I used this. I'll never buy this one again, even though it's only $5.99 a can.
Batiste Clean & Classic: I saved the best for last! This one was my overall winner for several reasons. First, it's only $8.99 a can, and almost always on a buy one get one 50% off sale at Ulta. Also, it feels like a salon brand dry shampoo. It did just as well as the Living Proof and Dry Bar did for me. The scent is not overpowering, and in my opinion, very pleasant. I feel like I look like I have clean hair when I use this and it lasts all day long. For the price and quality, you really can't beat it.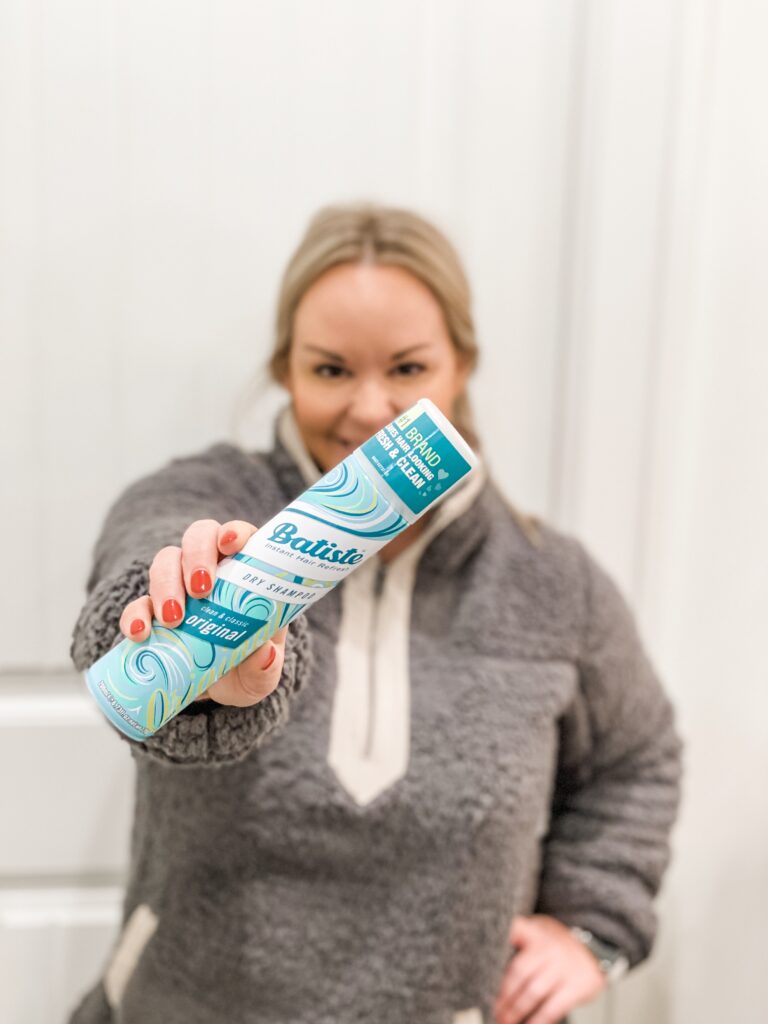 I know that each person's hair and skin is different, so my opinions may not be shared by all. I'd love to hear what your favorite dry shampoo brand is, I'm always looking to try something new!
SHOP THIS POST